Lemon Filled Donuts
Your classic fried donuts filled with a sweet and tart lemon curd!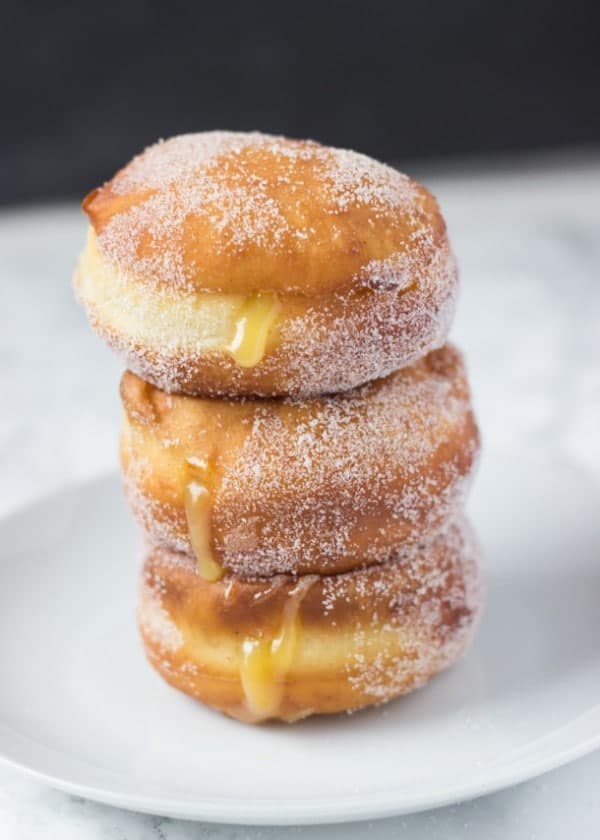 Life is short, let's start frying things up shall we?!
Well, not all the things but yeasted donuts are special.
You all know I am a fan of baked donuts …which are pretty much sweet muffins for breakfast. They are amazing but there are times when a girl needs the real deal… fried donuts!!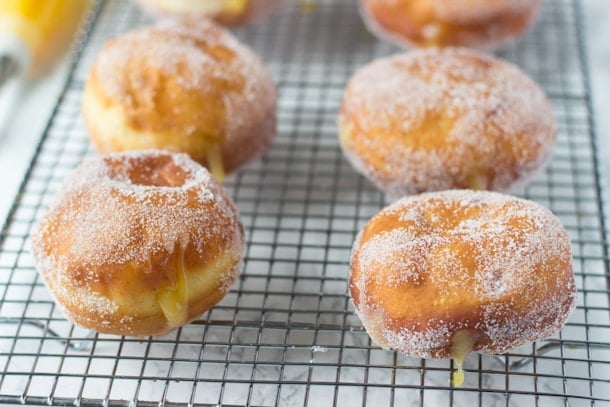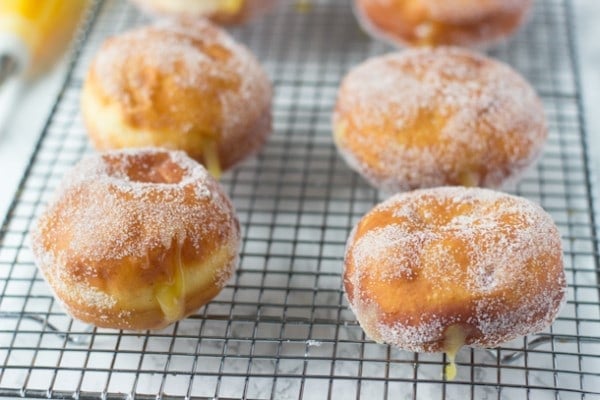 I was craving some good ole fried yeasted donuts for a whole week and decided to make some myself since the bakeries around Syracuse failed me. I started with a small batch of lemon filled donuts as a precaution because these things can be dangerous (for the hips!).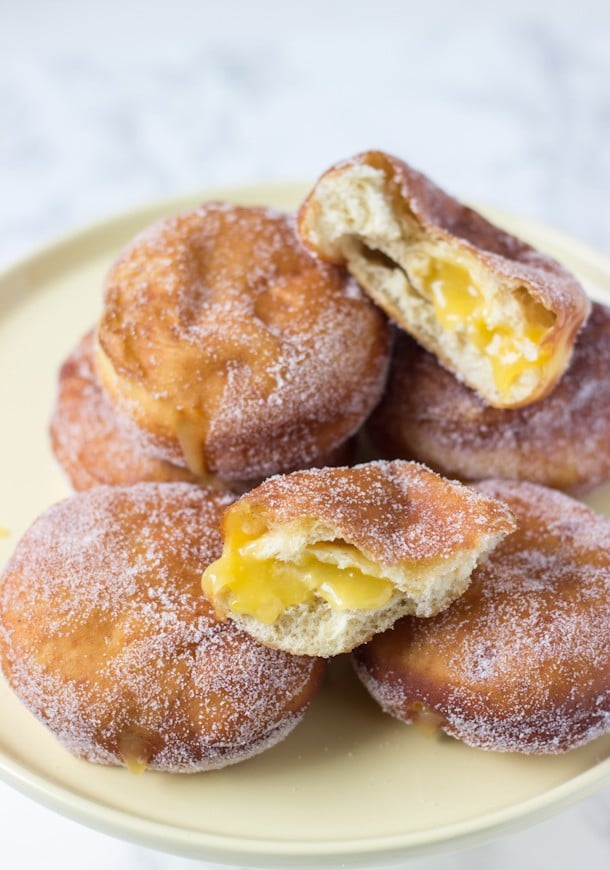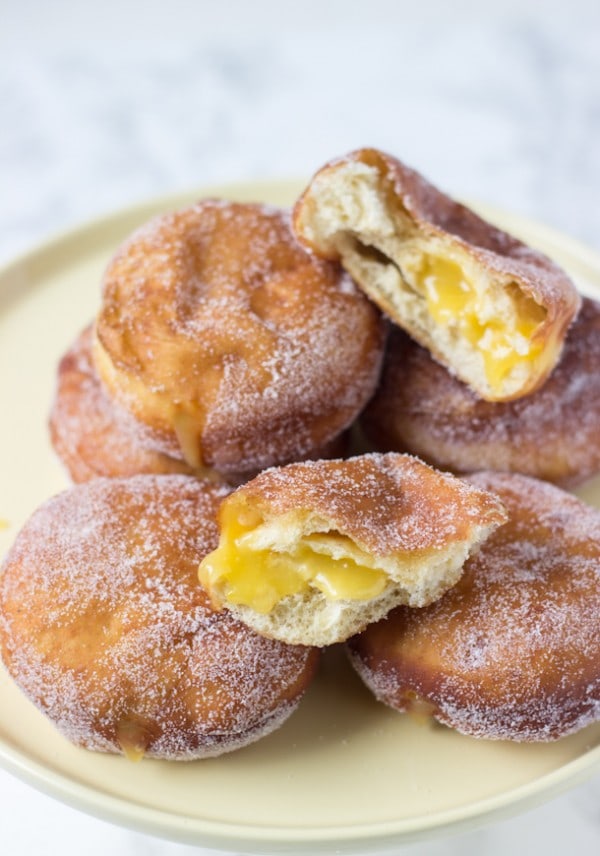 There are a few different kinds of fried doughnuts (or donuts!) out there but my favorite by far is the yeasted soft kinds. The fluffy jelly-filled fried donuts are always a treat with a surprise inside. I decided to fill mine with lemon curd since I am citrus obsessed at the moment and I am glad I did because they were just the perfect amount of sweet and tart that I needed with my morning tea.
I now think I should have added some strawberry jelly in there too with the lemon, what do you think? Maybe next time! Oh and there will be a next time 🙂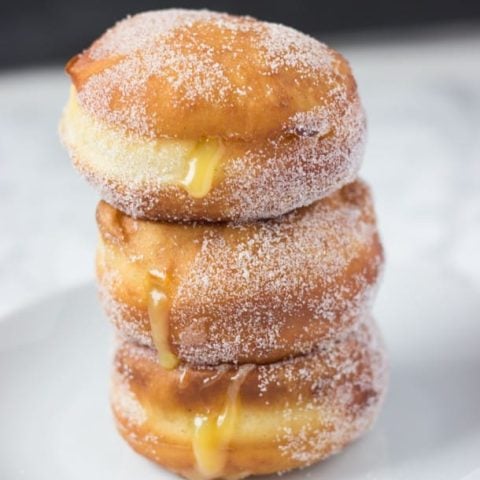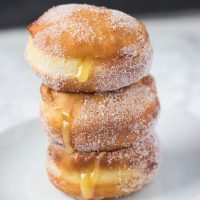 Yield: 8-10 donuts
Lemon Fried Donuts
Total Time
3 hours
30 minutes
Ingredients
Lemon Curd:
½ cup freshly squeezed lemon juice
zest of one lemon
½ cup + 2 tablespoons granulated sugar
2 large eggs
½ cup unsalted butter, cut into pieces
a pinch of salt
Donuts:
1 package active dry yeast (1/4 ounce)
2 tablespoons warm water (~110 degrees F)
3 ¼ cup all-purpose flour (plus more for rolling)
1 cup milk, at room temperature
¼ cup unsalted butter, softened
3 large egg yolks
2 tablespoons granulated sugar
1 ½ teaspoon salt
½ teaspoon ground cinnamon
¼ teaspoon freshly nutmeg
Vegetable oil for frying
Granulated sugar or powdered sugar for rolling
Instructions
For Lemon Curd:
Set a medium saucepan with water to simmer. In a small heatproof bowl, whisk together the lemon juice, zest, sugar and eggs until well combined.
Add in the butter pieces and set the bowl over the simmering pot of water. Whisk the mixture continuously (don't ever stop whisking!!) while cooking until it's thick, about 10 minutes.
Remove from heat and pass the curd through a fine-mesh sieve. Cover the curd with plastic wrap, directly on the curd and let cool. Chill for a few hours or overnight.
For Donuts:
In a small bowl, combine the yeast and warm water. Mix until yeast dissolves and let stand for 5-10 minutes until foamy. (If yeast is not foamy, do not continue. Start again with new yeast and save yourself the heartbreak.)
In the bowl of an electric mixer fitted with the hook attachment, mix the flour, milk, butter, egg yolks, sugar, salt, cinnamon, nutmeg and yeast mixture on low speed until dough comes together. Knead dough for 3-5 minutes until elastic and smooth. (Alternatively, mix the ingredients in a medium bowl with a wooden spatula until dough comes together. Turn dough onto a well floured surface and knead for 7 minutes until dough is smooth and elastic.)
Transfer dough into a lightly oiled large bowl and sprinkle lightly with flour to prevent a crust from forming. Cover the bowl loosely with a kitchen towel and let rise until double in size, about 2 hours in a draft-free place at room temperature. (Alternatively, you can let dough rise in refrigerator for 8-12 hours or overnight).
Lightly flour a surface and turn out the dough. Roll dough out to about half-inch thick. Using a biscuit cutter or round cookie cutter (mine was 3-inches in diameter), cut out as many rounds as possible. Transfer the donuts to a lightly flour baking sheet. Cover the baking sheet loosely with a kitchen towel and let donuts rise at room temperature until slightly puffed, about 30-45 minutes. (Don't re-roll the scraps. You can fry them up if you like)
When ready to fry, heat up the vegetable oil in a deep heavy bottomed pot over medium-high heat. The oil should be at least 2 ½ inches. If you like you can check the oil with a thermometer, should be about 350 degrees F. This is where you need to be very CAREFUL, it's hot oil.
Fry donuts, 3-4 at a time, until puffed and golden brown about 1-2 minutes. Make sure you turn the donuts occasionally as they fry. Remove from oil with a slotted spoon and transfer to a paper towel lined plate.
Let donuts cool completely. To fill donuts, use a long-tipped pastry bag to poke a hole in each donut and fill with lemon curd. Roll donuts generously in granulated sugar or powdered sugar. Enjoy!
Recommended Products
As an Amazon Associate and member of other affiliate programs, I earn from qualifying purchases.
More homemade donuts from across the web
:
Homemade Jelly Doughnuts– Heather's French Press
S'mores Donuts – Buns in My Oven
Peanut Butter Cream Filled Donuts – How Sweet Eats