Lemon Meringue Cupcakes
Lemon lovers rejoice because these fluffy lemon cupcakes with lemon curd filling and cloud of marshmallow frosting are going to rock your world!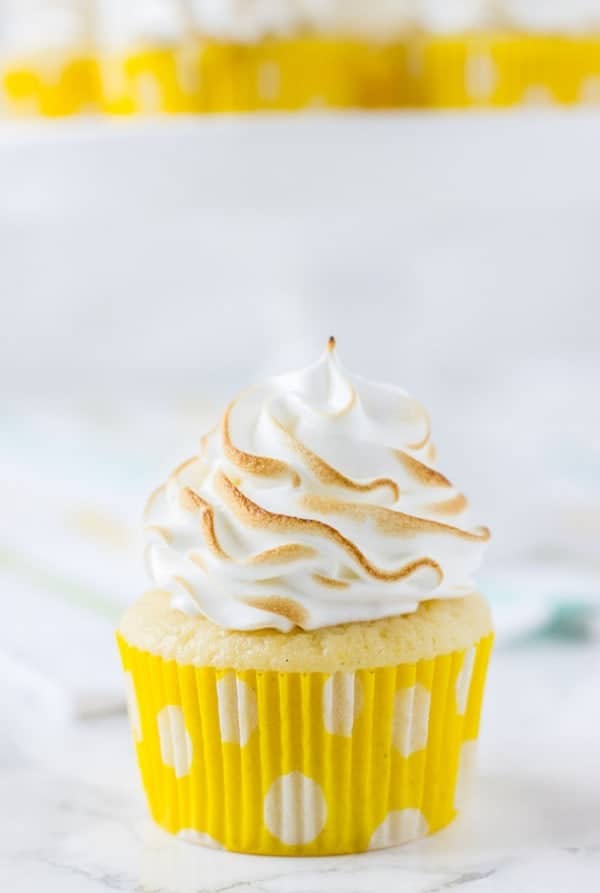 Can all Mondays start with lemon cupcakes please? Lemon meringue cupcakes to be exact because I just don't want to be in this life without them. They are just too pretty to look at. And even prettier when you bite into that lemon curd center. Fine…it's settled, all Mondays will be like this from now on.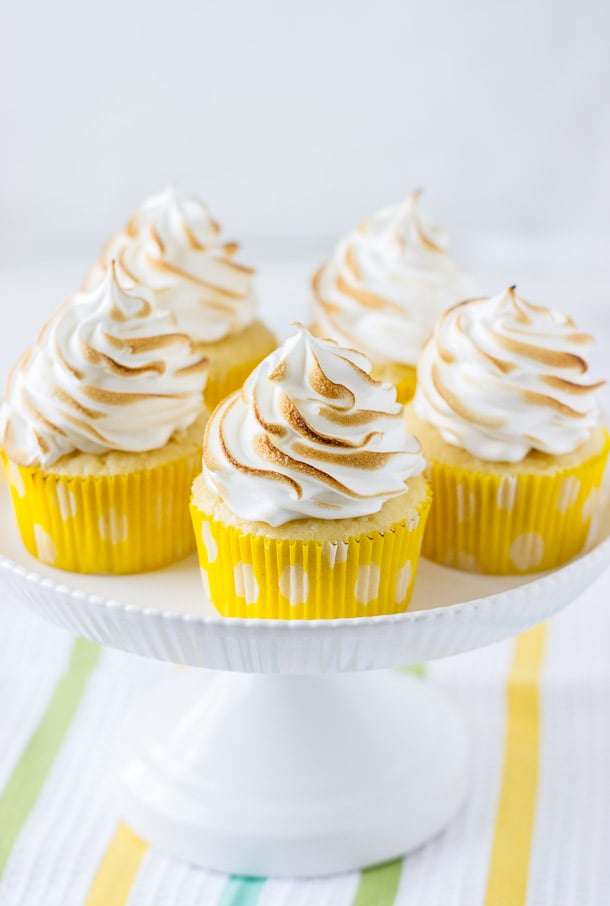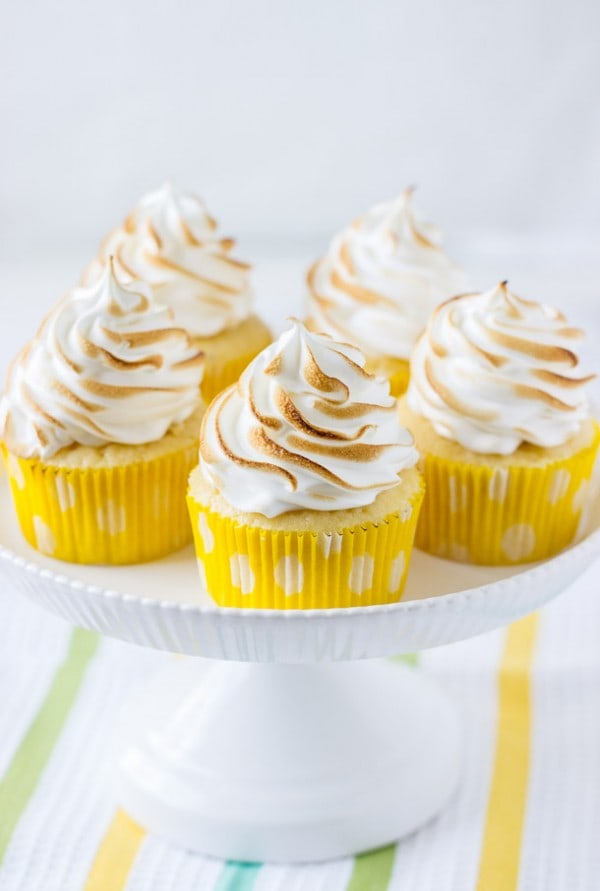 So what do we have here? It all starts with lemon cupcakes. Fluffy, soft vanilla cupcakes that are infused with fresh lemon zest and juice to make them sweet and tart. We don't stop there, we fill these amazing cupcakes with lemon curd because we can have pie in a cupcake. Finally we top the cupcakes with a fluffy cloud of marshmallow frosting (or what everyone calls the 7 minute frosting). It's just whipped egg whites cloud of goodness if you ask me. We go the extra mile and dare to use a kitchen torch to make them look pretty!!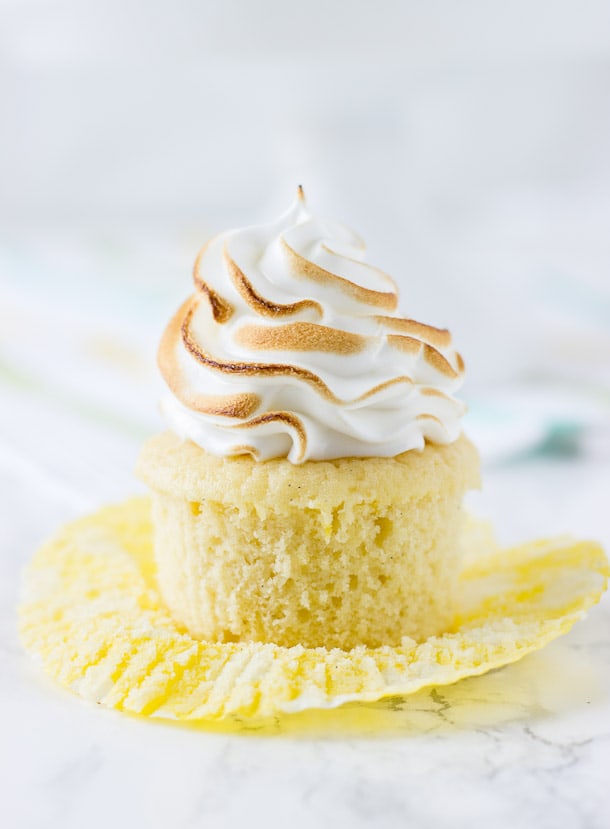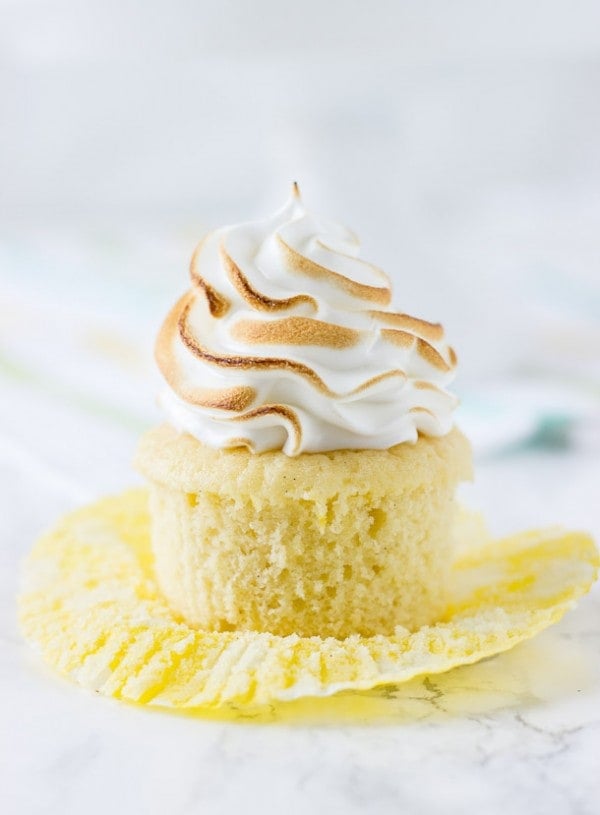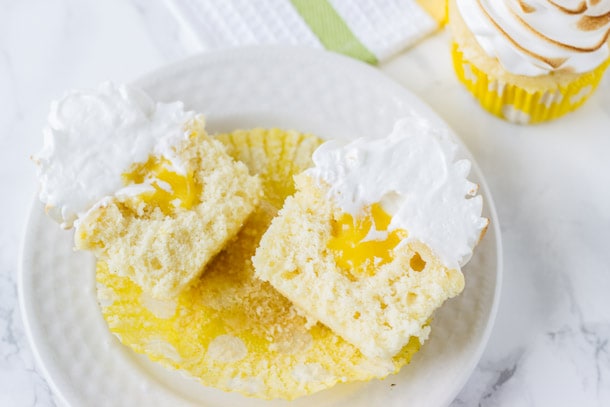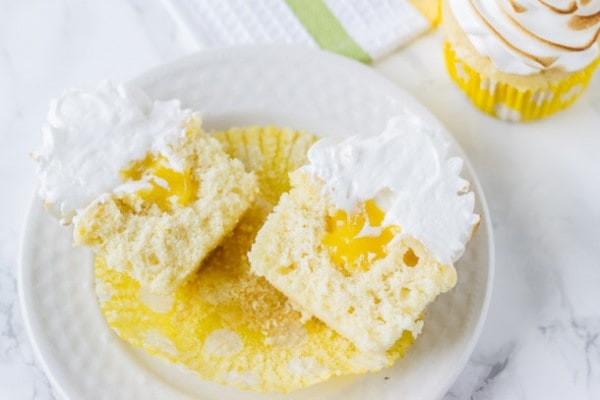 These are the cupcakes you want to start the week with. The cupcakes you want to make for yourself, your loved ones, your friends and heck your everything cupcakes.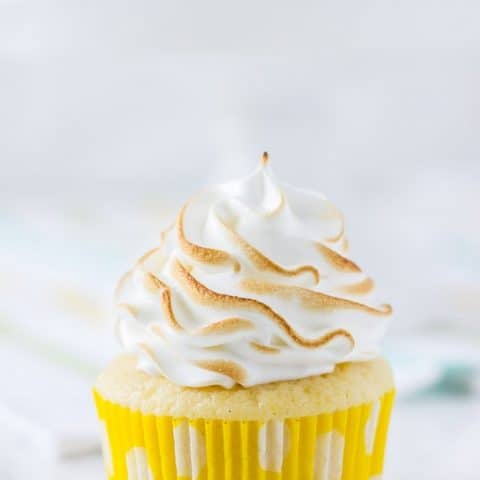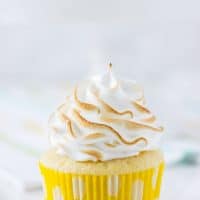 Yield: ~16 cupcakes
Lemon Meringue Cupcakes
Ingredients
For Curd:
4 large egg yolks
zest of one lemon
¼ cup freshly squeezed lemon juice
½ cup sugar
¼ cup (4 tablespoons) unsalted butter, cold and cut into pieces
a pinch of salt
For Cupcakes
1 ½ cups all-purpose flour
½ tablespoon baking powder
¼ teaspoon salt
zest of 1 lemon
1 cup sugar
½ cup (1 stick) unsalted butter, room temperature
2 large eggs, room temperature
1 tablespoon lemon juice
1/2 teaspoon vanilla extract
¼ teaspoon almond extract
½ cup buttermilk, room temperature
For Marshmallow Frosting:
1 cup granulated sugar, divided
½ cup water
1 tablespoon light corn syrup
4 large egg whites
2 teaspoons lemon juice
Instructions
To make Lemon Curd Filling:
In a medium saucepan, whisk the egg yolks, lemon zest, juice and sugar until well combined. Set saucepan over medium-high heat, whisking constantly (unless you want scrambled eggs), cook mixture until it's thick enough to coat the back of a spoon, about 3-5 minutes.
Remove from heat and whisk in the butter, one piece at a time, stirring constantly until smooth. Once smooth, strain through a fine sieve into a small bowl. Press plastic wrap onto the surface of the curd and refrigerate until chilled, at least an hour or up to a day. This recipe makes about a cup of lemon curd. You won't use it all for the filling. Use leftovers to top pancakes, top ice cream etc.
To make Cupcakes:
Preheat oven to 350degrees F. Line muffin tins with cupcake liners.
In a medium bowl, whisk together flour, baking powder and salt.
In a large bowl, combine the sugar and lemon zest. Rub with your fingertips until fragrant and sugar is moist. Using an electric mixer, beat the butter and sugar mixture together until pale and fluffy, about 2-3 minutes on medium speed. Add eggs one at a time, beating until just combined after each addition. Beat in lemon juice, vanilla and almond extracts.
Reduce mixer speed to low and slowly add half of the flour mixture to the batter. Add the buttermilk and beat until just combined. Add the rest of the flour and mix until just combined. Scrape down the sides of the bowl as needed. Do not over-mix.
Divide batter into prepared tins. Fill each liner about ⅔ full. Bake cupcakes until lightly golden or a toothpick inserted into the center comes out clean, about 12-14 minutes. Remove cupcakes from pan and cool completely on a wire rack.
To make frosting
In a medium saucepan, combine 3/4 cup sugar, water and corn syrup. Bring to a boil over medium heat, stirring occasionally until sugar dissolves. Keep cooking, without stirring, until syrup reaches about 230 degrees.
In the meantime, whip the egg whites in a large bowl with a stand mixer on medium-high sped until soft peaks form. Gradually add in the remaining ¼ cup sugar to egg whites with mixer running.
When sugar syrup reaches 230 degrees, remove from heat. With mixer on low speed, carefully pour the syrup down the side of the bowl in a slow steady stream. (If you are using a hand mixer, get someone to do the pouring for you). Increase speed to medium high and whisk until the mixture completely cools and stiff peaks form, about 7 minutes. Add the lemon juice in the last minute. Use frosting immediately to top cooled and filled cupcakes.
Assembly:
Fill the cooled cupcakes with about 1 teaspoon lemon curd. Frost cupcakes with marshmallow frosting. Using a kitchen torch, brûlée the frosting.
Notes
Cupcakes adapted from Martha Stewart
More Lemon Recipes from Around the Web:
Lemon Pie Macaroons – Spoonful of Flavor
Lemon Olive Oil Yogurt Cake – Hip Foodie Mom
Skinny Meyer Lemon Mousse – Sprinkle Bakes
Creamy Lemon Tart – Life, Love, Sugar