Peppermint White Chocolate Cheesecake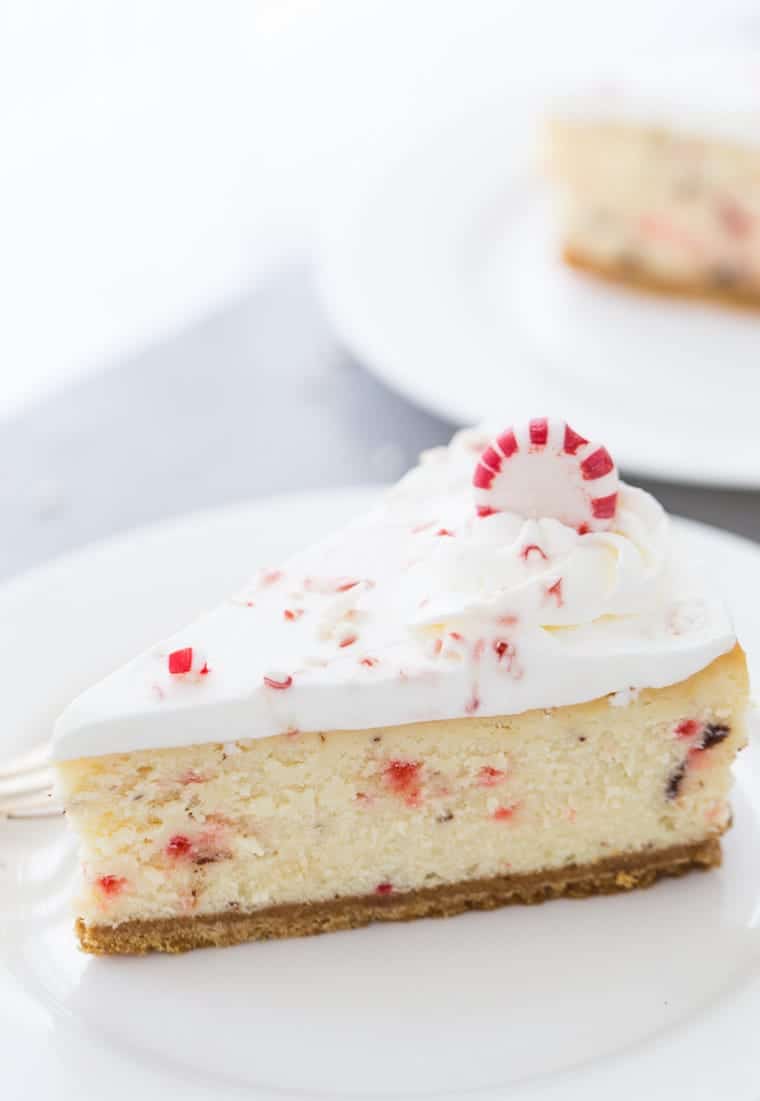 I've always had a thing for white chocolate and peppermint. The cool minty touch of sweet chocolatey bliss is one of my favorite seasonal flavors and it has been relayed here on the blog in many forms. From this peppermint white hot chocolate to this peppermint white chocolate creme brûlée, I've always made sure to create one or two special desserts with these favorite flavors. This year, this peppermint white chocolate cheesecake tops the chart with its graham cracker crumbly crust and minty cool filling.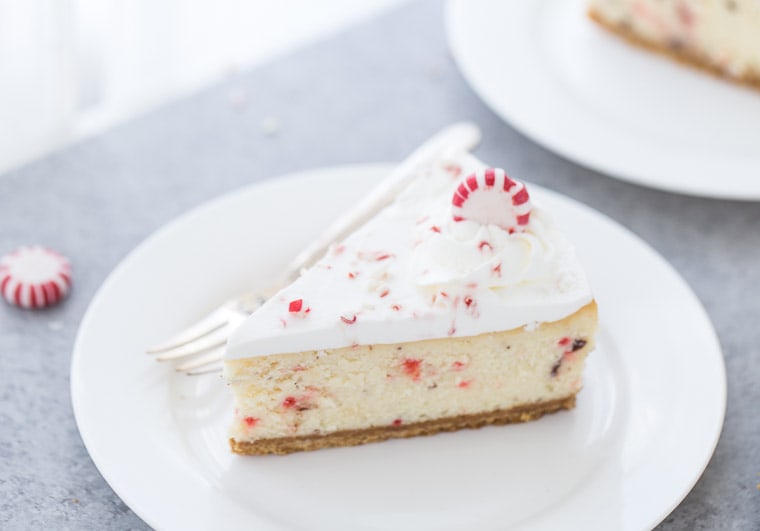 I don't make a lot of cheesecake because my husband LOVES cheesecake. He refuses to share with anyone and he always ends up eating most of it over the week. But that means when I get to make one, he has to approve of it. He gets to choose the flavors and he suggested we add some crunch in this peppermint white chocolate cheesecake in the form of the peppermint bark.
The cheesecake starts with a simple crumbly graham cracker crust, that is filled with a creamy, decadent filling with a good dose of white chocolate and crunchy with peppermint bark chocolate. Once baked, it is all topped with whipped cream and crushed peppermint candies. It's just perfection!!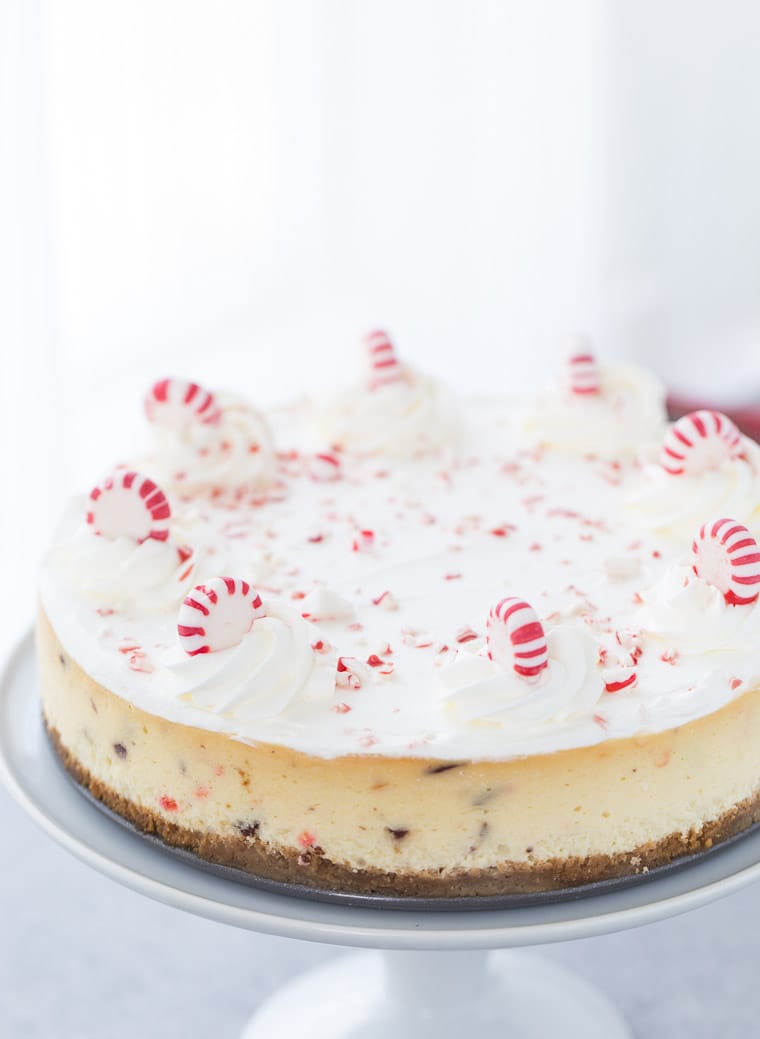 This beauty is waiting for you my friends. It's a holiday must and I am sure you will enjoy it as much as we did. My husband devoured most of it before I was able to share with some friends. I suggest you serve it with company!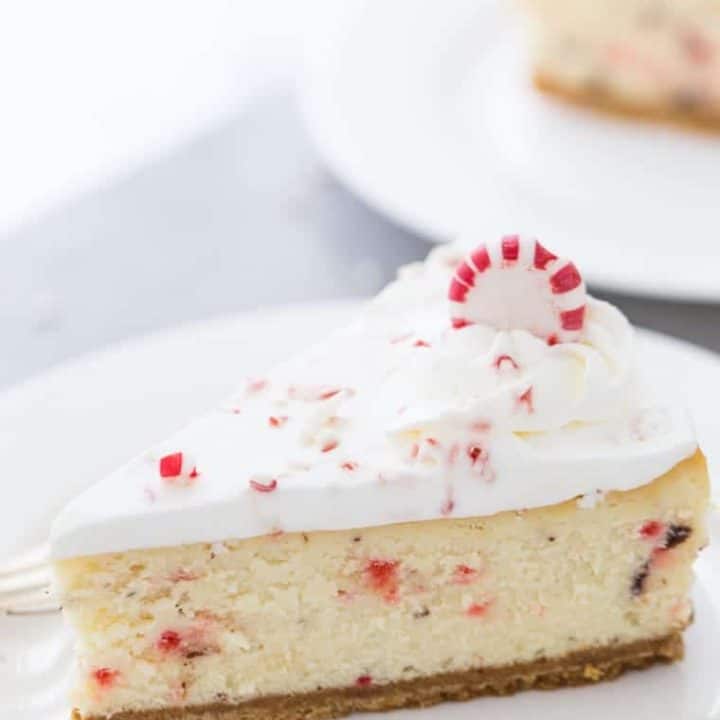 Yield: 1 9-inch cheesecale
Peppermint White Chocolate Cheesecake
Cook Time
1 hour
10 minutes
Total Time
3 hours
10 minutes
Ingredients
For the crust:
2 cups Graham cracker cookie crumbs
5 tablespoons butter, melted
For the filling:
3 8 ounce cream cheese blocks, softened at room temperature
1 cup granulated sugar
4 ounces white chocolate, melted
1 ½ tablespoon all-purpose flour
1 ½ tablespoon heavy cream
¼ teaspoon salt
2 teaspoons pure vanilla extract
3 large eggs, at room temperature
1 cup peppermint chocolate bark (I used Ghirardelli), chopped
Topping:
Whipped cream
Peppermint candies, crushed
Instructions
Preheat oven to 350 degrees F. Wrap the entire outside of a 9-inch spring -form pan with two sheets of foil. In a medium bowl, combine the cookie crumbs with the melted butter and mix until a wet-sand like mixture forms. Transfer the mixture to the prepared pan and evenly spread it. Use a flat bottom cup and press down on crust to create an even layer. Bake crust for 10 minutes. Let cool while you prepare the filing.
Reduce oven temperature to 325 degrees F.
In the bowl of an electric mixer, beat the cream cheese on medium speed until smooth and creamy, about 2 minutes. Add sugar and mix until combined, another minute, scraping down bowl as needed. Add in melted white chocolate, flour, heavy cream, salt and vanilla extract. Mix well on medium-low speed. Reduce speed to low and add eggs in one at a time, mixing until combined. Mix filling until smooth for an additional minute.
Using a rubber spatula, stir in the chopped peppermint bark by hand. Pour filling into springform pan with crust. Place springform pan into a much larger baking pan. Add hot water into the larger baking pan to reach half way up the side of your springform pan.
Bake at 325 degrees F for one hour. Then turn off the oven and leave the cheesecake in the oven for additional 45 minutes. Remove cheesecake from oven and from water bath and foil wrap. Allow to cool at room temperature for at least an hour before chilling. Chill for 6 hours or overnight.
Top with whipped cream and crushed peppermint candies.