Cranberry Orange Cheesecake
This cranberry orange cheesecake recipe is a MUST this holiday season. Thank you Dixie Crystals for providing me with sugar for all my holiday baking. All opinions are mine.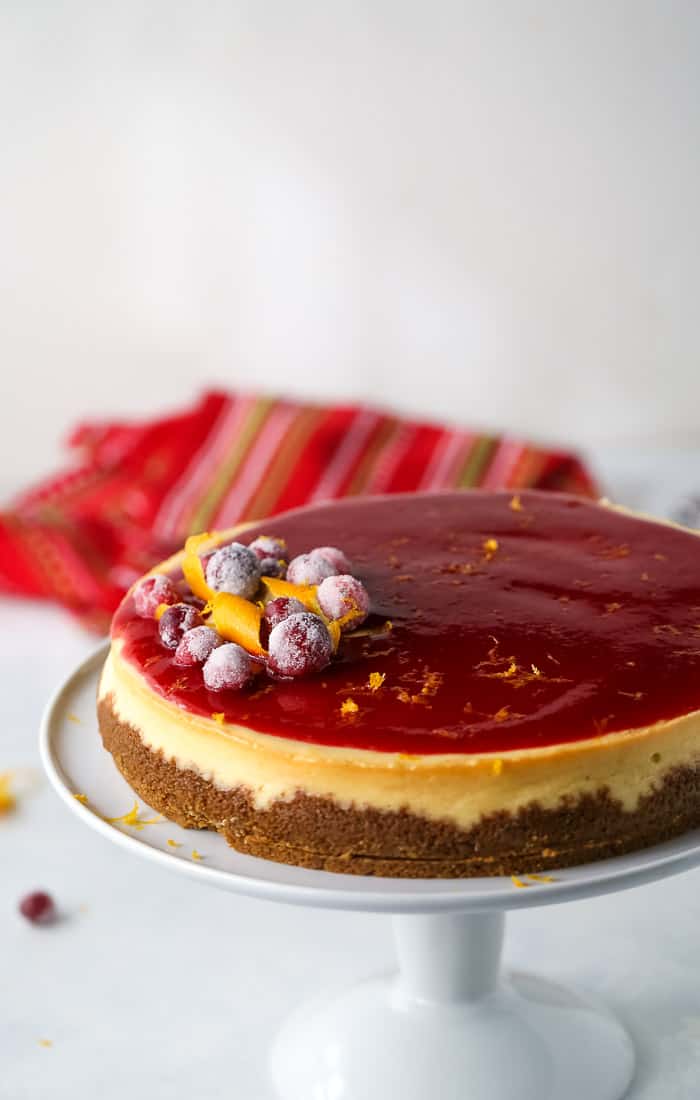 Hello friends! I have a new holiday recipe for you. This cranberry orange cheesecake is a beautiful and delicious centerpiece perfect for all your holiday festivities.
Cheesecake is a huge part of my holiday entertaining. I am not sure how that happened but every year, I crave a creamy, decadent slice of cheesecake full of the flavors of the season. My Peppermint White Chocolate cheesecake is always a favorite this time of the year. However, I've been meaning to create a new one and it finally is happening.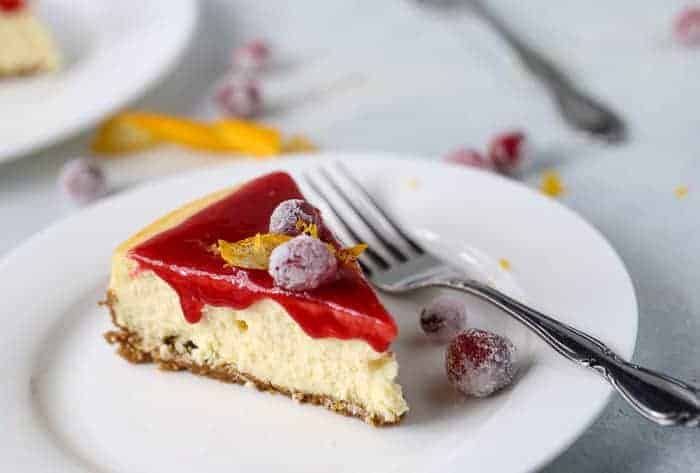 Cranberries and orange scream holiday season! From infusing my favorite cranberry sauce with orange zest to this cranberry orange coffee cake, I am a fan of the combo so it is no surprise that this cranberry orange cheesecake is now the star of my kitchen.
It starts with a spiced gingersnap crust. Hello?? How can anything go wrong when it starts with gingersnap, right?. Next, using my go-to cheesecake base, I infused the cream cheese batter with orange zest (rubbed with sugar to extract the flavors) and orange blossom water. Just like rosewater, orange blossom water adds a great citrus flavor and scent to the cheesecake. The orange cheesecake is then baked to perfection.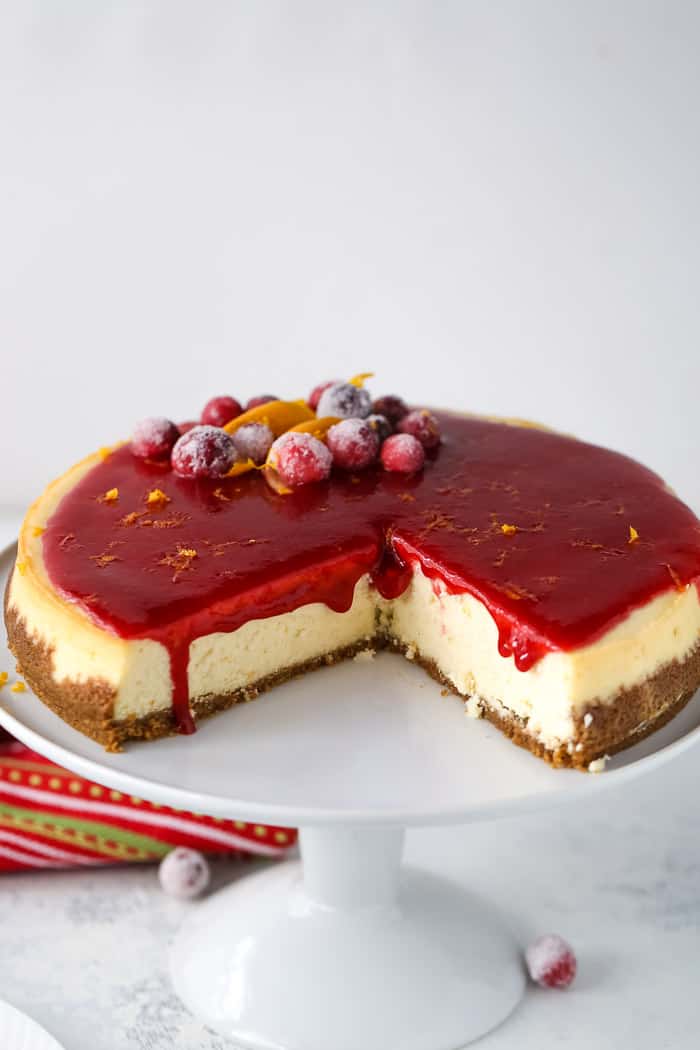 I contemplated adding the cranberries in the cheesecake batter but resisted as I think the balance of sweet, creamy cheesecake will be perfectly balanced with a tart cranberry sauce drizzled on top of the cheesecake, And that is what we have here. A sweet and tart cranberry sauce tops this orange cheesecake for a spectacular recipe.
So there you have it. A gingersnap crust, orange cheesecake, and cranberry sauce all in one bite. It is flavor explosion in every bite.
Go ahead and add this cranberry orange cheesecake to your holiday baking list. It is perfect for the cheesecake lover and has a great flavor profile that would wow anyone.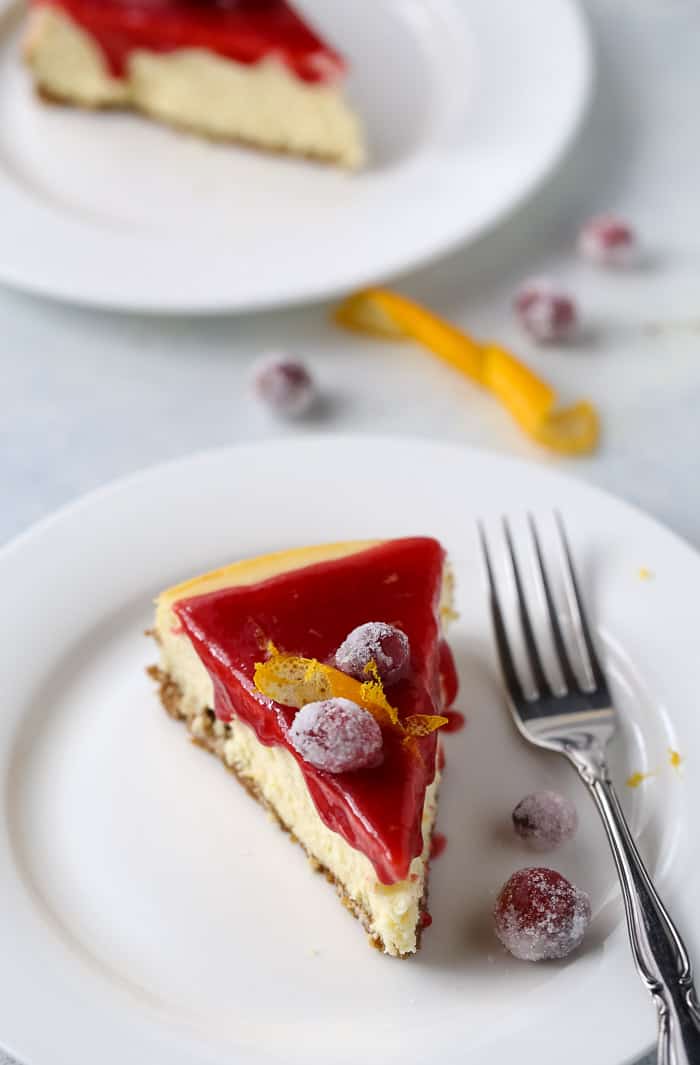 I hope you are having a great December! Remember to slow down and enjoy the season by making memories with your loved ones. People will always remember the feelings from the holidays and not the gifts they received.
Until next time, happy baking!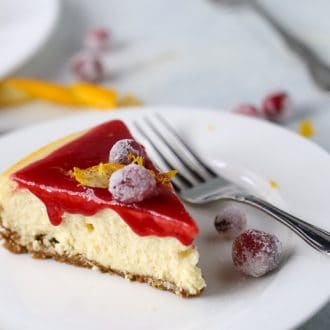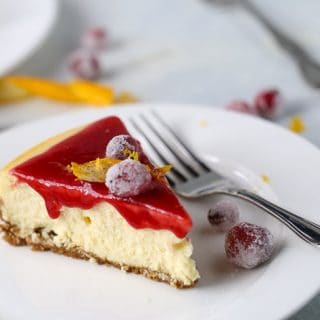 Yield: 1 9-inch cheesecake
Cranberry Orange Cheesecake
Creamy, decadent and spiced cheesecake is topped with a layer of tart cranberry sauce for this festive dessert.
Cook Time
2 hours
45 minutes
Total Time
9 hours
30 minutes
Ingredients
For Crust:
30 gingersnap cookies
3 tablespoons unsalted butter, melted
1/2 teaspoon ground ginger
For the Filling:
32 ounces (4 blocks) cream cheese softened at room temperature
1 cup granulated sugar (I used Dixie Crystals)
2 tablespoons all-purpose flour
2 tablespoons heavy cream
1 orange, zest, and juice
¼ teaspoon salt
1/4 teaspoon ground ginger
1/4 teaspoon orange blossom water
3 large eggs, room temperature
For Cranberry Sauce
1 cup fresh cranberries
1/4 cup granulated sugar (I used Dixie Crystals)
zest of one orange
Instructions
Preheat oven to 350 degrees F. Wrap the entire outside of a 9-inch springform pan with two sheets of foil.
Using a food processor, pulse the cookies into a fine crumb. Add the melted butter and ginger. Process until combined. Transfer the crumbs to the prepared pan and evenly spread it. Use a flat bottom cup and press down on crust to create an even layer. Bake crust for 10 minutes. Let cool while you prepare the filling.
Reduce oven temperature to 325 degrees F.
In the bowl of an electric mixer, beat the cream cheese on medium speed until smooth and creamy, about 2 minutes. Add sugar and mix until combined, another minute, scraping down bowl as needed. Add in flour, heavy cream, orange zest and juice, salt, ginger, and orange blossom water. Mix well on medium-low speed. Reduce speed to low and add eggs in one at a time, mixing until combined. Mix filling until smooth for an additional minute.
Spoon the batter into the cooled crust.
Place springform pan into a much larger baking pan. Add hot water into the larger baking pan to reach halfway up the side of your spring-form pan.
Bake at 325 degrees F for one hour. Then turn off the oven and leave the cheesecake in the oven for an additional 45 minutes. Remove cheesecake from oven and allow to cool at room temperature for at least an hour. Remove foil and refrigerate for at least 6 hours or overnight.
To make the sauce, combine all the sauce ingredients in a small saucepan set over medium-low heat. Cook the cranberries, stirring frequently until they pop and cook down about 5 minutes. Remove from heat and blend the cranberry sauce until smooth. Pass the cranberry sauce through a fine sieve. Save the sauce and discard the chunks. Refrigerate the sauce until ready to use.
Remove the cheesecake from pan when ready to serve. Top the cheesecake with the cranberry sauce before serving.
Recommended Products
As an Amazon Associate and member of other affiliate programs, I earn from qualifying purchases.