Chile Mocha Cupcakes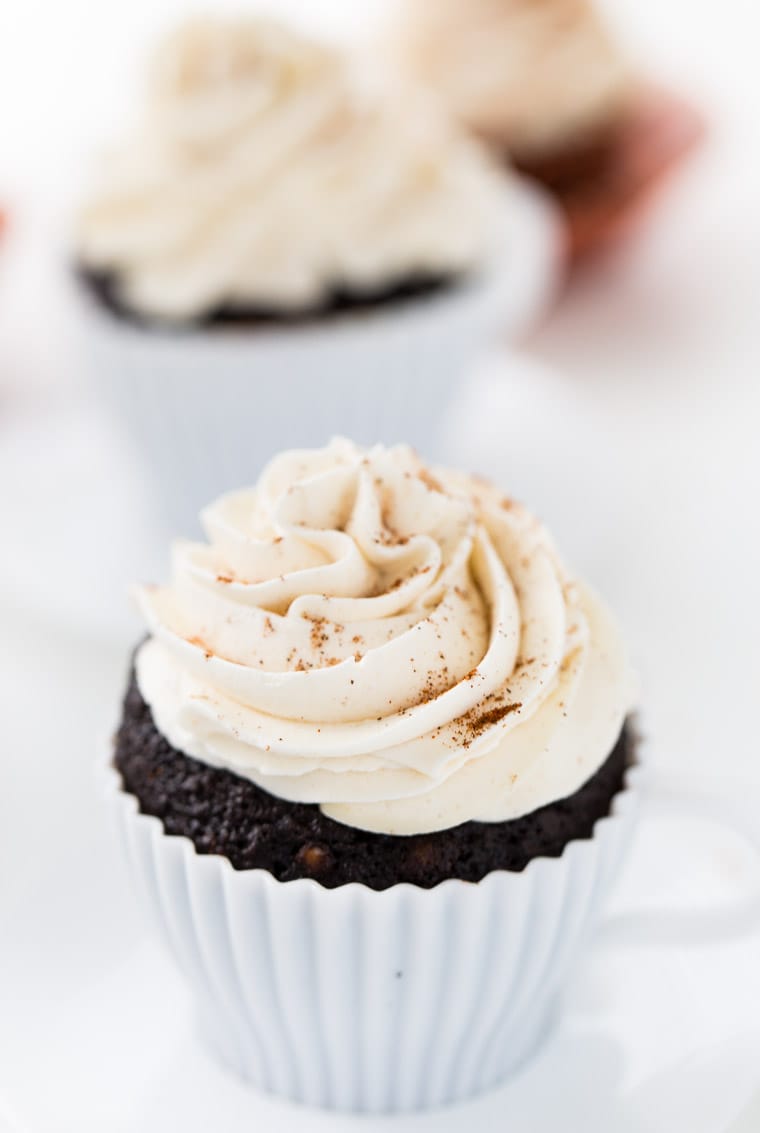 I am sure by now you know I LOVE making latte inspired desserts. Case in point: salted caramel mocha cupcakes, caramel macchiato cake, peppermint mocha cupcakes and of course pumpkin spice latte ice cream. All are very popular on the blog which makes me think that you love these latte desserts too.
So here is my new obsession; these chile mocha cupcakes. They are of course inspired by the new Starbucks fall drink, the chile mocha. A sweet combination of cocoa, cinnamon with a small kick from ancho and cayenne chile. The true definition of sweet and spicy if you ask me and just what you need for those mornings when you need an extra kick. Like today!!!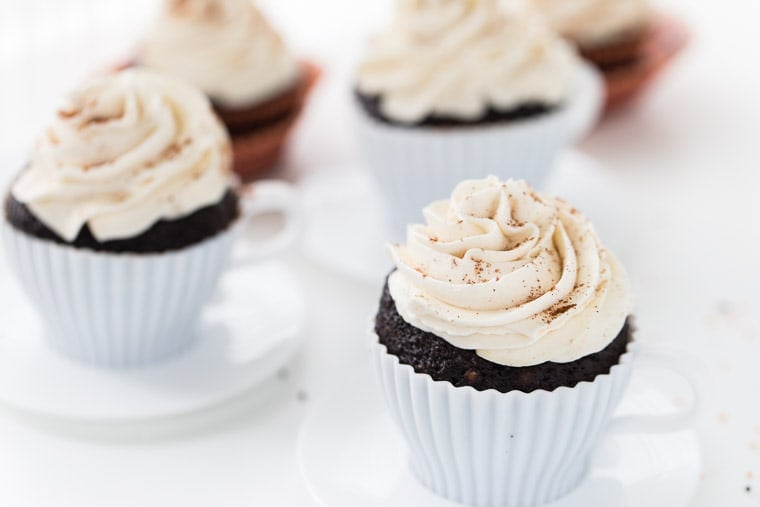 I am taking a quick one day trip to New York city for an exclusive event with Ghirardelli and Food52. Ghirardelli is sharing with a few bloggers their new holiday season baking recipes to prepare for the Annual Ghirardelli Baking Day (Dec. 10). We will preview these new recipes at Food52's test kitchen (Ekkkkk!!!) and I am sure there will be no shortage of chocolate delights. I can't wait especially to be there with my blogger boo Allie.
However, it is one day trip since I don't want to be away from baby and sick mother at home for too long. So it will be a hectic day and I will need all the lattes to keep going. Maybe a chile mocha with that extra kick or just these cupcakes.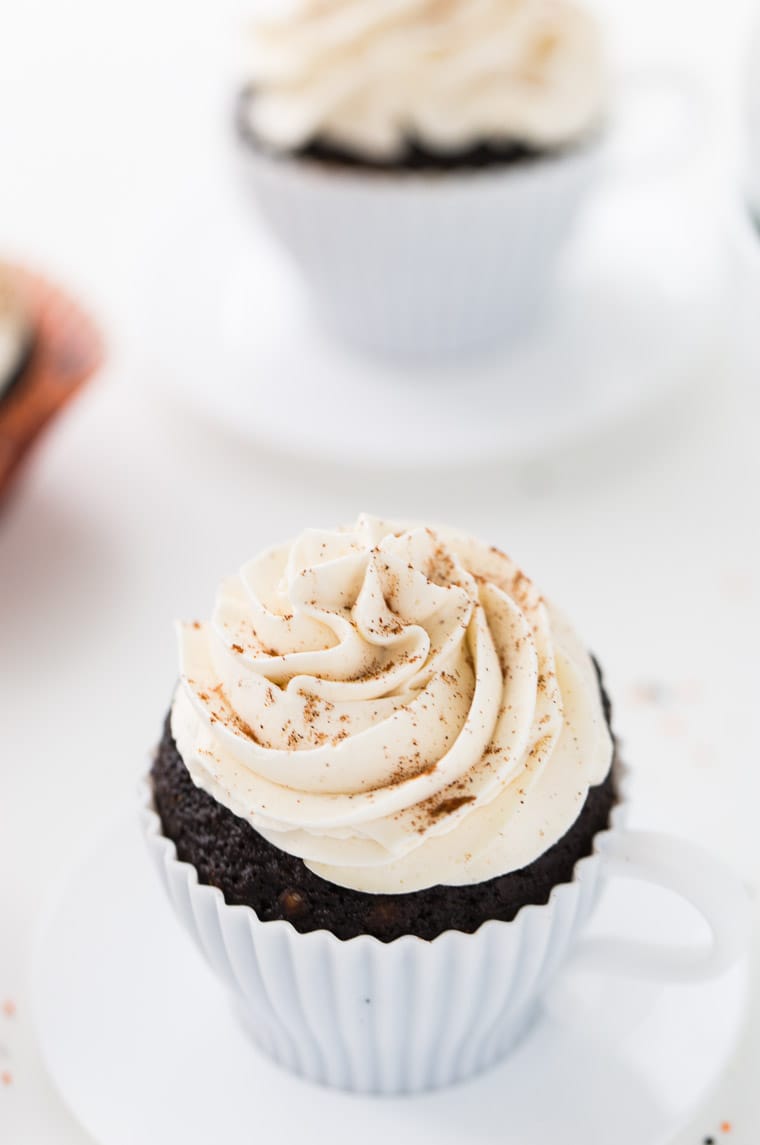 These cupcakes are my go-to chocolate cupcake recipe as I already LOVE espresso with my chocolate. A very soft chocolate cupcake, rich and decadent because of the quality cocoa powder and enriched with the espresso. The cupcake has a dash of cinnamon and a dash of chile powder. Be careful with the chile powder you choose to use because you don't want it to overpower.
Join me in my obsession of coffee drinks and lets enjoy a sweet treat with the extra kick for those days when you need something warmer.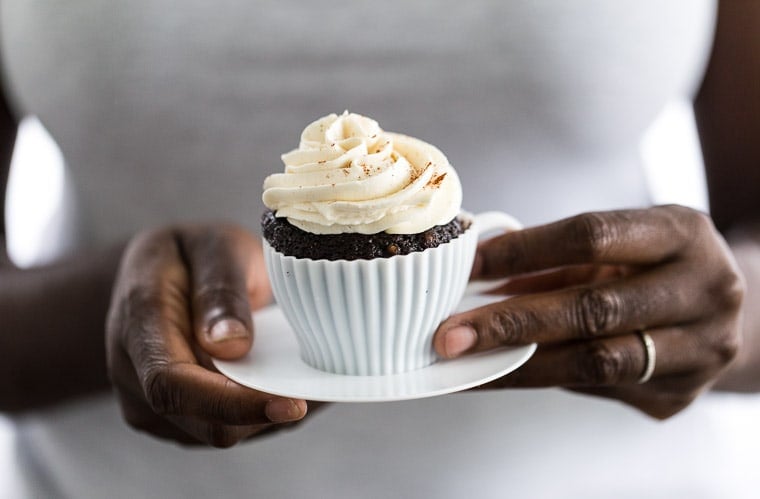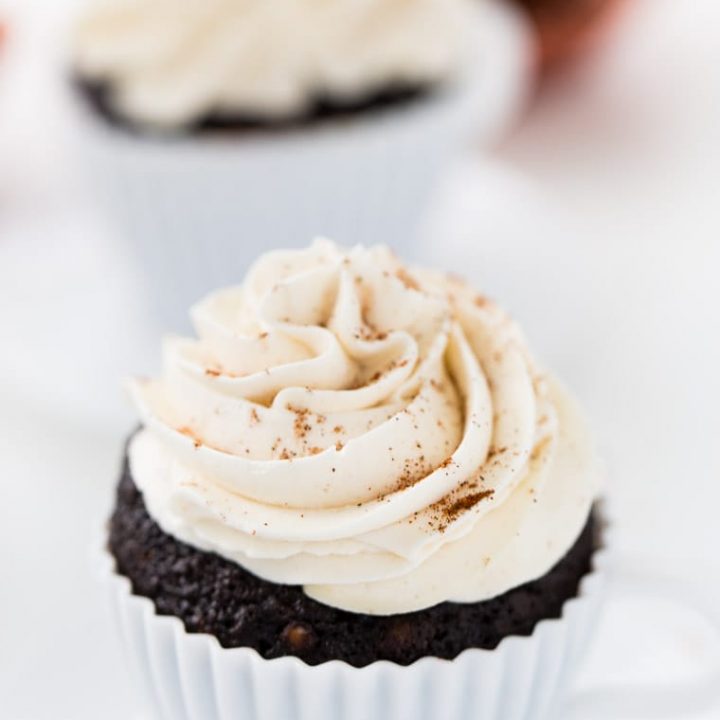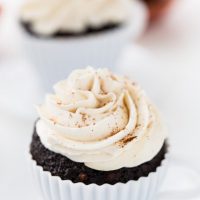 Yield: 12-15 cupcakes
Chile Mocha Cupcakes
Ingredients
For Chocolate Cupcakes:
1 cup all-purpose flour
1 cup sugar
⅓ cup Cocoa powder (I used Ghirardelli)
1 teaspoon baking soda
½ teaspoon baking powder
½ teaspoon ground cinnamon powder
½ teaspoon salt
¼ teaspoon chili powder (or ancho or cayenne chile)
1 egg, at room temperature
½ cup buttermilk, at room temperature
½ cups strong black coffee, hot
¼ cup vegetable oil
1½ teaspoons vanilla extract
For Chile Buttercream
1 cup (2 sticks) unsalted butter, at room temperature
2-3 cups confectioners' sugar, sifted
2 teaspoons pure vanilla extract
Pinch of chili powder
Pinch of ground cinnamon
Pinch of salt
2-3 tablespoons heavy cream
Instructions
Preheat oven to 350 degrees F. Line muffin tins with cupcake liners. Sift together all the dry ingredients into a large bowl. In a medium bowl, combine all the wet ingredients, including the egg using a whisk.
Mix the dry ingredients on low speed for 1 minute. Stop the mixer and add the wet ingredients. Mix for 2 minutes on medium speed and scrape down the sides and bottom of bowl. Mix for additional minute on medium speed.
The batter will be thin. Divide evenly among the cupcake liners.
Bake for 12-15 minutes or until a toothpick inserted in the center comes out almost clean.
Cool cupcakes on wire racks completely. Meanwhile you could start on the frosting.
For Buttercream:
Whip butter on medium speed for about 2-3 minutes in the bowl of a stand mixer fitted with the paddle attachment until light and creamy. Add the powdered sugar, vanilla extract, chili powder, cinnamon, salt and heavy cream and mix on low for 1 minute until combined. Increase speed to medium-high and whip for 6 minutes.
Frost cupcakes and decorate as desired.
Notes
A note on the chili powder: I used 1/4 teaspoon of chili pepper blend I have in my pantry. It will be a matter of preference but I thought it was the perfect amount of kick for the chocolate cupcake. However, feel free to use less if a) you don't like chili pepper or b) your chili pepper blend is potent.