Brown Butter Sweet Potato Bread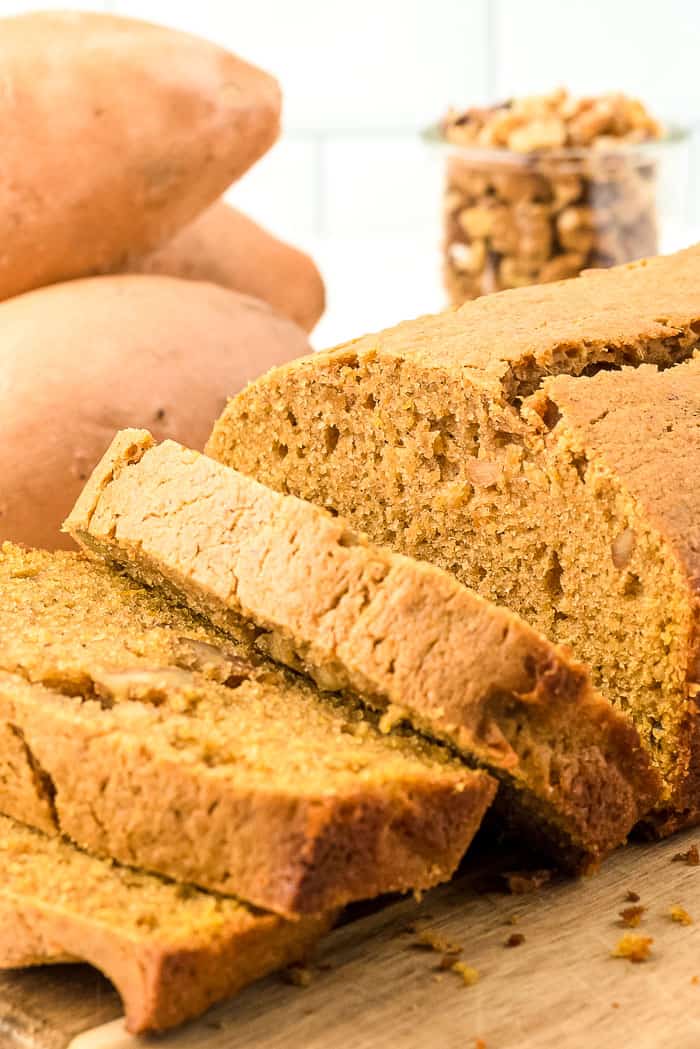 I have another great fall recipe for you today! This brown butter sweet potato bread is simply amazing! Full of a bold sweet potato flavor, spices (cinnamon, nutmeg, cloves), and nutty brown butter, I am certain it will become a fall favorite in your kitchen soon. I have made it three times already and this recipe makes 6 mini loaves for gifting so I was able to bring some over to some friends.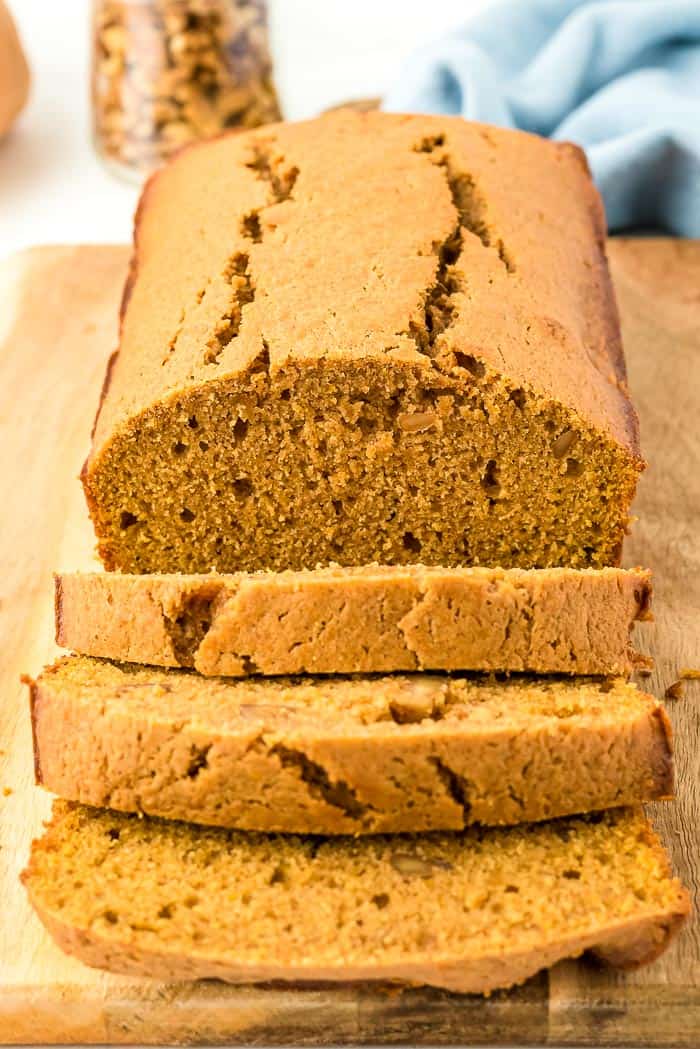 You know how I love me some brown butter. It just makes EVERYTHING it is added to more flavorful. I toss my pasta in brown butter (thanks Kayle), add brown butter to my favorite chocolate chip cookies and I love adding it to quick bread like this or muffins. If you have yet to get on that bandwagon, I urge you to. It is more delicious than the kale craze if you ask me.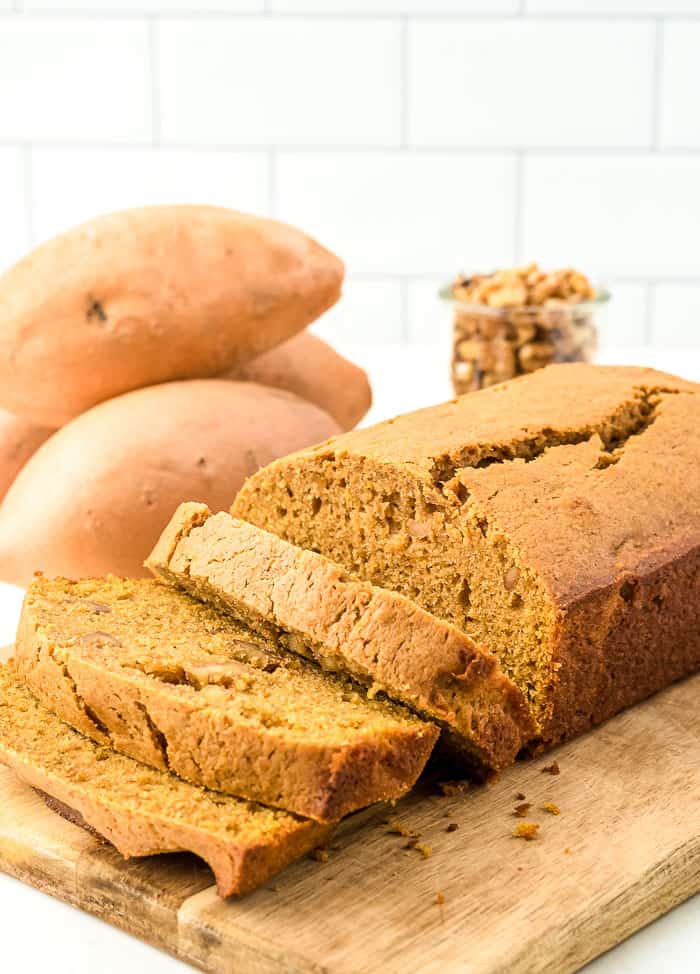 The next awesome thing about this recipe is the moistness of sweet potatoes. I love baking with sweet potatoes but they are so underused in the fall with pumpkin and apples overshadowing everything else. Like pears!! I need to make a pear recipe soon too. But back to sweet potatoes, how can you not love it in baked goods? It adds a great flavor and always makes bread that is moist and crumbly. And don't even get me started on how awesome sweet potato pie is!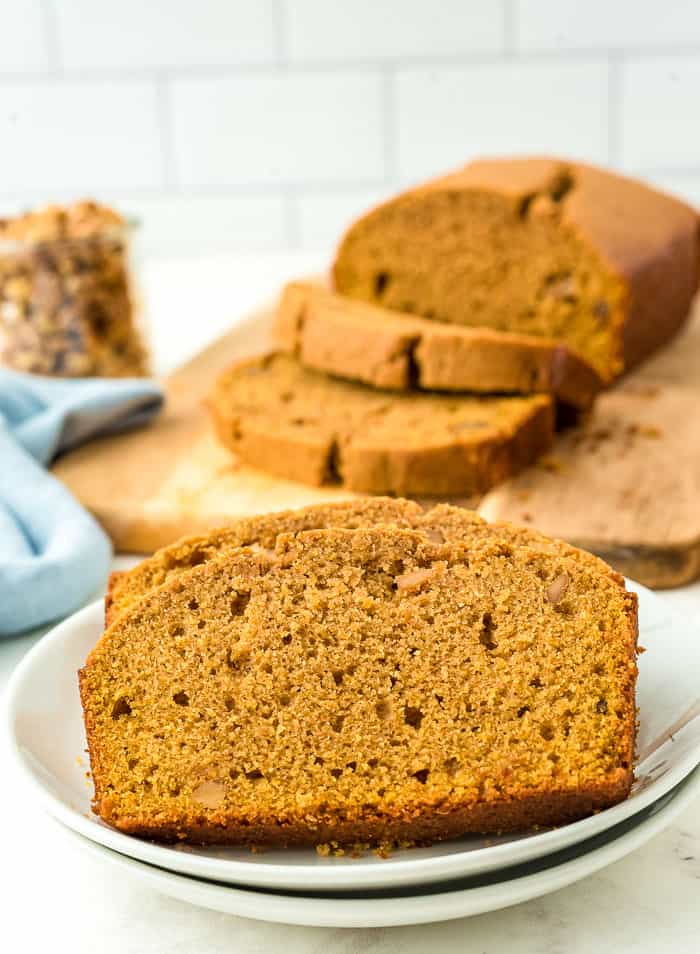 For just a few days, take a break from the pumpkin and use some sweet potatoes to make this browned butter sweet potato bread. It's divine.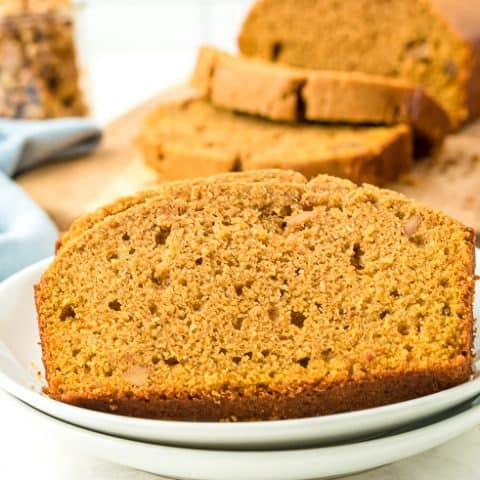 Yield: 1 9x5 loaf
Brown Butter Sweet Potato Bread
Total Time
1 hour
15 minutes
Ingredients
2 small sweet potatoes, peeled and cut in chunks
¾ cup (1½ sticks) unsalted butter
1⅔ cups all-purpose flour
2 teaspoons baking powder
½ teaspoon ground cinnamon
¼ teaspoon freshly grated nutmeg
⅛ teaspoon ground cloves
1 teaspoon salt
1 cup packed light-brown sugar
2 large eggs, room temperature
1/3 cup walnuts, chopped
Instructions
In a small saucepan, bring the sweet potatoes to a boil. Cook until soft, then drain the water from the potatoes. Mash up the sweet potatoes. You should have about 1 cup. Let cool.
Preheat oven to 350°F. Grease a 9x5 loaf pan. Line the pan with parchment with overhangs and grease the parchment.
In a small saucepan, melt butter over medium-low heat until the butter starts to foam. Whisking constantly, cook the butter until it turns golden brown, and brown bits form at the bottom of the pan. Transfer the batter to a bowl and let cool slightly.
In a medium bowl, whisk together flour, baking powder, cinnamon, nutmeg, cloves, and salt. In a separate large bowl, whisk together the sweet potato purée, sugar, eggs, and the cooled brown butter. Mix until smooth. Add in the flour mixture and mix until just combined.
Pour the batter into a prepared Loaf Pan and smooth the top with a spatula.
Place the Loaf Pan on a baking sheet and bake until a toothpick inserted into the center comes out clean, about 40-45 minutes.
Transfer the Loaf Pan to a wire rack and let cool for 15 minutes. Remove the bread from the Loaf Pan by lifting the overhangs and let cool on the wire rack completely.
This post is sponsored by KitchenAid . As usual, all opinions are 100% mine.