Apple Crumble Muffins
These moist apple crumble muffins are lightly spiced, filled with fresh apples, and topped with an oat, nutty crumb topping. The recipe is sponsored by Cabot Cheese.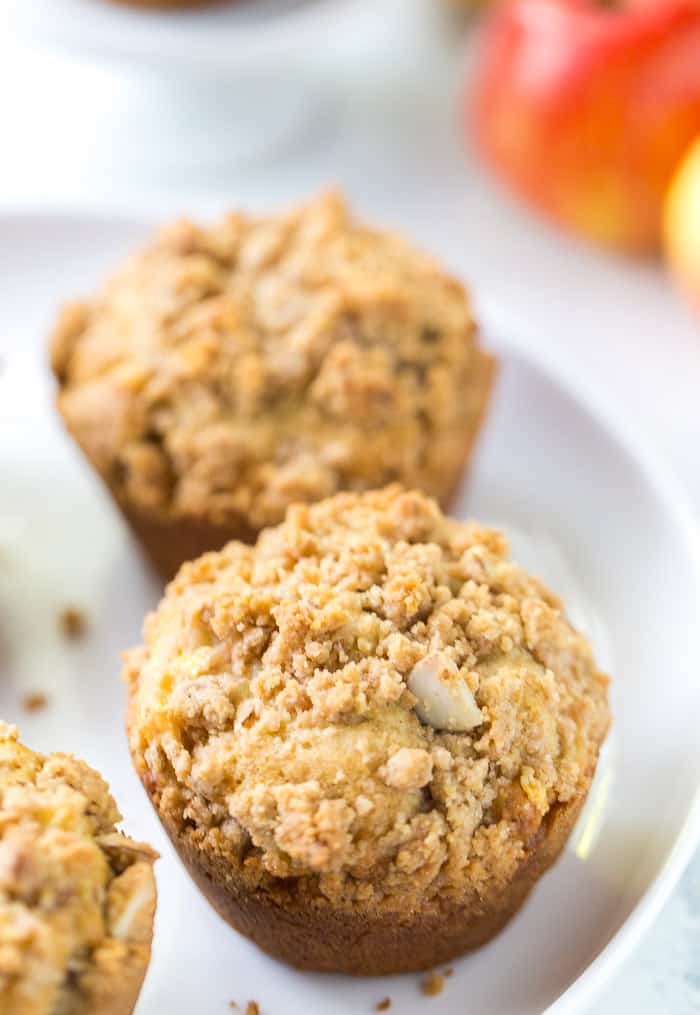 Hi friends! As we ease into fall on the east coast, I'm starting to dream about apples and get excited about baking with apples. These apple crumble muffins are my first apple treat of the season.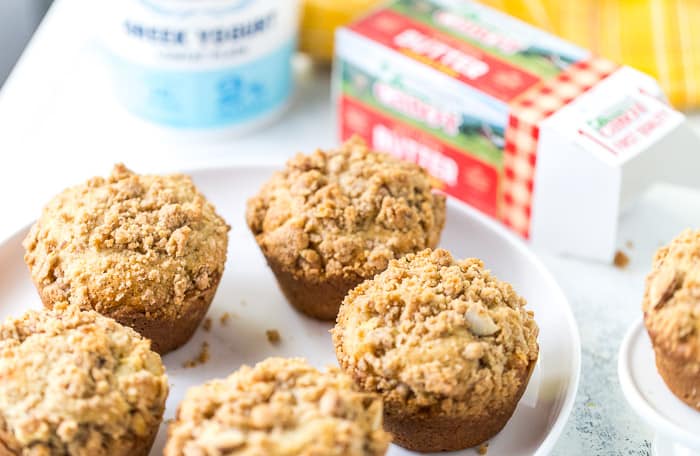 One of my favorite activities to do in the fall is go apple picking. It's an annual family tradition in my household and the kids really enjoy plucking apples off trees. I personally love the crisp crunch of a Harrelson or the sweet taste of a Honeycrisp. What's so wonderful about apples is that they are very versatile. Eat one for a snack, chop them into a salad, or bake them into a pie or a muffin. Whether you prefer sweet, tangy, tart, or a combination there's a flavor for you.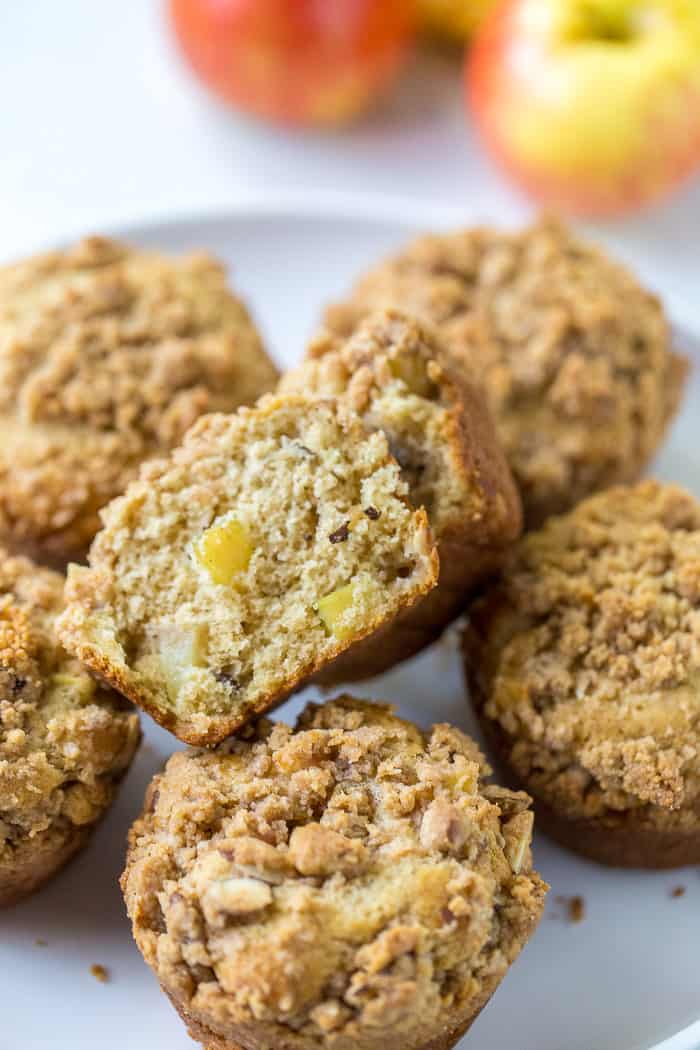 Apples are also great for baking. The main point is to choose apples that can stay firm throughout the baking process. Soft apples can lead to a mushy mess. Here are some of the best apples to bake with: granny smith to balance out the tartness of sweet treats, Honeycrisp for its superior structure and crisp texture, Braeburn for highly concentrated flavor, and pink lady for a balance between sweet and tangy.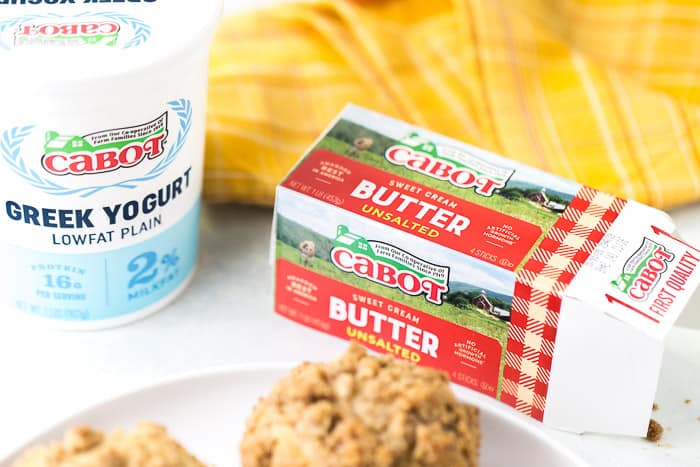 The inspiration for these apple crumble muffins came from the traditional crumble cake. The name of this recipe is meant to showcase the crumb mixture that tops these muffins. The chopped apples and walnuts add a combination of nutty, tangy, and sweet flavor with a nice, soft crunch.
I made them with a good dose of Greek yogurt and good quality butter from Cabot. Did you know they had more than cheese? This was my first introduction to their dairy products and I am so excited. You know I already love their cheeses but now I am enjoying the variety in their yogurt selection. My toddler loves yogurt and he is eating this so easily that I know it will become a staple in our fridge. If your grocery store carries Cabot dairy products, please grab some to enjoy.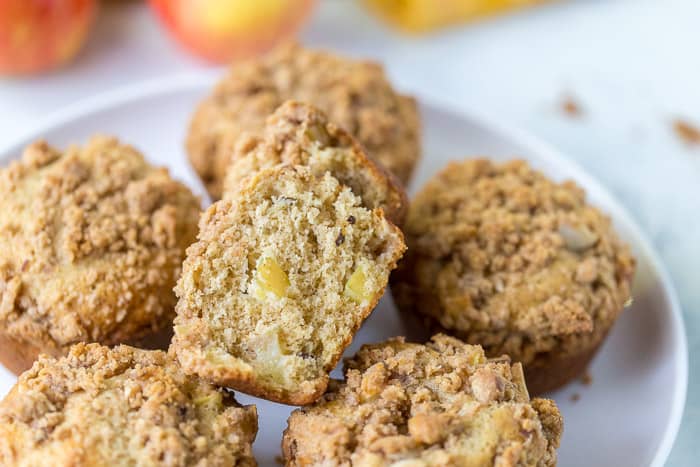 These apple crumble muffins can be enjoyed with a steaming cup of coffee (or tea) in the morning for breakfast, or as an afternoon snack when you need a moment to relax in your day. In our house, we love to heat them up in the toaster oven so they're nice and warm. A few minutes (2 or so) in the microwave would also suffice.
I hope you love this recipe as much as we did!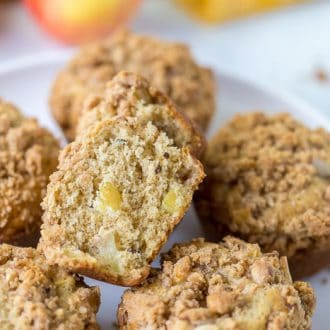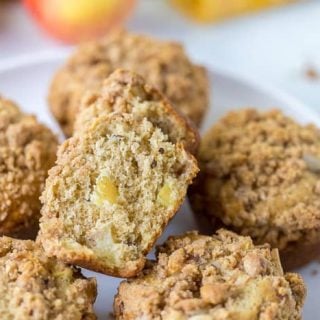 Yield: ~12 standard muffins
Apple Crumble Muffins
Moist apple crumble muffins filled with fresh apples, lightly spiced and topped with an oat nutty crumble.
Ingredients
For the Streusel Topping:
¼ cup sliced almonds, finely chopped
¼ cup packed dark brown sugar
1 teaspoon ground cinnamon
1/2 cup all-purpose flour
1/4 cup brown sugar
1/4 teaspoon salt
2 tablespoons unsalted butter, melted
For the Muffins:
1 1/2 cups all-purpose flour
3/4 cup granulated sugar
1/2 teaspoon salt
1 ½ teaspoons baking powder
½ teaspoon baking soda
1/2 cup (1 stick) unsalted butter, softened,
¾ cup Greek yogurt, room temperature
1 large egg, at room temperature
1 teaspoon vanilla extract
1 ¼ cup chopped apples
For the Glaze:
1 cup confectioners' sugar
3 tablespoons milk
1/2 teaspoon pure vanilla extract
Instructions
Preheat the oven to 350 degrees. Line a standard 12-cup muffin tin with paper liners.
In a medium bowl, combine all the ingredients for the streusel topping. Mix well. Use your fingers to create clumps.
In a large bowl, combine flour, sugar, salt, baking powder, and baking soda. Cut 8 tablespoons of butter into ½ inch pieces and sprinkle evenly over flour mixture. Using a pastry blender, cut the butter into the flour mixture until butter is oat-sized.
In a large measuring cup, whisk the Greek yogurt, egg, and vanilla extract. Add the wet ingredients to the dry ingredients. Mix until just combined.
Add 1/4 cup of streusel mixture to batter and stir until streusel is just distributed throughout the batter. Gently fold chopped apples into the batter.
Divide batter among 12 muffin cups and sprinkle generously with streusel topping, crumbling with your hands to make some big chunks. Bake 22 to 24 minutes, or until a toothpick inserted in the center of a muffin comes out clean.
Allow to cool in the pan for 10 minutes, then transfer to a wire rack to cool completely.
To make the glaze, whisk the confectioners' sugar, milk and vanilla extract together. Drizzle over muffins. Store in a sealed container for up to 2 days.
Recommended Products
As an Amazon Associate and member of other affiliate programs, I earn from qualifying purchases.