Snickerdoodle Bundt Cake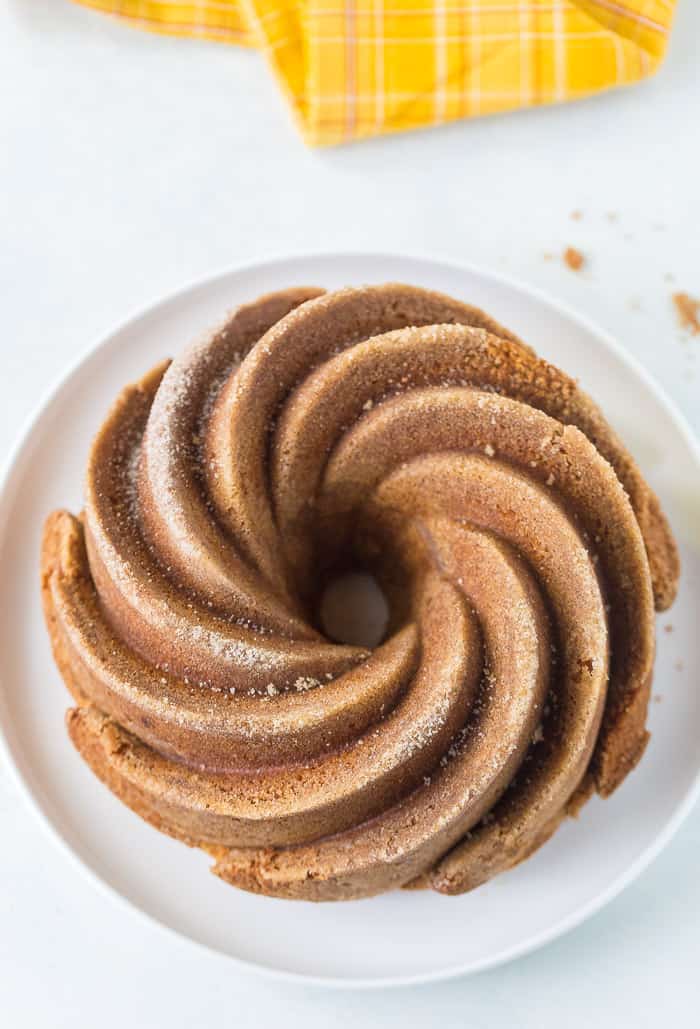 Hi all! I have an easy, elegant snickerdoodle bundt cake for you today.
I don't know about you, but I can't believe it's September! I hope everyone had a wonderful Labor Day weekend. For me, the new month meant sending my little boy to preschool and new worries about Covid-19. He, on the other hand, is happy to be back with his friends. It also means that fall is right around the corner, also known as my favorite season. Fall equals warm spices, apple-flavored everything (I'm obsessed with apple-flavored tea!), cozy blankets, and light jackets, as we transition from warm to cool.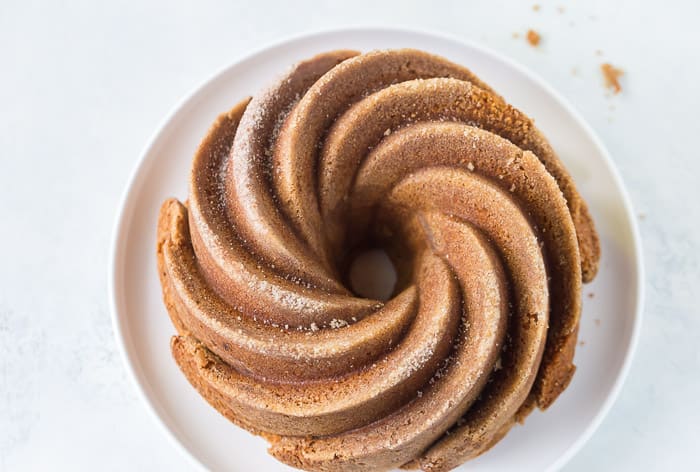 My family and friends know how much I love a good bundt cake. They're easy to make, have a built-in easy wow factor, and makes for a great presentation. Bundt cakes can be dressed up for special occasions like baby showers and holiday meals or kept simple to be savored at home with your favorite hot beverage, a good book, or a good show.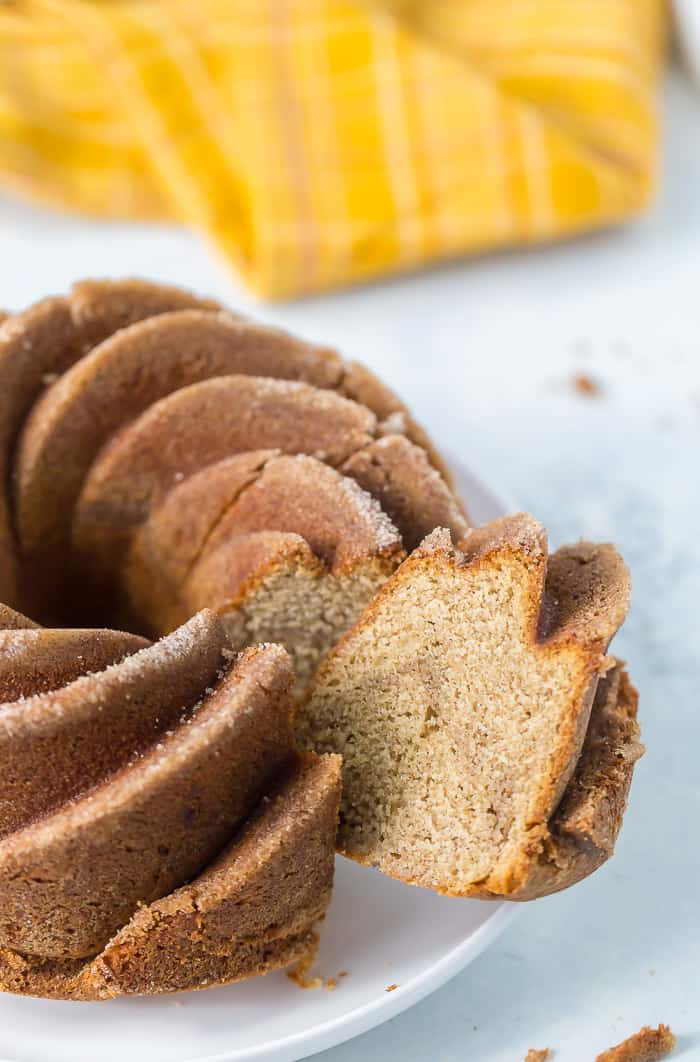 With this particular snickerdoodle bundt cake, I wanted to create something with fall flavors like cinnamon, nutmeg, and sugar. I also wanted to be more creative with how I used cinnamon and find different ways to showcase its flavor. I waffled a bit about what to do…do I sprinkle it in the pan or stir it into the cake batter? I even asked my best friend over FaceTime for her opinion!
In the end, I did both. Sprinkling a mixture of cinnamon and sugar into the pan, and swirling it into the batter. Not only does the understated sweetness create a great flavor profile, but it's also so pretty on the plate or displayed on a cake stand. We served this beautiful bundt cake for dessert with a scoop of ice cream on the side.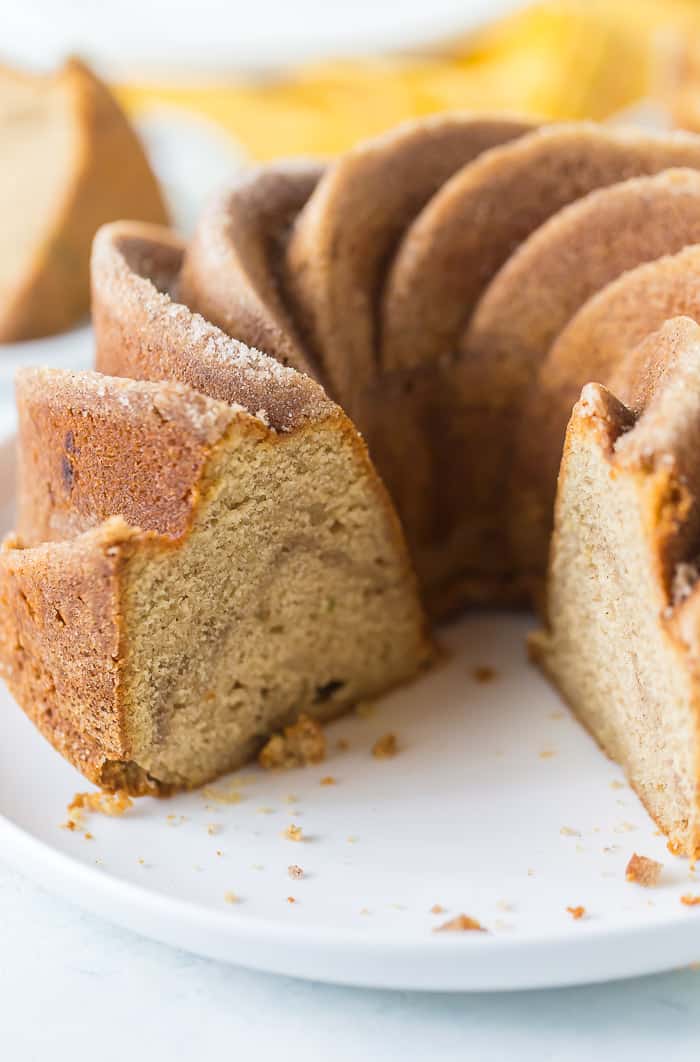 I hope you enjoy this snickerdoodle bundt cake recipe as much as I enjoyed creating it.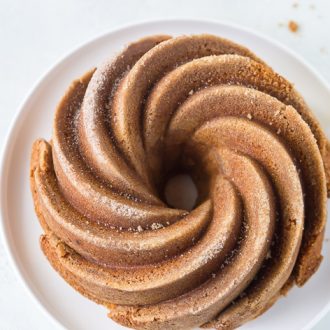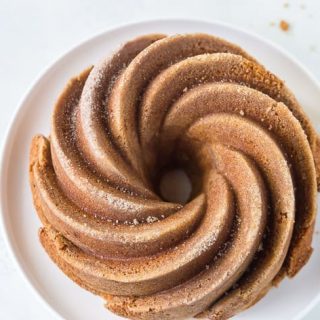 Yield: 12-cup bundt cake
Snickerdoodle Bundt Cake
Total Time
1 hour
10 minutes
Ingredients
For the Cinnamon Sugar:
1/2 cup granulated sugar
1 teaspoon cinnamon
For the Cake:
2 ¼ cups all-purpose flour
1 teaspoon baking powder
1/2 teaspoon baking soda
1 1/2 teaspoon cinnamon
1/4 teaspoon ground nutmeg
½ teaspoon salt
¾ cup unsalted butter, softened at room temperature
3/4 cup granulated sugar
1/2 cup light brown sugar
3 large eggs, room temperature
1 teaspoon pure vanilla extract
1 cup Greek yogurt
Instructions
Preheat oven to 350 degrees F. Grease a 12-cup bundt pan with baking spray. In a small bowl, mix the 1/2 cup granulated sugar with cinnamon. Sprinkle half of the cinnamon sugar in the prepared pan, making sure to coat the sides as well. Save the rest of the cinnamon sugar.
In a medium bowl, whisk together the flour, baking powder, baking soda, cinnamon, ground nutmeg, and salt.
In the bowl of an electric mixer fitted with the paddle attachment, cream together the butter and sugars until light and fluffy, about 4 minutes on medium speed. Add the eggs, one at a time, and beating until combined in between each addition. Beat in vanilla extract until combined.
Reduce speed to low and add a third of the flour mixture. Add half of Greek yogurt and mix it until combined. Add another third of the flour and the rest of yogurt. Mix until combined. Add the rest of the flour mixture and mix until just combined.
Pour half of the batter into prepared pan. Sprinkle the rest of the cinnamon sugar over the batter. Using a butter knife, swirl the sugar into the batter. Top with the rest of the batter. Smooth the top.
Bake for the cake for about 40-50 minutes (about 30 minutes for a 6-cup bundt pan) or until a cake tester inserted into the center comes out clean.
Let cool on a wire rack completely.
Serve with powdered sugar or a simple glaze (powdered sugar mixed with apple cider would go good!).
Recommended Products
As an Amazon Associate and member of other affiliate programs, I earn from qualifying purchases.