Elvis S'mores Cake
This week has been filled with cakes here on the blog and it's time for another round of
Pass the Cook Book Club
with yet another summer inspired cake. I know I shouldn't pick favorites but this month is by far my favorite in this club!
Kita
, our lovely leader, was very kind in choosing
The Smitten Kitchen Cookbook
by Deb Perelman the author behind the blog
Smitten Kitchen
. I've been a reader of her blog for over two years; well before I knew what 'blogging' was and her cookbook has been on my to-buy list for a long time (see my
cookbook pinterest board
).
All the recipes in this month's selection are very tempting; thus why I am buying the book! From the Cheddar Breakfast Swirl Breakfast Buns, to the Tomato Scallion Shortcakes with Whipped Goat Cheese and this S'mores Layer Cake. I intend to make all the above soon but of course I was naturally drawn to the layer cake. I just love making layer cakes and I couldn't resist.
Since I've made traditional s'more recipes recently (s'more cookie bar and s'mores macarons), I wanted to switch the cake up a little bit. As always, I asked Mr J what he thinks would be a great variation and of course he said peanut butter. I swear this man is addicted to peanut butter and needs some therapy (just saying; PB anonymous?). But since he eats a majority of what I make, I indulged him. A few Google searches lead to the decision of peanut butter banana s'mores cake aka Elvis S'mores Cake.
I made the graham cracker cake as the recipe suggested but I smothered it with a creamy milk chocolate peanut butter ganache instead and added some fresh sliced bananas. Finally the cake is topped with marshmallow frosting! The frosting is pretty thin and not my usual 'cake' frosting so it was very hard to work with and beautify.
It is not the prettiest cake I've made (probably the ugliest, still debating) but for now it wins the award for the best cake ever according to the hubby. The graham cracker cake is moist and fluffy (just the way I like my cakes) and the peanut butter ganache running in the middle is perfectly sweet and is not overpowering that you lose the graham cracker and subtle banana flavors. Don't get me wrong, there is plenty peanut butter flavor here but it is well balanced. It's the first time I've ever seen Mr J. lick his plate clean (Instagram picture). Apparently it was that good. Feel free to add more bananas as several labmates suggested they would have liked more of the banana in there.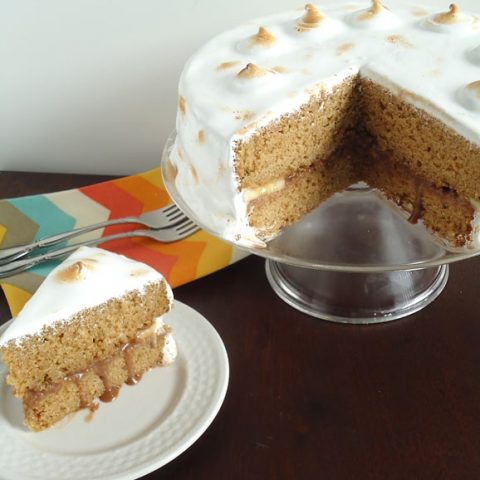 Yield: 1 9-inch cake
Elvis S'mores Cake
This graham cracker cake is smothered with a creamy milk chocolate peanut butter, some fresh sliced bananas and finally topped with marshmallow frosting!
Prep Time 1 hour
Cook Time 35 minutes
Additional Time 30 minutes
Total Time 2 hours 5 minutes
Ingredients
Cake:
1 cup (2 sticks) unsalted butter, softened, plus a bit more for greasing pan
2 cups flour
2 cups honey graham crackers (not cinnamon graham crackers), finely processed into a powder
2 teaspoon baking powder
¾ teaspoon baking soda
¾ teaspoon salt
½ teaspoon ground cinnamon
⅔ cup granulated sugar
1 cup dark brown sugar
4 large eggs, room temperature
2 cups buttermilk, well shaken
Filling:
½ lbs milk chocolate Reese's peanut butter cups, finely chopped
¾ cup heavy cream
Pinch of salt
1-2 bananas, sliced
Frosting:
4 large egg whites
1 cup granulated sugar
¼ teaspoon cream of tartar
1 teaspoon vanilla extract
Instructions
To make the cake: Preheat the oven to 350 degrees F. Butter two 9" round cake pans, line them with parchment paper, and butter that.
In a medium bowl, whisk together the flour, graham cracker crumbs, baking powder, baking soda, salt, and cinnamon. Set aside. In a large mixing bowl, cream the butter and sugars together until light and fluffy. Add the eggs, one at a time, scraping down the sides of the bowl as needed. Add a third of the dry ingredients, then half of the buttermilk, and repeat mixing after each addition until combined. Scrape down the bowl and mix again if needed.
Divide the batter between the cake pans, smoothing tops. Bake until a toothpick inserted into the center comes out clean, about 30-35 minutes. Cool in pan on rack for 20 minutes, then run a knife between the cake edges and pan before inverting each layer on a rack. Discard the parchment paper and flip the cakes back upright on the rack. Let cool completely. (a process you could speed up by placing cakes in the fridge).
To make the filling: Place the chocolate in a heatproof bowl. Combine the heavy cream and salt in a small saucepan, and bring to a simmer. Pour over the chocolate and let sit for 1 minute, then whisk until smooth. Set bowl over another bowl filled with ice water and stir until it firms up to a spreadable consistency.
Make the frosting: Place egg whites, granulated sugar, and cream of tartar in a heatproof bowl of an electric mixer. Set over a saucepan with simmering water. Whisk constantly until sugar is dissolved and whites are warm to the touch, about 3 minutes. Transfer the bowl to an electric mixer fitted with the whisk attachment, and beat, starting low and gradually increasing to high, until stiff glossy peaks form, 4 to 7 minutes. Add vanilla and mix until combined. Use immediately.
Assembly: Use a long serrated knife to level the top of the cakes; gently taking off the domed part. Place one cake layer face up and spread peanut butter ganache thickly over the bottom layer. Scatter the banana slices over the ganache. Place top layer over the bottom. Chill the cake for 10-15 minutes. Frost the cake by spreading a thin layer over the top and sides, covering for crumbs. Transfer to fridge for 5 to 10 minutes, and let sit. Then generously coat top and sides with additional frosting. Put the remaining frosting in a piping bag fitted with a large round piping tip. Create big marshmallow dollops decoratively over the top of the cake. Dipping your finger in water between each dollop to push down the top of each where you pulled the piping bag away. With a kitchen torch on low, lightly brown the dollops, creating the toasted marshmallow effect.
Below is what everyone else in the club made!
MAKING THIS RECIPE? Share it with us on Instagram using #aclassictwist so we can see what you are baking up in your kitchen!