S'mores Macarons
Hey guys! I'm still out of town for a wedding but I had to pop in to share with you these s'mores macarons. Just in time for National S'mores Day! Yes, there is a whole day dedicated to celebrating s'mores. I won't complain considering my love for them 🙂
These macarons were a product of my s'more addiction a few weeks ago that lead to these s'more cookie bars. You know I love macarons (here and here) but they are so finicking that I am making them less now. But these were a success on the first try and the second!
I made graham cracker macarons and filled them with marshmallow creme and chocolate frosting. I may have over piped the chocolate frosting and marshmallow filling (sorry but not sorry). I loved how puffy these little sandwiches turned out. They were perfectly crunchy and sweet and they tasted just like a traditional s'more! If you need a twist on the traditional s'more, then you need to try these. They make for a pretty display too at any summer event 🙂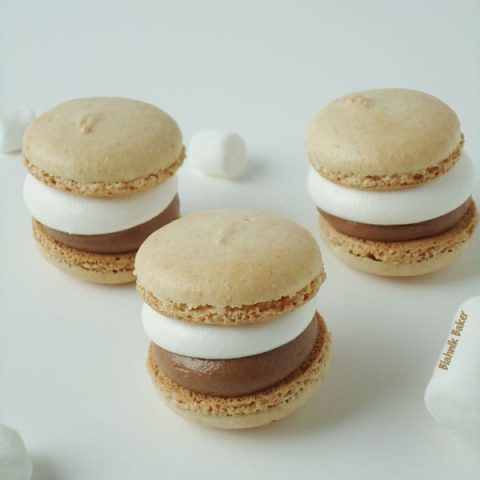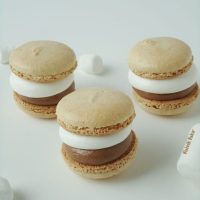 Yield: ~30 macarons
S'mores Macarons
Graham cracker macarons and filled them with marshmallow creme and chocolate frosting!
Total Time
2 hours
5 minutes
Ingredients
3 large egg whites
⅓ cup granulated sugar
½ cup graham cracker crumbs
2 cups powdered sugar
1 cup fine almond meal
½ cup powdered sugar,  sifted
½ cup (1 stick) unsalted butter, at room temperature
½ teaspoon pure vanilla extract
1 cup Marshmallow Fluff (~half of the 7.5oz jar)
Chocolate frosting
Instructions
Line two sheet pans with parchment paper. I used a 1½-inch round cookie cutter to draw circles on the parchment paper and flipped the paper (drawing side down).
Prepare a pastry bag with a round tip. I used Wilton 2A.
In the bowl of an electric mixer with the whisk attachment, combine the egg whites and sugar. Whip on medium-high speed until stiff peaks forms, about 5-7 minutes.
Using a food processor, pulse the powdered sugar, almond flour, and graham cracker crumbs into a fine powder. Sift several times until there is less than 2 tablespoon of almond bits left.
Add the dry ingredients to the meringue and fold with a rubber spatula. Gently fold to deflate the meringue by pressing against the side of the bowl and scooping from the bottom until batter is smooth and shiny; about 20-25 folds. To check consistency, drop a spoonful of batter and it should have a peak that quickly relaxes back into the batter. Start checking the batter after 20 folds.
Transfer batter into pastry bag and pipe the batter into the pre-traced circles on the baking sheet. Tap baking sheet hard on a counter to release any air bubbles trapped in the batter.
Let macarons sit at room temperature to dry for at least 30 minutes. When dry to the touch, preheat oven to 280 degrees F.
Bake for 15-20 minutes until hard and slightly golden, rotating cookie sheets halfway through baking time. Cool completely on cookie sheets before peeling from the parchment.
For the Marshmallow Frosting:
In an electric mixer fitted with the paddle attachment, beat the butter and icing sugar on low until combined, about 1 minute.
Add vanilla and increase speed to medium and beat for about 3 minutes. Add the marshmallow fluff. Use immediately.
Fill each macaron with a dollop of marshmallow frosting and chocolate frosting.
I hope you all have a great weekend!!