Cherry Coconut Popsicles
I left home at a young age when I moved to Singapore, a whole different continent and culture away from my family to complete high school. It was the hardest thing I'd ever had to do and making it away from home would have been impossible without the immediate support of some amazing girlfriends.
Girlfriends are just the best and having them (far or near) is necessary. I was extremely lucky last year to have eight wonderful girls stand up with me as I was getting hitched. They traveled from Virginia, California, the Netherlands, Minnesota, Indiana, Sierra Leone and of course NY. So lucky to have them in my life!!
And this is why I am so happy to be heading out of town today to stand by my adopted 'baby sister' as she gets married this weekend! My girlfriend's sister is tying the knot and I'm super excited to be a part of her special day. It's also the first wedding in which I'm a bridesmaid. Remember the bridal shower we hosted? And I baked some cupcakes? Eeeep, tomorrow is our spa day with the bride and Friday is time for some last minute decoration prep, rehearsal and Saturday is the big day. Can't wait!
Ok these popsicles, I guess we should talk about them right? We had a heat wave a few weeks ago, hitting record heat in Central NY and in my need to cool down these popsicles happened. Twice. I didn't want to share them because the pictures are not that great…not a fan of popsicle picture-taking but the recipe is so simple and amazing I had to get over myself and share with you!!
If you don't already know this, I have a thing for coconut. Coconut flakes, coconut water and coconut milk are a staple in my pantry. It's not my fault, I was born in the tropics (at least, that's my reasoning). These popsicles are made with fresh cherries, the new Chobani coconut greek yogurt flavor and toasted coconut flakes (for added pizzazz).
They are simply creamy and refreshing! You have to try them before the summer is over. Cherries and coconut pair very well together and I am surprised this is my first encounter of their union.
As you can see I made these twice using the same ingredients. In one, I pureed the yogurt and cherries and in the other I kept them separate. Both taste amazing so do as you please!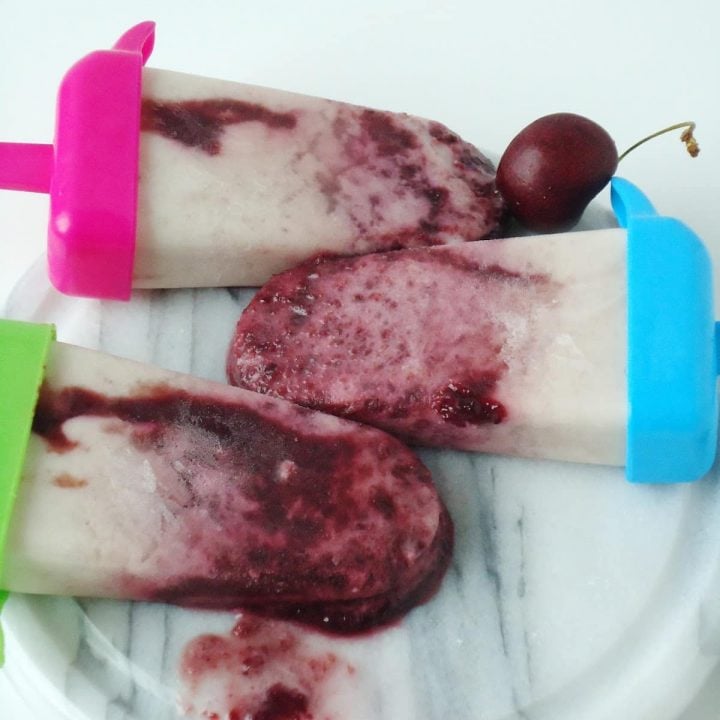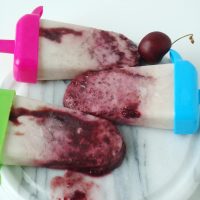 Yield: 4 popsicles
Cherry Coconut Popsicles
These popsicles are made with fresh cherries, coconut greek yogurt and toasted coconut flakes (for added pizzazz).
Ingredients
1 cup fresh cherries, pitted
1 tablespoon granulated sugar (or to taste)
2 (6 ounces each) 2% Chobani Coconut Greek yogurt
3 tablespoons sweetened coconut flakes, toasted
Instructions
A)
Place the cherries in the bowl of a food processor (or blender) and puree until smooth. Add the rest of the ingredients and blend for another minute.
Pour the cherry puree into each popsicle mold. Insert a popsicle stick in the middle or top with popsicle mold cover if available. Freeze for at least 6-8 hours, preferably overnight. Enjoy!
OR B)
Puree the cherries and sugar in a food processor until smooth. In a separate small bowl, mix the yogurt and coconut flakes until combined.
Spoon the cherry puree into the bottom of each popsicle mold. Top with dollops of yogurt blend. Insert a popsicle stick and freeze for at least 6-8 hours.