Strawberry Lavender Cake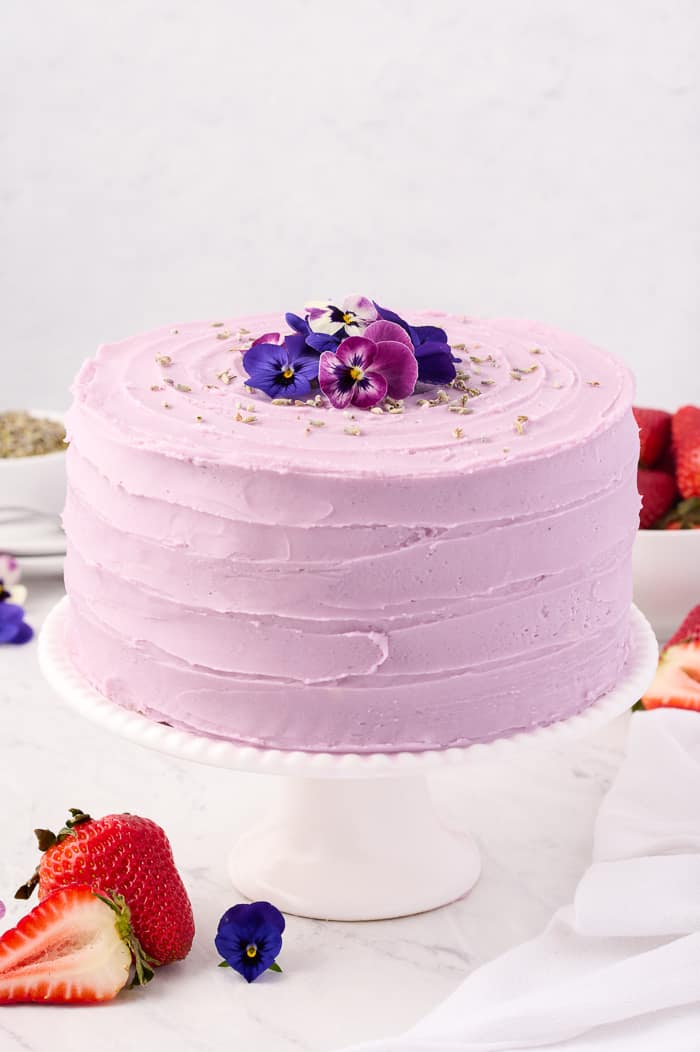 Happy Monday!
It's my birthday today, and I made myself a birthday cake! A Strawberry Lavender Cake, to be precise.
Apparently, you are not supposed to make yourself a birthday cake, but I wanted to, and there was no stopping me. Who makes these rules anyway? Here was an opportunity to make myself whatever I wanted without worrying whether people would like it because it's my cake. Like this strawberry lavender cake, a great flavor combination that is me and not my family's taste.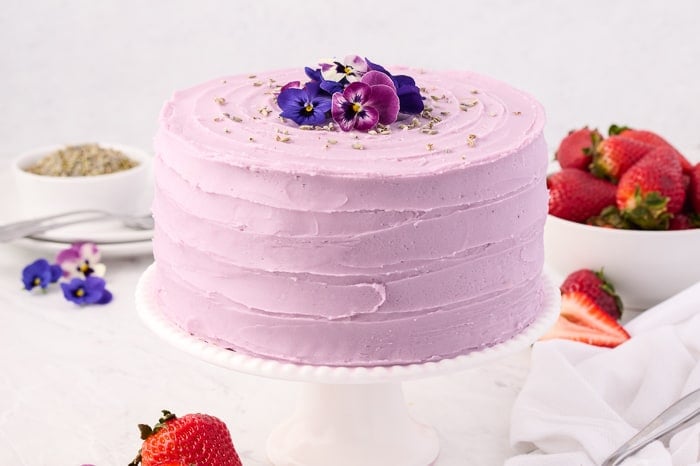 This cake is straight up from my cake crush, Sweetapolita, and I've had it for months at the back of my mind. All her cakes are on my to-bake list, like this chocolate marshmallow cake. But I digress. This strawberry lavender cake starts with a wonderfully moist buttermilk cake filled with a whipped vanilla mascarpone filling & strawberry and lavender compote and then topped with whipped lavender frosting. It's a mouthful, but it's just as impressive as it sounds!! Let me break it down for you.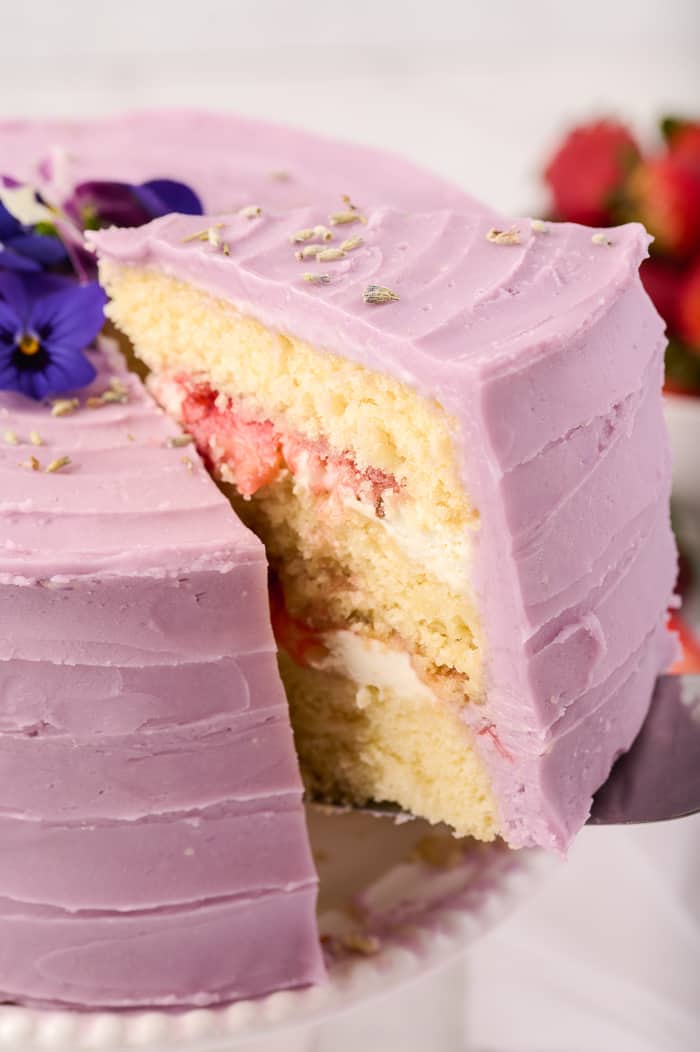 First, there is a light, airy, yet very moist cake. Rosie (Sweetapolita) uses an interesting mixing technique in making this cake. She adds cold butter to the dry ingredients and mixes to create a cornmeal consistency before mixing in the wet ingredients, making light and fluffier buttermilk cake. Next, the cake is filled with vanilla whipped cream, perfectly matching the strawberries. I added mascarpone cheese to this for more richness and a slight tartness. In addition to the whipped cream, the cake is also filled with a fresh strawberry, lemon, and lavender compote that is sweet and full of summer flavors. Finally, a delightful whipped vanilla lavender frosting tops it all. Lavender is a beautiful flavor, and if you haven't tried it yet, I suggest you do it soon. It's my first time baking with it, and I don't know why it took me this long.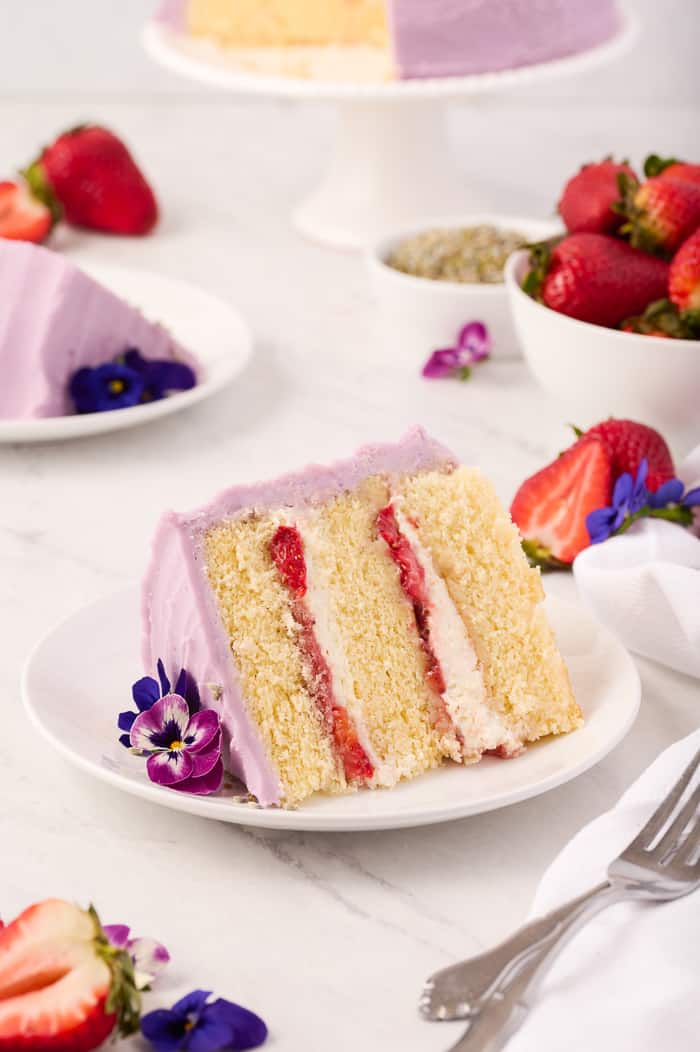 I am not a big fan of birthdays, to be honest. I hate being the center of attention, and despite my love of presents, I don't throw birthday parties! My wedding took lots and lots of effort to walk out and be stared down…yikes! Anyway, I let my husband host two dinner parties for me this weekend, and I resisted the urge to be involved in any planning except making this cake and some cupcakes I'll share later. Thanks to the great presents, I survived both parties! Oh, I got a camera fund started by my friends. I am almost ready to shop for a DSLR!! I can't wait.
Here are the step-by-step directions on how to make this cake. If you don't want the pictures, feel free to skip to the end for the recipe.
Let's start by gathering your cake ingredients. Always measure them too. Butter is cubed up and best cold.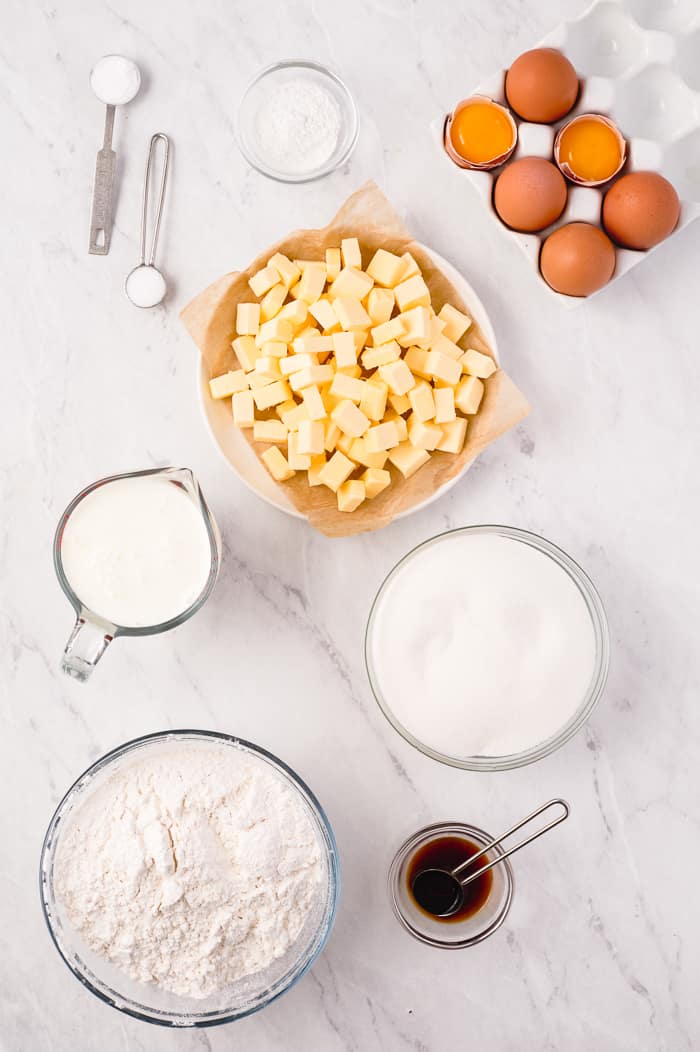 You whisk the dry ingredients together and then add in the butter until it breaks up into pea-sized.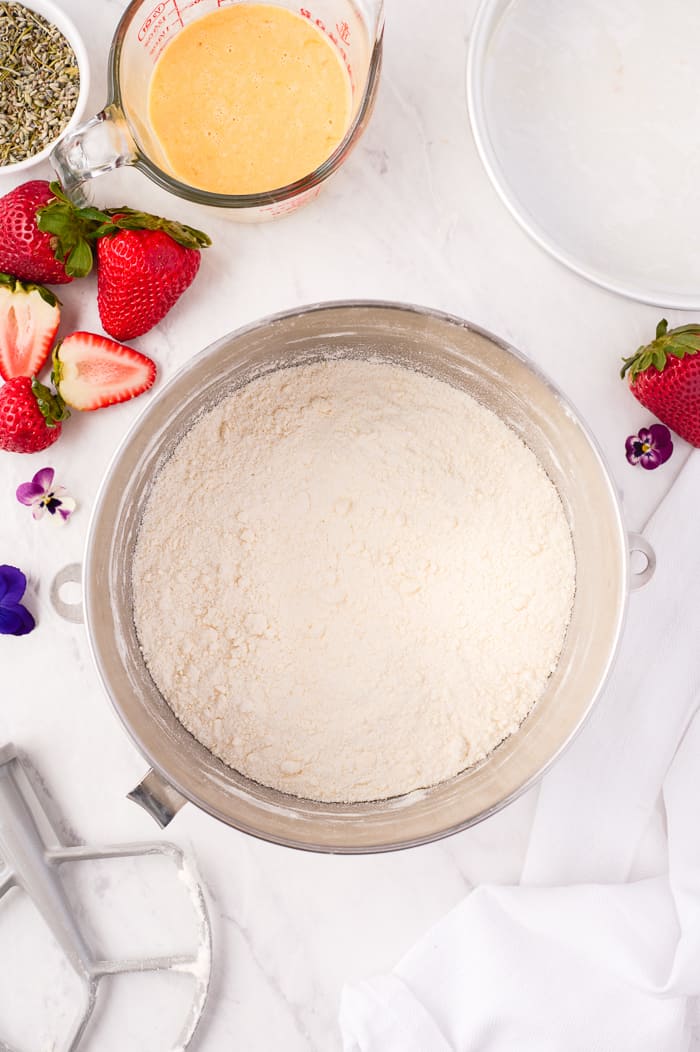 Add in the liquid ingredients in several additions and mix after each to incorporate into the batter.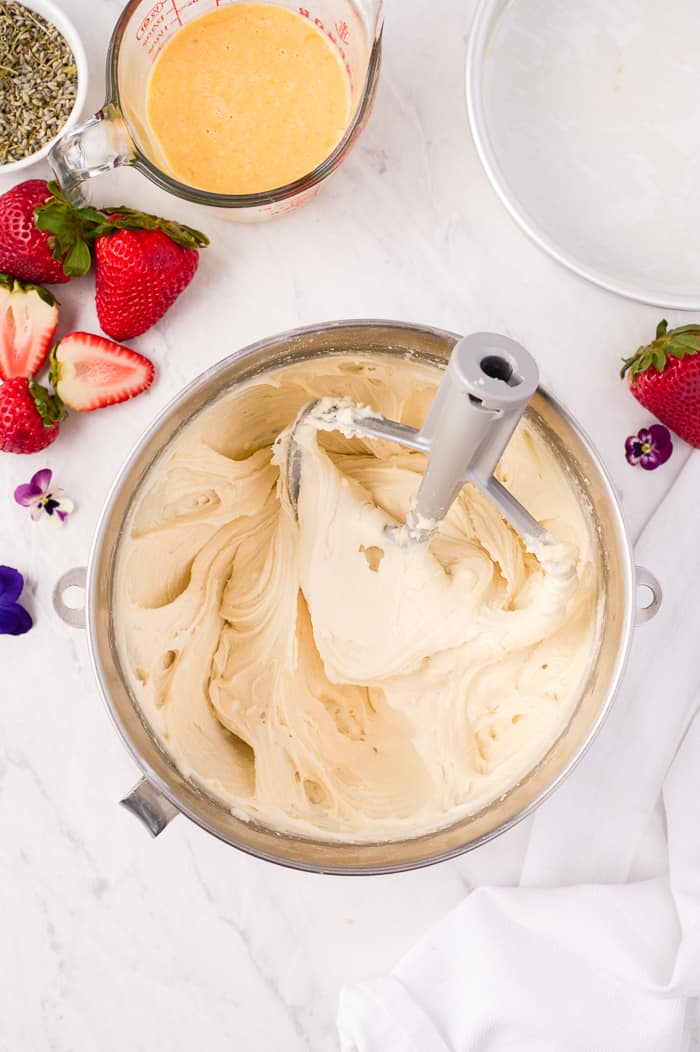 Transfer to your cake pans and then bake.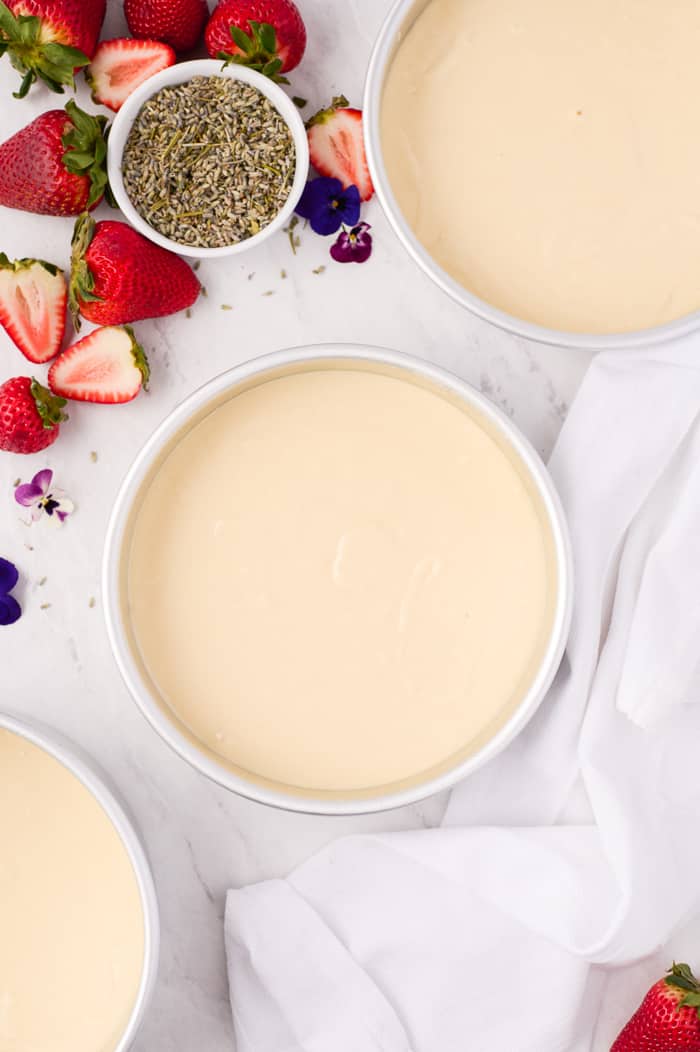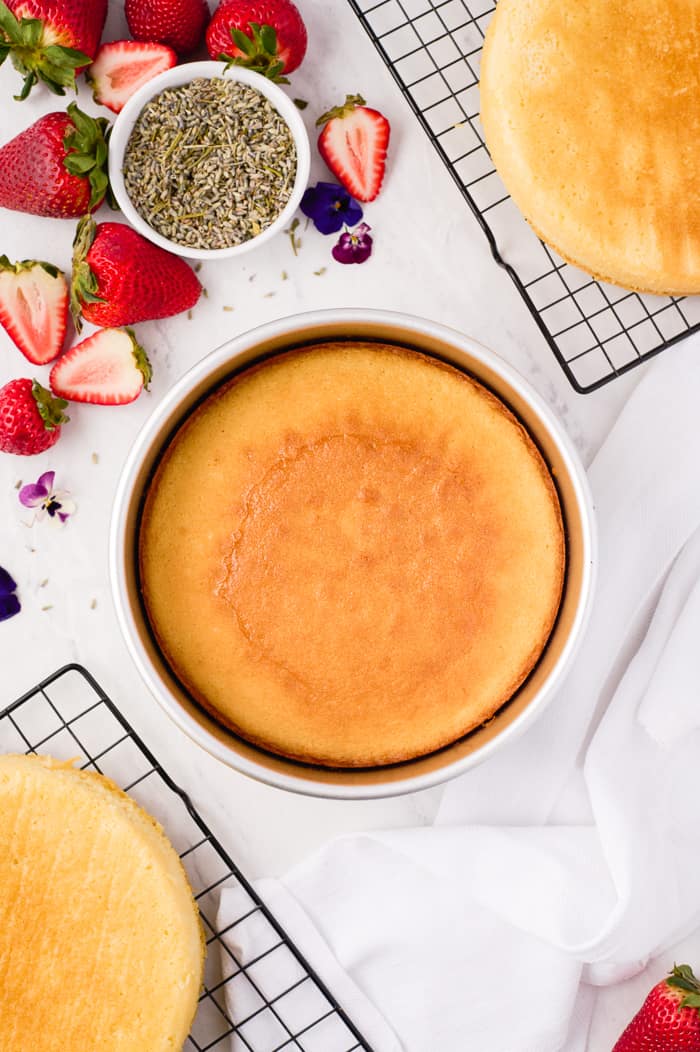 While the cake cools, let's make the strawberry lavender compote.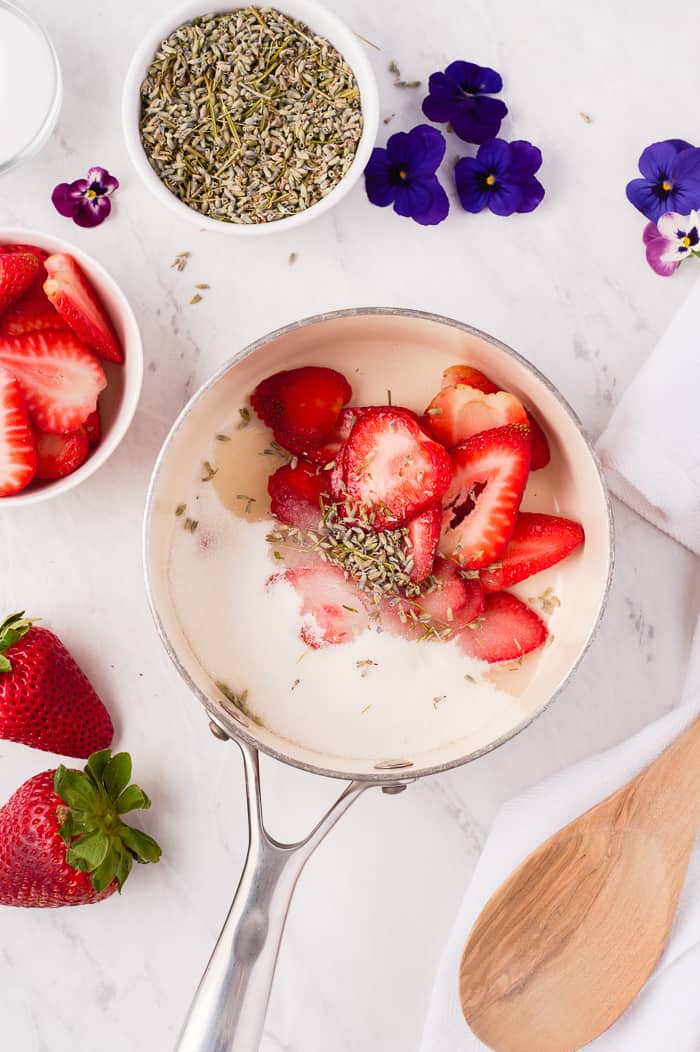 Combine the strawberries, sugar, and lavender. Cook until a compote is thick.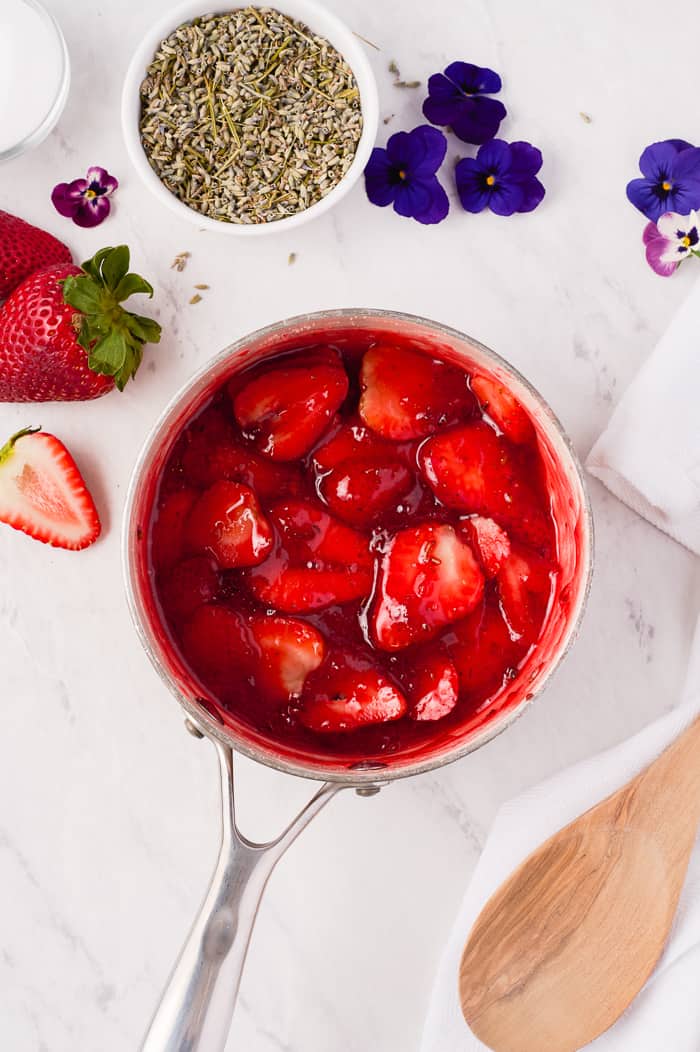 Let this cool, and let's make the vanilla whipped cream filling. I know many parts, but they are all so good and worth the wait!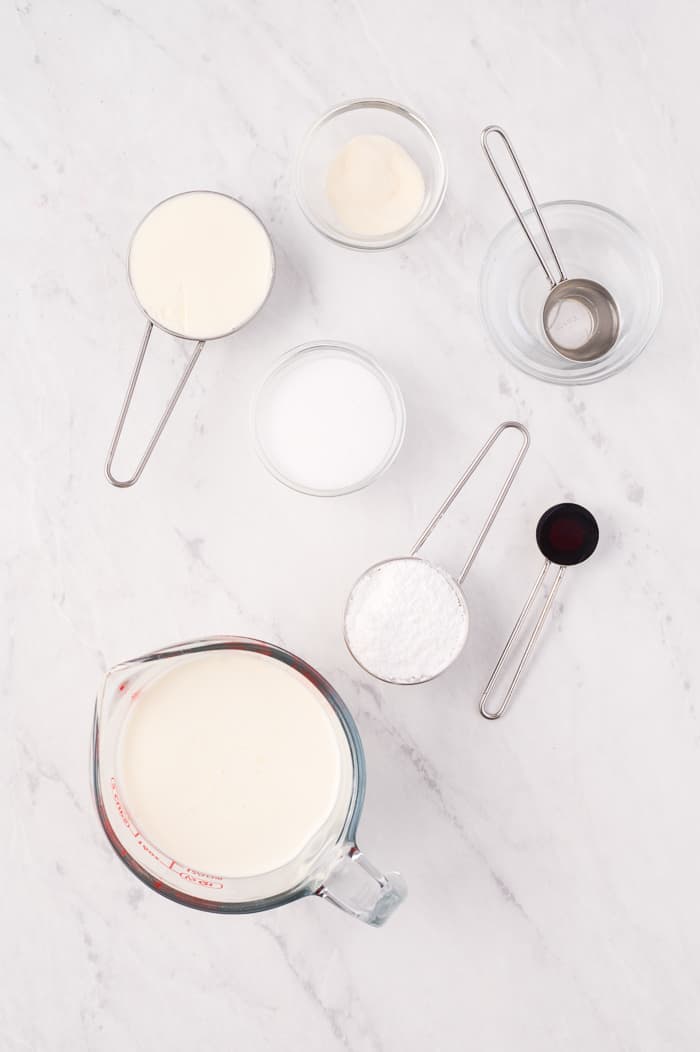 Whisk it all until stiff peaks form.
Finally, let's make the frosting!!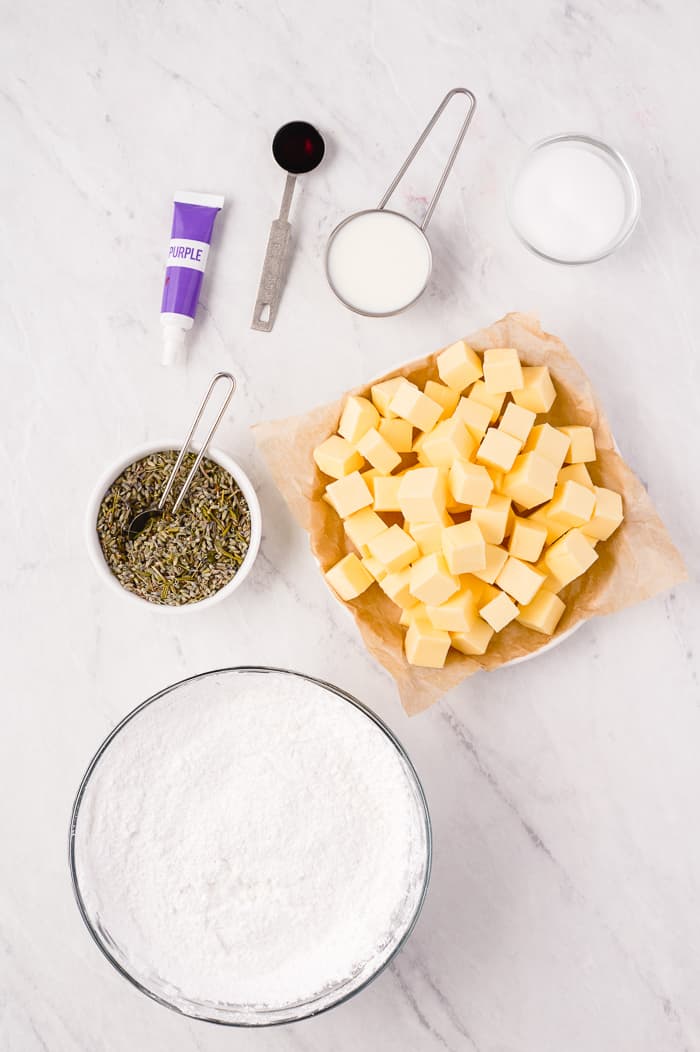 This is a regular American buttercream. But we do steep the lavender flowers into the milk.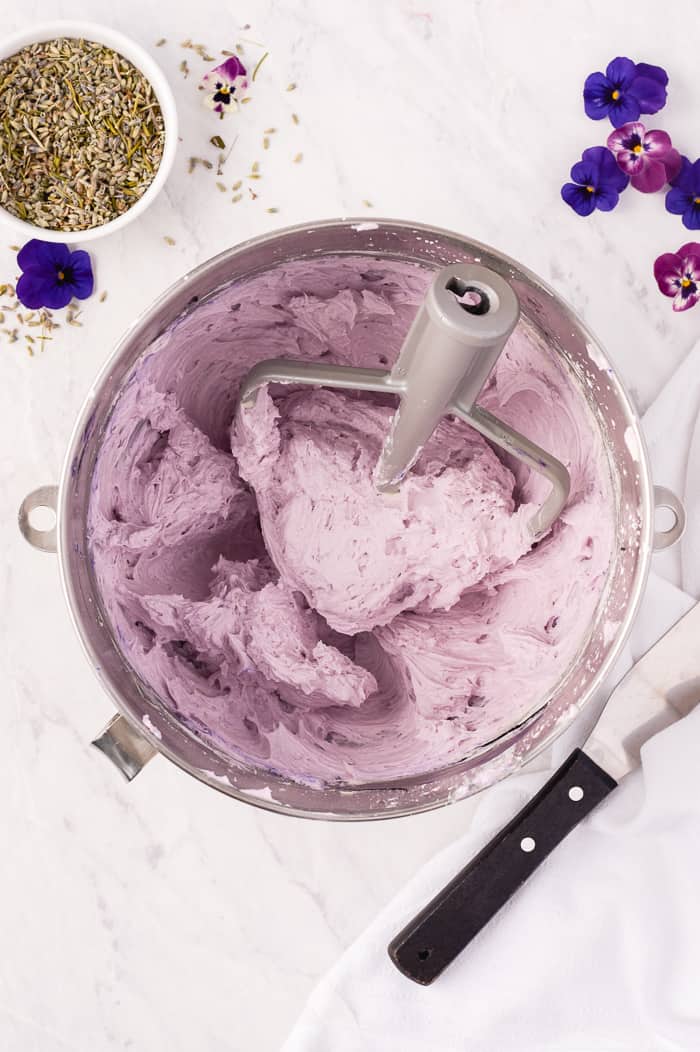 The rest is assembly! Layer the cooled cake layers with whipped cream and the strawberry compote.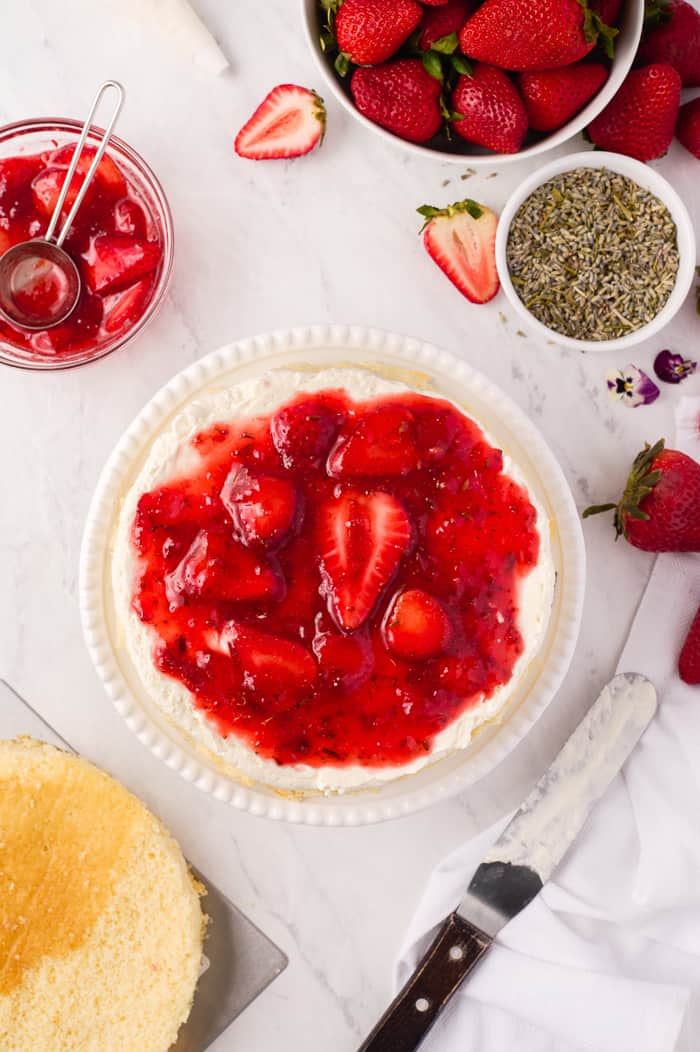 Finish it up with the pretty purple buttercream and some pretty edible flowers.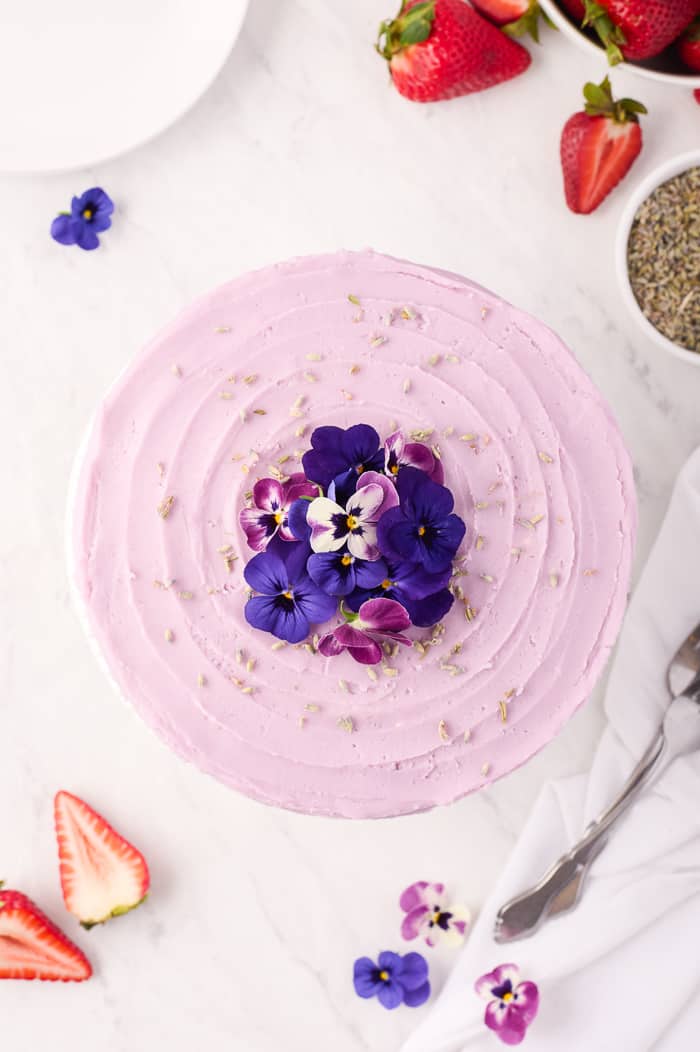 I hope you give this a try when you need an amazing cake! Treat yourself and enjoy.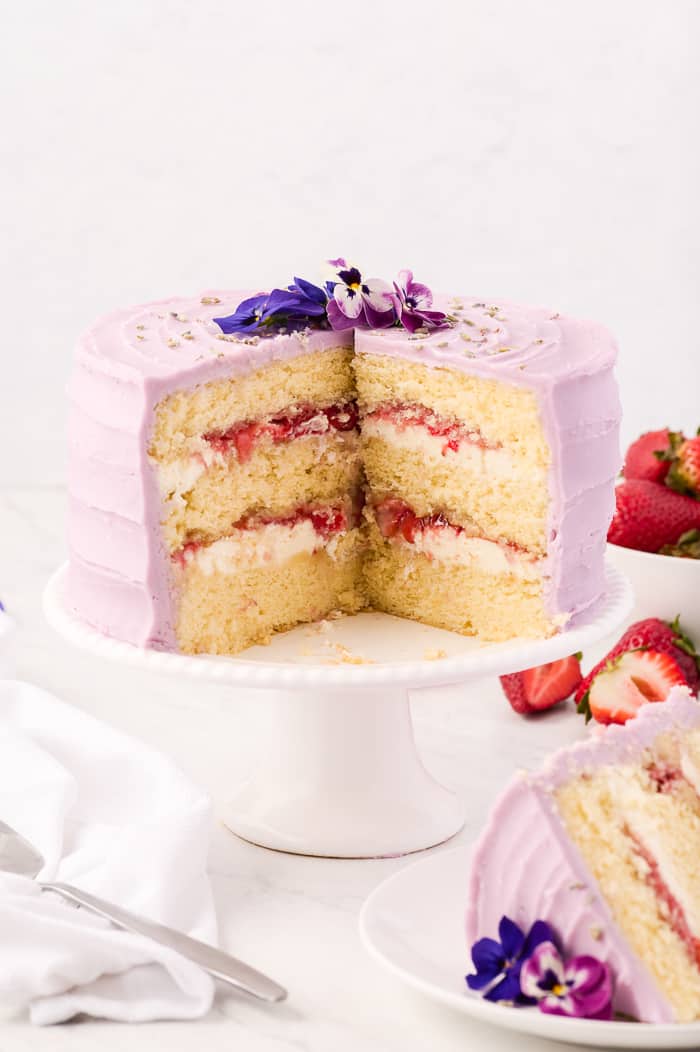 Recipe: From Sweetapolita
– The only change I made was adding mascarpone cheese (1/3 cup) to the vanilla whipped cream filling at the end.
Here is a look at the aftermath of this beauty.