Apple Tart with Toasted Sesame Seeds
A sweet tart dough, nutty frangipane filling and toasted sesame seeds makes this apple tart recipe a winner and a must-try!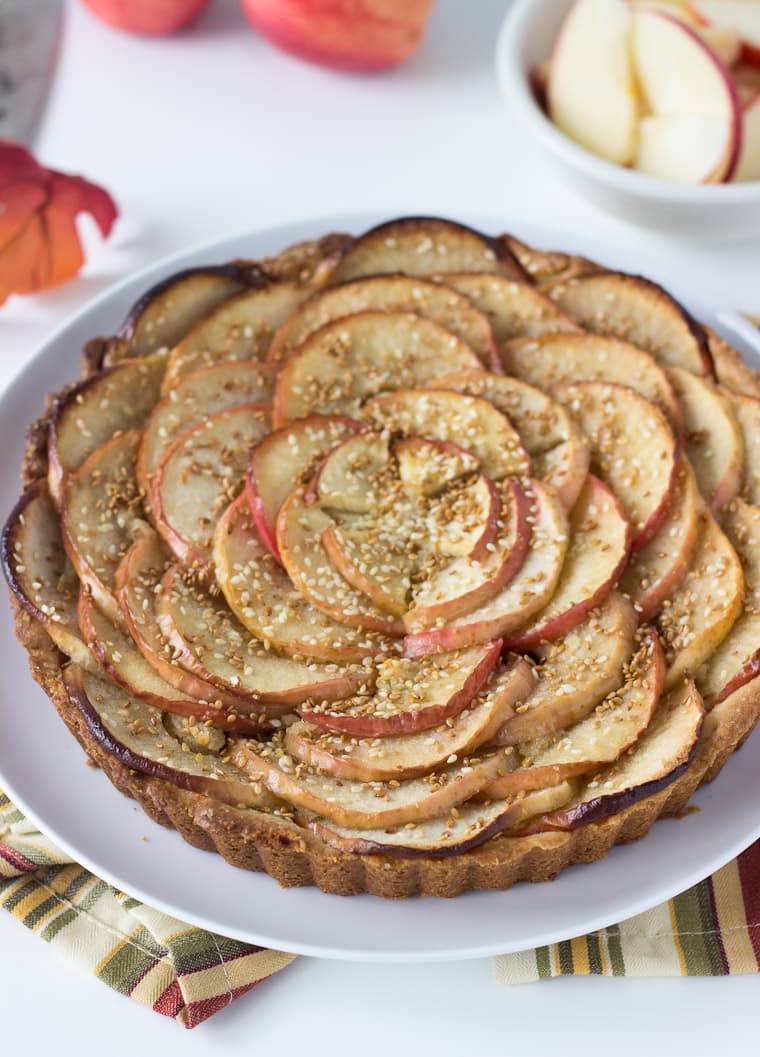 You guys my apples I picked a few weeks ago are all gone 🙁 OK, maybe it was a month ago so it makes sense, but still it was a LOT of apples. After several apple recipes over the past weeks, this apple tart cleaned the bags. I didn't even get to make an apple pie yet!! There was a brown sugar apple pie in last month's bon appetit I've been dying to try but never got around to it. Oh well, I'll just have to buy another 5lbs for that 🙂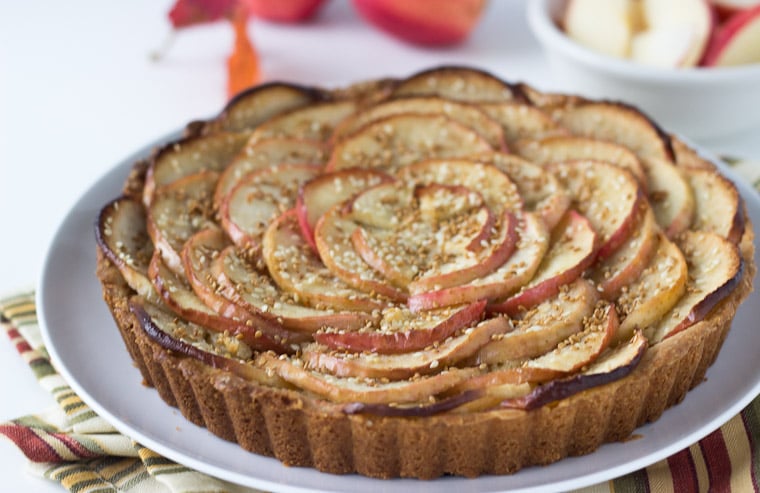 Talking about things I've been dying to try >> this apple tart with toasted sesame seeds. Last fall, the hubs and I went to Montreal on a weekend trip. It was a great road trip and nice to get away from our little town. Only 4 hours away, we had a great time in this francophone city. Of course, we hit up LOTS of bakeries and one of them we went to had an apple tart with sesame seeds on it. I was immediately intrigued by the flavor combo but was not convinced enough to try it (plus there were way too many pastries to try). So I chucked it to the back of my head to recreate at some point when I get home. A year later, I finally did! And I am so glad I did because apples + toasted sesame seeds is a great flavor profile. The sweet and tart apples combined with crispy toasted sesame seeds is wonderful.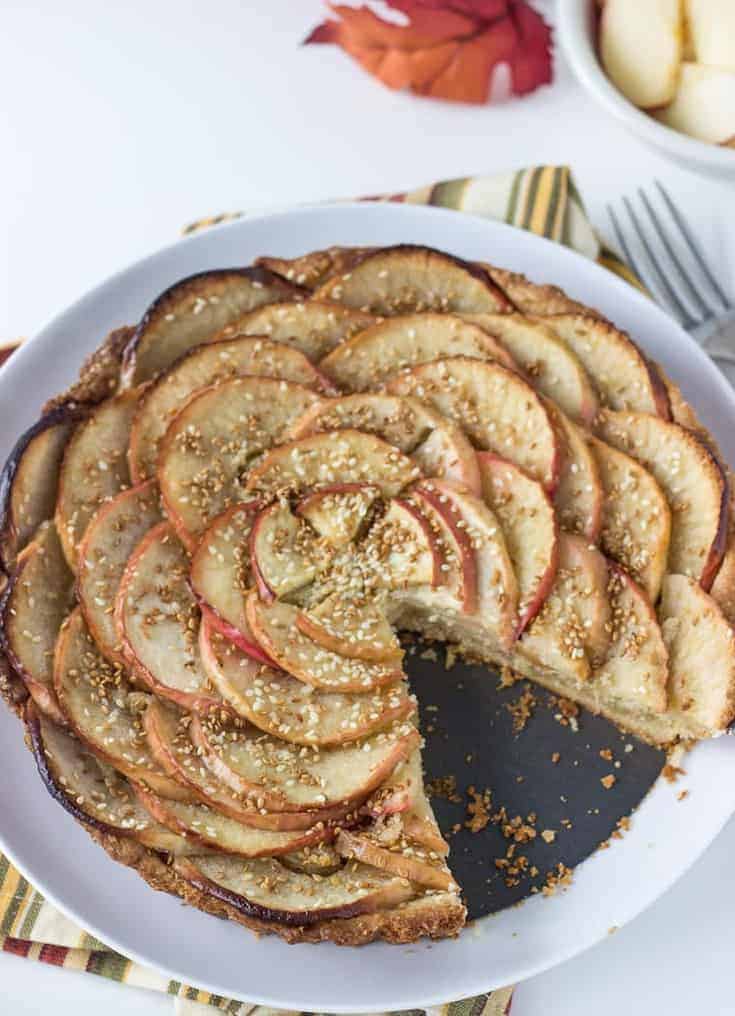 For this tart, I started with a sweet tart dough (adapted from Baking Chez Moi) and made an almond frangipane filling to coat the bottom of the crust (great great idea because oh my…explosion of nutty flavor in it!). I left my apples pretty simple because I didn't want spices taking over and just topped them with turbinado sugar and butter. The sweet dough, nutty frangipane filling and warm baked apples makes this my new favorite way to have apples. You need to try it folks! Be adventurous and throw some toasted sesame seeds on your next apple tart. (FYI: even my picky father-in-law loved this tart.)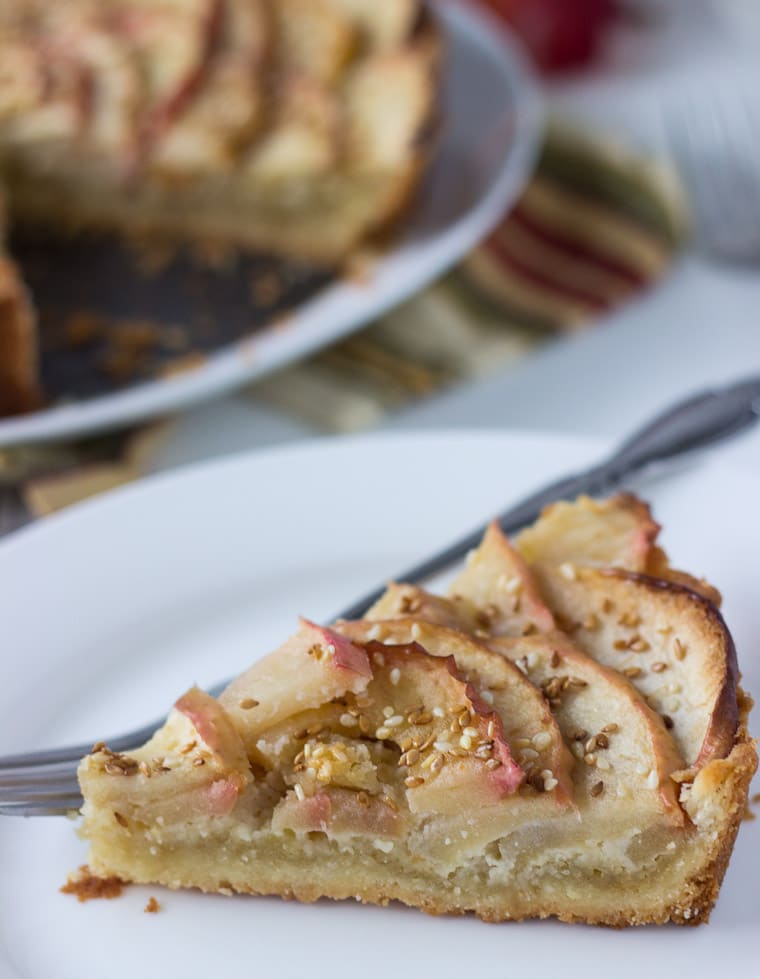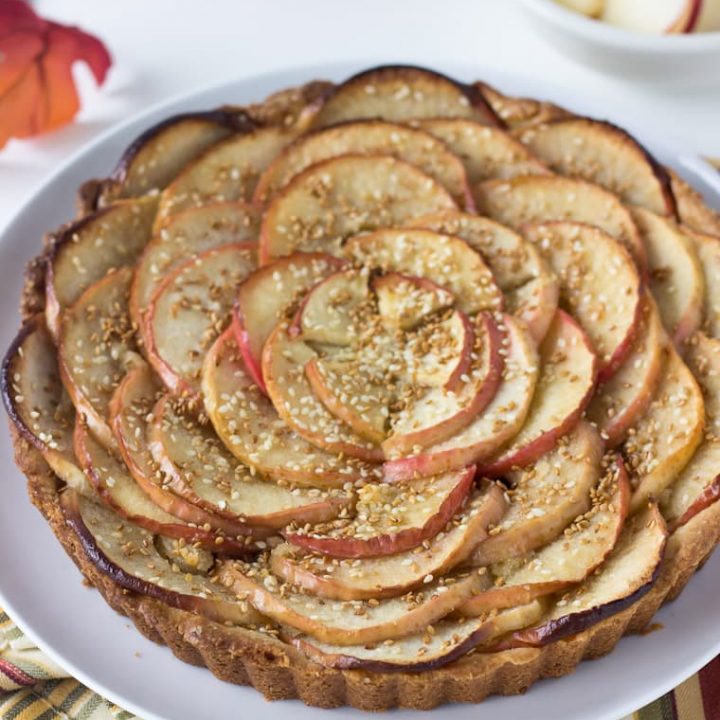 Yield: 1 9-inch tart
Apple Tart with Toasted Sesame Seeds
Prep Time 30 minutes

Cook Time 40 minutes

Total Time 1 hour 10 minutes
Ingredients
Sweet tart dough (adapted from baking chez moi)
¼ cup almond meal
1 ¼ cup gluten-free all-purpose flour
½ cup confectioner sugar
¼ teaspoon salt
9 tablespoons cold unsalted butter
1 large egg yolk, whisked
For Frangipane Filling:
1 cup almond flour
¼ cup brown sugar
½ teaspoon ground cinnamon
a pinch of salt
4 tablespoons unsalted butter, softened
1 egg
1 tablespoon bourbon or rum
For Topping:
7 medium apples, sliced to about ½ inch wedges (I used honeycrisps)
¼ cup sugar (granulated or turbinado)
3 tablespoons unsalted butter, softened
2 tablespoons toasted sesame seeds
Instructions
Lightly grease the bottom of a 9-inch round tart pan with baking spray.
In a food processor, pulse together the almond meal, all-purpose flour, sugar and salt. Add in the half of the butter and pulse for a few second. Add in the rest and pulse until pea-sized. Add in the whisked egg yolk and pulse until the dough starts to form.
Turn out dough onto a clean surface and using your hands, knead together until dough comes together.
Press dough into the bottom and sides of the tart pan. Evenly spread and make sure there are no raised areas. Using a fork, poke the tart all around. Freeze dough for 30 minutes (or chill for at least an hour).
Meanwhile, prepare the filling. In the bowl of a food processor, combine all the filling ingredients and process until a smooth paste forms. Chill until ready to use.
When dough is ready, heat the oven to 400 degrees F.
Spread the filling evenly to the bottom of the tart.
Top with apple slices in whatever design you like. I attempted to create a flower look by starting on the outside of the tart and working my way in, working in circles. Sprinkle apples generously with sugar. Dot with butter.
Place tart pan on a baking sheet and bake until golden brown, 35- 40 minutes.
Remove tart from oven and sprinkle with toasted sesame seeds.
Let cool in pan completely before slicing and serving.


In case you missed it over the weekend, I have a fun giveaway from Minted.com going on right now. Click here to enter for a chance to win $100 Minted.com Gift Card. Ends 10/31/15