BEYOND THE OVEN: Baby Update (12 Weeks) & A Minted Giveaway!
Hello hello guys!! Mr Elliott is 12 weeks as of yesterday and figured we should do an update on how he's doing. Time is really flying by when you are having fun…that saying is true.
I should start by saying I am in LOVE with this baby (duh!). Even more so than I was the last time I gave you an update (6 weeks update) and I think it's because I see him less since I started working two weeks ago 🙁 and he has a personality already!! Both make it hard not to love him.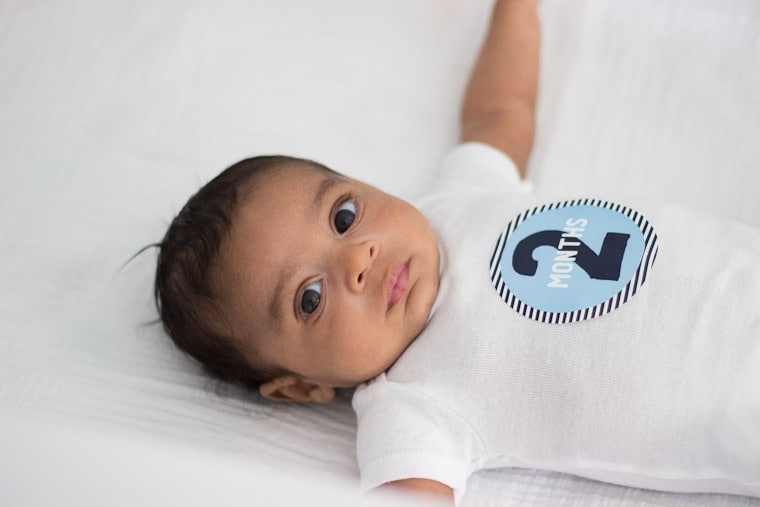 Let me back up a bit. E has been good since we crossed the two months mark. We might have a schedule down with his days and nights (finally) although I am not counting on it lasting. For now he eats every 2-3 hours during the day and every 3-4 hours at night. Sleep-wise, he naps for 1-2 hours two or three times during the day and at night wakes up twice for food. His day starts promptly between 7-8am when he is the happiest. Mr J and I usually hear him wake up and just listen to him talk to himself for like 5 minutes in his room. We can never resist the cuteness and always have to go in there and join the party lol. Mornings are my favorites with him.
Which is why it was so hard to go back to work two weeks ago. The mornings are rushed now between waking up, feeding him and getting him ready for the day, making bottles, cleaning his room etc etc. I barely have enough time to hug him before I dash out for the day. It's been the hardest transition EVER and I am not loving work as much because of it. Well…to be honest I am just tired of being a student and need to move on from it soon but that's a whole other topic.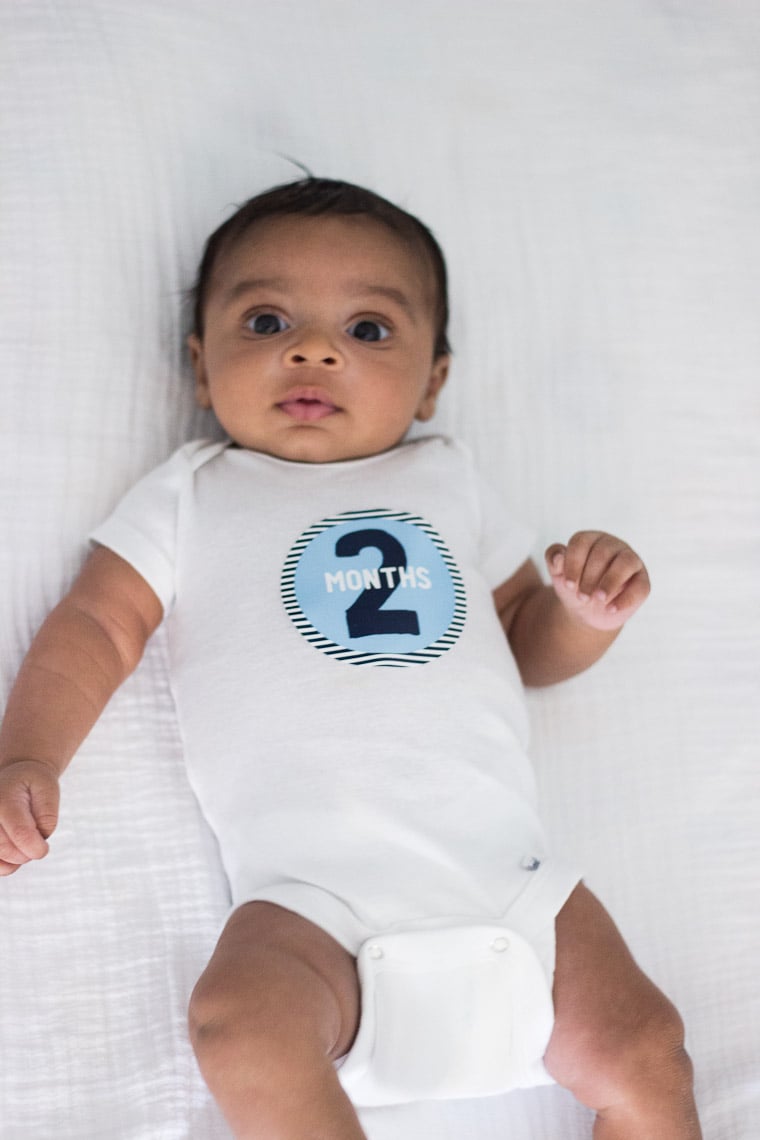 Luckily, my mother came to visit us from Sierra Leone last month and she's been taking care of him when I work. It's been amazing watching them bond and she is just so happy. I am grateful for her as knowing he is being loved while I'm away makes it a tiny teeny bit better. Of course that all ends in December when she goes back home and he goes to daycare (sobbbssss).
In terms of development, he is a smiling machine!!! He just loves smiling all the time and is 'talking' a lot too. He got his first set of vaccines at his two months check up and he was a trooper. After the initial 2 minutes of crying(understandably, who loves needles?), he was happy as a clam and even smiling to the nurses as we left. He was a good boy and we did't get any fevers or sleepless nights over the shots. We go again next month for the next rounds of shots. Let's hope we have a repeat.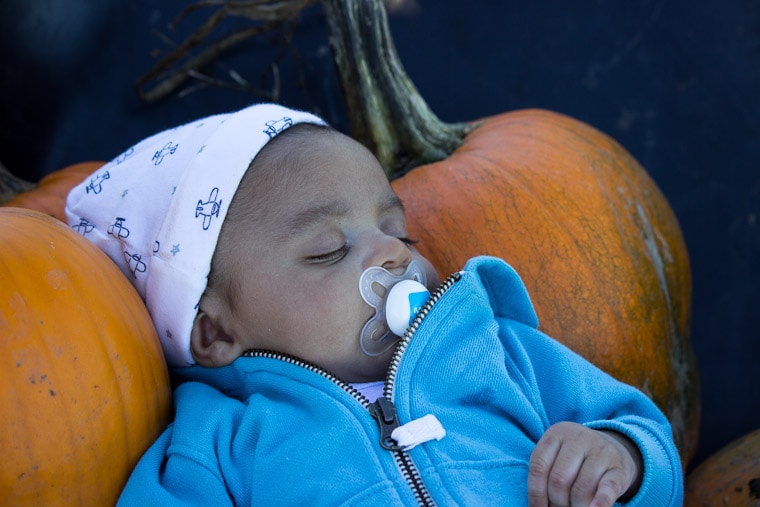 Hmmmm, what else?? We went pumpkin picking and he slept through it all. So we laid him down on the pumpkins to take pictures of him… yes we are evil parents!! But it was the cutest thing ever.
Last time I told you about our breastfeeding woes. We are pretty much not trying anymore with that and I am just pumping and feeding him the breastmilk. So he is still on a 100% breastmilk but it's just all from bottles. I am thinking of supplementing with one or two feedings of formula starting next week to build up a bank of frozen breastmilk as I have some traveling coming up that will keep me away from him for a few days here and there. This used to bother me a lot but I realized that women put so much pressure on ourselves when it comes to breastfeeding. As long as baby is healthy, growing and thriving, I say whatever you are doing is working for YOU!
On that note, I finally got my act together and printed his birth announcement cards…only like 10 weeks after he was here. But hey, better late than never! I turned to my well-trusted friends over at Minted.com to design his announcements. I got our christmas cards from them last year so I knew I wanted them to help me out with these too. And they turned out so cute! We used this design for ours.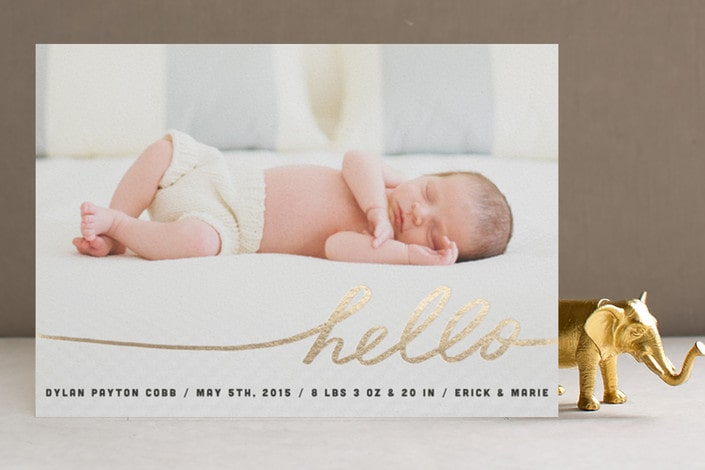 Giveaway!!!
The lovely folks over at Minted are giving away $100 Minted.com Gift Card to one lucky reader!! Holiday card season is fast approaching and you can shop your heart out on Minted for some or just shop for yourself. They have plenty of gifts.
To enter, just tell me in the comments below "What is your favorite thing about the holidays?" Pretty simple right?
Have a great weekend friends!
xoxo,
Z
Disclosure: Giveaway sponsored by Minted.com. One winner will win a $100 Minted.com gift card. Winner will be selected at random on October 31st and contacted by email.