Winter Citrus Cupcakes with Blood Orange Buttercream
With the fruity flavors of blood orange and grapefruit, these Winter Citrus Cupcakes are an absolute delight!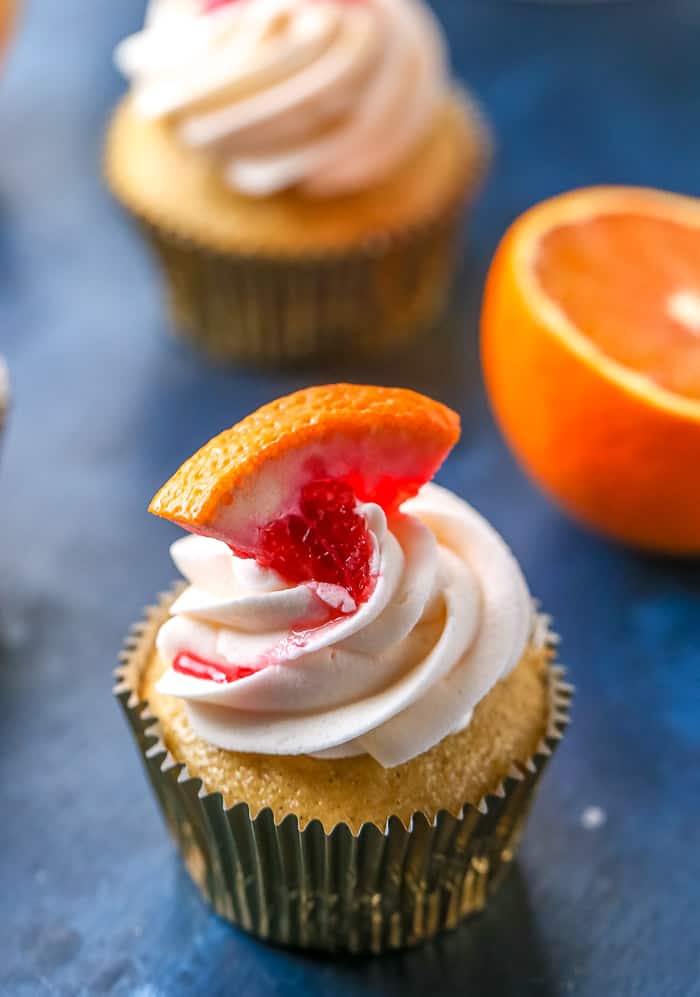 Happy Monday friends and Happy Cupcake Mondays! I know these are difficult times for us all and uncertainty is looming everywhere as anxiety levels rise. One way I like to help ease my anxiety is to bake! Baking allows my creative juices to flow, and it also allows me to spend more time with my kids. Having a treat as a reward doesn't hurt at all. These winter citrus cupcakes were a recent treat that made our weekend.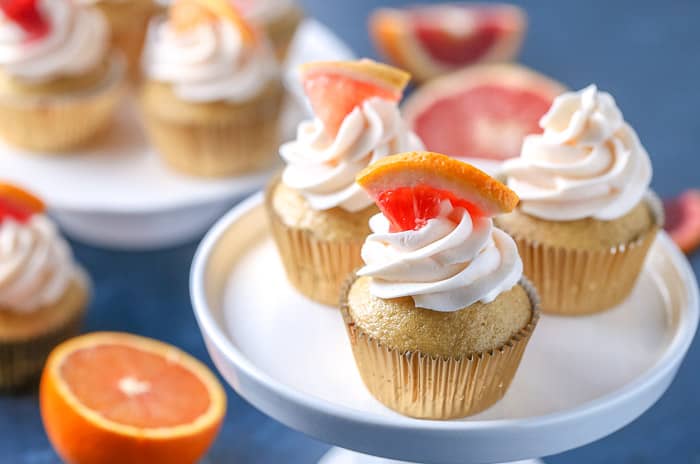 The kids love helping out in the kitchen, and I love being able to share something I enjoy with them. Making cupcakes is one of our favorite things to make together. They can help mix up the batter, help frost the cupcakes, and then add on whichever decorations they choose. Sprinkles always seem to be a hit (and a mess to clean up)!
What is Winter Citrus?
You've seen me throw around the term "winter citrus" quite a bit, but what actually is it? This just basically means that the fruit ripens to its sweetest and juiciest during peak winter months. Here is a list of the most popular winter fruits:
Blood oranges
Tangerines
Meyer lemons
Clementines
Kumquats
Persimmons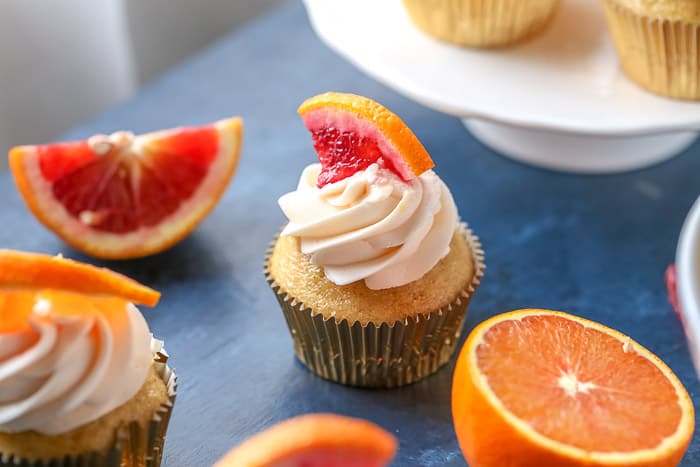 I can't get enough and love mixing a few of them together for a flavor boost. If you can't either, then try my winter citrus tart and this winter citrus cake. Okay back to these winter citrus cupcakes!!
How to Make Winter Citrus Cupcakes
The cupcake batter is straightforward and a very good one. It is a spiced, olive oil cake that is infused with citrus. It is soft, fluffy, and satisfying. I used a mix of blood oranges, oranges, and grapefruit. You can use any of the above-listed citruses for this cupcake.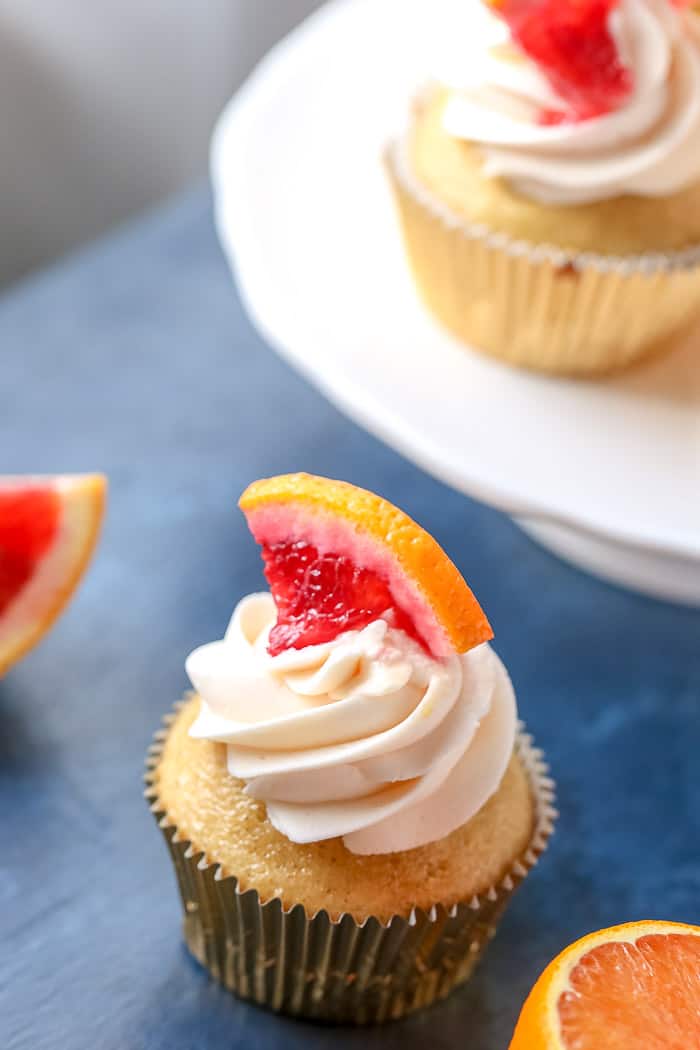 They are topped by an equally sweet and fluffy buttercream. I used blood orange in the buttercream as I love the color and the sweetness. But you can make the buttercream with any of the winter citruses you used in the cake.
That's it my friends!! These cupcakes are a winter delight and I hope you add them to your winter baking list.
If you enjoyed these Winter Citrus Cupcakes, check out these other winter citrus desserts: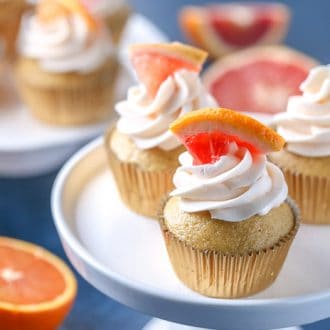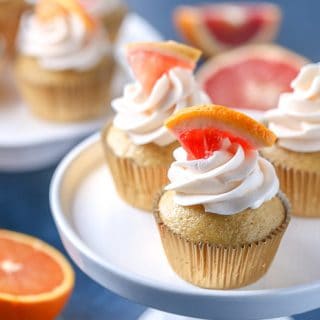 Yield: 24 cupcakes
Winter Citrus Cupcakes with Blood Orange Buttercream
A spiced and tender olive oil cupcake is filled with fresh winter citrus.
Ingredients
For the Cupcakes:
3 cups all-purpose flour
3 teaspoons baking powder
¾ teaspoon salt
¾ teaspoon ground cinnamon
¾ teaspoon ground cardamom
¼ teaspoon ground nutmeg
6 large eggs, at room temperature
2 cups granulated sugar
3/4 cup olive oil
1/4 cup blood orange juice
½ cup citrus juice of your choosing (I used a mix of grapefruit and orange juice)
¼ cup whole milk
1 tablespoon pure vanilla extract
Zest of 1 blood orange
For Blood Orange frosting:
2 sticks unsalted butter, softened
3-4 cups confectioners' sugar, sifted
1 teaspoon pure vanilla extract
2-3 tablespoons blood orange juice
Instructions
Preheat oven to 350 degrees. Line two muffin tins with cupcake liners.
In a medium bowl, sift together the flour, baking powder, salt, cinnamon, cardamom, and nutmeg.
In a large bowl or the bowl of your stand mixer, beat the eggs, sugar, and olive oil until combined and the eggs are light yellow, about 3-5 minutes on medium-high speed. Add in the blood orange juice, citrus juice, milk, vanilla extract, and zest. Mix until just incorporated.
With the mixer on low, gradually add in the flour mixture and mix until just combined. You can finish incorporating the batter with a rubber spatula by hand. Divide evenly among the cupcake liners.
Bake for 12-15 minutes or until a toothpick inserted in the center comes out almost clean.
Cool cupcakes on wire racks completely. Meanwhile, you could start on the frosting.

For the Frosting:
Beat the butter on medium-high speed until light and fluffy. Add in the rest of the ingredients and mix on low speed to combine.
Increase speed and beat frosting until fluffy, about 2-3 minutes.
Using your favorite decorating tip (I used Wilton tip 1M), frost cupcakes, and decorate as desired.
Notes
You can bake this cake as written in two 8-inch round cake pans. Adjust the bake time accordingly.
Recommended Products
As an Amazon Associate and member of other affiliate programs, I earn from qualifying purchases.