Chocolate Bundt Cake
A soft, moist, and decadent cake, this Chocolate Bundt Cake recipe is the best! With two secret ingredients that send it over the top!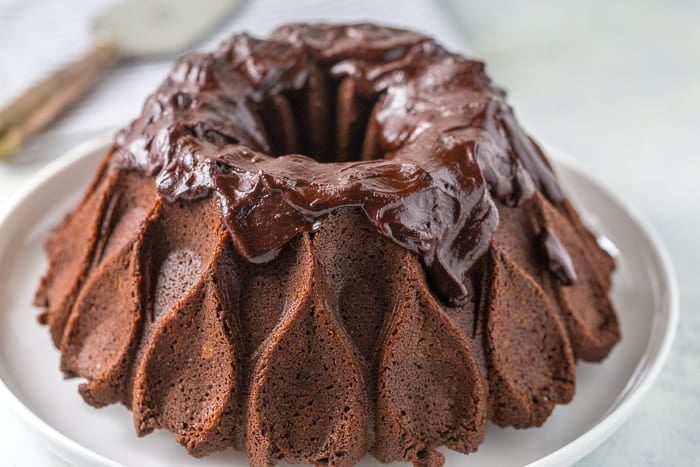 Hi friends! I'm here with another new recipe, and this one is a great one! I don't know about you but I love a good chocolate cake! Chocolate is one of my favorite flavors in general, and who doesn't love cake right? But this one is extra special because I added two secret ingredients to really make it stand out.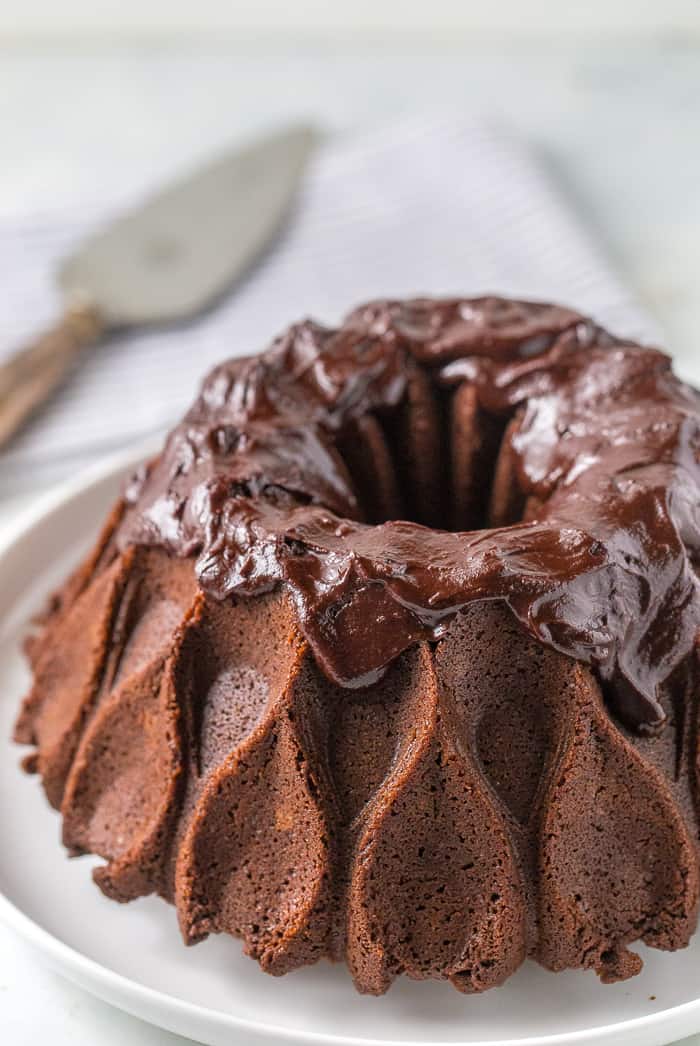 Let's talk about those secret ingredients. The first one is brewed coffee! If you've never baked with coffee, you've got to try it. It provides such a rich, strong flavor, and it pairs so well with the chocolate.
The next secret ingredient is mayonnaise. Yep, you read that right! Mayonnaise. But let me explain first, and don't knock it until you try it. It's a great way to step up your baked goods and it can also replace some of your eggs, helping baked goods to not have so much of an egg flavor. It adds a bold tang that is unique and will really set your chocolate cake apart from others!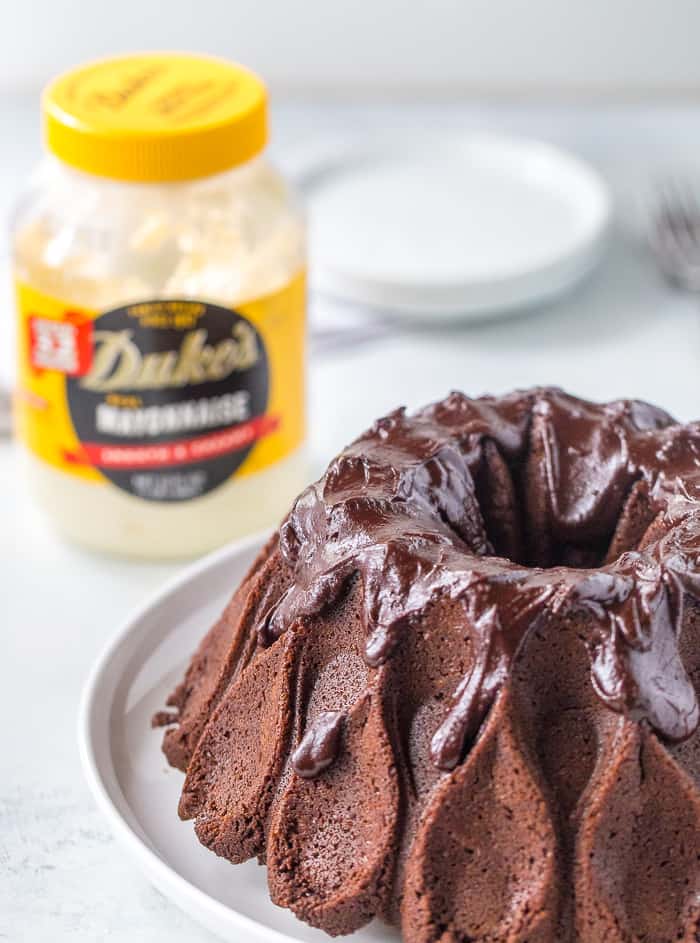 How to Make a Chocolate Bundt Cake
So let's get down to business! You first want to melt together the coffee, butter, and cocoa powder. Once the butter is fully melted, allow that mixture to cool for about 10 minutes while you move on to the next step.
In a separate bowl, mix together the sugar, baking powder, salt, and flour. Once combined, pour the chocolate and coffee mixture into the dry ingredients bowl.
Then in another bowl mix together the vanilla, eggs, and mayonnaise. After you've whisked these well just pour it into the chocolate batter and mix until everything is nice and combined.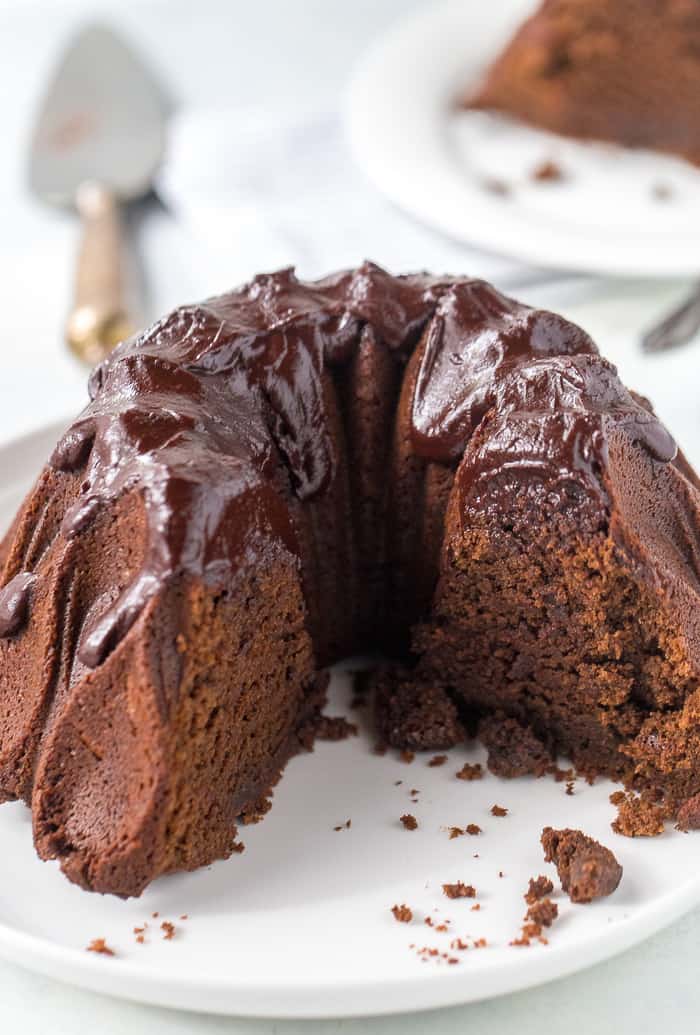 Now comes the fun part! Spoon the batter into a large greased bundt pan. I have several different bundt pans because they are so fun! I encourage you to invest in a decorative pan; it's an easy way to dress up your cake and they're just so beautiful!
I topped this cake with a rich fudge icing. You can also top your cake with all sorts of things to dress it up or to add more flavor (think fresh berries!). I personally like to top mine with powdered sugar, whipped cream, or icing.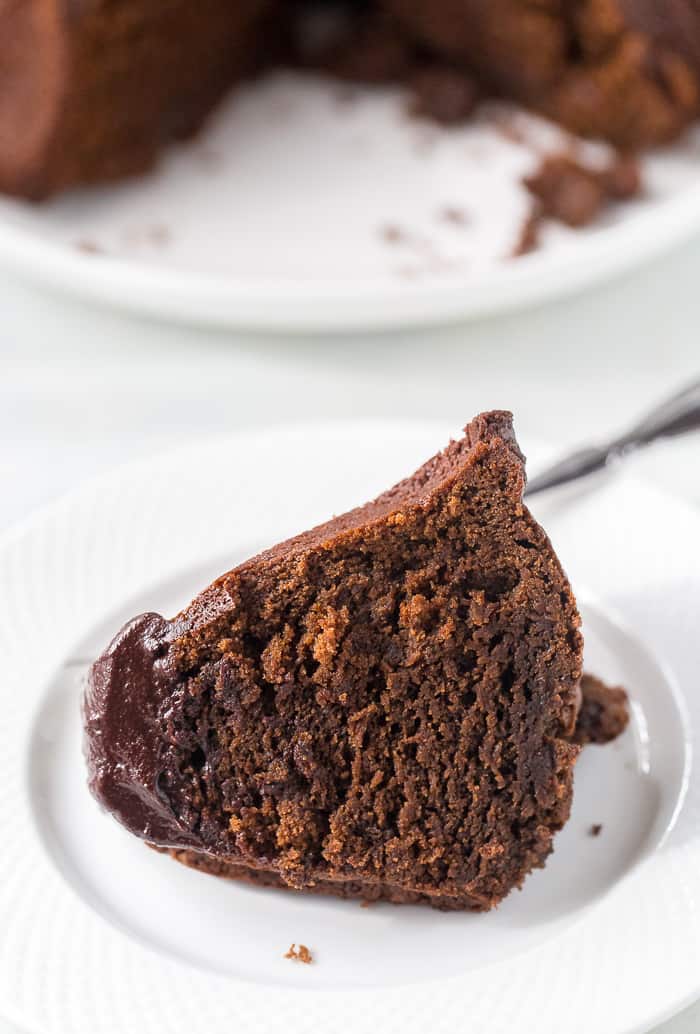 If you liked this Chocolate Bundt Cake, here are more chocolate cake recipes you will love: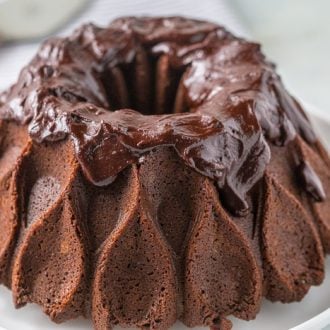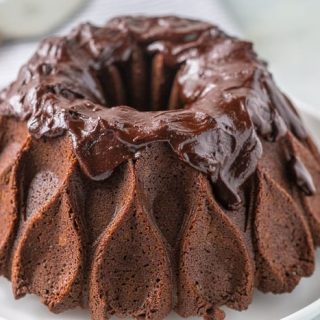 Yield: 1 large bundt cake
Chocolate Bundt Cake
A chocolate delight that is soft, moist and decadent.
Total Time
1 hour
25 minutes
Ingredients
1 cup brewed coffee
1 cup (2 sticks) unsalted butter, at room temperature
3/4 cup cocoa powder
2 cups granulated sugar
3/4 teaspoons baking powder
1/4 teaspoon baking soda
3/4 teaspoon kosher salt
2 cups all-purpose flour
2 teaspoons pure vanilla extract
2 large eggs, at room temperature
1/3 cup mayonnaise
For fudge icing:
2/3 cup chopped bittersweet or semisweet chocolate
1/4 cup heavy cream
Instructions
Preheat oven to 350 degrees F. Grease a large (10-12 cups) bundt pan with baking spray.
In a small saucepan, place the coffee, butter, and cocoa powder. Heat, over medium-low heat, until the butter melts, mixing occasionally.
Remove from heat and whisk until smooth. Let cool for about 10 minutes.
In a large mixing bowl, whisk together the sugar, baking powder, baking soda, salt, and flour.
Pour the melted chocolate mixture into the dry ingredients. Mix until thoroughly combined. Be sure to mix until the flour is incorporated.
In a separate small bowl, whisk together the vanilla extract, eggs, and mayonnaise.
Mix this into the chocolate batter until thoroughly combined.
Spoon batter into the prepared bundt pan.
Bake cake for 50-55 minutes, until a skewer inserted into the center, comes out clean.
Remove the cake from the oven and let cool for 10 minutes before turning the cake over onto a cooling rack.
Let the cake cool completely.
To make fudge icing, place chocolate and heavy cream in a heat-proof bowl. Place over a pot of simmering water and stir until chocolate melts. Remove from heat and stir until smooth.
Serve cake with powdered sugar, whipped cream, or fudge icing.
Notes
If you are using a darker bundt pan, your cake will bake in about 40 minutes.
Recipe adapted from King Arthur Flour
Recommended Products
As an Amazon Associate and member of other affiliate programs, I earn from qualifying purchases.