German Chocolate Cake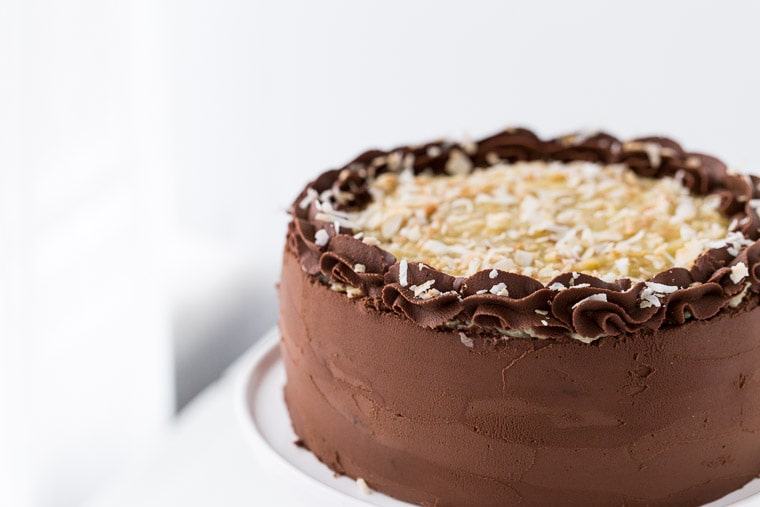 (I originally shared this recipe over on Chocolate, Chocolate and More.)
The story behind this German Chocolate Cake.
Last summer, I think around August, my husband's Uncle Wayne pulled me aside.
Uncle Wayne: I would like to put in my order for my birthday cake.
Me: Uncle Wayne, your birthday is in December.
Uncle Wayne: Yes, I know but want to let you know now that I want a German Chocolate Cake just like my momma used to make. No nuts. I don't want no stupid nuts in my cake.
Me: I never met your momma so how would I know how to make her cake?
Uncle Wayne: You never disappoint, you will make a great one.
Me: okay, you got it!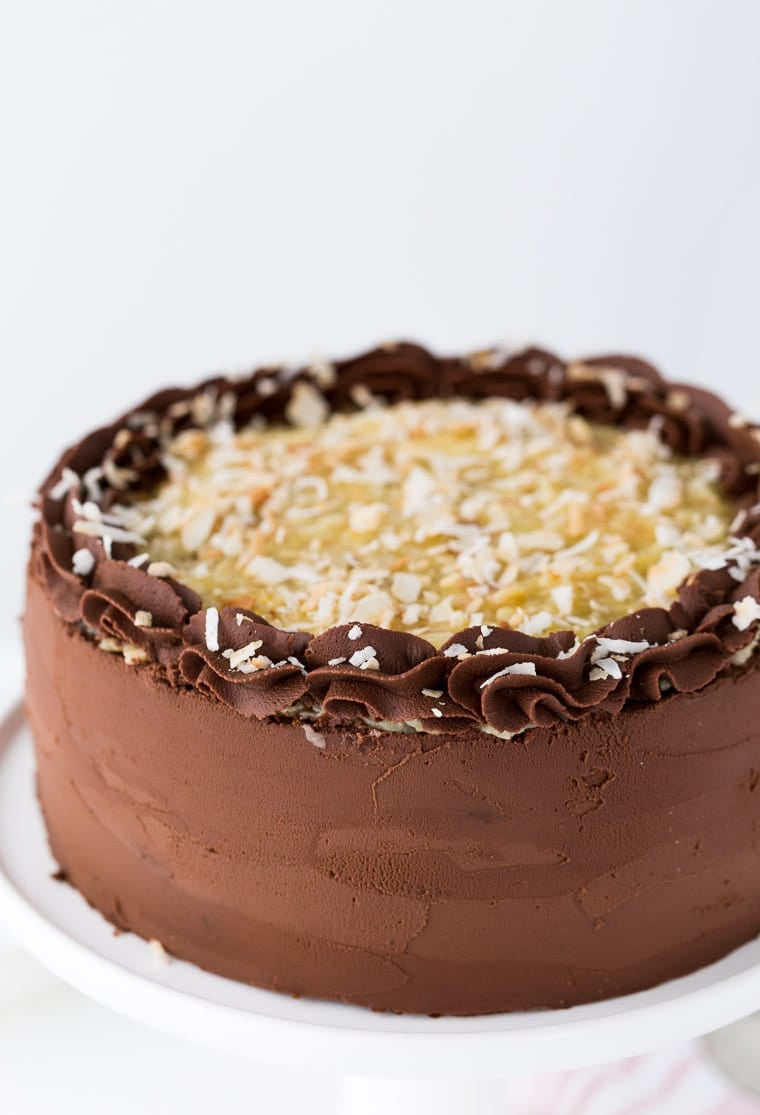 Needless to say, I spent months trying to find the perfect german chocolate cake for him and I settled on this one. The recipe is adapted from David Lebovitz, as I found most of the recipes on the internet are based off his. I figured it must be a great one.
If you are a chocolate or coconut lover, this classic cake is for you! To be precise, four layers of moist chocolate cake soaked in rum syrup and filled with sweet coconut pecan custard filling and wrapped beautifully in a chocolate ganache frosting. It pretty much a classic chocolate (and coconut) lover's dream cake. Now, the one pictured here doesn't have the traditional pecan in the filling but I put it in the recipe as that is how it should be. My uncle just didn't roll that way and I can attest that the cake was still delicious without it.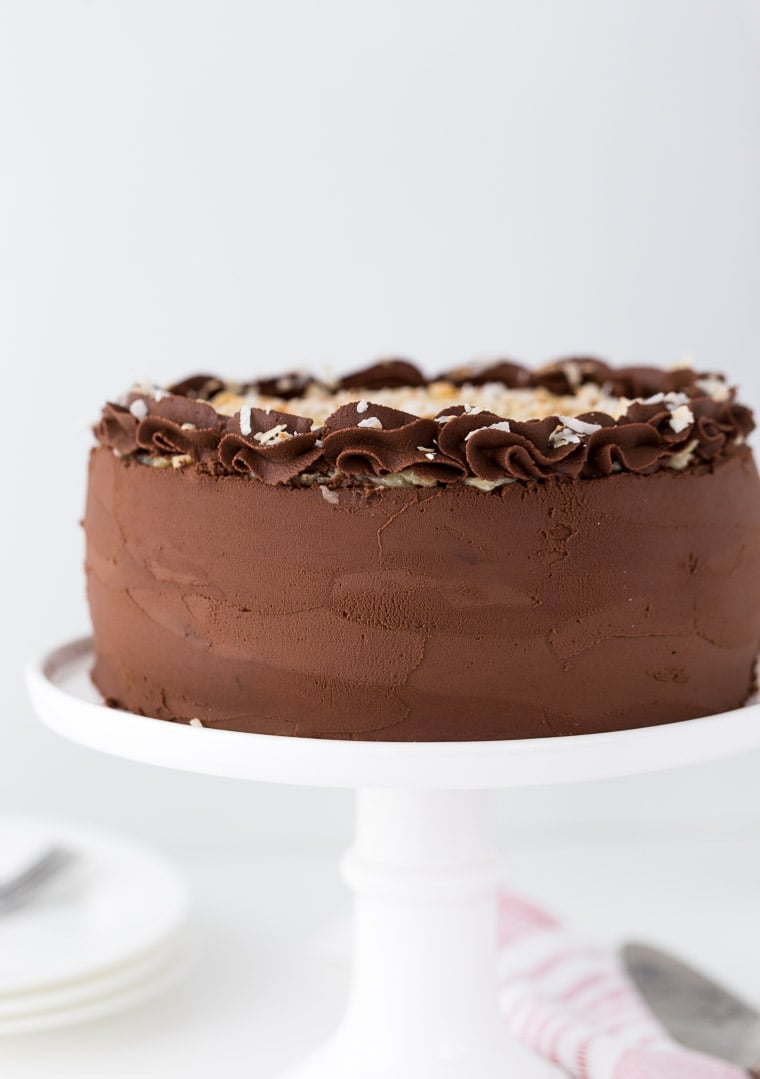 Despite the long instructions, this cake is very EASY to assemble and you will not regret making it for a loved one. The chocolate cake bakes two 9-inch layer cakes that you can slice horizontally for more layers or you can leave as is. The rum syrup adds a great flavor and is used to soak the cake layers…nicely infused into the cake. The filling is a coconut custard, made with unsweetened coconut flakes, eggs and cream. Finally the icing is a rich chocolate ganache, that's chilled until thickened. I need to make all my chocolate icing like this. So simple and so so rich. Just a wonderful, decadent cake!
Since it was a birthday cake, I didn't get pictures of the inside for you but you can imagine it is filled with the coconut filling that you see on top of the cake.
My Uncle Wayne loved the cake very much and he said it was close to how his momma used to make it. Moments like these are why I LOVE baking for my family. I hope one day my little boy will ask his future wife to bake him a coconut cake like I used to.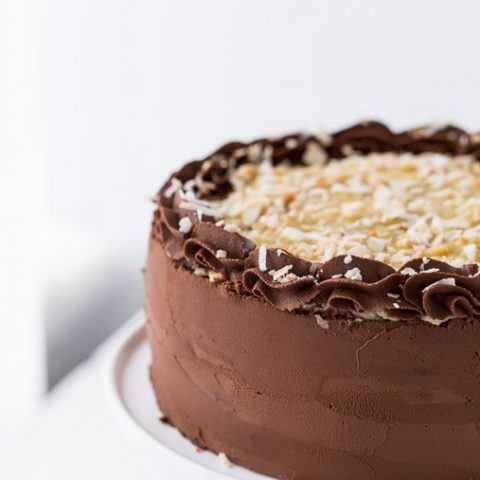 Yield: 1 9-inch layer cake
German Chocolate Cake
Total Time
3 hours
45 minutes
Ingredients
For Cake:
4 ounces semi sweet chocolate, chopped
6 tablespoons water
4 large eggs, separated
1 ½ cups sugar, divided
1 cup (2 sticks) unsalted butter, room temperature
1 teaspoon vanilla extract
2 cups all-purpose flour
1 teaspoon baking powder
1 teaspoon baking soda
½ teaspoon salt
1 cup buttermilk, room temperature
For Rum Syrup:
1 cup water
¾ cup granulated sugar
2 tablespoons dark rum
For filling:
1 cup heavy cream
1 cup granulated sugar
3 large egg yolks
½ teaspoon salt
6 tablespoons unsalted butter
1 cup pecans
2 cups unsweetened coconut flakes, toasted
For Icing:
8 ounce semisweet chocolate, chopped
2 tablespoon corn syrup
3 tablespoons butter
1 cup heavy cream
Instructions
Heat oven to 350 degrees F. Grease and flour two 9-inch round baking pans
In a small microwaveable bowl, combine the chopped chocolate with water. Melt the chocolate in the microwave, stirring until smooth.
In the bowl of a stand mixer, whip the egg whites until soft peaks form. Slowly add in ¼ cup granulated sugar and beat until stiff peaks form. Transfer the egg whites to a clean bowl and return stand mixer bowl to mixer.
Beat the butter and 1 ¼ cup granulated sugar together on medium-high speed for 5 minutes, until light and fluffy. Beat in the melted chocolate until combined. Add in the egg yolks, one at time and mixing each until combined. Beat in the vanilla extract.
In another bowl, whisk together the flour, baking powder, baking soda and salt. Mix in half of the dry ingredients into the batter on low speed. Mix in the buttermilk until combined and add in the rest of the dry ingredients. Mix until combined. Using a rubber spatula, fold in the egg whites into the batter.
Divide batter evenly into the prepared pans and bake until a cake tester inserted into the center comes out clean, about 45 minutes. Let cakes cool in pan for 10 minutes before transferring to cooling racks.
In the meantime, make the syrup and filling. For syrup, combine the water and sugar in a small saucepan set over medium heat. Heat until sugar dissolves. Remove from heat and whisk in the rum. Transfer to a small bowl and let cool.
For the filling, combine the cream, sugar and egg yolks in a medium saucepan. Heat and mix occasionally until the mixture starts to thicken and coats the back of a spoon, 3-4 minutes. In a separate mixing bowl, place the butter, pecans and coconut flakes. Pour the hot cream mixture over and stir until butter melts. Let cool completely.
For the frosting: place the chocolate, corn syrup and butter in a medium bowl. Heat the heavy cream just until it boils and pour over the chocolate in the bowl. Let sit for 2 minutes then stir slowly until smooth. Chill until firm for decorating.
To assemble cake: place the first layer of cake on a serving plate. Brush thoroughly with rum syrup. Then top with a 1/3 of the filling, spread evenly. Top with the other cake layer and soak the top and sides with the rum syrup. Frost the cake with the icing and top with the remaining filling.
Decorate as desired.