Blood Orange Meringue Pie with a Coconut Crust
If you have a winter gathering or just craving a sweet citrus dessert this winter, then this blood orange meringue pie is for you. It's sweet, bursting with winter citrus and chewy with a graham cracker coconut crust.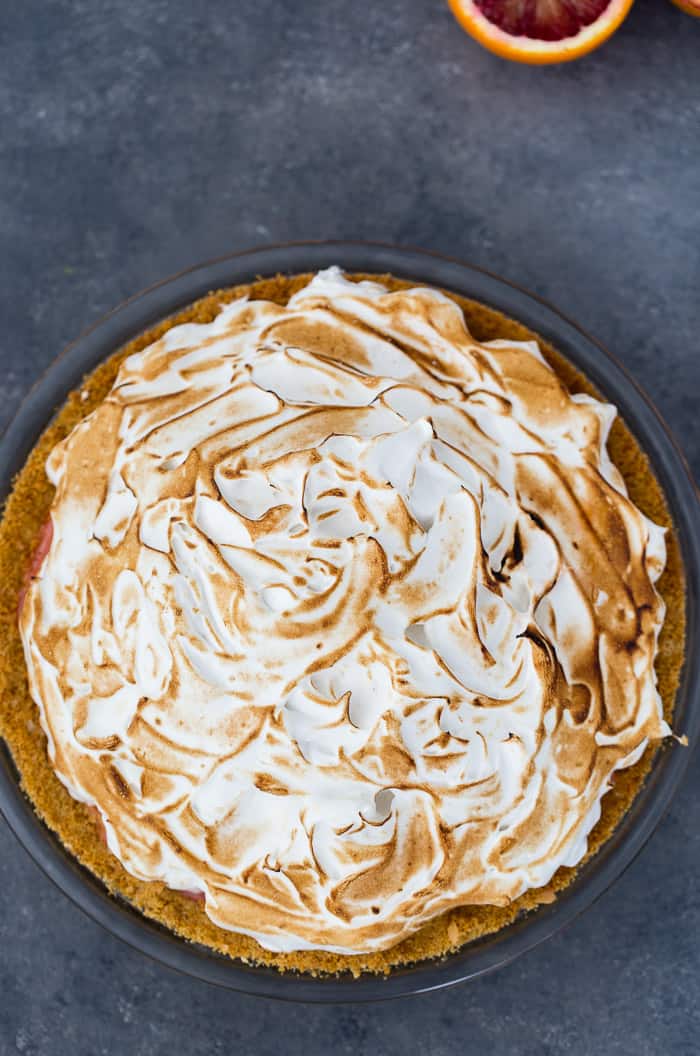 Hi friends!! In addition to this scrumptious blood orange meringue pie, I'm so excited to introduce you to the new website and brand.
Welcome to A Classic Twist, a community for home cooks who truly love to cook and bake and where you will find everyday classic recipes with bold twists and flavors.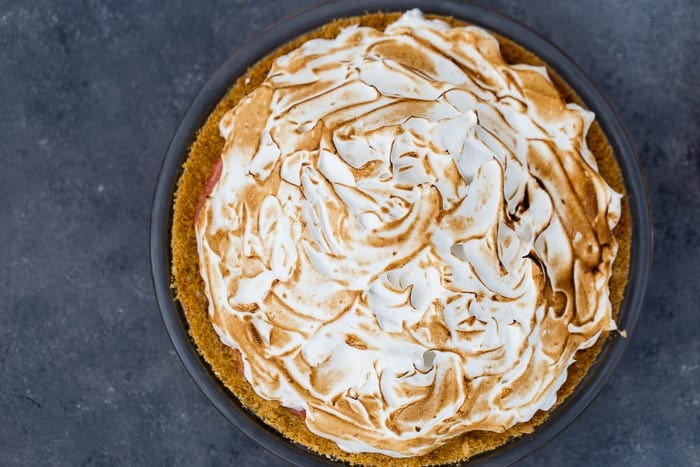 Like I mentioned earlier in the week, this change is centered around YOU and the community we've built here over the past five years. To ensure this space is helpful to you and delivering the right content, I've re-defined the community focusing on the recipes YOU have asked for.
What can you expect going forward? Sweet and Savory recipes along with how-tos to help you learn new techniques. aka, the same great recipes plus more! I truly think this new chapter will enable us all to be the creative kitchen experts we aspire to be.
I look forward to hearing your thoughts and/or any questions you may have about this change.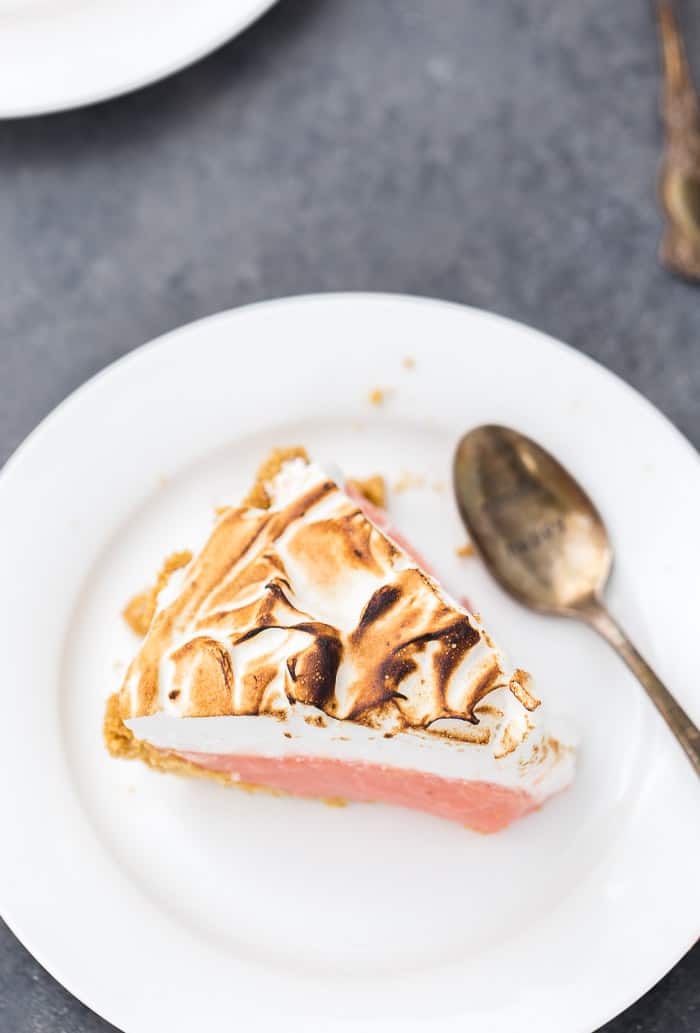 Now onto today's recipe. A blood orange meringue pie for our winter gatherings or cravings! Seriously, the best thing about the winter (besides the winter Olympics) is winter citrus. Grapefruits, blood oranges, and Meyer lemons are all in season and are perfect for winter baking. This blood orange meringue pie is a twist on your classic lemon meringue pie. It's a sweeter version bursting with the bold flavors of blood oranges and a crunchy coconut graham cracker crust.
Did I mention a chewy coconut graham cracker crust? It's my favorite part of this pie. Similar to the crust you will find in this grapefruit tart, it's the perfect touch of crunch to a pie filled with a curd. By the way, that grapefruit tart is another killer winter recipe for your recipe box.
If you have a winter gathering or just craving a sweet citrus dessert this winter, then this blood orange meringue pie is for you!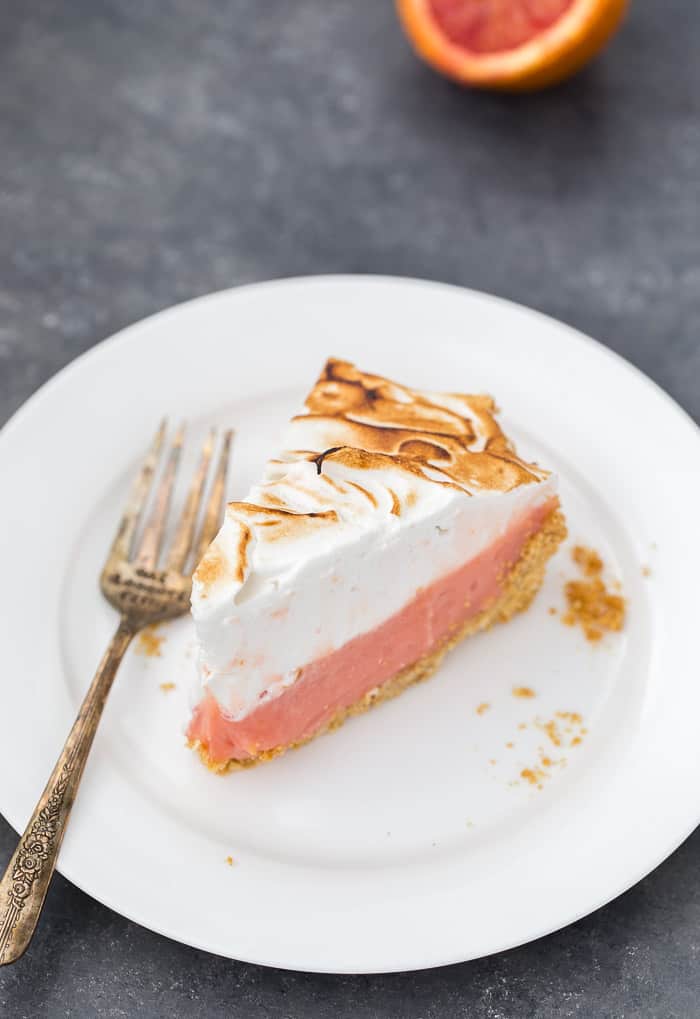 More Pies to try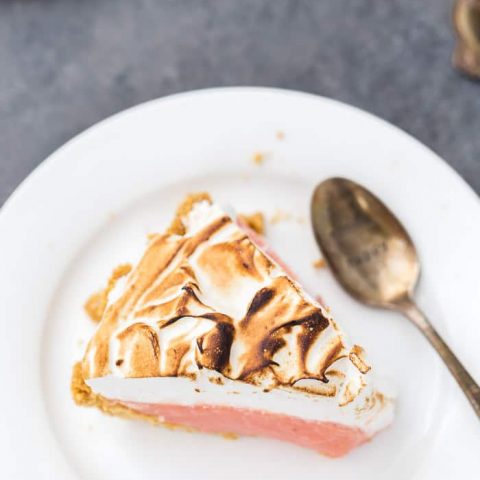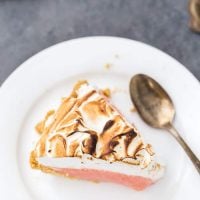 Yield: 1 9-inch pie
Blood Orange Meringue Pie
Ingredients
FOR THE PIE CRUST:
1 ¾ cup graham cracker crumbs
¼ cup granulated sugar
¼ teaspoon salt
⅓ cup unsalted butter, melted
½ cup unsweetened coconut flakes
6 tablespoons chilled unsalted butter, cut into pieces
4 large egg yolks
1⅓ cups sugar
⅓ cup cornstarch
½ teaspoon kosher salt
1 tablespoon finely grated orange zest
½ cup fresh blood orange juice
4 large egg whites
½ teaspoon vanilla extract
⅛ teaspoon cream of tartar
Pinch of kosher salt
3 tablespoons plus ½ cup sugar
1 tablespoon fresh orange juice
Instructions
FOR THE CRUST:
Heat oven to 400 degrees F. Grease a 9-inch pie dish and set aside. Combine the graham cracker crumbs, sugar, and salt in the bowl of a food processor. Pulse until combined. Drizzle the melted butter over the mixture and pulse until combined and mixtures look like wet sand. Transfer to a bowl and mix in the coconut flakes. Press into the bottom and sides of the prepared pan.
Bake the crust until set, about 5-8 minutes or until lightly browned. Transfer to a rack and let cool completely.
FOR THE BLOOD ORANGE FILLING:
Place the butter in a medium bowl. Set the bowl in a larger bowl filled with ice water. Place a fine-mesh sieve over the bowl with butter. Set aside.
In another small bowl, whisk the egg yolks.
In a medium saucepan, whisk together sugar, cornstarch, and salt with 1 1/2 cup water. Set over medium-high heat and whisking constantly until mixture thickens and bubbling, about a minute.
Remove mixture from heat and gradually whisk in half of the mixture into the egg yolks. Pour the egg yolk mixture back into the saucepan and whisk in along with the orange zest and juice.
Reduce heat to medium-low, cook mixture, stirring constantly, until mixture is bubbling and thickens about two minutes.
Immediately pour the custard over the prepared fine sieve. Press through the sieve into the bowl with butter. Stir until butter is melted and the mixture is cool about 5 minutes.
Pour into the chilled crust and cover with a plastic wrap pressing directly onto the surface. Chill until set, about 8 hours.
FOR THE TOPPING:
In the bowl of the stand mixer fitted with the whisk attachment, beat the egg whites, vanilla extract, cream of tartar and salt on medium-high speed until soft peaks form, about 2 minutes. With the mixer running, gradually add the 3 tablespoons sugar.
Meanwhile, in a small saucepan bring to boil the 1/2 cup sugar, orange juice, and 2 tablespoons water, stirring until sugar melts. Cook, without stirring, until a thermometer reads 240 degrees, about 4 minutes.
Immediately remove from heat and gradually stream into the egg whites with mixer running. Increase speed to high and beat until the meringue is glossy and stiff and the bowl feels cool to the touch.
Top the pie with the meringue and use a kitchen torch to toast the top of the meringue.
Notes
The filling can be made up to 3 days ahead. Keep refrigerated.