Grapefruit Yogurt Mousse Tart
This gluten free grapefruit yogurt mousse tart recipe has a light greek yogurt mousse with lots of fresh grapefruit in the mousse and topping.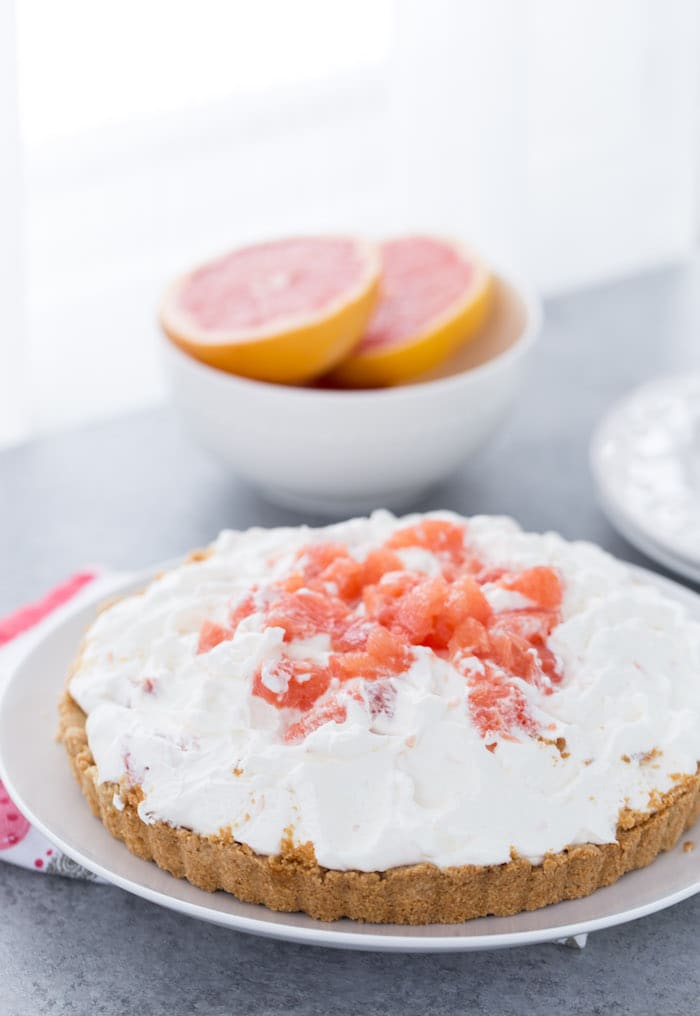 With winter seasonal produce at all time high, it's about time we make some desserts with fresh winter citrus. If you are like me, after all the chocolate overload from Valentine's Day, you are looking forward to lighter, fresh sweets for indulging. Look no further because this grapefruit mousse tart will satisfy that. It is a lighter greek yogurt mousse with a lot of fresh fruit in the mousse and topping which happens to sit on top a gluten free coconut crust. You'll be happy about this indulgent tart.
Let's walk through this tart and the different parts that make it a delight. First, the crust is a coconut-almond crust that uses almond meal flour, coconut flakes and coconut oil for moisture. It's baked perfectly to give you a chewy, gluten-free tart crust. And that is all the baking there is for this recipe. it is an almost no-bake recipe and can easily be made ahead of time for a dinner party.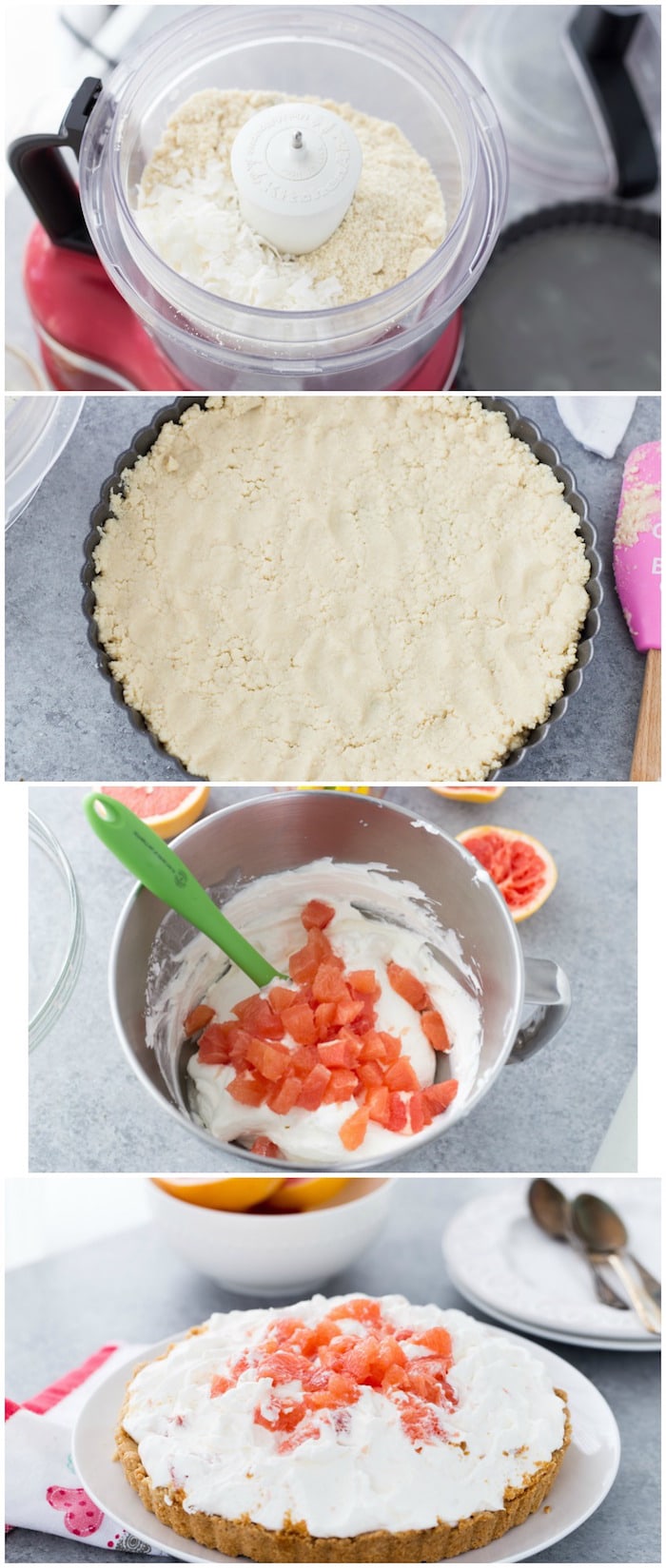 I love using seasonal fruit in my baking as it is always a great way to add more flavors into your baked good. For the filling of this tart, I added lots of fresh grapefruit into a refreshing yogurt mousse. To make the mousse slightly lighter, I used Greek yogurt instead of cream cheese to fold into the whipped heavy cream. This adds a slight tart flavor to the airy mousse and I love that. It reminds me of this greek yogurt cheesecake except it is lighter and refreshing. Top all of it with more fresh grapefruit and every bite will be filled with crunchy coconut crust and sweet citrus of grapefruit.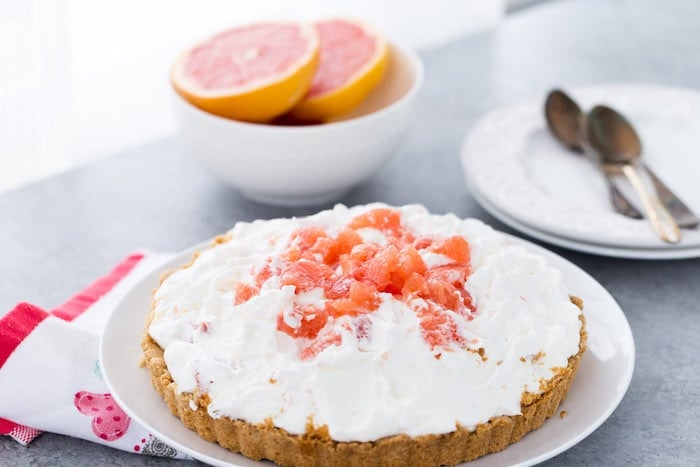 This is by far my new favorite winter no-bake dessert. Find the full recipe HERE on the Kitchenthusiast where I am sharing it with their readers as well.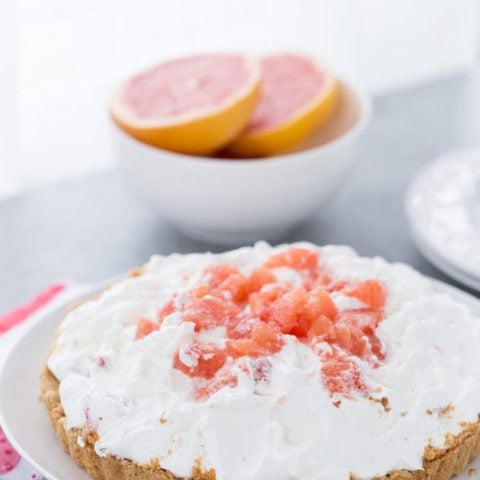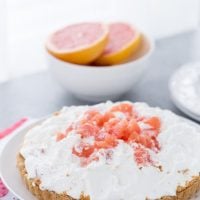 Yield: 1 9-inch tart
Grapefruit Mousse Tart
Ingredients
For the crust
1/2 cup unsweetened coconut flakes
1 1/2 cups almond meal/flour
1/4 teaspoon salt
2 tablespoons coconut oil, melted
For the mousse
1 1/2 cups heavy cream, chilled
1/4 cup powdered sugar
1/4 teaspoon almond extract
1 cup plain Greek yogurt, chilled
2 tablespoons fresh grapefruit juice
Zest of one grapefruit
1 grapefruit, peeled, pithed, and chopped
Instructions
For the crust
Preheat your KitchenAid® 5-Element Electric Convection Slide-In Range to 350° F. Lightly grease a mini tart pan with baking spray.
In the bowl of your KitchenAid® Pro Line® Series Food Processor, combine the coconut flakes, almond meal, and salt. Pulse to combine. Slowly drizzle the coconut oil into the Food Processor and pulse until well mixed. Do not over mix.
Press the crust into the bottom and sides of a 9″ tart pan. Use the flat-bottom of a cup to press the crust in.
Bake the crust in the Slide-In Range for 8-10 minutes until golden and firm. Remove from the Slide-In. Range and let cool completely.

For the filling

Chill the bowl and whisk of a KitchenAid® Stand Mixer for about 15 minutes.

Combine the heavy cream, powdered sugar, and almond extract in the chilled bowl of the Stand Mixer. Whip the heavy cream until soft peaks form. Gently fold in the Greek yogurt, grapefruit juice, zest, and chopped grapefruit.

Pour the mousse into the cooled tart shell. Chill the tart for at least two hours or overnight.

When ready to serve, top with fresh grapefruit. Serve immediately.
Disclosure: This recipe is sponsored by KitchenAid.