Pumpkin-Cheesecake Trifle
This recipe is sponsored by Philadelphia Cream Cheese.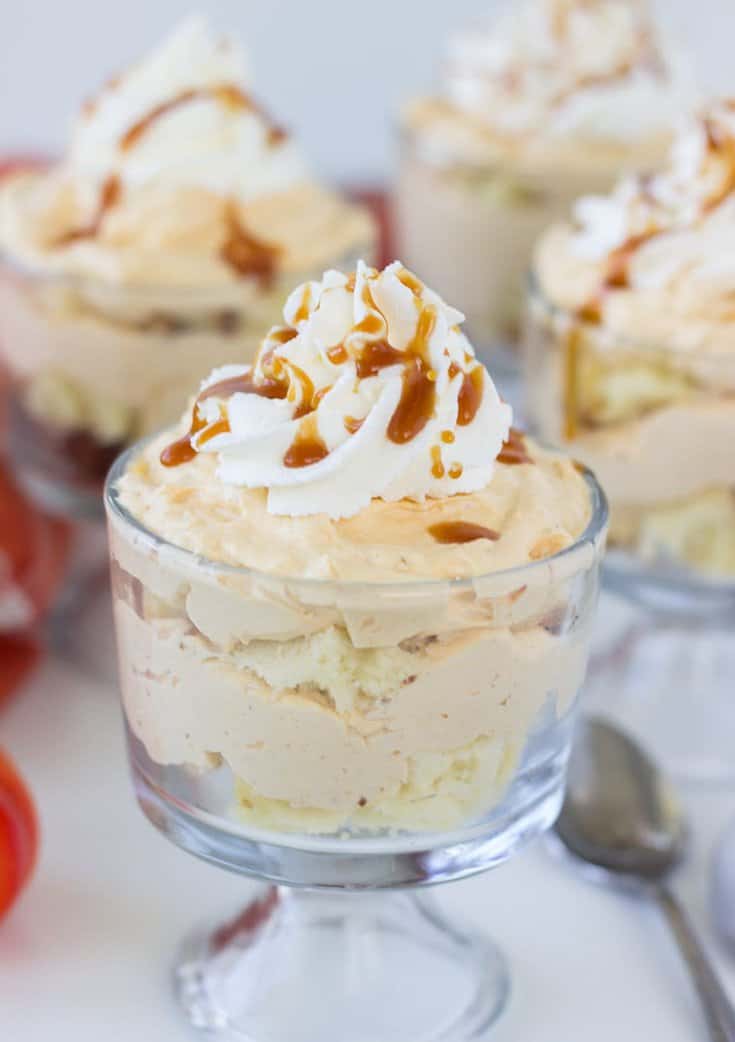 The holiday season is not only the busiest time of the year, but also the most stressful when it comes to entertaining. With constant entertaining and family coming to town, my oven is on nonstop making treats. This season, I am reaching for easy-to-make, no-bake recipes to reduce the stress, and nothing is easier than a trifle! This pumpkin-cheesecake trifle is going to be my go-to entertaining secret this year.
Trifles with layers of soft pound cake between a no-bake pumpkin-caramel cheesecake filling and topped with fresh whipped cream. Doesn't that sound amazing? And it's not going to compete for oven time on your busy holiday entertaining schedule.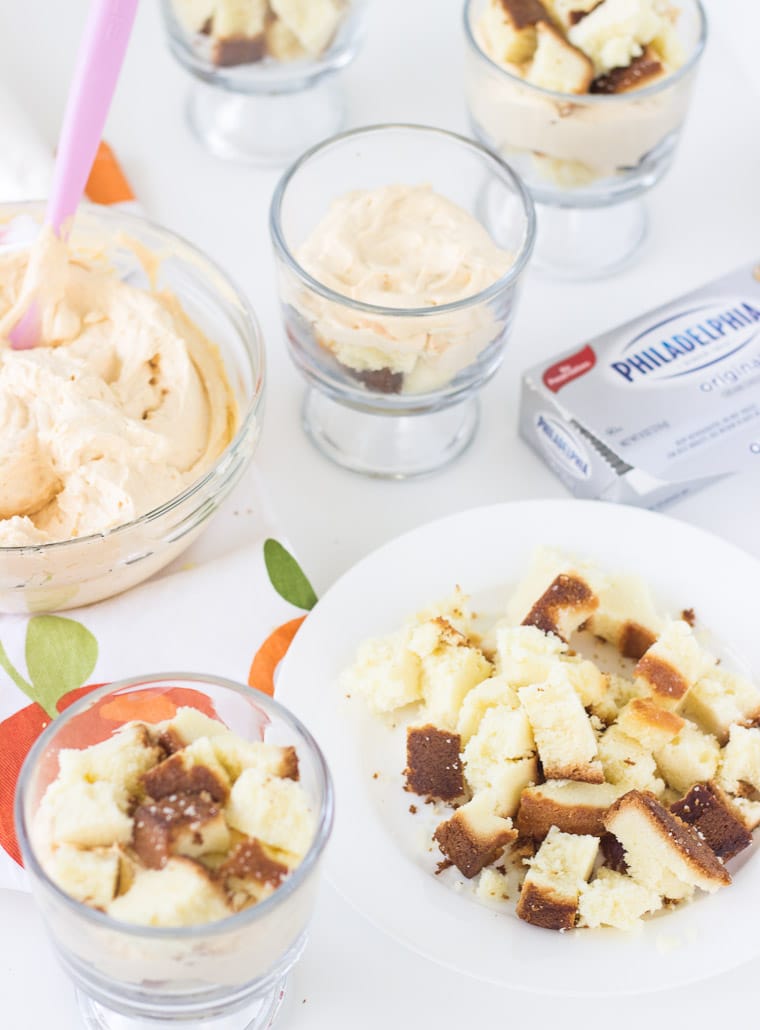 To make it even easier to assemble these trifles, I used leftovers from my favorite pound cake recipe, but you can use any store-bought variety. Just make sure you have five or six slices of the pound cake for the recipe. The small, individual servings make these special, but if you have a crowd, feel free to make this in a larger (traditional) serving bowl.
For the filling, I whipped together original Philadelphia Cream Cheese with pumpkin puree and caramel sauce to make a sweet pumpkin-cheesecake filling. Nothing tastes like Philadelphia Cream Cheese, making this filling a treat! Folding in a little bit of homemade whipped cream takes the filling to a whole new light and fluffy level.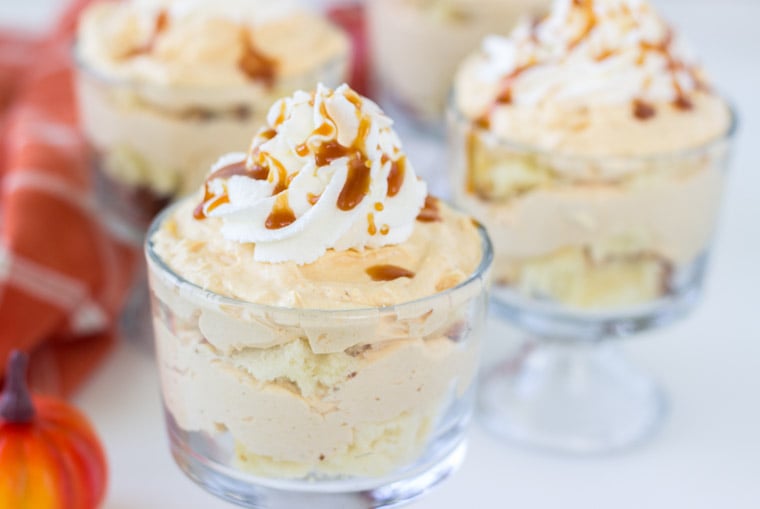 Finally, we top the assembled trifle with more whipped cream and caramel sauce. These are bound to be popular with your guests this holiday season. They are light, sweet, and just right for a dessert option after a big meal.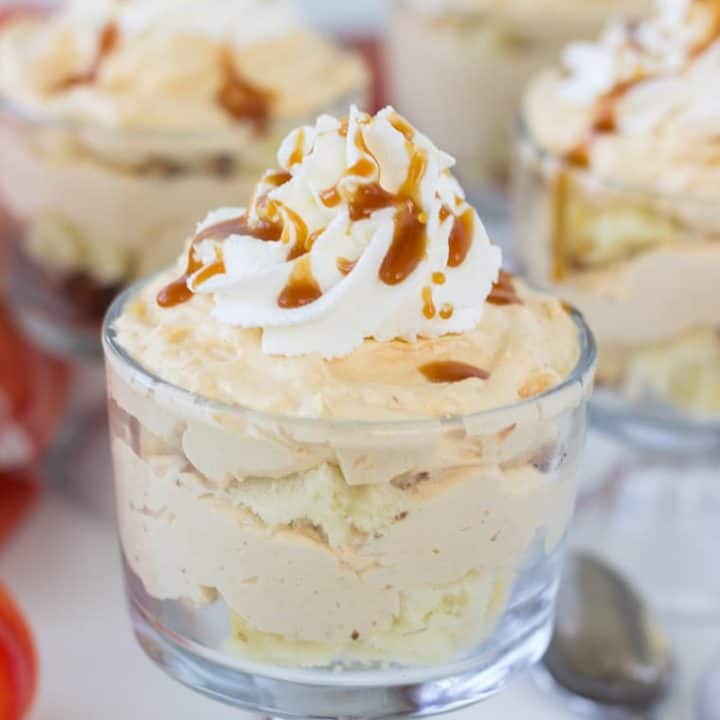 Yield: 8-10
Pumpkin-Cheesecake Trifle
Ingredients
16 ounces PHILADELPHIA Cream Cheese, softened to room temperature
¼ cup granulated sugar
½ cup canned pumpkin puree
½ cup caramel sauce, divided
½ teaspoon pumpkin pie spice
1 cup heavy whipping cream, very cold
1 pound cake (5 or 6 slices), cut into cubes
Instructions
In a large bowl, combine the cream cheese and sugar. Beat on medium speed until creamy, about 2 minutes. Add the pumpkin, ¼ cup caramel, and spice to the mixture. Continue beating until light and fluffy.
In another bowl, whip the heavy cream until soft peaks form. Beat in 2 to 3 tablespoons caramel sauce. Fold half of the whipped cream into the cream cheese mixture. Save the rest for topping.
Line 4 ramekins with a layer of the pound cake. Spoon a layer of the pumpkin cream cheese mixture over the cake layer. Repeat the layers ending with the cream cheese mixture.
Top each ramekin with remaining whipped cream. Drizzle with the rest of the caramel sauce.