Chocolate Orange Cupcakes
The holidays are over and we just began a brand new year which means a ton of brand new recipes. If you follow me on social media then you know I love everything baking but I have a sweet spot for cupcakes. A group of fellow bakers and I came up with #cupcakemondays and I love how well the trend has caught on! So for the first cupcake recipe of 2022, I present you with these Chocolate Orange Cupcakes.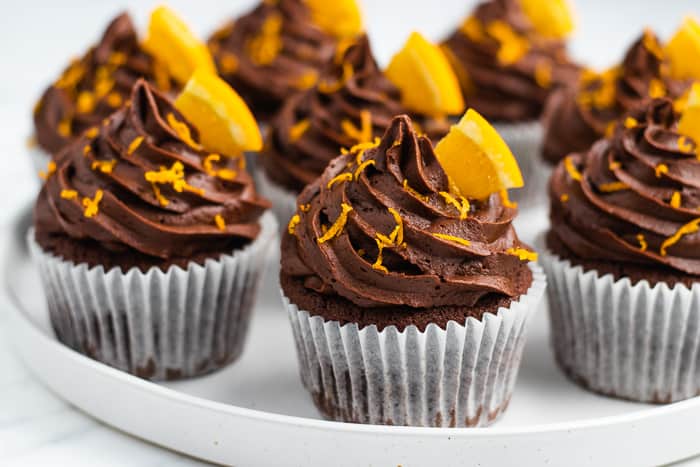 Chocolate and orange are a combination that I thought was insane when I was younger. Who would want tart citrus messing up their deliciously sweet chocolate?! At some point, I was introduced (and coaxed) into trying those chocolate-covered orange slices. It was life-changing for my palette to taste something so magical. So when I began my baking and blogging journey ten years ago (I can not believe it has been a decade!) I made it a point to put a twist on some classic recipes but also bring you unique flavor combinations to try in your own home.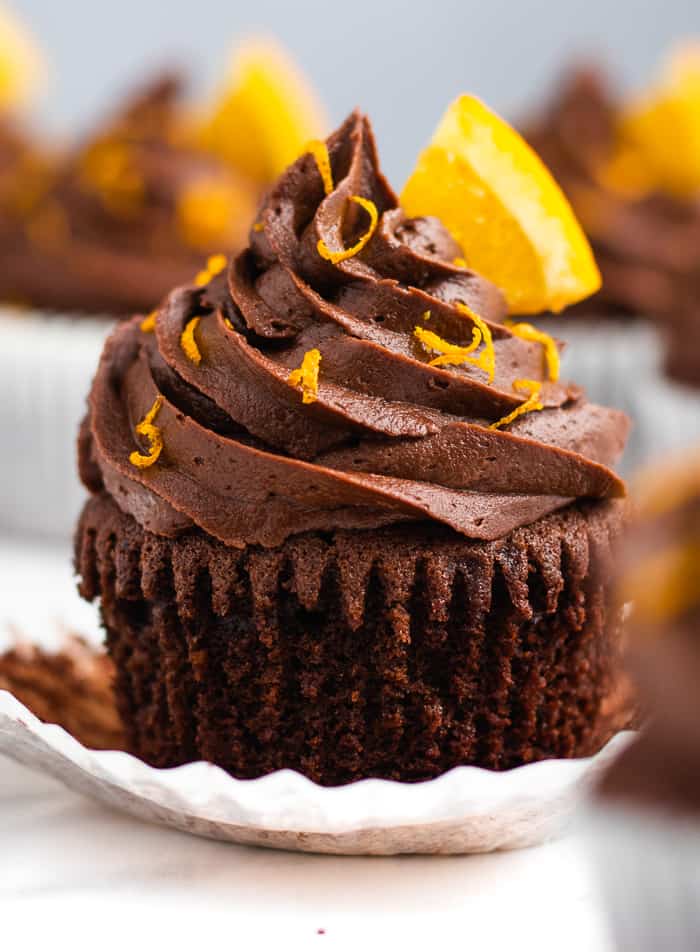 Without further adieu let's dive into baking these Chocolate Orange Cupcakes. They start with a chocolate batter that is infused with orange flavor with fresh orange juice and orange zest. The moist cupcake is then topped with a decadent, light, and fluffy chocolate orange buttercream. It is perfection.
Let's walk through how to make these cupcakes! If you don't need the step-by-step, just scroll to the end for the recipe.
As always we start by gathering (and measuring) all our ingredients.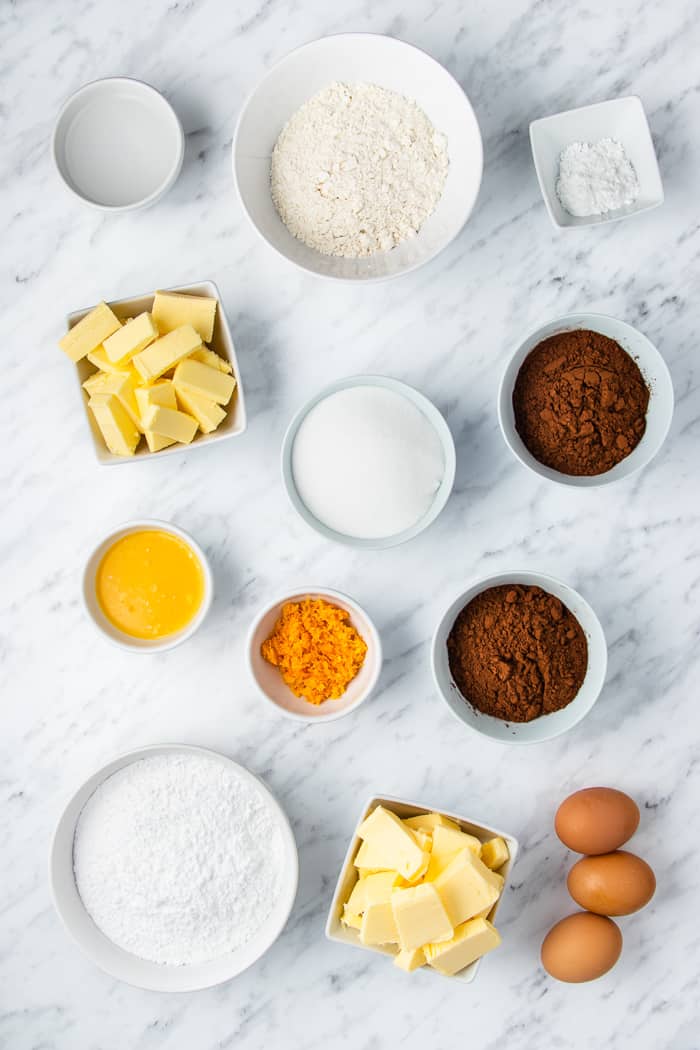 Sift your cocoa powder in a large bowl and pour your boiling water over top. Mix until you have a paste consistency.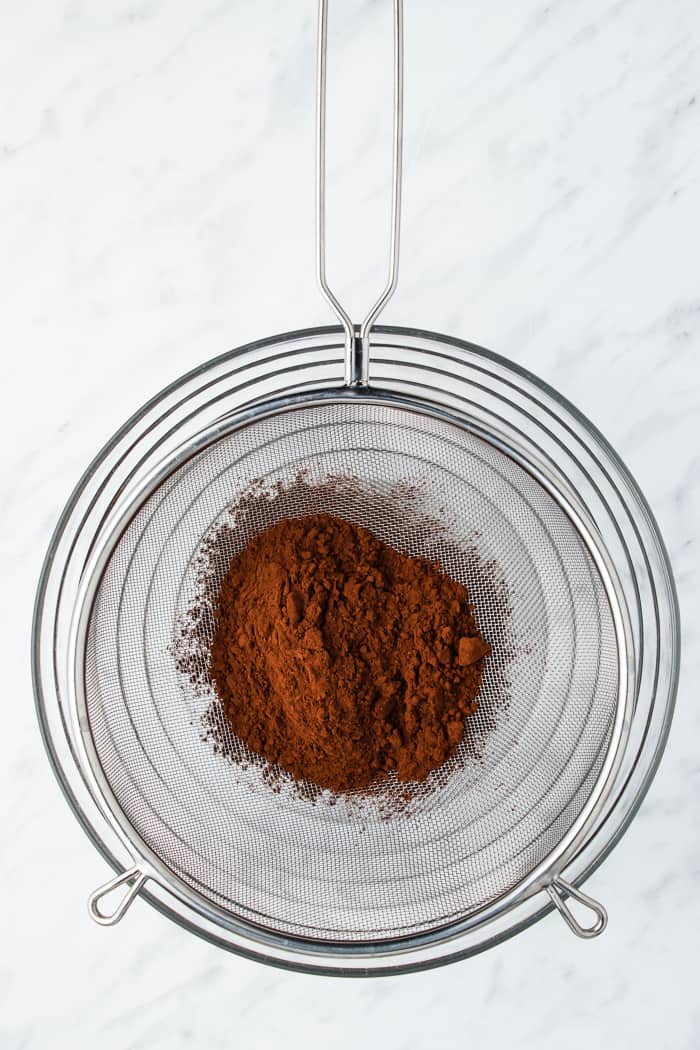 Add the remaining cupcake ingredients and beat until fully combined.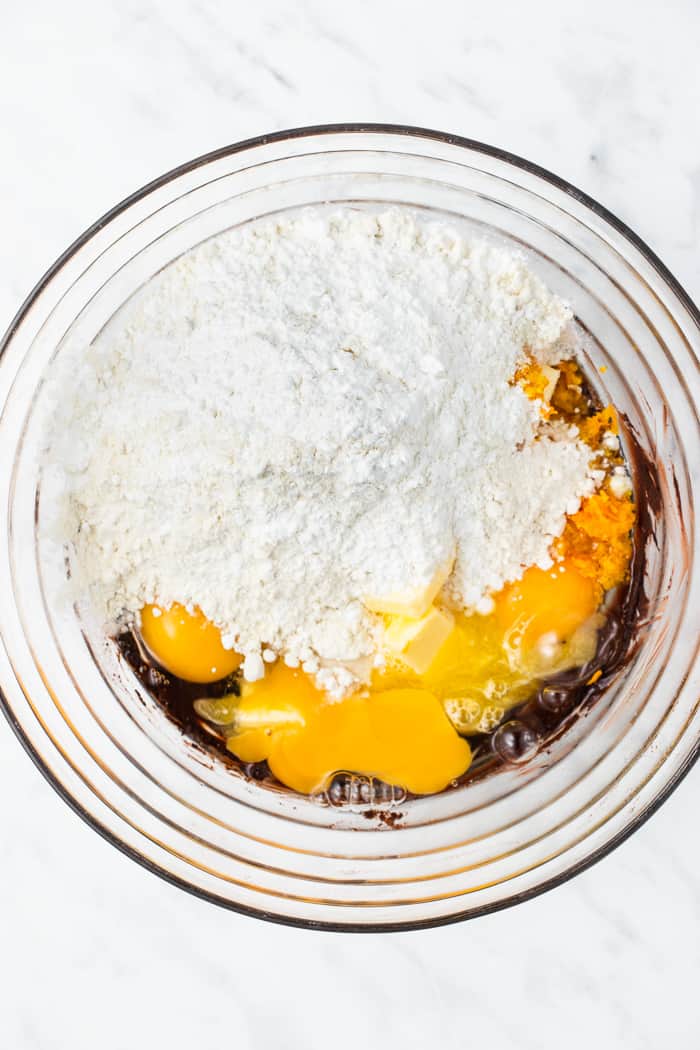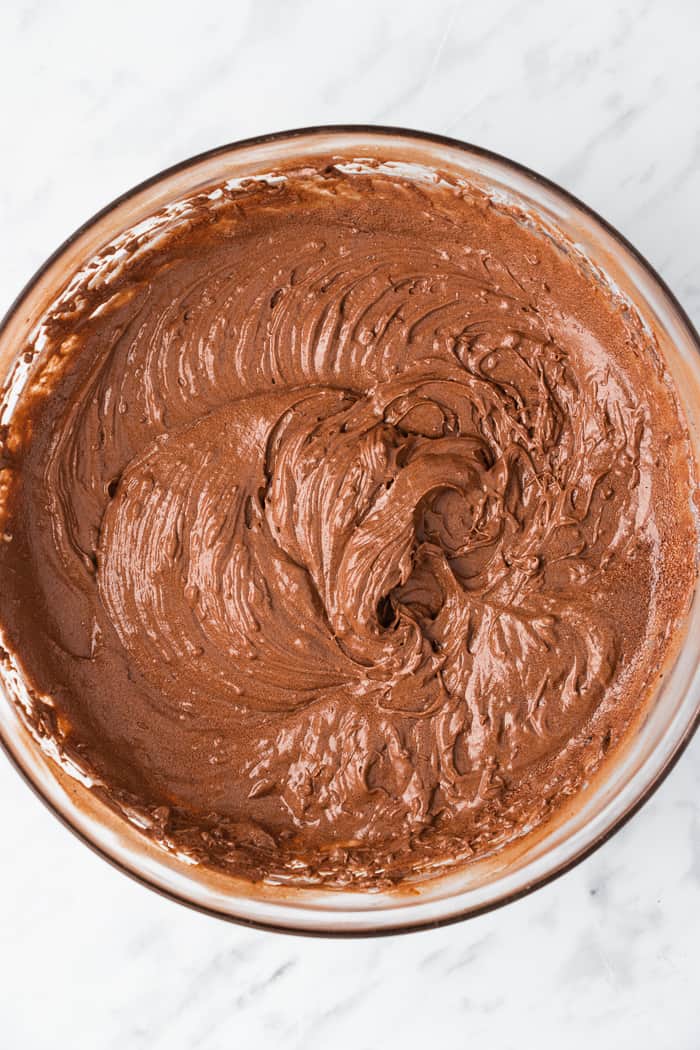 Pour your batter into prepared cupcake tins and bake until golden brown and your toothpick comes out of the center clean.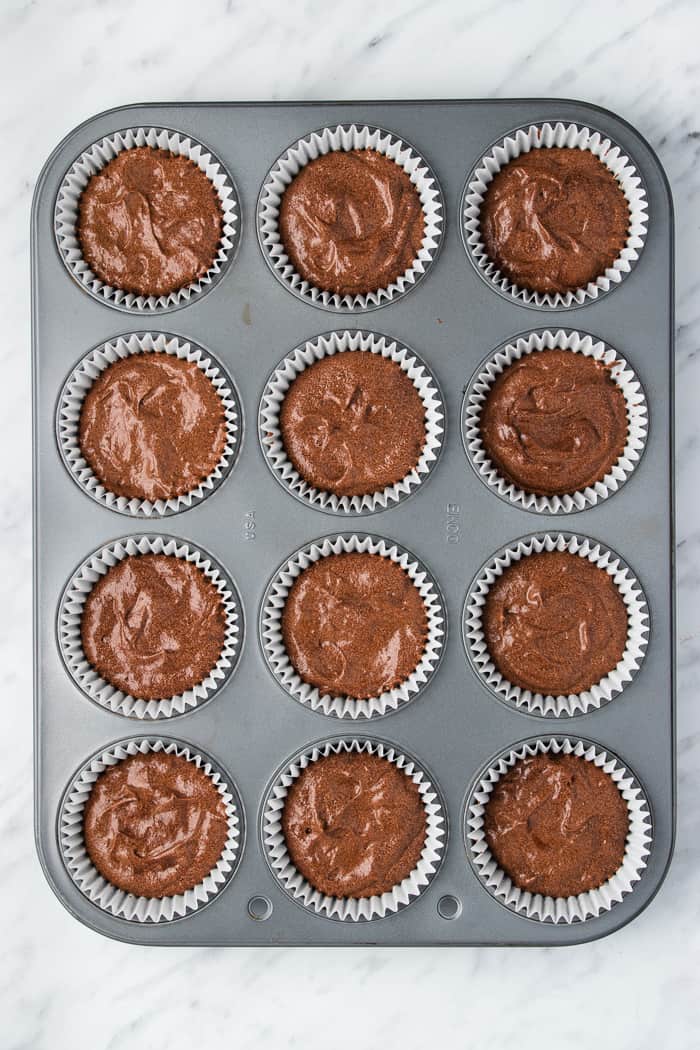 Set your cupcakes to the side and allow them to cool while you make your frosting.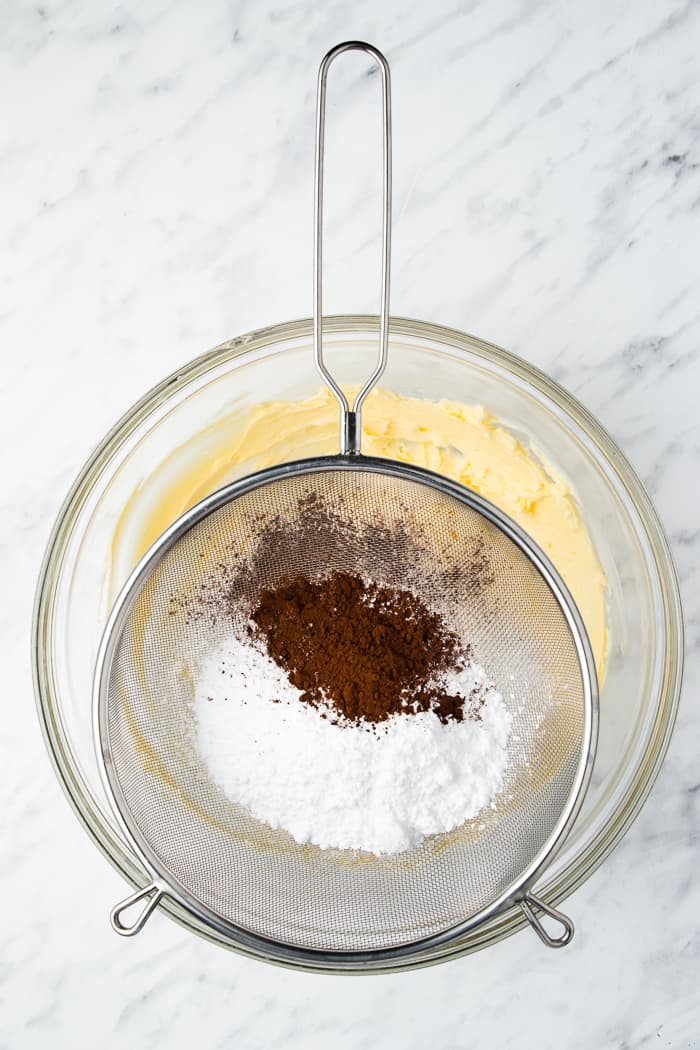 Mix your butter until smooth.
Alternate powdered sugar and cocoa powder in the same bowl.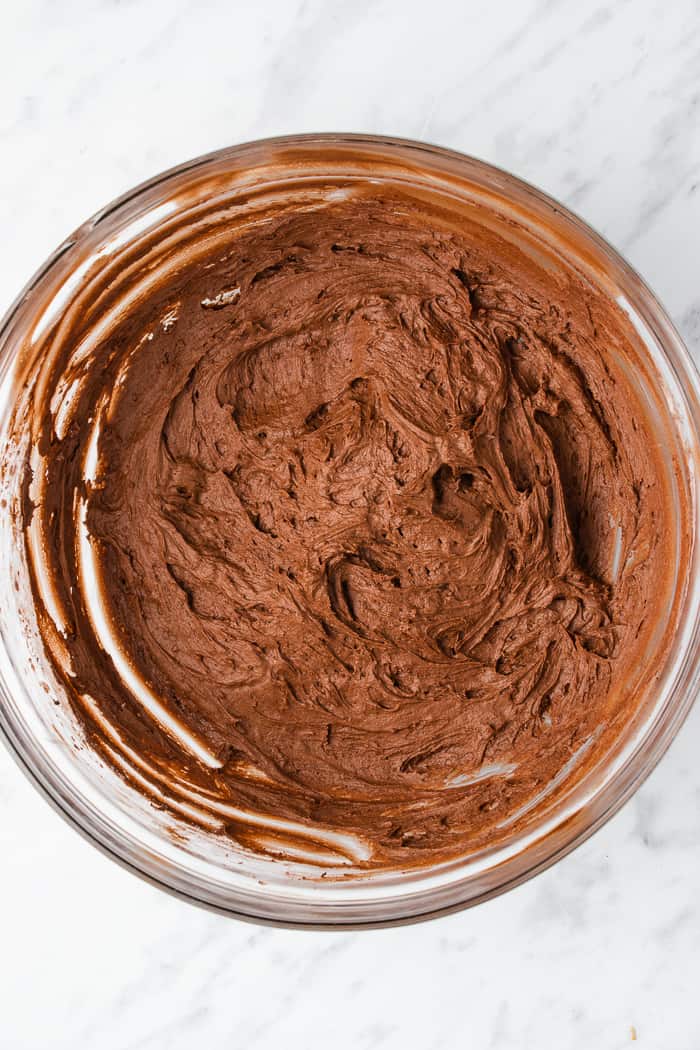 Once it becomes super thick, add in your orange juice and zest. Mix until smooth and add a little bit of milk if the consistency is still too thick. You want your frosting firm but still pliable enough to spread easily over your delicious cupcakes.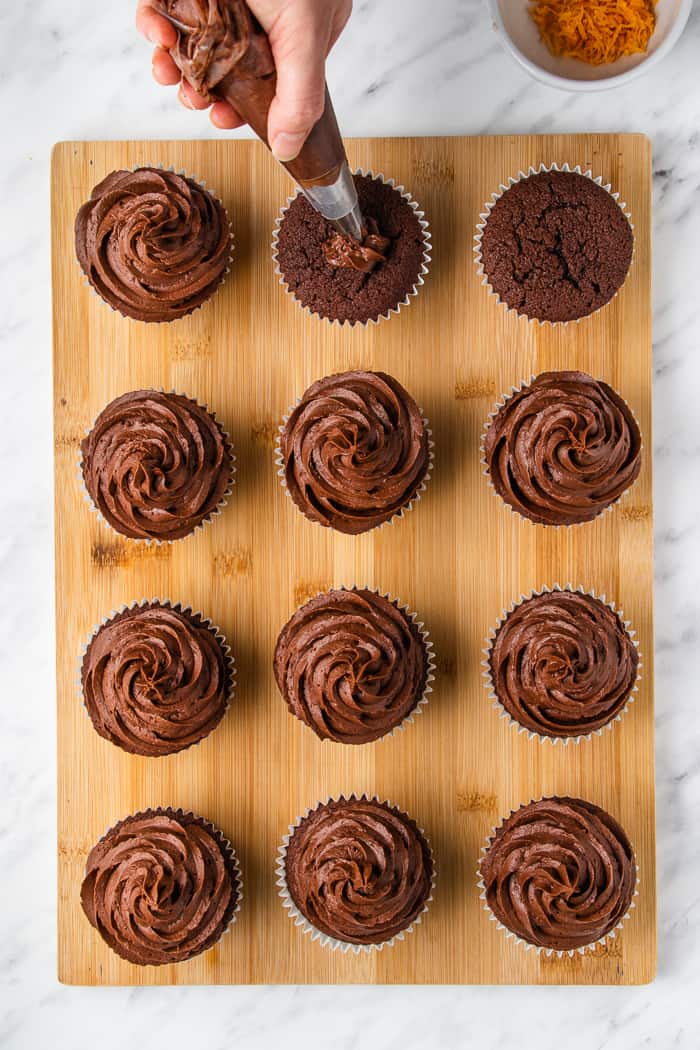 Sprinkle with orange zest and now all you have to do is serve and enjoy!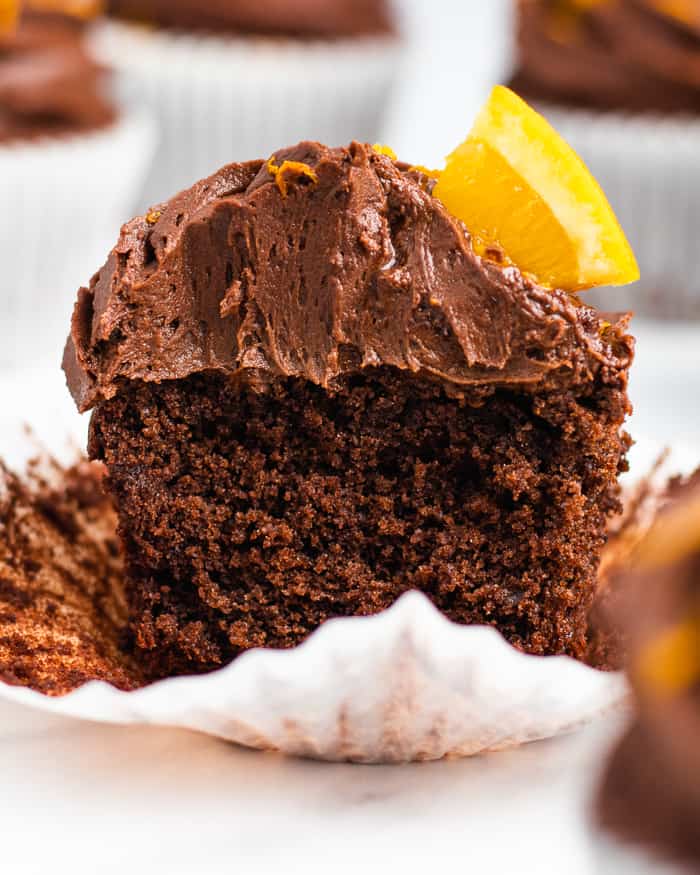 I love baking these for the fam on a chilly weekend where we have nothing to do but binge movies and shove our faces full of yummy treats while not leaving the couch. We all need those weekends right? Especially after a busy December.
If you love the combination of orange and chocolate then you must try this Orange Coffee Cake with Chocolate Chunks, and Blood Orange Chocolate Truffle Torte.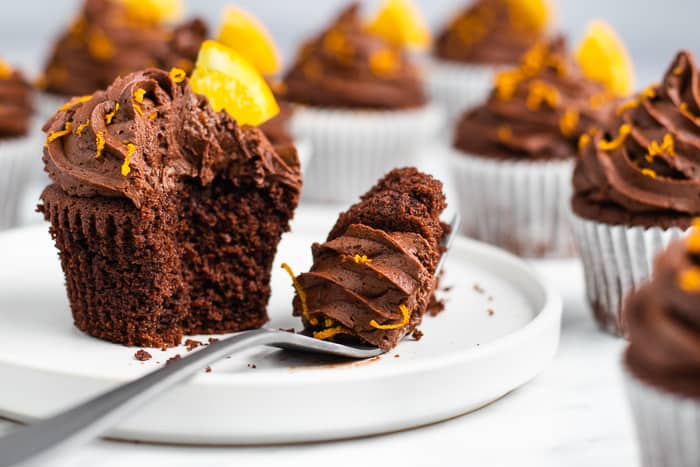 My favorite way to enjoy these Chocolate Orange Cupcakes is with a strong cup of coffee if I need a pick-me-up during the day or with a bubbly mimosa on a Sunday morning. I pretend to be fancy some days!
What do you think of this amazing recipe? Let me know in the comment section below. I love hearing what you thought of the recipe and who you shared it with. If you share on social media make sure to tag #aclassictwist so I can see your wonderful creation. Nothing makes me happier than seeing my recipe come to life in your home!
Happy baking everyone 🙂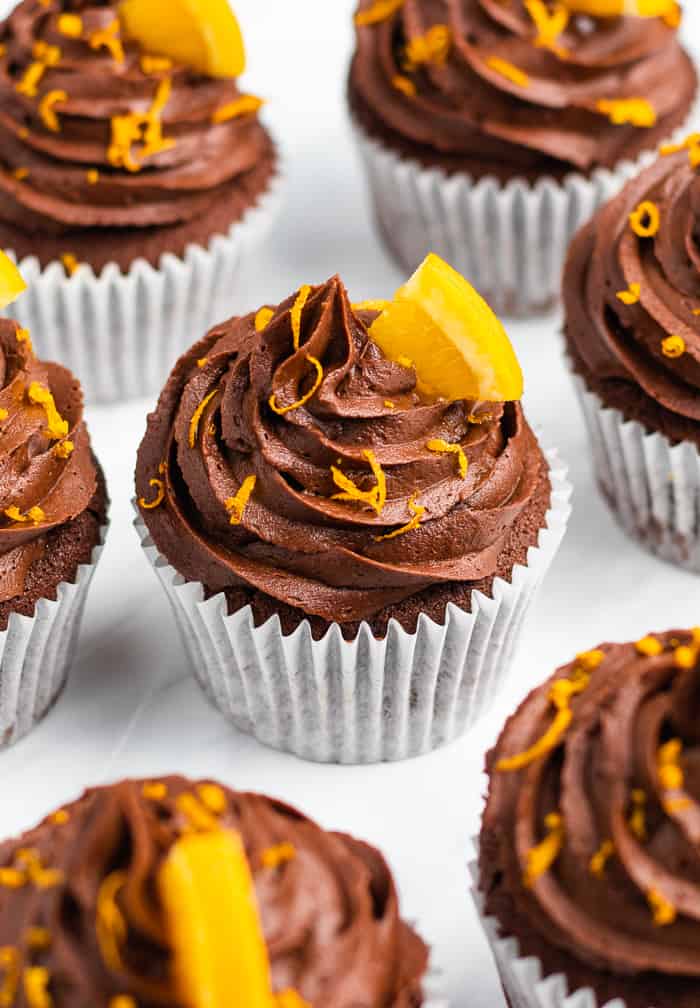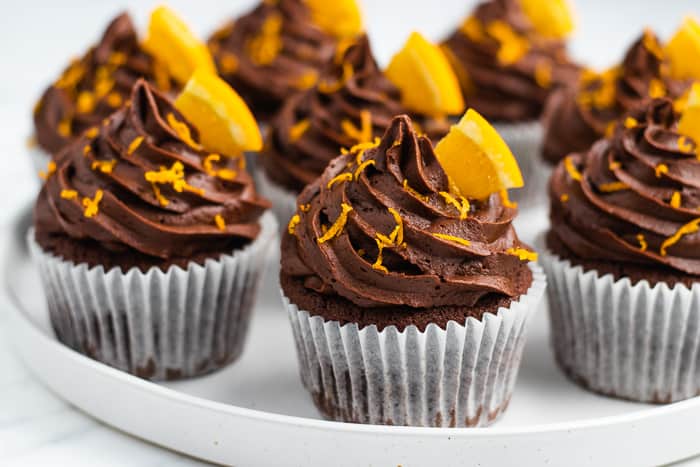 Yield: ~12 cupcakes
Chocolate Orange Cupcakes
Decadent Chocolate Orange Cupcakes that are easy, quick to whip up, and no-fail.
Ingredients
For the cupcakes:
½ cup unprocessed cocoa powder
1/3 cup boiling water
3 large eggs (at room temperature)
¾ cup unsalted butter (softened)
¾ cup + 3 tablespoons granulated sugar
1 cup all purpose flour
2 teaspoon baking powder
2 tablespoons fresh orange zest
2 tablespoons fresh orange juice
For the frosting:
1 cup butter (softened)
3 cups powdered sugar
½ cup cocoa powder
3 tablespoon sfresh orange juice
1 tablespoon fresh orange zest
Splash of milk
For decoration (optional):
Extra orange zest and orange slices
Instructions
Make the cupcakes
Preheat the oven to 350 degrees F and line a cupcake pan with cupcake liners.
Sift the cocoa powder into a large mixing bowl and pour the boiling water into the bowl. Mix into a smooth paste.
Add all remaining cupcake ingredients and mix with an electric mixeruntil combined.
Evenly distribute the mixture between the liners, filling each about 2/3 of the way.
Bake for 18-22 minutes or until a skewer poked into the center of a cupcake comes out clean.
Leave the cupcakes in the pan for about 10 minutes before transferring them to a wire rack to cool completely.
Make the frosting:
Add the butter to a large mixing bowl. Mix with an electric mixer until smooth and creamy.
Gradually sift in the powdered sugar and cocoa powder a little at a time, mixing after each addition. When the mixture starts to become a little too thick to mix, add the orange juice and zest. If it's still too thick, you can add a splash of milk. The frosting should hold its shape but be smooth enough to spread/pipe easily.
Mix the frosting for another minute or so to get it super smooth.
Frost and decorate the cupcakes:
Spoon, spread, or pipe swirls of the chocolate orange frosting on top of each cupcake. I used a Wilton 1M piping nozzle.
Add small slices of fresh orange and a little zest of the top for decoration (optional!).