Peanut Butter and Roasted Banana Pudding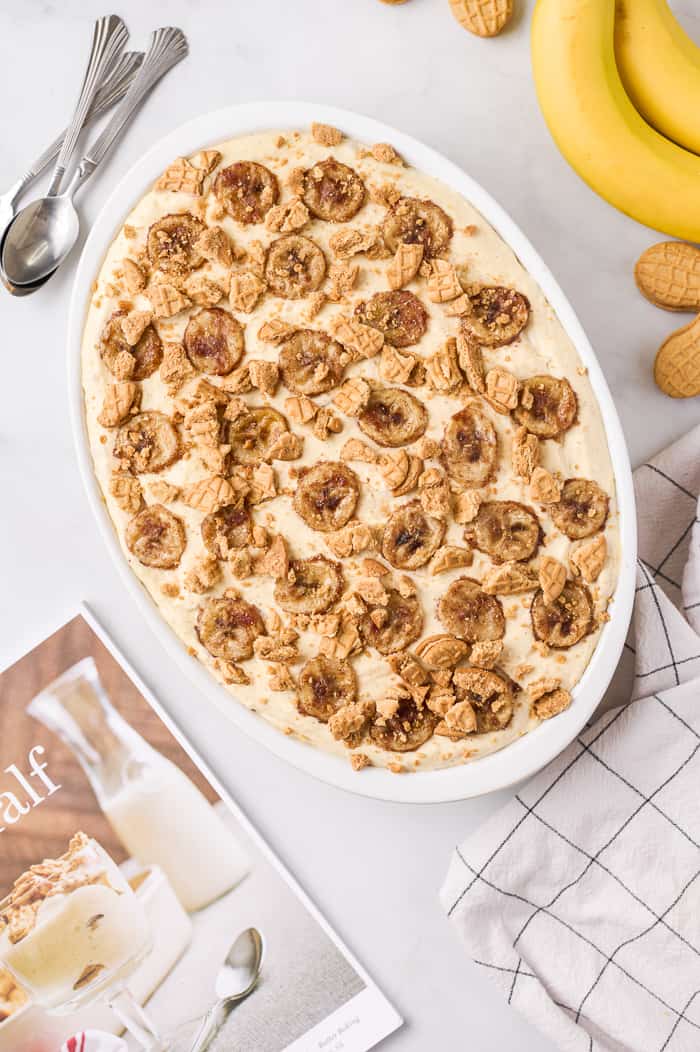 This post is sponsored by Half & Half Magazine. Half and Half magazine is a seasonal magazine from Dairy Farmers of America full of delicious recipes featuring dairy products you already have in your fridge.
Hey there my friends. For years I have always hosted our holiday get together's and stressed for weeks figuring out the menu, my outfit, cleaning, decorating, you name it! This year is going to be different and I'm super excited because we get to go as guests and not host the whole family. I do truly love the time we spend together but man being on the other side is nice sometimes too.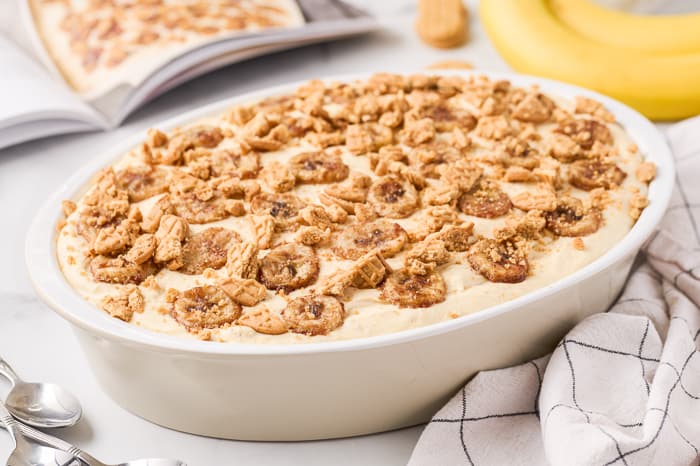 Now, my inner struggle is what do I bring? I went over all the traditional sides, stuffing, mashed potatoes, greens, and pies. Nothing really stood out to me so I decided to go in another direction that is comforting, delicious, and great for large parties. A no-bake dessert I came upon in the Half and Half magazine. This Peanut Butter and Roasted Banana Pudding will truly be a hit this year.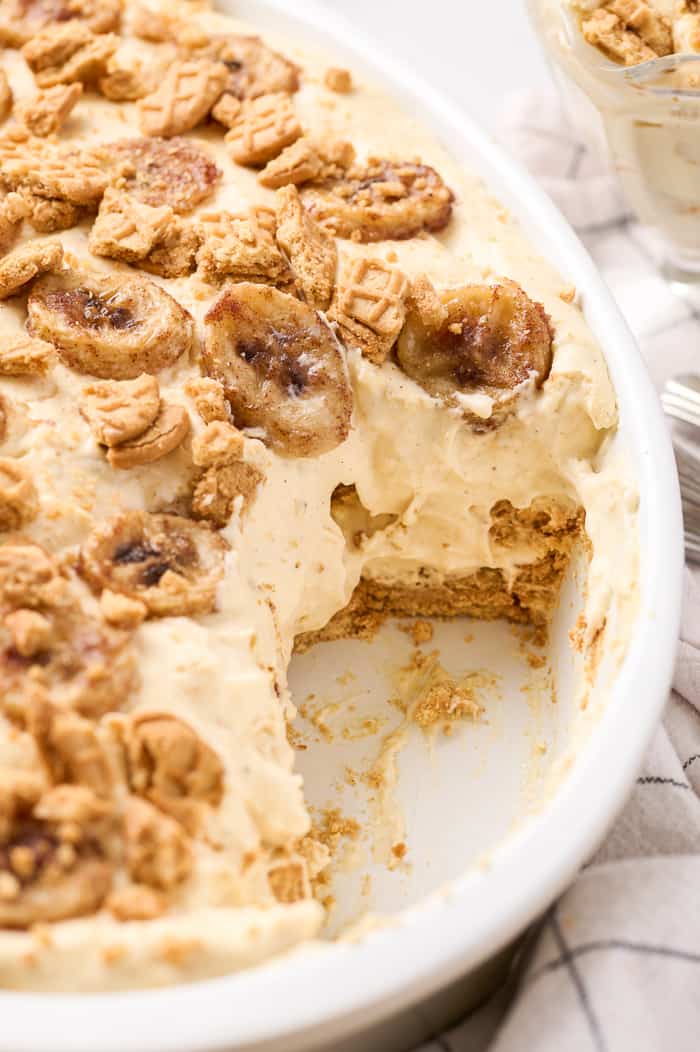 Think traditional banana pudding recipe except it is elevated. First, we roast the bananas. This caramelizes them and then deepens the flavor. Then the banana pudding is made in the traditional sense but this is rich with a cream cheese-infused pudding. The peanut butter flavor in the pudding comes in two forms. First peanut butter is folded into the pudding. Second, we use peanut butter cookies!!
The final result is incredible and just so good!! You will do nothing but enjoy this decadent dessert!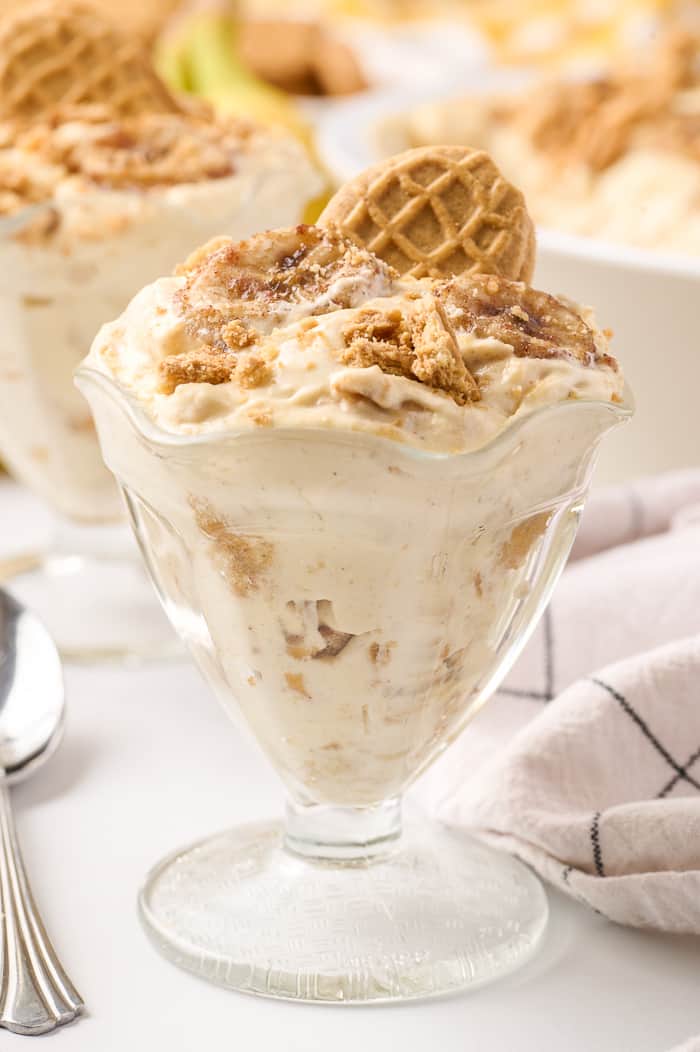 Now let's walk through how to make this Peanut Butter Roasted Banana Pudding together. If you don't want to see step-by-step now, then simply scroll down to the bottom for the full recipe.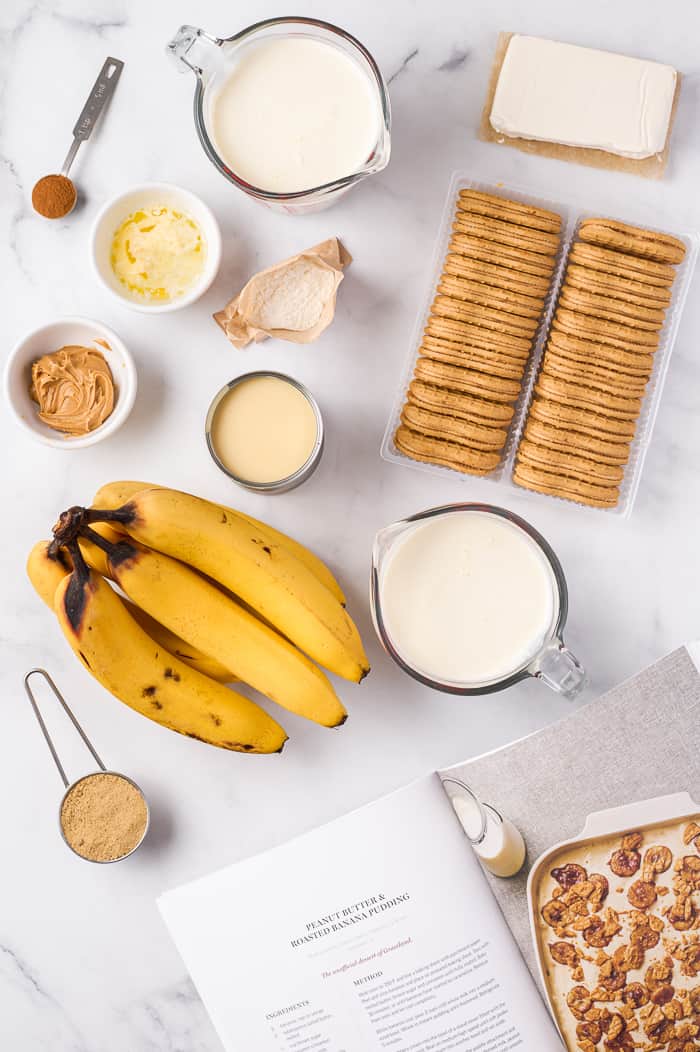 Slice your bananas and toss to fully coat with ingredients 2-5.
Roast the bananas until aromatic and caramelized.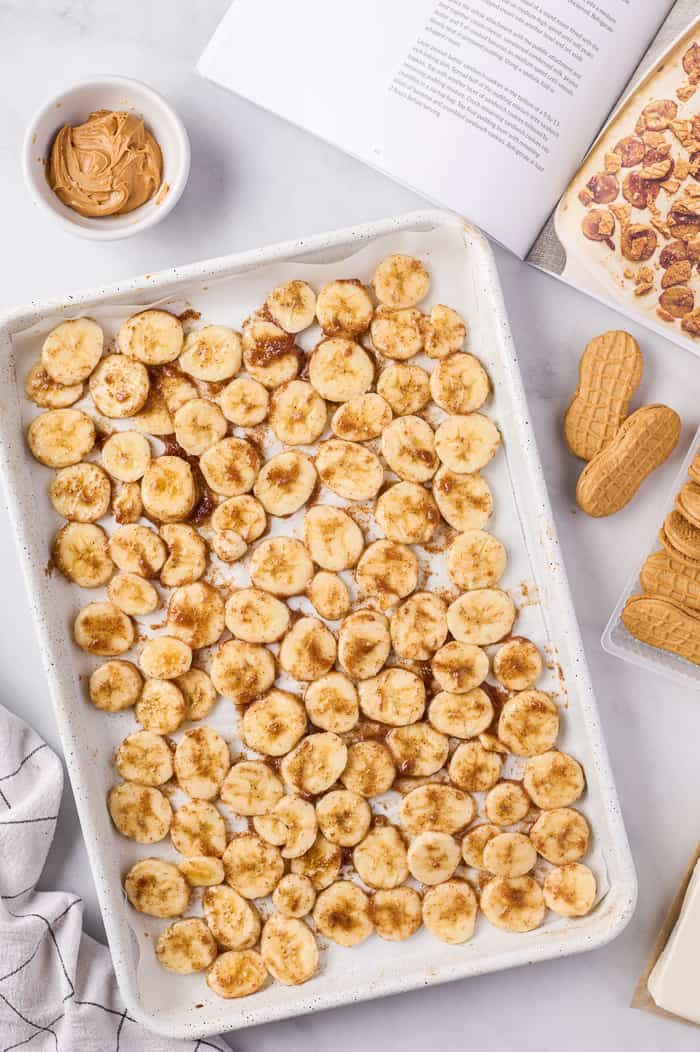 Mix your pudding and milk till thickens and chills.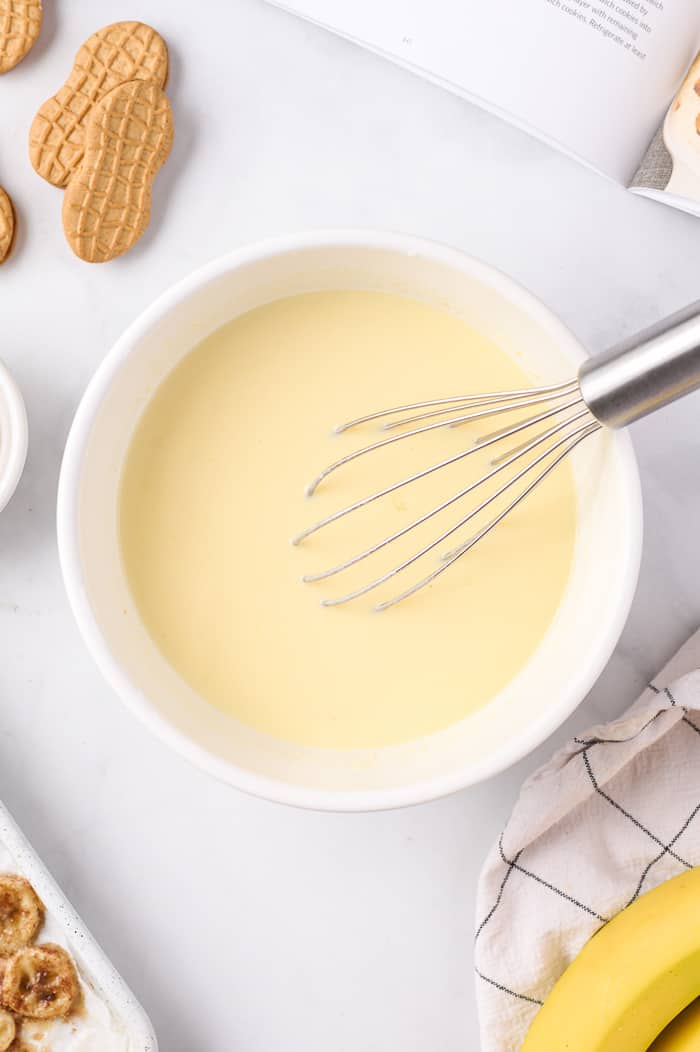 Beat your heavy whipping cream until stiff peaks form.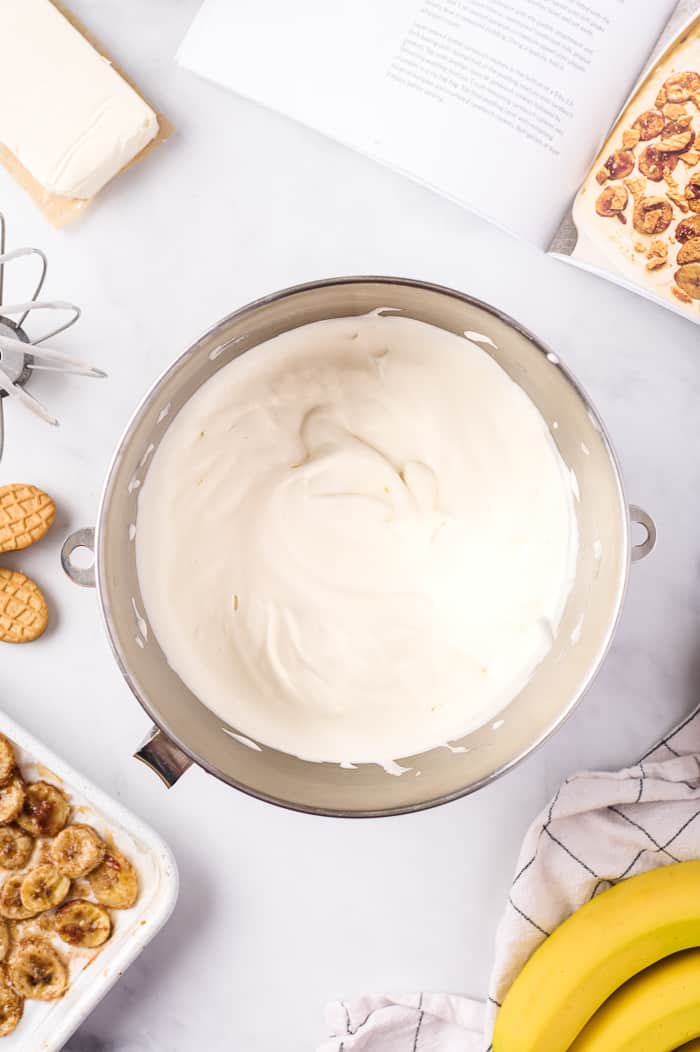 Combine the bananas, peanut butter, milk, and cream cheese together.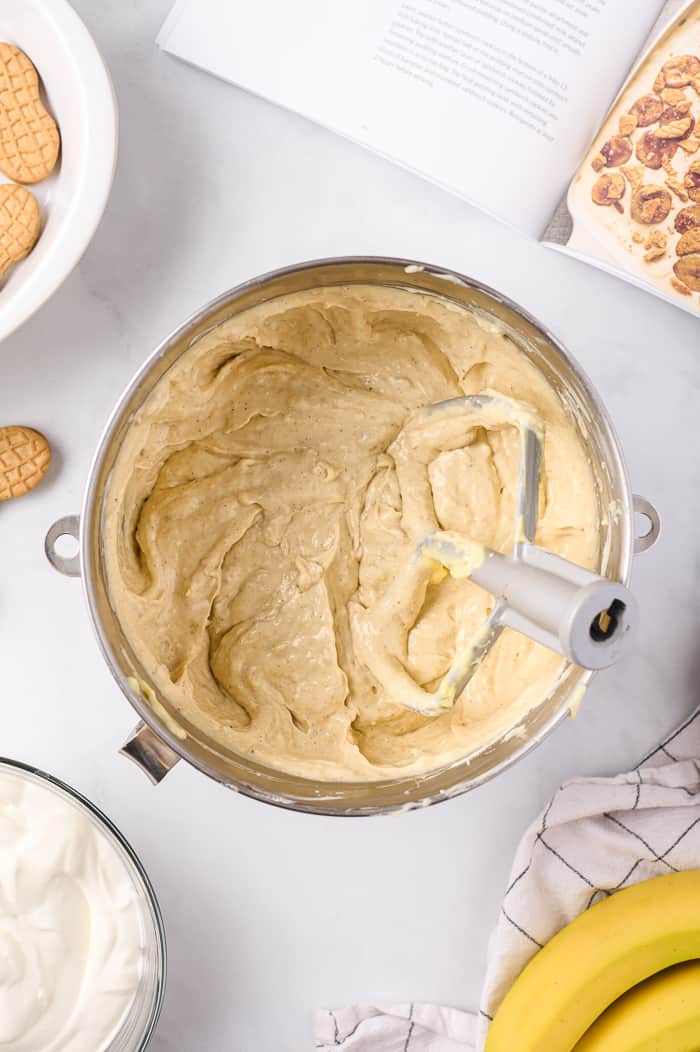 Add the pudding and then fold in the whipped cream.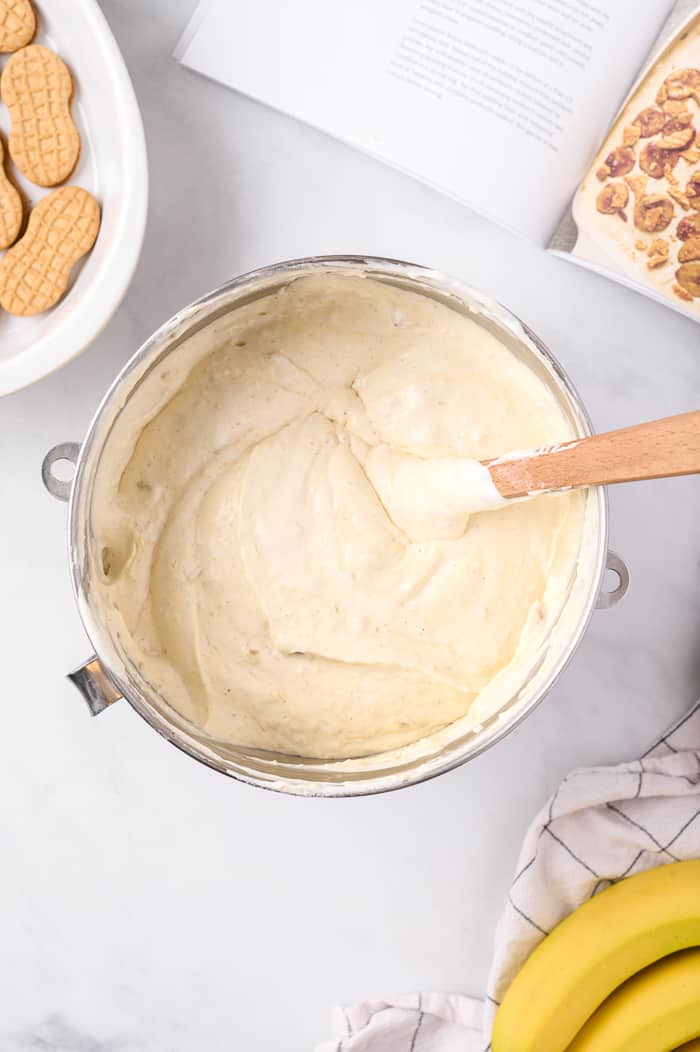 Add peanut butter cookies to a sheet pan, top with some of the mixture, then add more cookies.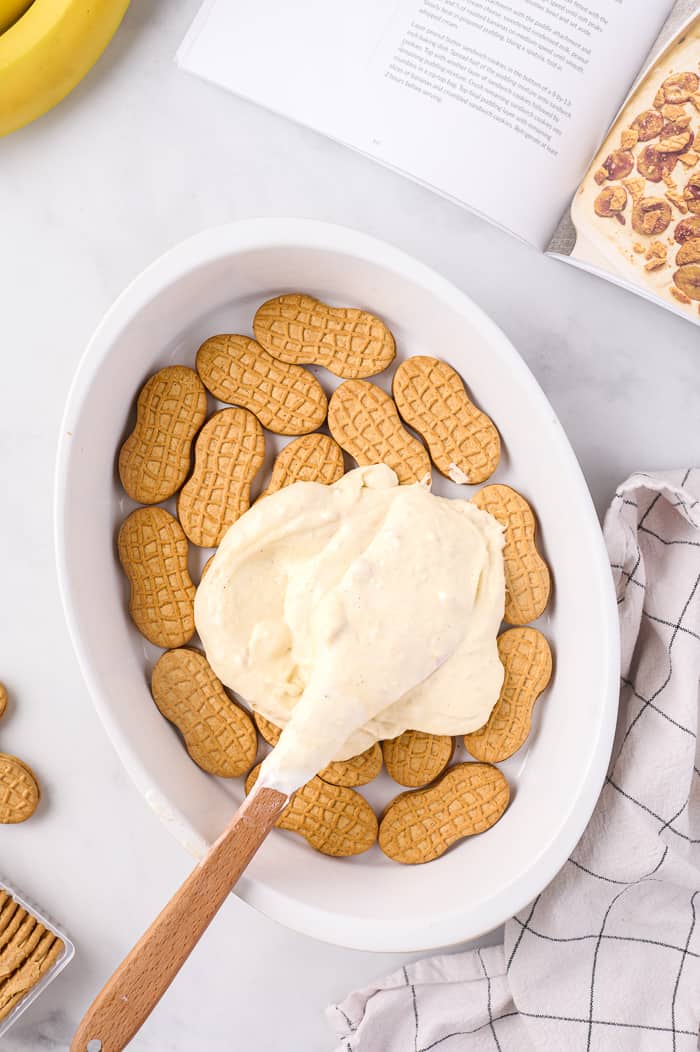 Add crushed peanut butter cookies and the remaining roasted bananas to the top layer of the pudding mixture.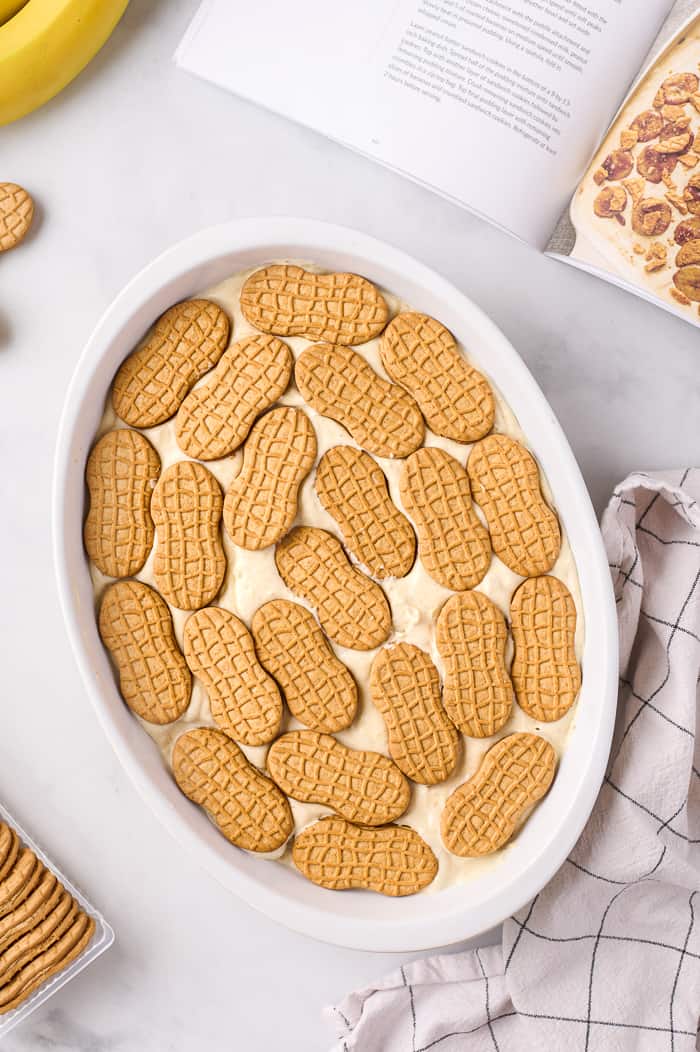 Place in the fridge for a few hours and then serve!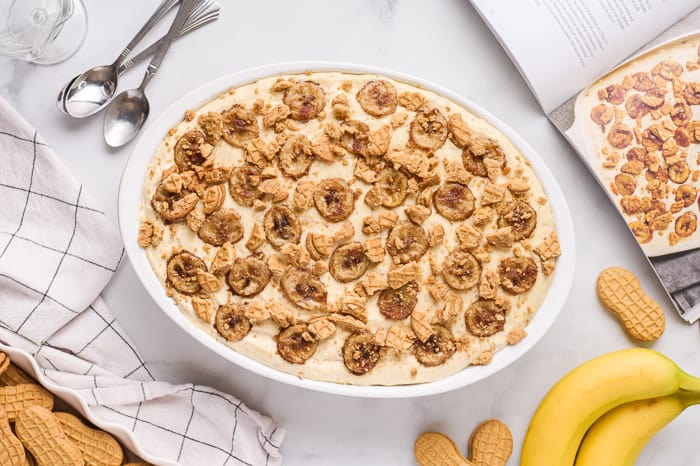 Such a super simple recipe with amazing flavor. The caramelized bananas add a rich and sweetness to the creamy mixture. With each serving, your guests will enjoy the crisp peanut butter cookies that go hand in hand with your sugary banana treats.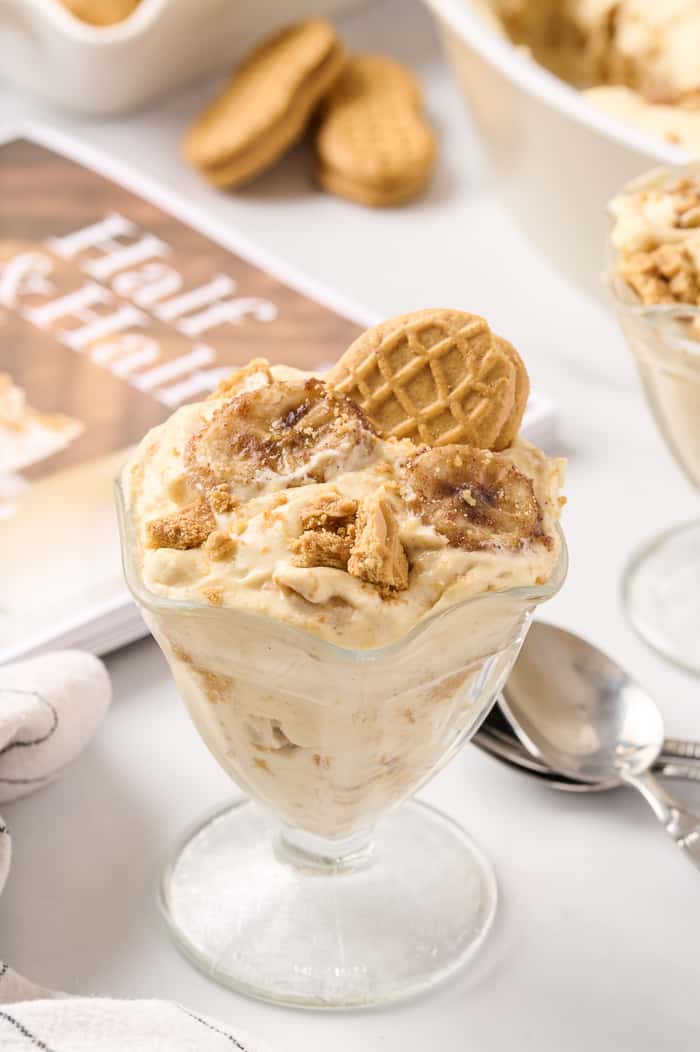 If you are looking for some other banana-inspired recipes then check out this Banana Foster Cheesecake, or this Chocolate Chip Banana Cupcake with Peanut Butter Frosting.
I did a test run with the family and let me just say that there was about a spoonful left for me lol. They enjoyed it after dinner, for breakfast, snacks, any time of the day.
Grab a subscription to Half & Half magazine for you and your favorite foodie. Use code ZAINABFALL2150 for 50% off (that's just $17.50 a year to have a seasonal cookbook delivered straight to your door!)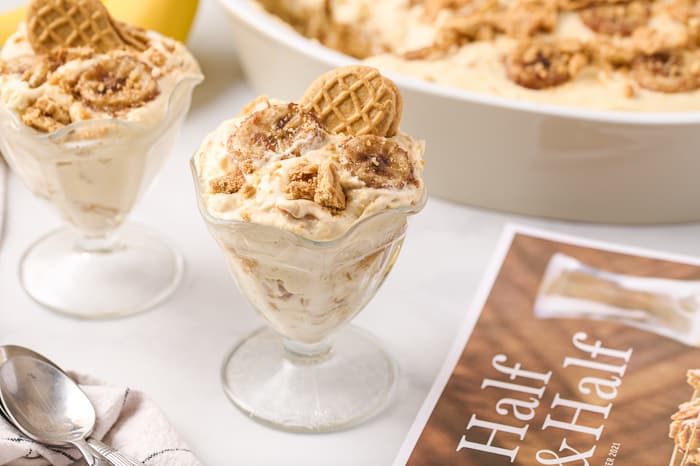 Happy baking everyone!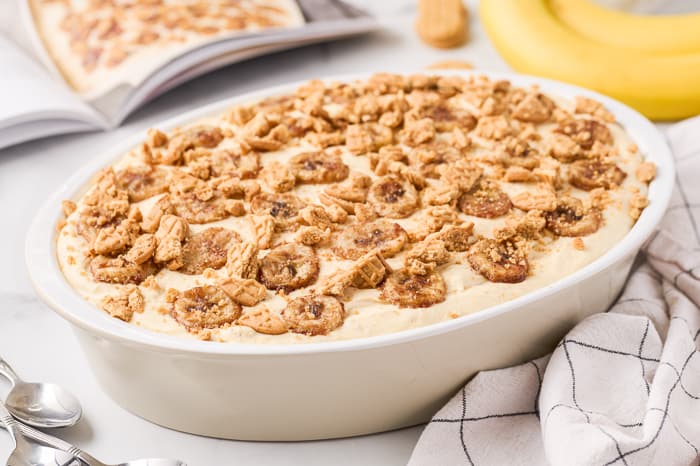 Yield: 8 servings
Peanut Butter and Roasted Banana Pudding
Ingredients
6 bananas, ripe or unripe
2 tablespoons unsalted butter, melted
1/4 cup light brown sugar
1 teaspoon ground cinnamon
a pinch of kosher salt
2 cups whole milk
1 small box instant vanilla pudding
2 cups heavy cream, cold
1 8-ounce block cream cheese, softened at room temperature
1 14-ounce can sweetened condensed milk
2 tablespoons peanut butter
1 package peanut butter sandwich cookies
Instructions
Heat oven to 350 F. Line a baking sheet with parchment paper.
Peel and slice the bananas and place them on the prepared baking sheet. Toss the bananas with melted butter, brown sugar, cinnamon, and salt. Make sure they are fully coated.
Roast the bananas in the oven until that start to caramelize, about 30 minutes.
Remove from oven and let cool completely.
In a medium bowl, pour the milk. Whisk in the instant pudding into the milk until it thickens. Refrigerate for at least 5 minutes.
In a separate bowl, using an electric mixer with the whisk attachment beat the heavy cream on medium-high until soft peaks form, about 3-4 minutes. Transfer the whipped cream to another bowl.
In the same bowl, beat together the cream cheese, condensed milk, peanut butter, and 2/3 of the roasted bananas until smooth. Slowly add in the prepared pudding and mix to combine. Fold in the whipped cream.
Using a 9 x 13- inch baking dish, layer the bottom with peanut butter cookies. Spread half of the pudding mixture onto the cookies. Then top with another layer of cookies followed by the remaining pudding mixture.
Crush remaining cookies and sprinkle the top of the pudding layer with them. Also, top with remaining slices of roasted bananas.
Refrigerate for at least two hours before serving.