Chocolate Guinness Cupcakes
These dark, decadent and airy chocolate Guinness cupcakes are perfect for your St Patrick's Day celebration.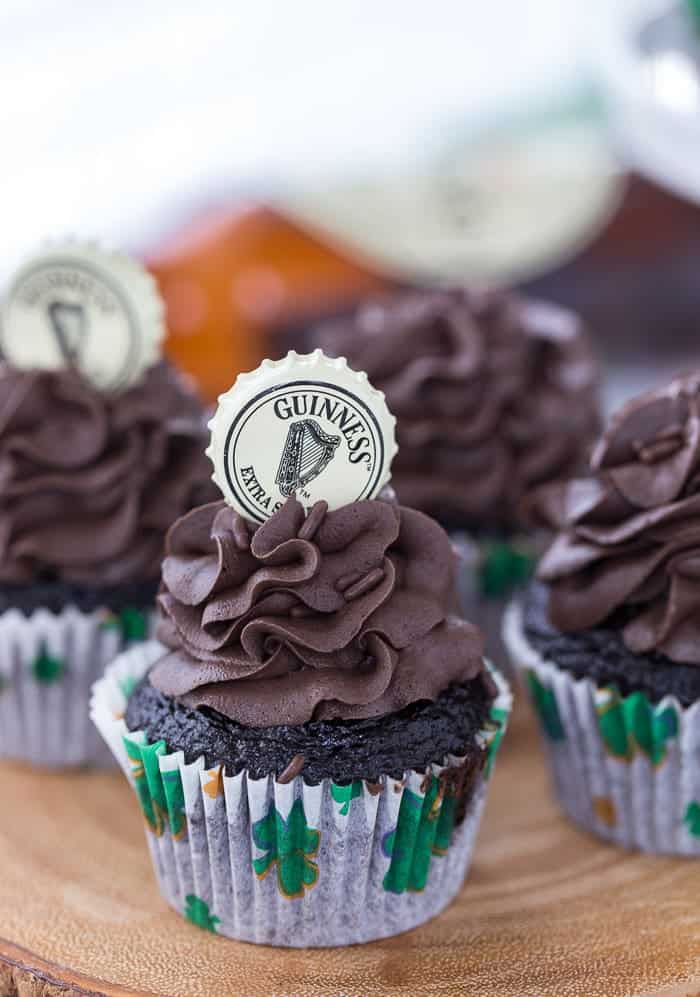 Today's recipe is a simple and essential for your St Patrick's Day celebration. These chocolate Guinness cupcakes gives us an easy way to celebrate the Irish in all of us. Of course, I am not Irish but I wear green, eat soda bread and corned beef and enjoy booze filled desserts to celebrate with my Irish friends on St Patrick's Day. This decadent (uber decadent I should say) light, moist cupcake and creamy chocolate frosting is a great way to get your party started.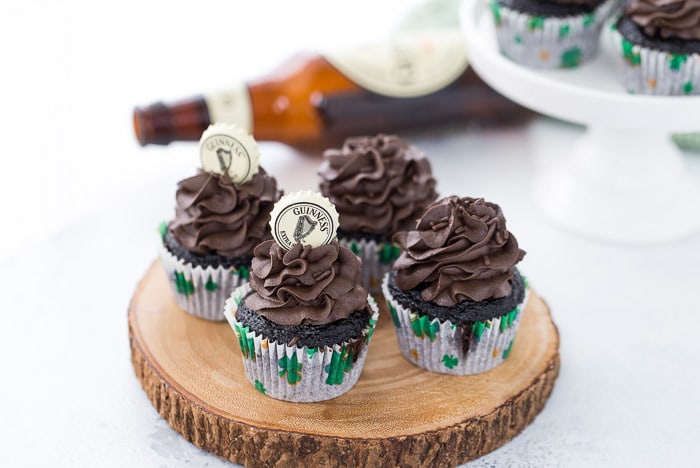 Now, I need to be straight up with you about these cupcakes. If you are not a chocolate fan, please go to my vanilla cupcake options as these cupcakes are for true chocoholics. I am not a true chocolate fan and as such I find these cupcakes too chocolate-y for my taste. But it's just my taste as my husband and co-workers LOVE them. They keep raving about how they are the best cupcakes they have tried in a long time.
I actually didn't mean to make these chocolate cupcakes so rich. I just happened to have Special Dark cocoa powder (<— affiliate link) on hand and no other cocoa powder so I used it in both the cupcake batter and the frosting. You can use unsweetened regular cocoa powder if you like but you will still get an enriched chocolate cupcake as the Guinness brings out the chocolate flavor.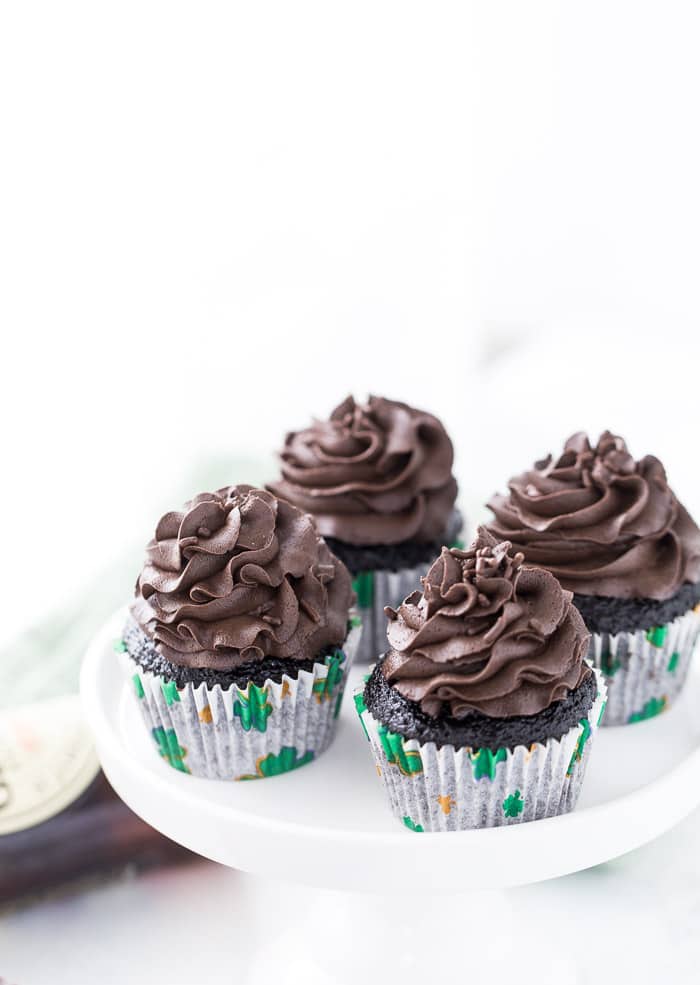 I used my go-to chocolate cupcake recipe for these but instead of the hot espresso coffee, I used extra stout Guinness. This brings out the rich chocolate flavor and also makes these cupcakes light and fluffy (the carbonation!!). Perfect for those of you who love decadent chocolate treats.
These chocolate guinness cupcakes are truly AMAZING and I know you will all enjoy them as much as my friends did.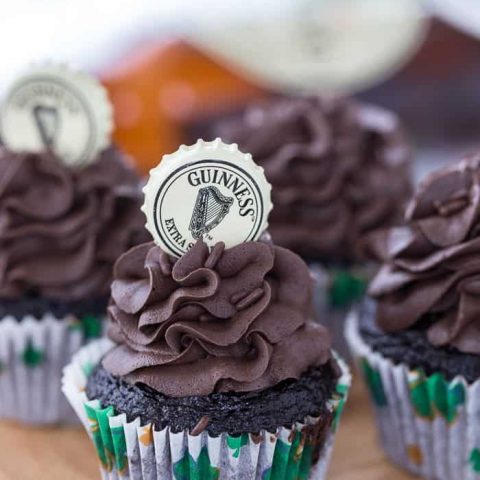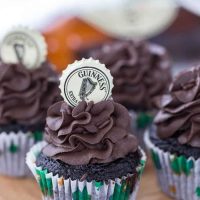 Yield: ~12-15 cupcakes
Chocolate Guinness Cupcakes
Ingredients
For the Cupcakes:
1 cup all-purpose flour
1 cup sugar
⅓ cup cocoa powder (I used Special Dark Cocoa Powder)
1 teaspoon baking soda
½ teaspoon baking powder
½ teaspoon kosher salt
1 large egg, at room temperature
½ cup buttermilk, at room temperature
½ cup Guinness stout
¼ cup vegetable oil
1½ teaspoons pure vanilla extract
Chocolate Frosting:
1 cup (2 sticks) unsalted butter, at room temperature
2-3 cups confectioners' sugar, sifted
¾ - 1 cup unsweetened cocoa powder
2 teaspoons pure vanilla extract
Pinch of salt
1/4 cup Guinness stout
Instructions
FOR THE CHOCOLATE GUINNESS CUPCAKES:
Preheat oven to 350 degrees F. Line muffin tins with cupcake liners.
Sift together all the dry ingredients in the bowl of an electric mixer.
In a medium bowl, combine all the wet ingredients using a whisk.
Mix the dry ingredients on low speed for 1 minute. Stop the mixer and add the wet ingredients. Mix for 2 minutes on medium speed and scrape the sides and bottom of bowl. Mix for additional minute on medium speed.
The batter will be thin. Divide evenly among the cupcake liners.
Bake for 12-15 minutes or until a toothpick inserted in the center comes out almost clean.
Cool cupcakes on wire racks completely. Meanwhile you could start on the frosting.
For Chocolate Guinness Frosting:
Whip butter on medium speed for about 2-3 minutes in the bowl of a stand mixer fitted with the paddle attachment until light and creamy. Add the powdered sugar, cocoa powder, vanilla and salt and mix on low for 1 minute until combined. Increase speed to medium-high and whip for 2-3 minutes.
Add the Guinness, one tablespoon at a time and beat on medium-high for an additional minute or two.
Frost cupcakes and decorate with sprinkles.