Classic Yellow Cake with Chocolate Frosting
This classic yellow cake with chocolate frosting is a super moist cake with great vanilla flavor and a fudgy chocolate frosting.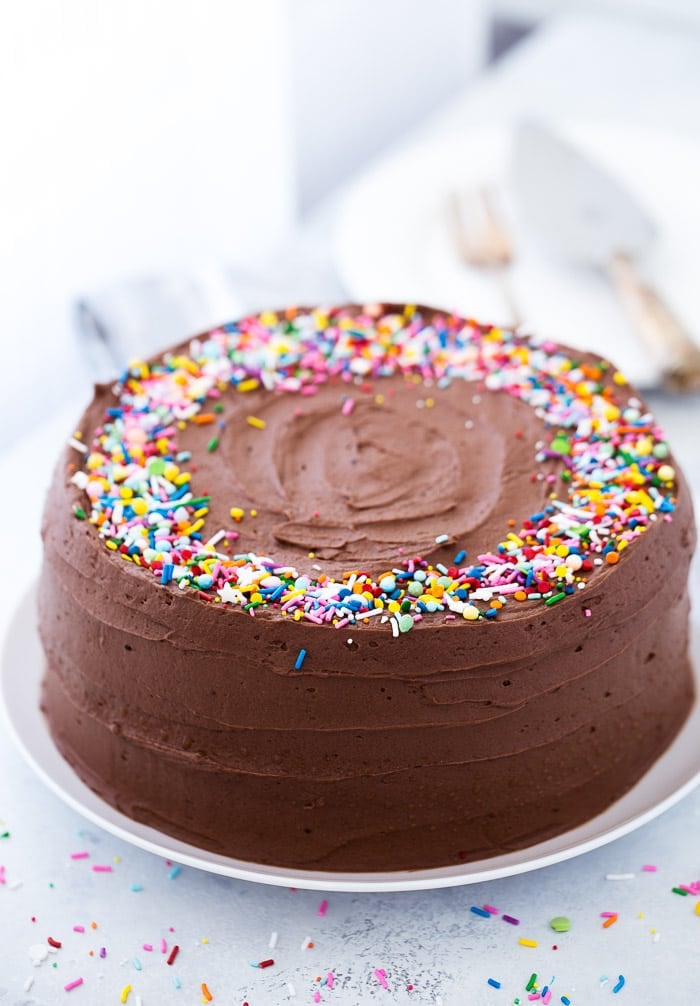 Happy Monday friends!! I have another classic recipe for you today. This yellow cake with chocolate frosting will become your go-to cake in no time. But first, how was your weekend? I hope you had a relaxing one. We had a warm wave the past week and we were enjoying 60 degrees in February. We took advantage of it and spent a lot of time outside and I got into 'spring' cleaning mode. Unfortunately, we are back to normal February like weather and it snowed this late evening.
Oieee, if it was not for this yellow cake, the weekend would have been a bust. Thankfully, we had a few slices leftover to enjoy as we watched the Oscars.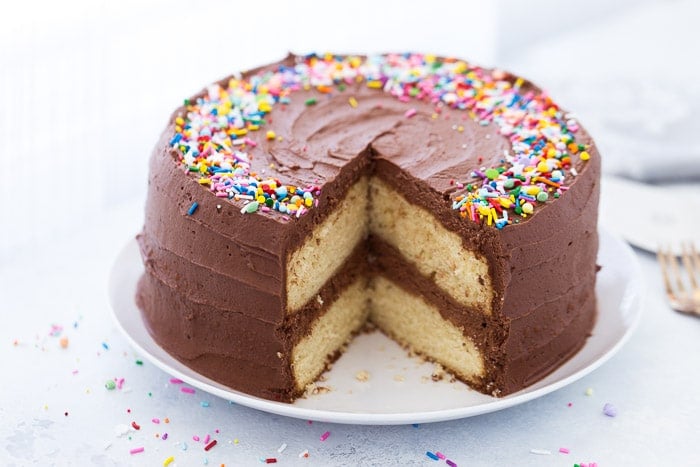 I made this classic yellow cake with chocolate frosting a few weeks ago in January for my sister's birthday. She didn't want my classic chocolate cake but still wanted a hint of chocolate, so a yellow cake was in order. I was unable to take a picture of her birthday cake and I had to remake it for you (sorry but not sorry).
If you have had a yellow cake, you know it should be simple, great tasting and moist. I was on the look out for a great recipe that will taste just like the one your mom used to make when you were little. Using my husband as a taster tester, we went through 4 or 5 trials before the cake met his 'grandmother-like' criteria. This cake is super moist and not crumbling (which I love here!!) and with a great vanilla flavor. And of course, that chocolate-y fudge like frosting to crown it all.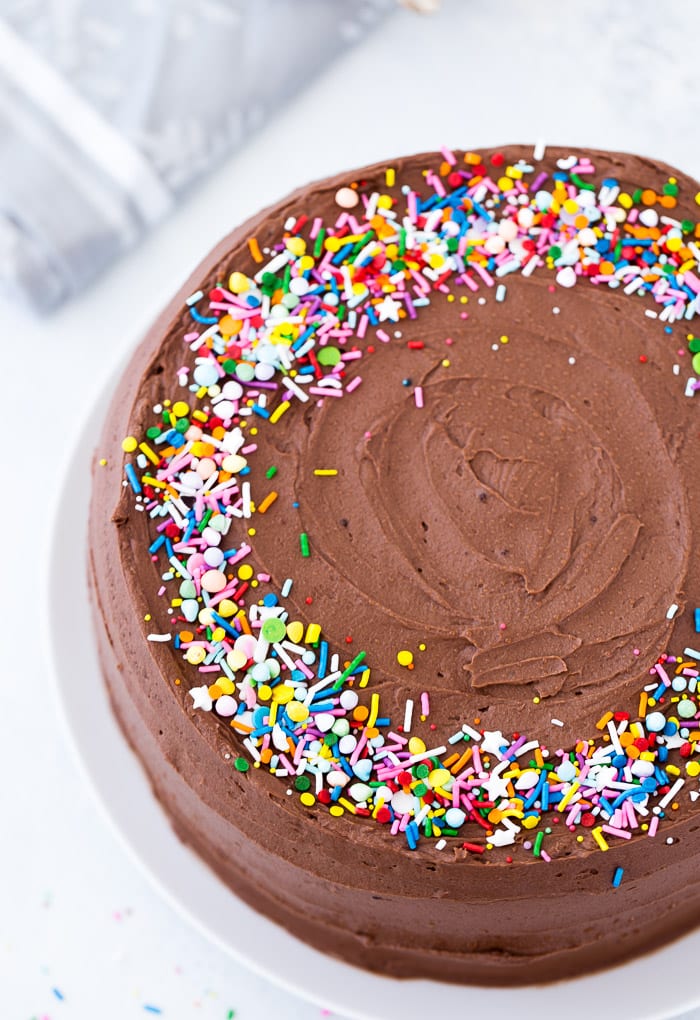 This recipe is straight forward and everyone can make it. No way for you to mess it up. The recipe can also be baked in different pan sizes to fit your need. As a classic birthday cake recipe, you need this in your arsenal.
For your next birthday, please make this yellow cake!! You will love it as much as we did.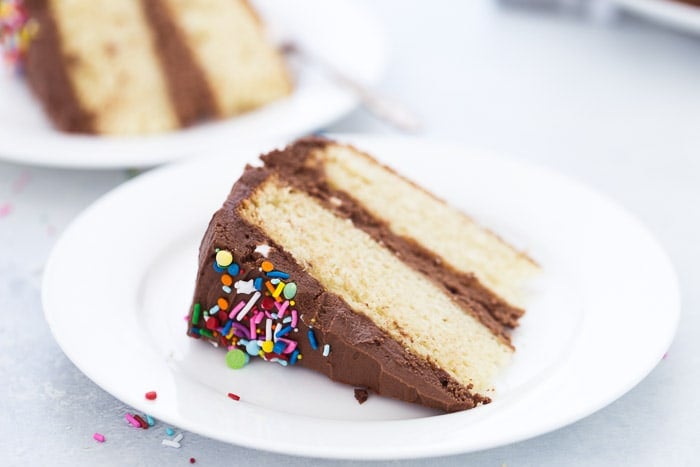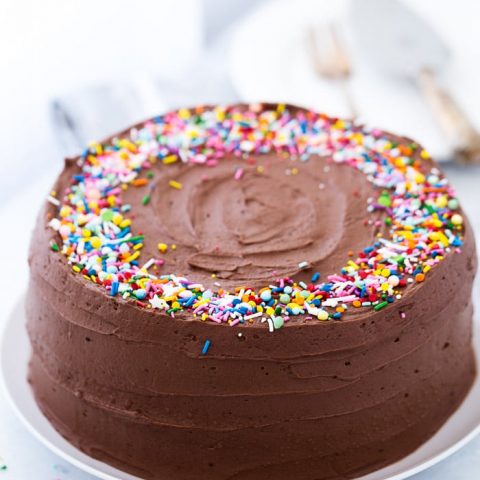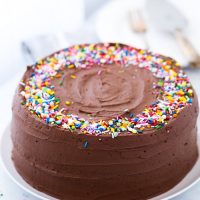 Yield: 1 2-layer 9-inch cake
Classic Yellow Cake with Chocolate Frosting
This classic yellow cake with chocolate frosting is a super moist cake with great vanilla flavor and a fudgy chocolate frosting. 
Total Time
1 hour
10 minutes
Ingredients
For the Cake:
2 ¼ cups all-purpose flour
2 teaspoons baking powder
1 teaspoon baking soda
1 teaspoon salt
½ cup (1 stick) unsalted butter, softened at room temperature
1 ½ cups granulated sugar
3 large eggs
1 teaspoon pure vanilla extract
1 ¼ cups buttermilk
For the Chocolate Frosting:
1 ½ cups (3 sticks) unsalted butter, softened to room temperature
1 cup unsweetened cocoa powder
1 teaspoon salt
4-5 cups powdered sugar
2 teaspoons pure vanilla extract
¼ cup whole milk
2/3 cup heavy cream
2/3 cup rich chocolate Ovaltine powder
Instructions
Pre-heat the oven to 350 degrees F. Grease two 9-inch round cake pans with a baking spray. Set aside.
In a medium bowl, whisk together the flour, baking powder, baking soda, and salt. In another medium bowl (or the bowl of a stand mixer), cream together the butter and sugar until light and fluffy, about 3-5 minutes on medium speed. Beat in the eggs, one at a time, beating to combine between each addition. Scrape down the bowl as needed. Beat in the vanilla extract.
Add in the buttermilk, all at once and mix until combined. Add the dry ingredients all at once into the batter. Mix on low speed for about 1 minute and then increase to medium speed and beat for 3 minutes.
Divide the batter evenly into the two prepared pans. Bake cakes for 25-30 minutes or until a skewer inserted into the middle comes out almost clean. Remove the cakes from the oven and let cool for 10 minutes in the pan. Remove the cakes from the pans and transfer to a wire cooling rack and let cool completely before frosting.
To make the frosting, beat the butter, cocoa powder and salt together until combined. Scrape down the bowl as needed. Turn the mixer off and add all the powdered sugar. Turn the mixer on low speed and slowly mix the sugar into the butter mixture. While mixing, add the milk and vanilla extract. Increase the speed to medium and beat the frosting until smooth, about 1 minute.
In a small bowl, stir together the heavy cream and Ovaltine. With the mixer on medium speed, pour half of the cream mixture into the frosting slowly. Stop and scrape down the bowl. Add the remaining cream mixture or until you reach your desired consistency. Beat until soft and creamy, about 1 minute.
Frost the cake layers with the frosting and decorate as desired.
Notes
NOTES:
You can bake the cake recipe in a 9 x 13 -inch cake pan. For this size, half the chocolate frosting recipe.