Rosewater Pavlova with Strawberries and Pistachio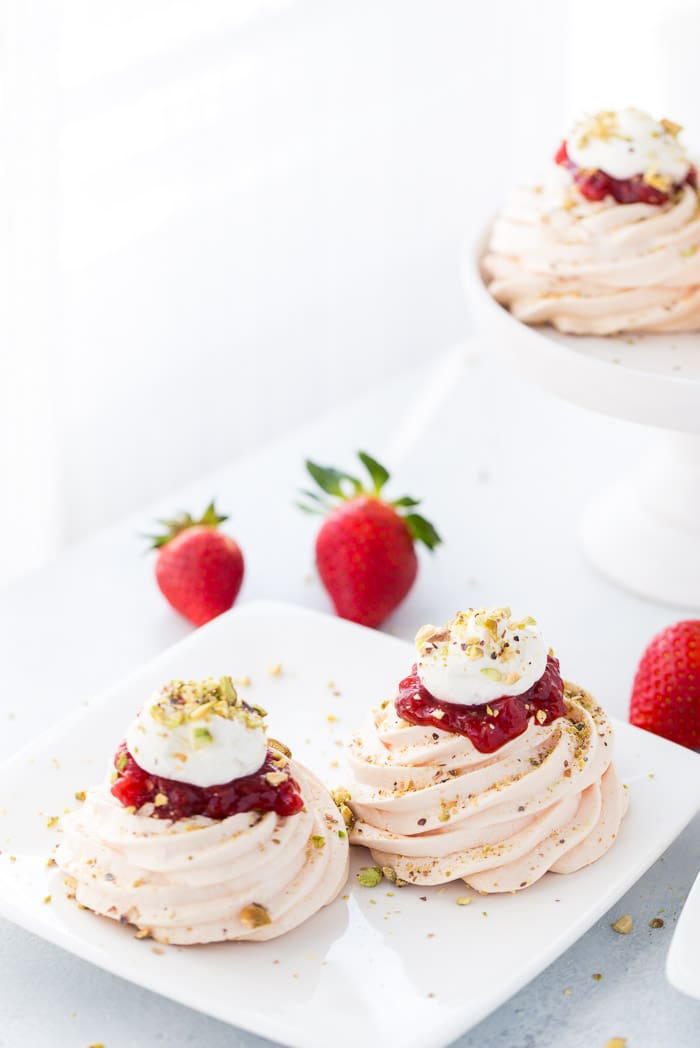 Happy Monday guys! It's a three-day weekend for us here but I just wanted to pop in quick and share this recipe with you. I was hoping I would bring this rosewater pavlova your way before Valentine's Day but life got in the way. But here it is better late than never and it is a ridiculously simple yet elegant dessert you will love.
Have you ever made pavlovas? It's a meringue dessert  with a crisp crust and soft, light inside. All it is is whipped egg whites baked at low temperature into perfection. Everyone can make it. I have made a few and usually mostly in the summer (like this raspberry swirl pavlova) but this rosewater pavlova is my new favorite.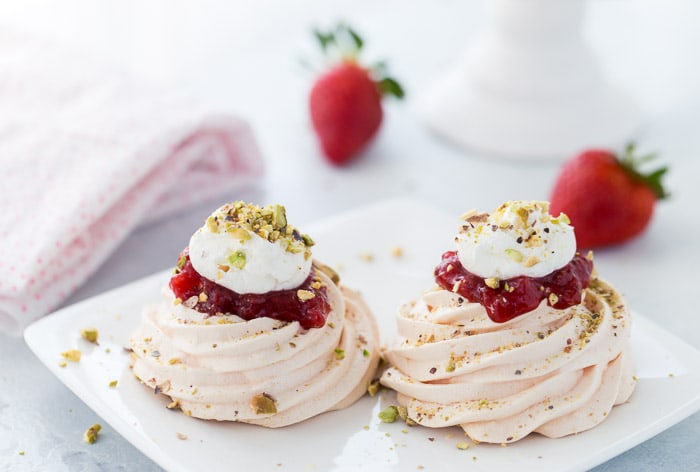 This pavlova combines wonderful flavors into one miniature bite. With a meringue base infused with floral rosewater and crunchy pistachios, it is topped with a strawberry compote and whipped cream and more crunchy pistachios. Just an incredible match of flavors and a dessert you will want to break out for those special occasions.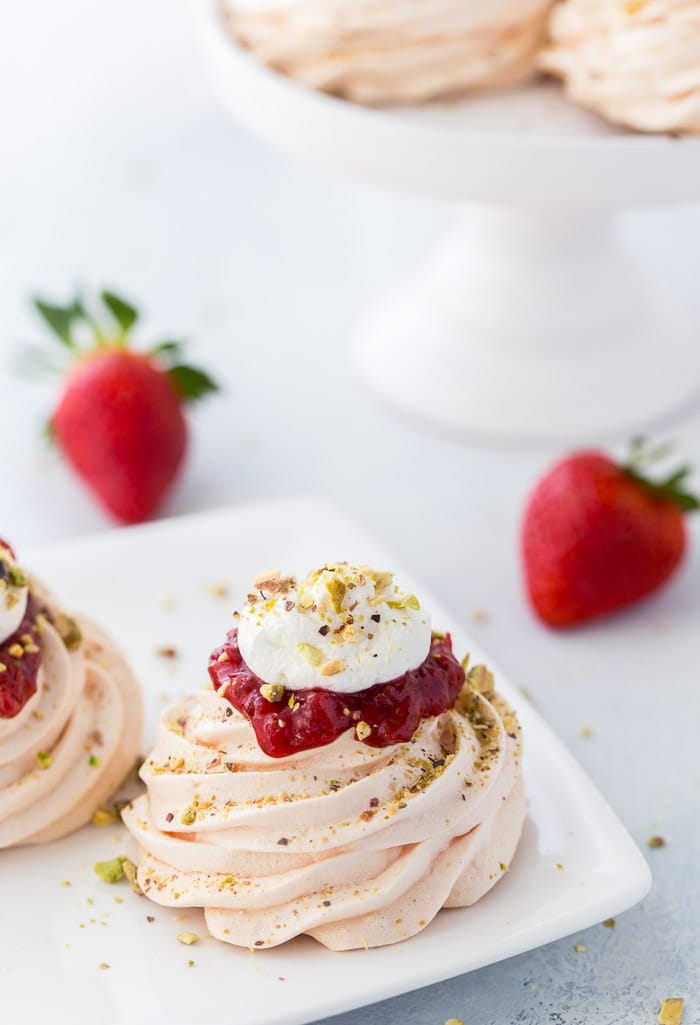 In the interest of keeping things short today, I will leave you with this rosewater pavlova recipe!! I hope you try them soon. You will LOVE them.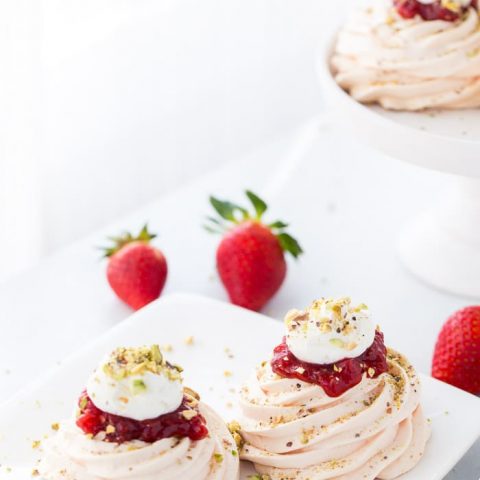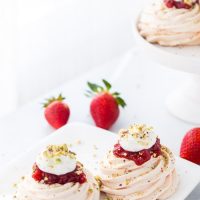 Yield: 8-10 mini pavlovas
Rosewater Pavlova with Strawberries and Pistachios
Delicate rosewater pavlova with pistachios is topped with strawberry compote and whipped cream for an elegant dessert.
Additional Time
45 minutes
Total Time
3 hours
30 minutes
Ingredients
For the Pavlova:
½ cup unsalted pistachios, chopped 5 large egg whites, at room temperature 2 teaspoons cornstarch ¼ teaspoon fine sea salt 1¼ cup sugar 1½ teaspoons white wine vinegar ½ teaspoon rosewater
Strawberry Topping:
1 cup fresh strawberries
¼ cup sugar
1 teaspoon vanilla extract
Whipped Cream Topping:
1½ cup cold heavy cream
½ teaspoon rosewater
½ cup sugar
½ cup chopped pistachios
Instructions
Preheat oven to 350 degrees F. Line baking sheet with parchment or silpat.
In a food processor, pulse the pistachios for two or three seconds.
In the bowl of the stand mixer, beat the egg whites, cornstarch and sea salt at high speed until foamy.
Gradually add in the sugar and beat until soft peaks form. Beat in the vinegar and rose water and continue beating on medium-high speed until mixture is glossy, about 10 minutes.
Using a piping bag fitted with a large open star tip (Wilton 1M tip), add the mixture to the piping bag. Pipe the pavlova into the design you want onto the prepared cookie sheet. Sprinkle with the pistachios.
Place the pavlovas in the oven. Immediately lower the oven temperature to 300 degrees F. Bake for 35 minutes, until the exterior is dry and crisp. Turn off the oven and let the meringue rest in the oven for 45 minutes. Remove from the oven and let cool completely on a cooling rack.
While the pavlova cools, make the strawberry topping.
Combine the strawberries, sugar and ¼ cup water in a saucepan. Bring the mixture to a simmer until the strawberries soften. Remove from heat and stir in the vanilla extract. Let cool.
When ready to serve pavlovas, whip the heavy cream, rosewater and sugar on high speed until soft peaks form.
To serve, top the pavlova with strawberry compote and whipped cream. Garnish with chopped pistachios.
Notes
NOTES:
You can make one big pavlova instead. You might need to adjust the baking time to get a dry and crisp exterior.
Use different decorating tips for other designs. (I love Tip 2D or large round)