Raspberry Swirl Pavlova with Pomegranates
Thank you Whole Foods Market and Driscoll's Berry for sponsoring this post!
A stunning raspberry swirl pavlova with pomegranates will make a stunning dessert centerpiece! #DriscollsBerry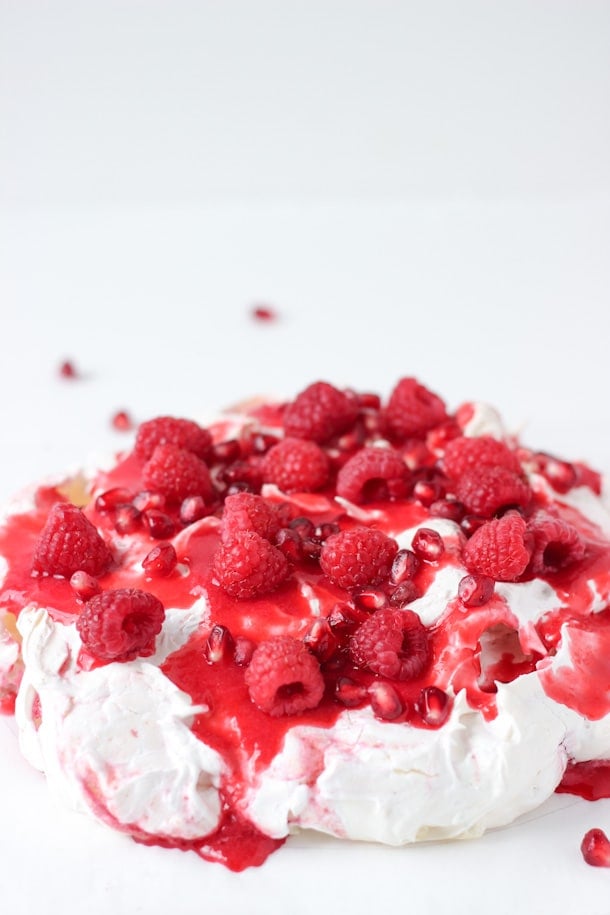 The first week of December always gets me excited about the holiday season. Who am I kidding, I've been excited about holiday baking since mid-November and a slew of eggnog and peppermint recipes are already winning my heart.
The holiday season also brings with it gatherings with friends and family. It's my favorite time of the year because of all the family I get to see annually. This year, in addition to holiday parties, I am planning on bringing baked goods to a few dinner parties with my friends. I always try to keep things simple, exciting and very elegant. That's why I thought this year I will give pavlova a try and made this raspberry swirl pavlova with pomegranates for a practice run!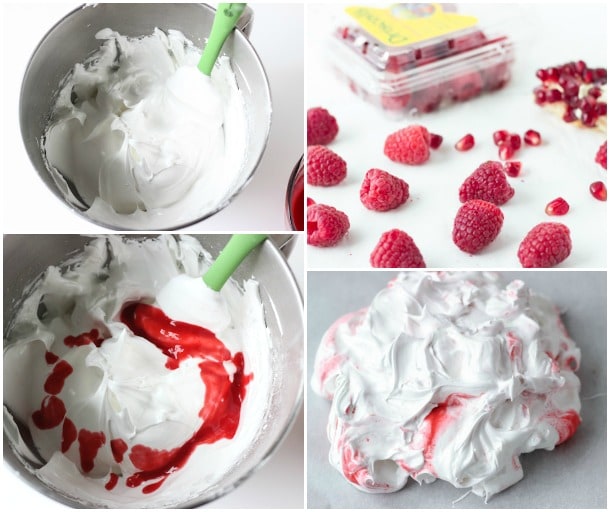 Coincidentally, it's been a few weeks of new challenges in my kitchen! Starting with these homemade peppermint marshmallows to cranberry hazelnut crepe cake and now pavlova. If you are not sure what this is, let me tell you! Pavlova is a meringue based dessert with a crisp shell and a light and soft sweet marshmallow center. I've always been a fan of how stunning pavlova looks on a dinner table and it's been on my bucket list for a while.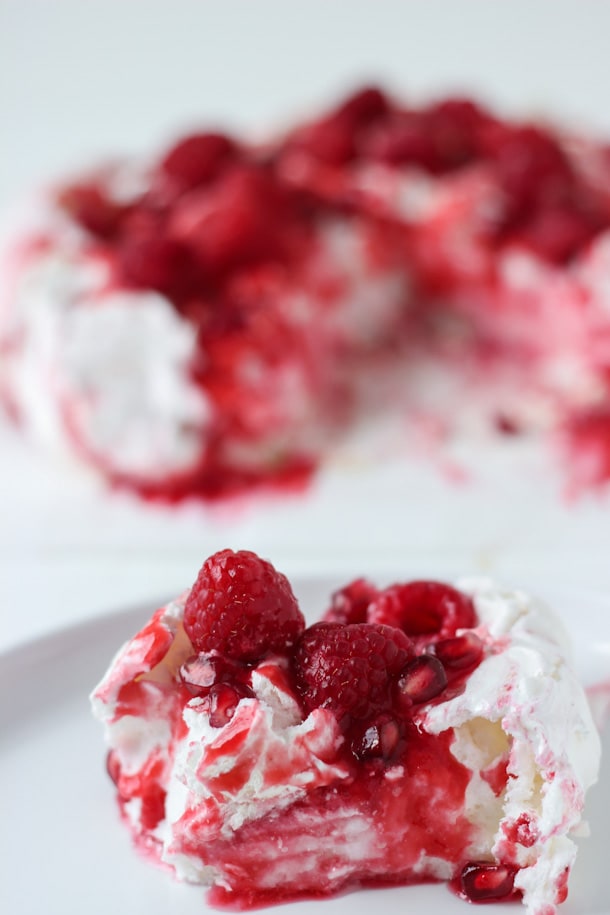 I was extremely happy to find out that making Pavlova is not as hard as I thought, you just need to whip up a meringue. Beat egg whites until soft peaks form. Then add in superfine sugar gradually until the meringue forms stiff peaks. The last step is to fold in cornstarch and vinegar into the meringue. These two will give the pavlova it's dry and crisp crust. And you bake the meringue on low heat for an hour. It's just so simple. Topped with whipped cream and fresh Driscoll's Berry raspberries from Whole Foods, you get one elegant dessert to bring to your holiday parties.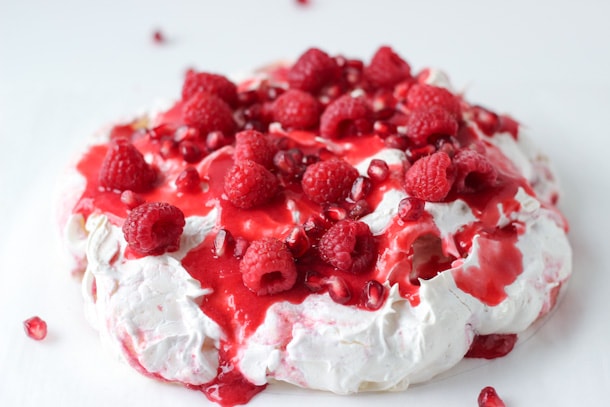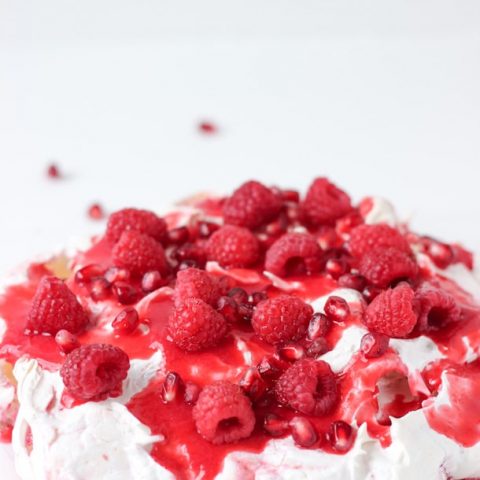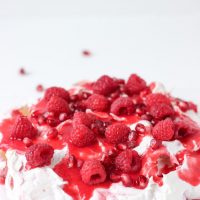 Yield: 1 pavlova
Raspberry Swirl Pavlova with Pomegranates
A stunning raspberry swirl pavlova with pomegranates will make a stunning dessert centerpiece!
Total Time
1 hour
20 minutes
Ingredients
For the Raspberry Sauce:
½ cup Driscoll's Berry raspberries
1 teaspoon lemon juice
2 tablespoons granulated sugar
For the Pavlova:
5 large egg whites
1 ¼ cups superfine sugar
1 ¼ teaspoon cornstarch
2 teaspoons vinegar
Topping:
1 cup heavy cream, cold
1 cup fresh raspberries
½ cup pomegranate seeds
Instructions
In a small saucepan, combine the ½ cup raspberries with lemon juice and sugar. Cook until berries break down and thickens. Remove from heat and pass the raspberry sauce through a fine sieve. Set the juices aside.
Preheat oven to 300 degrees F. Line a baking sheet with parchment paper. Trace a circle on the parchment paper using a 8-inch cake pan.
Using a large clean bowl, beat the egg whites with a whisk until stiff peaks form. With the mixer running gradually add in the sugar, one tablespoon at time. Beat until glossy and stiff peaks form. Add the vinegar and cornstarch into the mixture and gently fold to incorporate. Drizzle two tablespoons of the raspberry sauce over the meringue in the bowl. Do not mix.
Using a rubber spatula, scoop out the meringue and pile onto the prepared pan, making sure to evenly spread within the traced circle. Make swirls and peaks on the meringue.
Transfer the meringue to oven and immediately reduce the temperature to 250 degrees F. Bake for an hour. Turn off the oven and let meringue cool completely in the oven.
When ready to serve, whip the heavy cream to soft peaks. Once cooled and dried, top the meringue with freshly whipped cream , the remaining raspberry sauce, fresh raspberries and pomegranate seeds.
Disclosure: I participated in this sponsored campaign on behalf of Kitchen PLAY for their client Whole Foods Market and Driscoll's Berry. All opinions stated are my own. Thank you for supporting the brands that keep me inspired!