Cranberry Hazelnut Crepe Cake
A stunning and simple cranberry hazelnut crepe cake that would be perfect for any holiday gathering.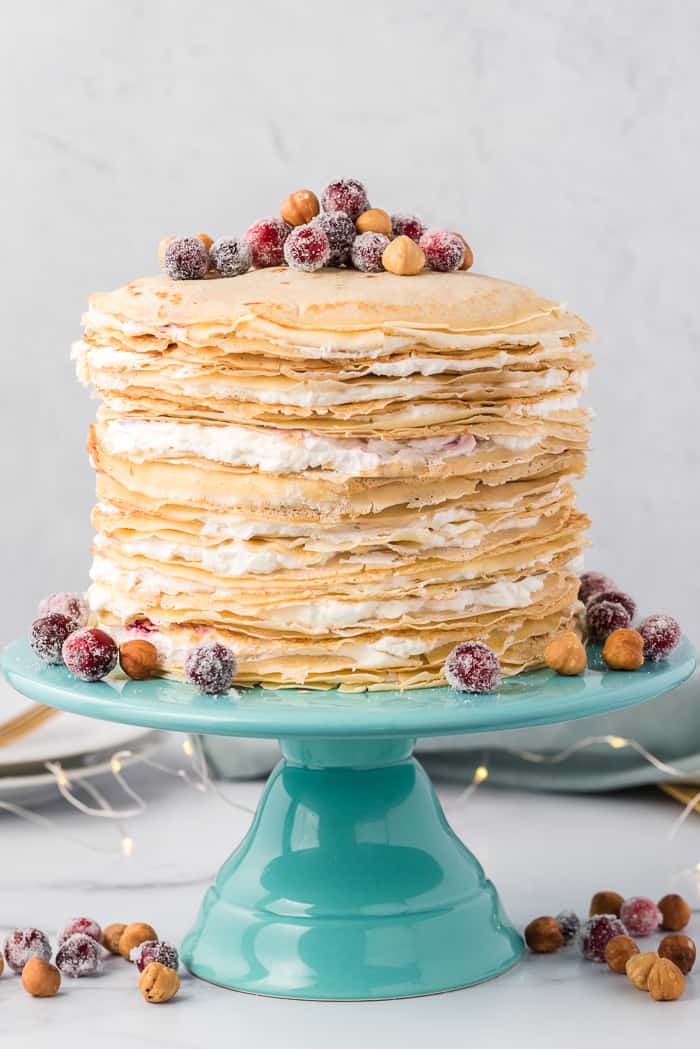 Happy Black Friday!! Are you still stuffed? I know I am! I hope you had a wonderful Thanksgiving day and still enjoying time with your families. Or shopping till you drop!
I just wanted to pop in quick to share with you a new kitchen challenge I embarked on last week that resulted in this cranberry hazelnut crepe cake. Isn't it stunning?? I'm fangirling over the layers and colors of this cake.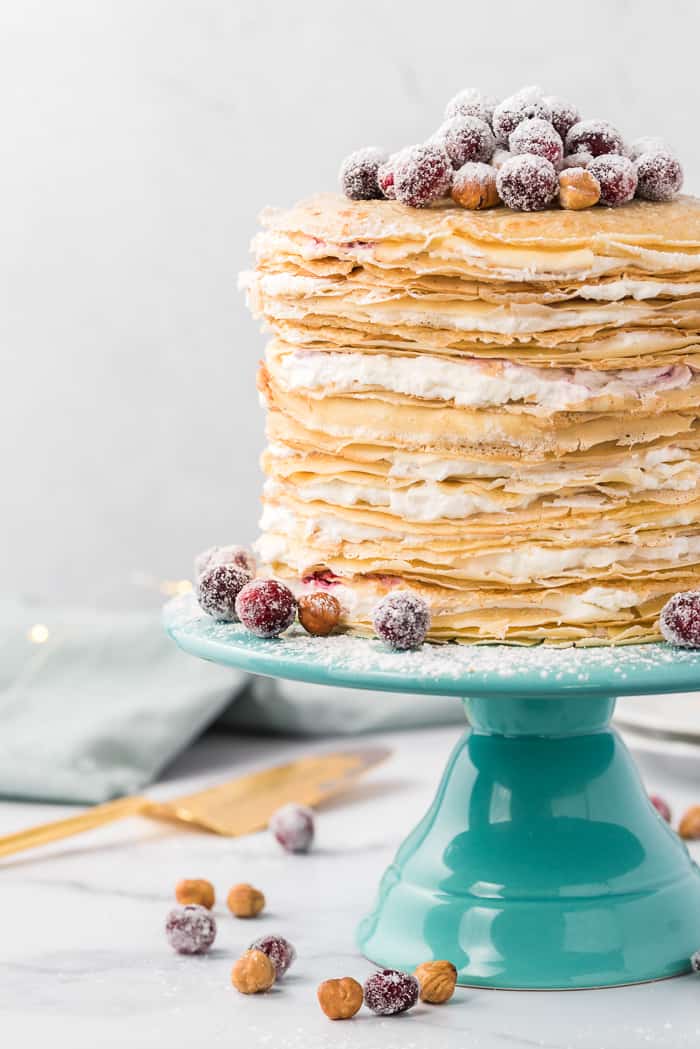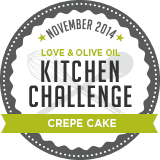 Lindsay from Love and Olive Oil hosts a kitchen challenge series that is simply about getting in the kitchen and challenging yourself to make something new. Totally down my alley! Remember my first take on macarons? And then homemade bagels? Both were inspired by this kitchen challenge series. If you love trying new things in your kitchen, I urge you to join!! This month's challenge was to make a crepe cake!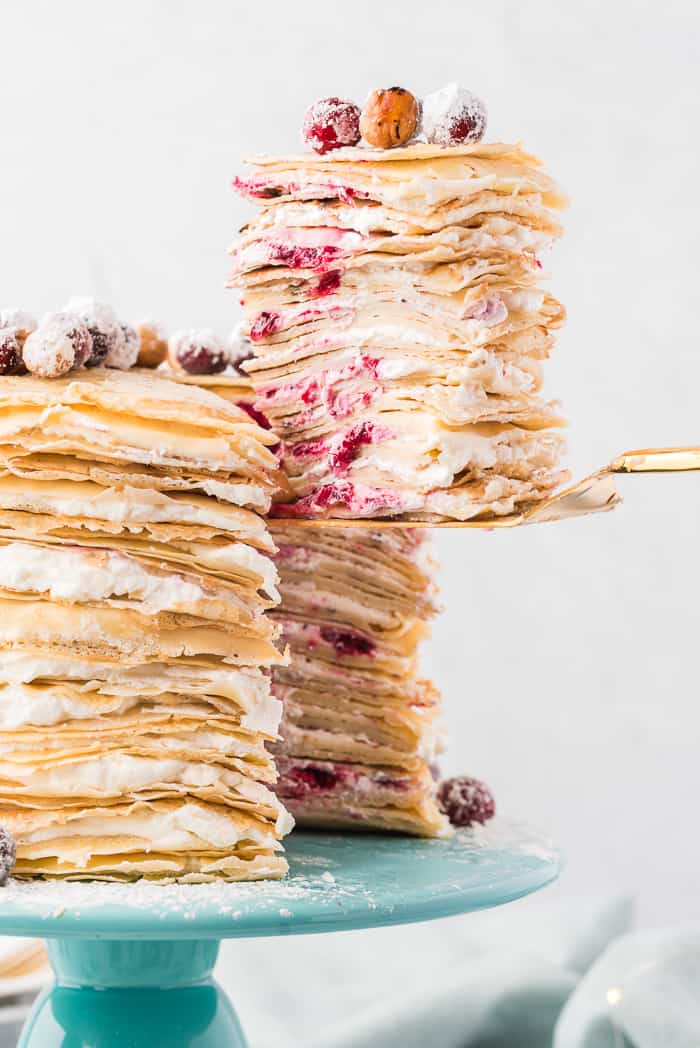 It's also time for Mystery Dish as we are at the end of another month!! If you are not familiar with Mystery Dish, it is a monthly club where members are challenged to create a unique recipe from a basket of mystery ingredients (Here are some past installments). This month's ingredients were: Hazelnuts, Pork Belly, Dark Chocolate, Cranberries, Bourbon, Red Potatoes, Pimento Cheese, Ginger, Yogurt, French Bread, Buckwheat, Rice Krispies, and we were challenged to use at least three in a recipe.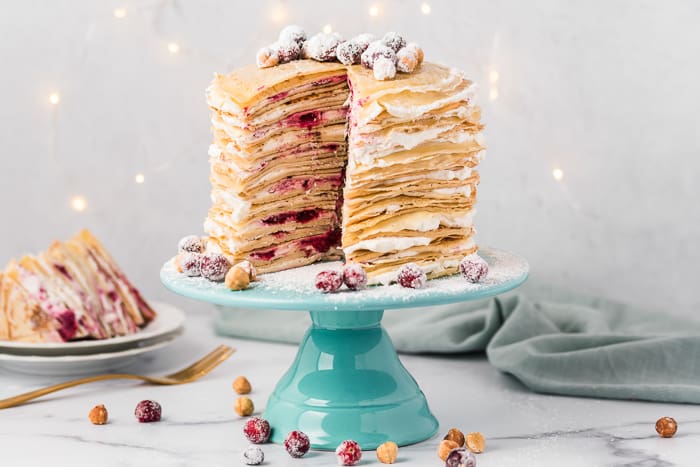 To kill two birds with one stone, I decided to make this cranberry hazelnut crepe cake using three of the mystery dish ingredients and tackling the dreaded crepe cake challenge.
To be honest, making a crepe cake is NOT hard but it IS time-consuming. The longest ordeal being making over 30 crepes to get a great stack.
I used a basic crepe recipe base from Alton Brown and adapted it by adding hazelnut flour for a nutty texture and flavor and a dash of bourbon extract.
I filled the crepes with a whipped cream cheese filling and some homemade cranberry sauce.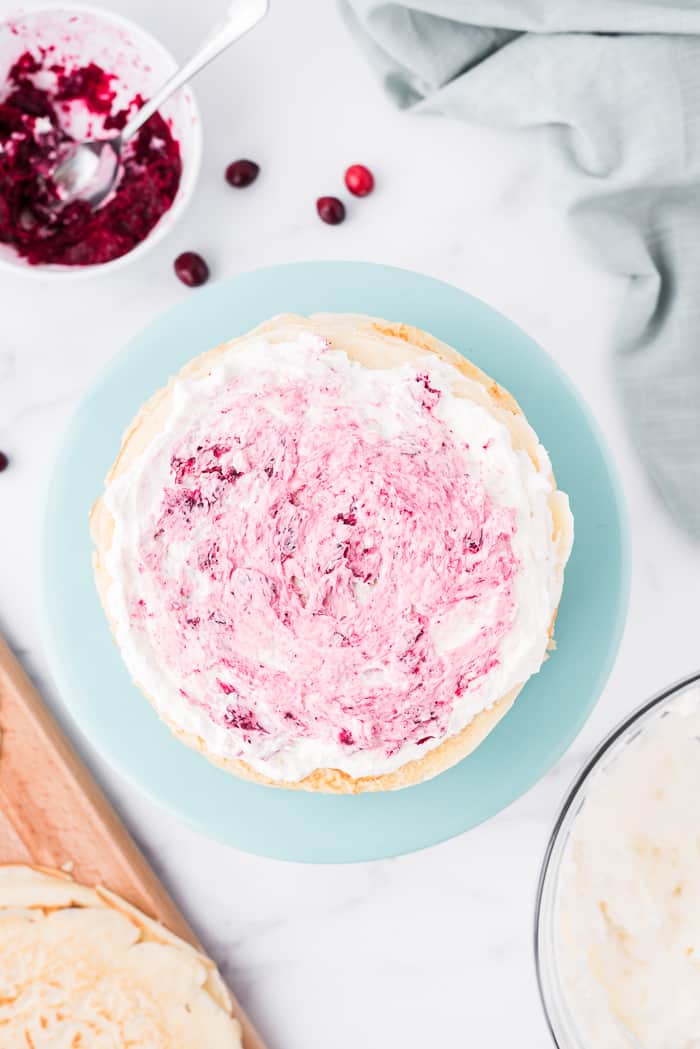 The combination of nutty hazelnuts, sweet whipped filling, and tart cranberries makes this crepe cake a delightful and unique beauty! If you are looking for a stunning cake for one of the many holiday parties coming up, then look no further.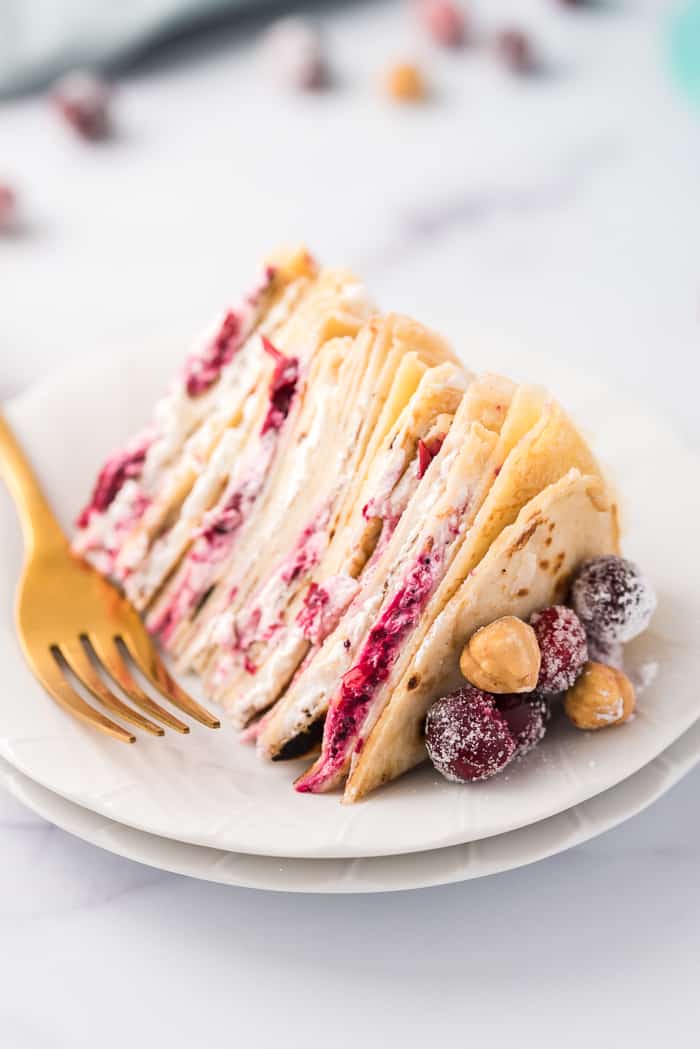 It's just yum! Happy Baking!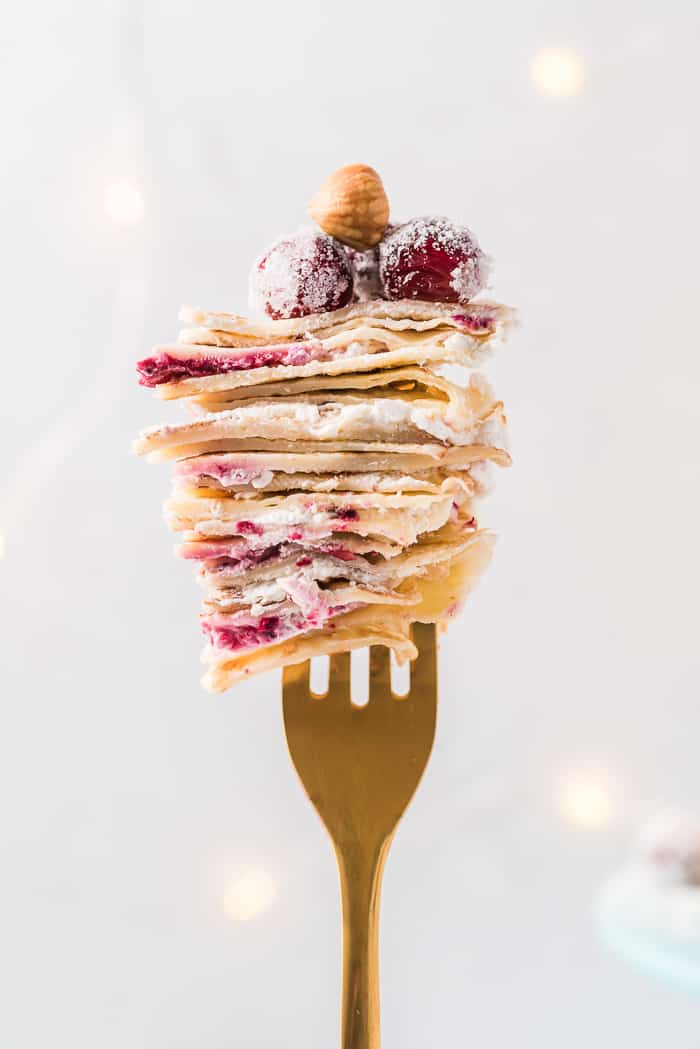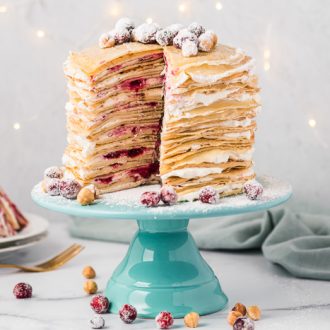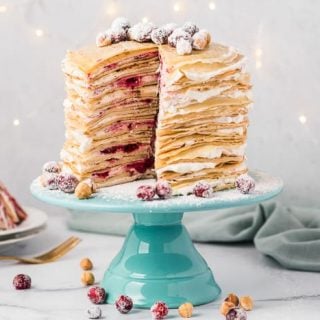 Yield: ~40 crepes
Cranberry Hazelnut Crepe Cake
A stunning and simple cranberry filled hazelnut crepe cake.
Total Time
1 hour
30 minutes
Ingredients
For the Crepes:
4 large eggs, at room temperature
1 ½ cups milk
1 cup water
2 cups all-purpose flour
2 tablespoons hazelnut flour
6 tablespoons unsalted butter, melted and browned
1 teaspoon bourbon emulsion or 2 tablespoons bourbon
Butter or baking spray, for coating the pan
For Cranberry sauce:
2 cups fresh cranberries
1 teaspoon orange zest
1 teaspoon freshly grated ginger
½ cup granulated sugar
For Cream Cheese Filling:
8-ounce cream cheese, softened to room temperature
1 ½ cup heavy cream, cold
½ cup powdered sugar
For Topping:
Sugared cranberries
Toasted hazelnuts
Instructions
In a food processor or blender, combine all the ingredients for the crepe. Blend until very smooth. Pour the batter into a large bowl and chill for at least an hour or overnight.
Heat a small non-stick pan and butter to coat. Pour a little less than ¼ cup of batter into the center of the pan and spread evenly by swirling. Let cook for 30 seconds and then flip. Let cook for another 10 seconds. Place crepe flat on a cutting board to cool. Continue making crepes until all the batter is gone (~40 crepes). Let them cool before stacking. You can make the crepes a day before assembling the cake.
To make the cranberry sauce: Combine all the ingredients into a small saucepan. Add 1/2 cup of water to the saucepan and mix. Cook over medium high heat until cranberries pop and sauce begins to thicken. Stir occasionally until sauce is thickened, about 10 minutes. Remove from heat and let cool.
To make the cream cheese filling: In a medium bowl, beat the cream cheese until smooth. In another medium bowl, whip the heavy cream and powdered sugar until soft peaks form. Gently fold the whipped cream into the cream cheese mixture.
To assemble: Place one crepe down on a plate. Add a dollop of the filling on top and spread out evenly to cover the whole crepe. Add another few crepes on top and repeat. Every few stacks, top the filling with some cranberry sauce. End the stacking with a layer of crepe. Top the stack with sugared cranberries and toasted hazelnuts. Decorate with powdered sugar.