Cinnamon California Raisin Pull-Apart Bread
This Cinnamon raisin pull-apart bread is moist with reduced sugar and filled with a mixed nut paste. It's perfect with a cup of coffee and one that you would keep enjoying through fall and the holiday season. Thank you California Raisins for sponsoring this recipe. All opinions are 100% my own!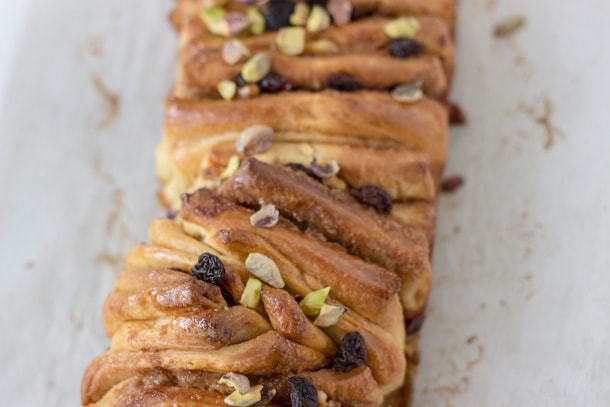 Happy Monday friends! I hope you all had a wonderful Thanksgiving weekend. We had a great family meal at the in-laws and I think I am still full from all the festivities, pies and homemade marshmallows. I decided to walk it off the next day at the mall but it was a bad idea. Was too much of a mess even at 4pm when I made it out. Oh well! Thank goodness I had this cinnamon raisin pull-apart bread waiting for me at home.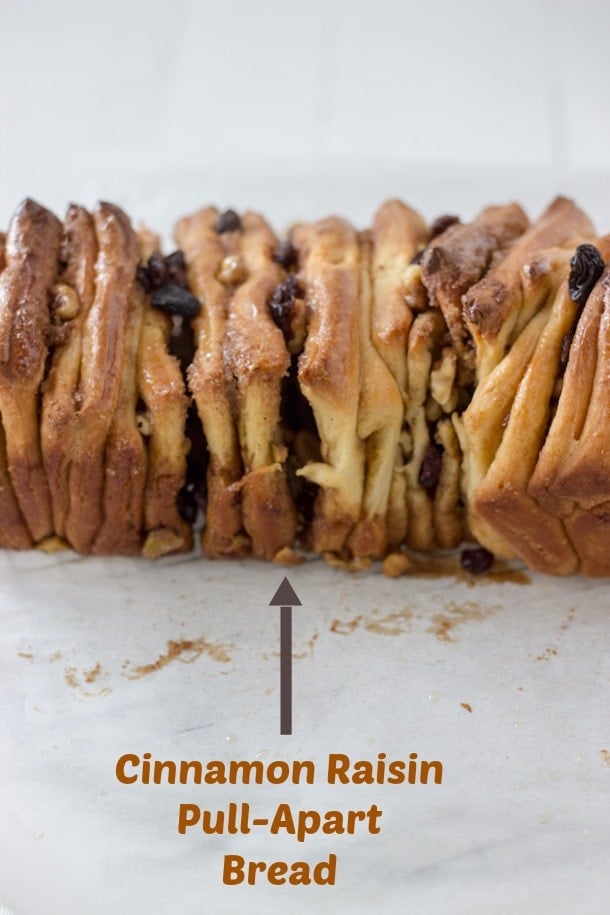 As the holiday season creeps even closer, the amounts of sweets we are consuming is on sky high!! I mean, 'tis the season! But from time to time, we need to cut down on the sugar which is why I love using natural sweeteners. Whether it's a little maple syrup to sweeten some muffins or raisins to sweeten this cinnamon raisin pull apart bread, there are some great alternatives when you've had your fill of sugar this holiday season.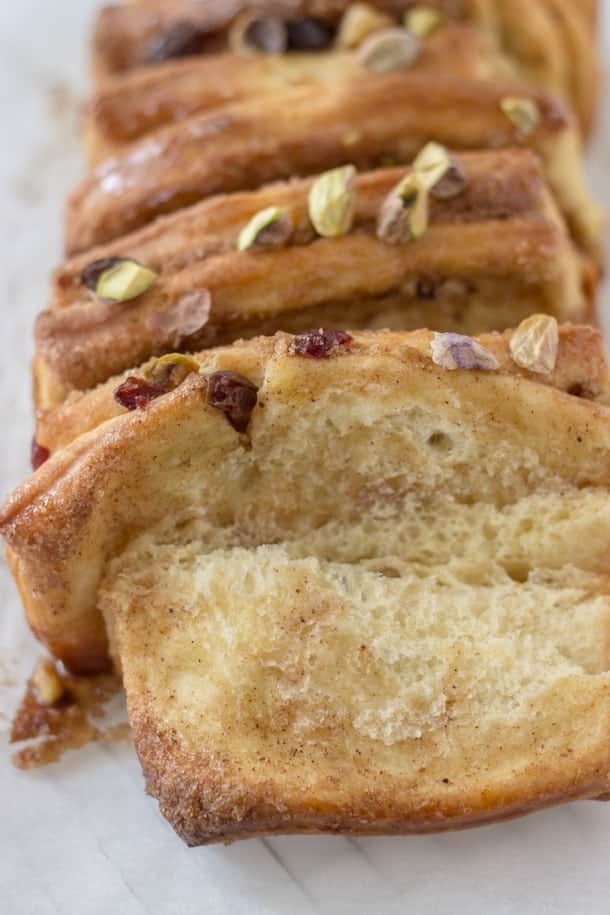 Did you know you could use raisins to naturally sweeten your treats? I know we all love to throw them on our salads or into oatmeal but they are an all-natural, dried-by-the-sun fruit you can feel good about using to sweeten your baked goods – especially during the holidays. When California Raisins asked me to come up with a naturally sweetened holiday recipe, I thought to myself, this is a great time to try out something new and reduce the sugar in it.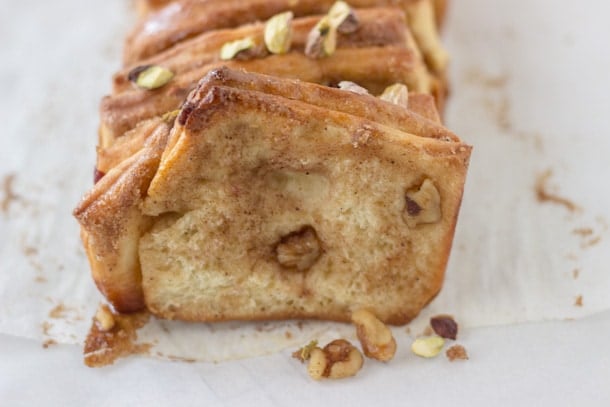 I've always seen pull-apart breads but never thought of trying them since I had chronic yeast-phobia. But now that I am so over it (YEAST is not the devil!!), I figured I should try this delicious looking bread that offers so much capacity for filling diversity!
This cinnamon raisin pull-apart bread is a classic and nothing beats classics. Starting with soft and perfect dough, it is lined with brown butter, brown sugar, cinnamon, raisins and some walnuts. Right? All things you want to have together!! Folded and joined together in harmony. Sweet harmony of great things and a breakfast favorite with coffee.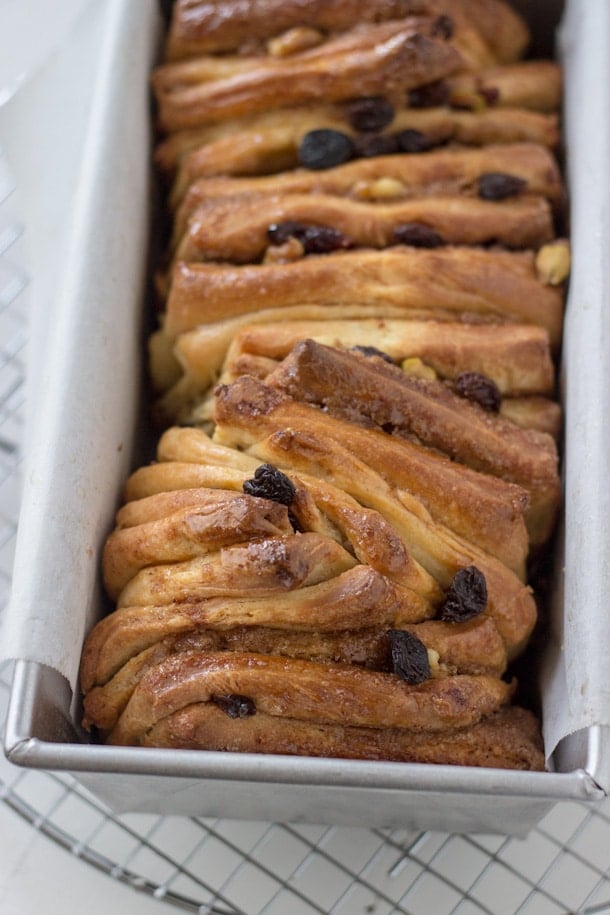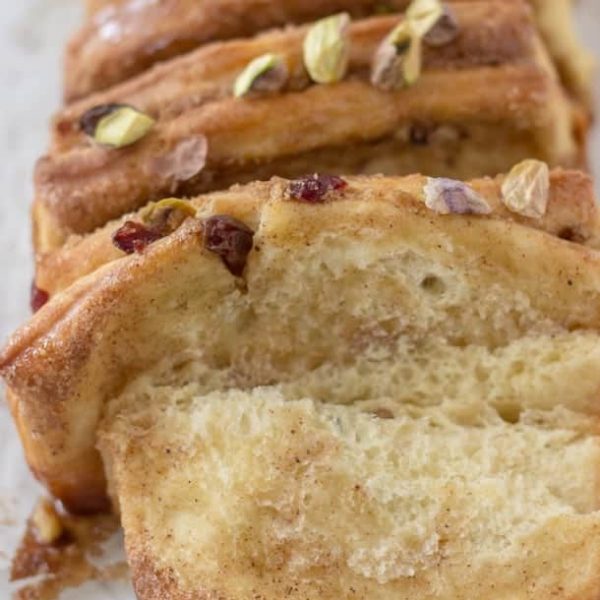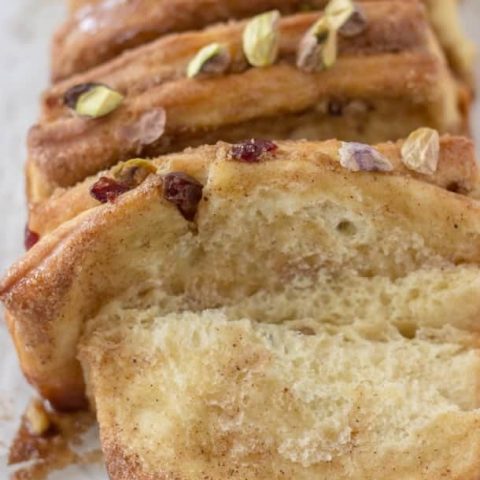 Yield: 1 9X5-inch loaf
Cinnamon California Raisin Pull-Apart Bread
This cinnamon raisin pull-apart bread is a classic and nothing beats classics. Starting with soft and perfect dough, it is lined with brown butter, brown sugar, cinnamon, raisins and some walnuts.
Additional Time
45 minutes
Total Time
2 hours
5 minutes
Ingredients
2 ¼ teaspoon active yeast (1 packet)
3 tablespoons warm water
¼ cup unsalted butter
⅓ cup milk
2 ½ - 3 cups all-purpose flour, divided
2 tablespoons honey
2 large eggs, slightly beaten
1 teaspoon vanilla extract
For the Filling
2 teaspoons ground cinnamon
¼ cup brown sugar
½ cup California Raisins
2 tablespoons chopped walnuts
2 tablespoons shelled and chopped pistachios
½ cup unsalted butter, melted or browned
Instructions
In the bowl of a stand mixer (or medium bowl), combine the yeast with warm water to activate it.
In a small saucepan, combine the butter and milk. Heat until butter melts. Remove from heat and let cool to 120 degrees F. Combine 1½ cups flour and honey with the activated yeast. Mix on medium low speed with the hook attachment. Carefully pour the warm milk mixture into the flour and add the eggs and vanilla extract. Mix until dough starts to form. Knead for an additional 2-3 minutes, adding the rest of the flour little by little.
Transfer dough to a greased bowl and cover with plastic wrap. Place dough in a warm area and let rise until dough doubles.
In the meantime, combine the cinnamon with sugar in a small bowl. (Optional: pulse the raisins, walnuts and pistachios together to form a fine mixture.)
Line a 9 x 5-inch loaf pan with parchment, leaving overhangs. Grease with baking spray and set aside.
Transfer dough to a lightly floured surface and roll out into a large circle. Brush with a good amount of the melted butter. Sprinkle the cinnamon sugar mixture on top of the butter. Scatter the raisins and nuts on top (or use the nut mixture you pulsed).
Using a sharp knife or pizza cutter, cut the dough out into 5-6 vertical slices. Stack the slices on top of each other. Be careful not to stretch the dough. Cut the stacks into squares, about 6. Transfer the stacks (standing upright) into the prepared loaf pan. Cover with a damp towel and let rest in a warm place, about 30-45 minutes.
Preheat oven to 350 degrees F. Once the dough fills the pan, bake bread until lightly brown and done, about 30-40 minutes.
Remove from oven and let bread cool in pan for 20 minutes. Transfer from pan to a cooling rack. Drizzle with melted butter (optional) and top with more pistachios.
Recommended Products
As an Amazon Associate and member of other affiliate programs, I earn from qualifying purchases.
For more information about all-natural, no-sugar added California raisins and for recipe inspiration, please visit
loveyourraisins.com
, or get social at
www.facebook.com/californiaraisins
,
www.pinterest.com/calraisins
, or
www.twitter.com/caraisins
.
Disclosure: I participated in this sponsored campaign on behalf of Kitchen PLAY for their client California Raisins. All opinions stated are my own. Thank you for supporting the brands that keep me inspired!