Holiday Gift Guide for the Fashionista
Given that today is Black Friday, I figured it's the perfect time to share with you some holiday gift guide ideas for the fashionista on your list!! Here are a few of my favorite things, some that I am wishing for or just plain drooling over.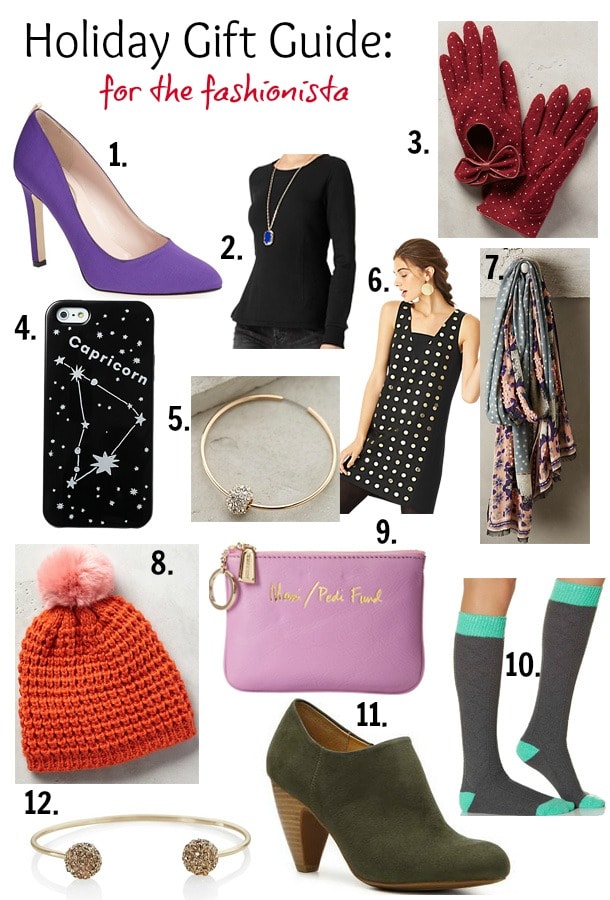 SJP "Lady" Pump: you know shoes are at the top of any gift guide from me. I've been lusting over these heels for a while and now that they are 50% off, I just might treat myself. These purple pumps are classy and will be perfect for any dress up affair.
Peplum Sweatshirt: if I am going to be comfy, I might as well be fashionable. This peplum sweatshirt is a lux top to throw on over the weekend.
Valloire Dotty Gloves: In my part of the country, gloves are beyond necessary. These are just plain pretty! The bow!!!
Capricorn iPhone Case: Who isn't always changing their phone cases? I know I am at least every couple of months. This case is just cute! Will be a great stocking stuffer.
Jeweled Orbit Hoops – I love shopping for jewelry at Anthropologie. These were my recent purchases and I love the simple yet classy look.
Kate Spade Gold Dot Dress: This is a fun dress to update the little black dress in your wardrobe.
Mountain Violet Scarf: Again, I am a sucker for winter accessories. These are pretty!
Homeward Beanie: I love my beanies over the winter and this pop of color is just what we all need during the dreary months.
Textured Colorblock Boot Socks: I love the colorblock!!
Crown Vintage Wendy Bootie: I am in love with the color of this comfortable bootie. Make her winter and spring exciting with this!
Open Fireball Bracelet: A recent great addition to my collection!