Strawberry Lemonade Cupcakes
These fresh strawberry lemonade cupcakes are delightfully summering!! A soft lemon cupcake filled with puckering fresh lemon juice and juicy strawberries is topped with a whipped strawberry frosting for the perfect summer cupcakes!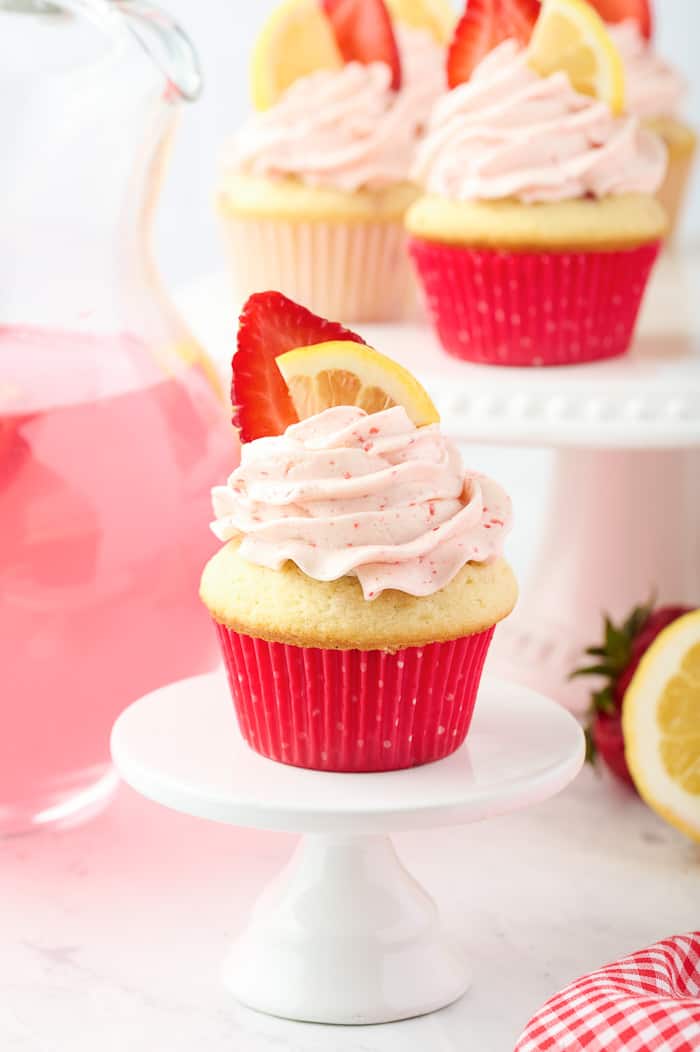 **This recipe was originally published on June 13, 2013. It was long overdue for an update, so I revisited the recipe and added a few step-by-step pictures for you. I hope you enjoy it as much as we do!**
I have no words to describe these strawberry lemonade cupcakes. Not just because they leave you speechless and wanting for more after the first bite (which they totally do!), but because I am brain-dead (and coming from a neuroscientist-in-training this is inaccurate, but I will let it fly today because I am that exhausted).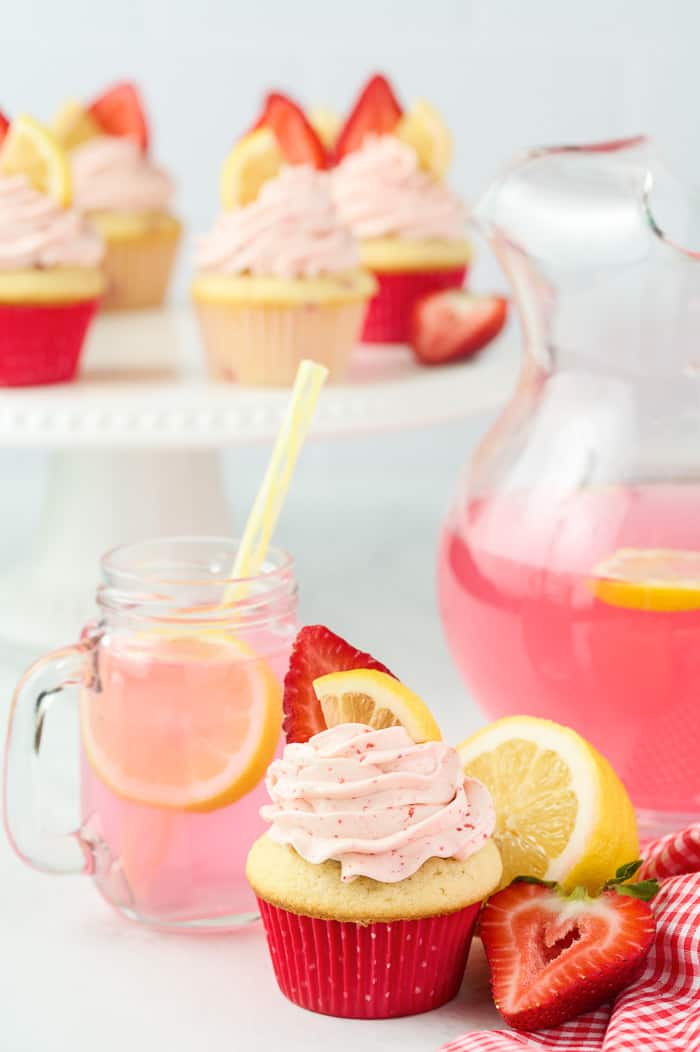 I had two big presentations earlier this week and I spent the past week and a half just reading and reading and reading and juggling married life, family, friends, and blogging, and that just left me exhausted. Of course, at some points, my brain was resisting the urge to work leading to some serious procrastination like giant cookie bake-offs (I'll share soon), mall excursions in search of cute teacups that were never procured, and baking these perfect strawberry lemonade cupcakes (among other stress-induced goodies) but with no time to blog about them.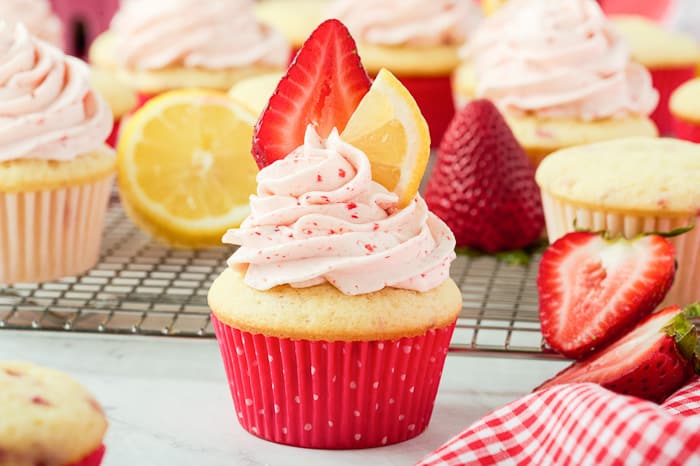 Using up the rest of the strawberries from this dark chocolate cake with strawberry buttercream, I made a light and airy lemon cake filled with fresh strawberry bites and I topped the cupcakes with fluffy whipped strawberry lemon buttercream. It is the perfect balance between sweet and tangy (I believe strawberry and lemons were made just for each other!).
These are now on top of my favorite cupcake list and will be making them again as the months get warmer. I suggest you find a friend with a pool and bring these cupcakes as a bribe, along with some fresh strawberry lemonade for the perfect hot summer day pool party (ahem, Laura).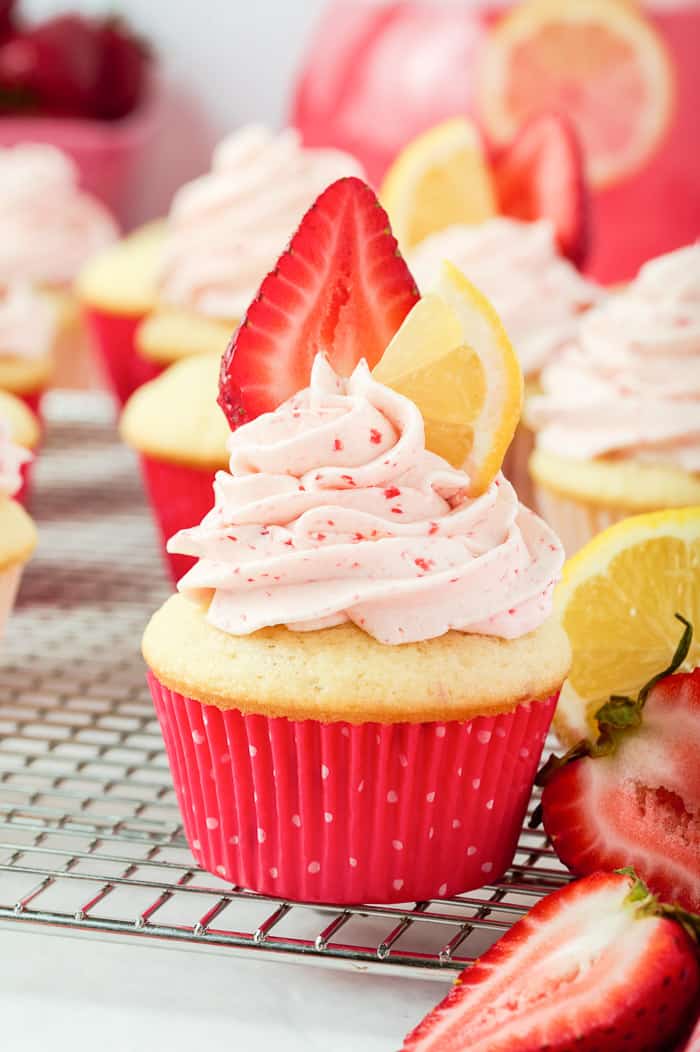 I am off to bake about 80 cupcakes, decorate cookies, and a cake for my first bridal shower dessert table this Saturday! Because I am a procrastinator genius, I left everything to the last minute. Wish me luck! I'll share the results (hopefully successful) with you next week.
Hope you all have a great weekend!!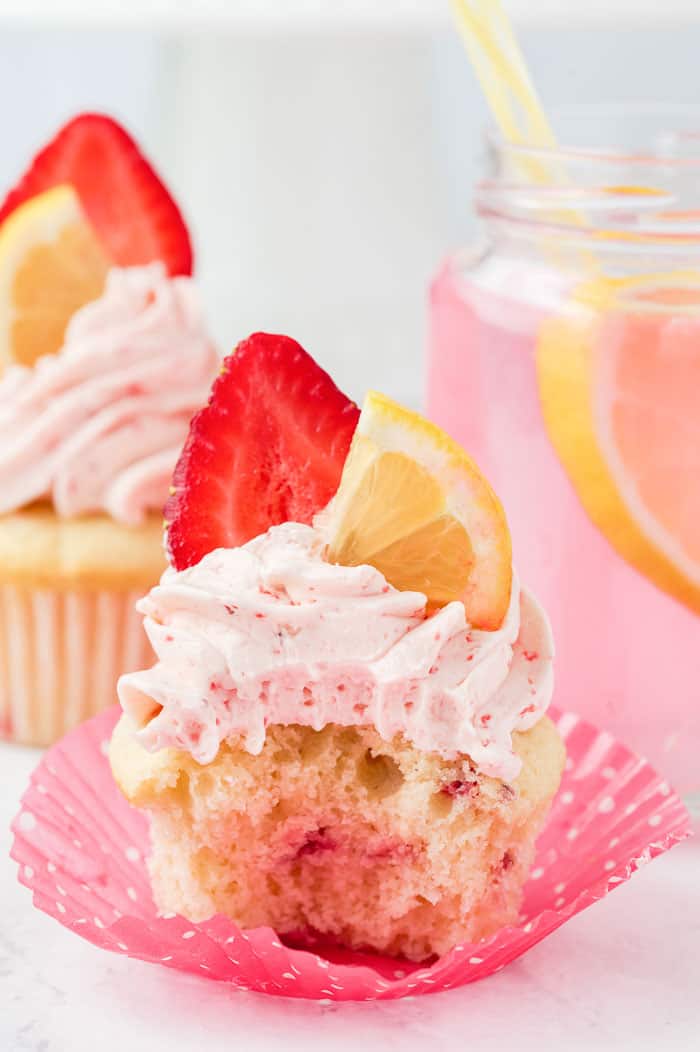 Here's a step-by-step guide on how to make these strawberry lemonade cupcakes. If you are not interested in the step-by-step, please scroll to the end for the recipe.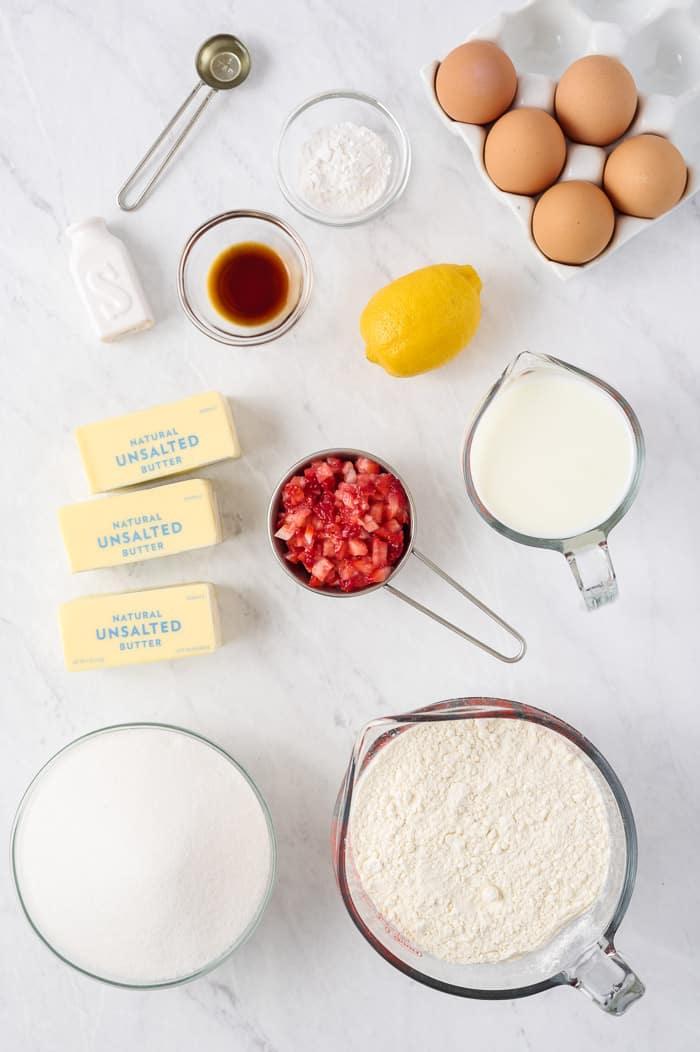 All recipes start with you gathering up your ingredients 🙂 I like measuring them so I can work more efficiently.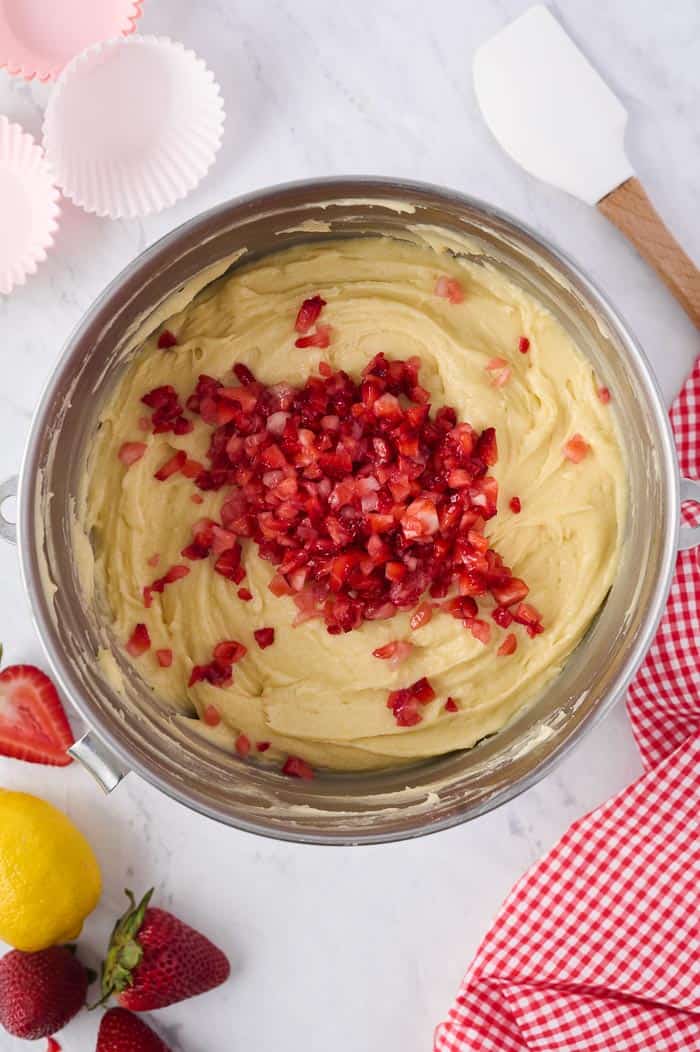 The lemon cupcake batter is made of creaming butter and sugar and incorporating wet and dry ingredients. The batter is then infused with fresh strawberries.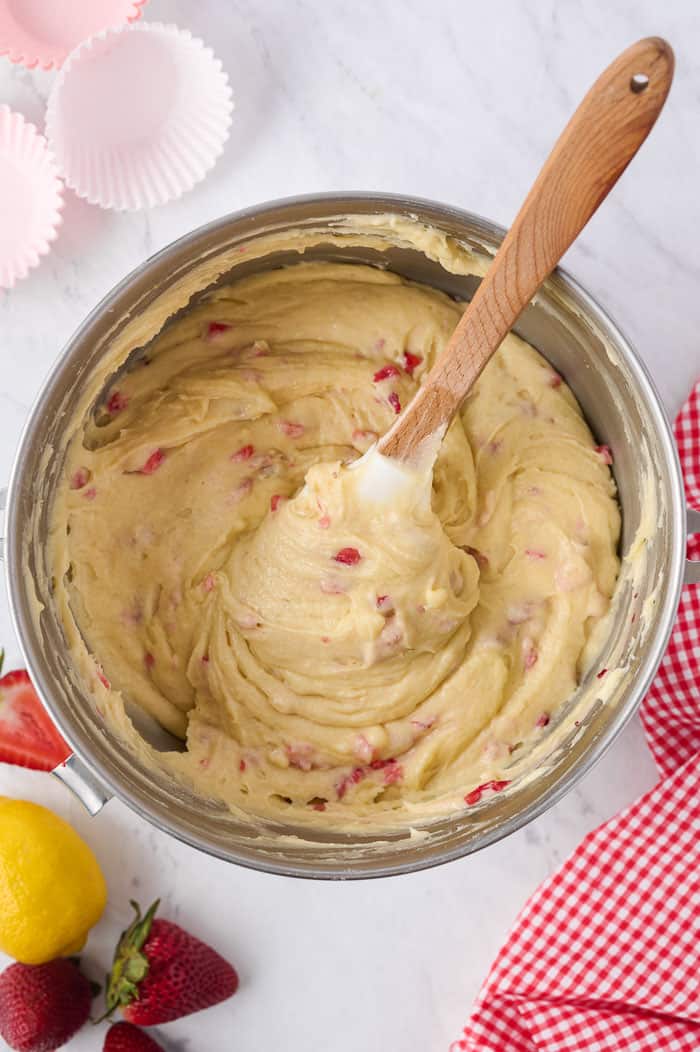 Divide into your cupcake tin.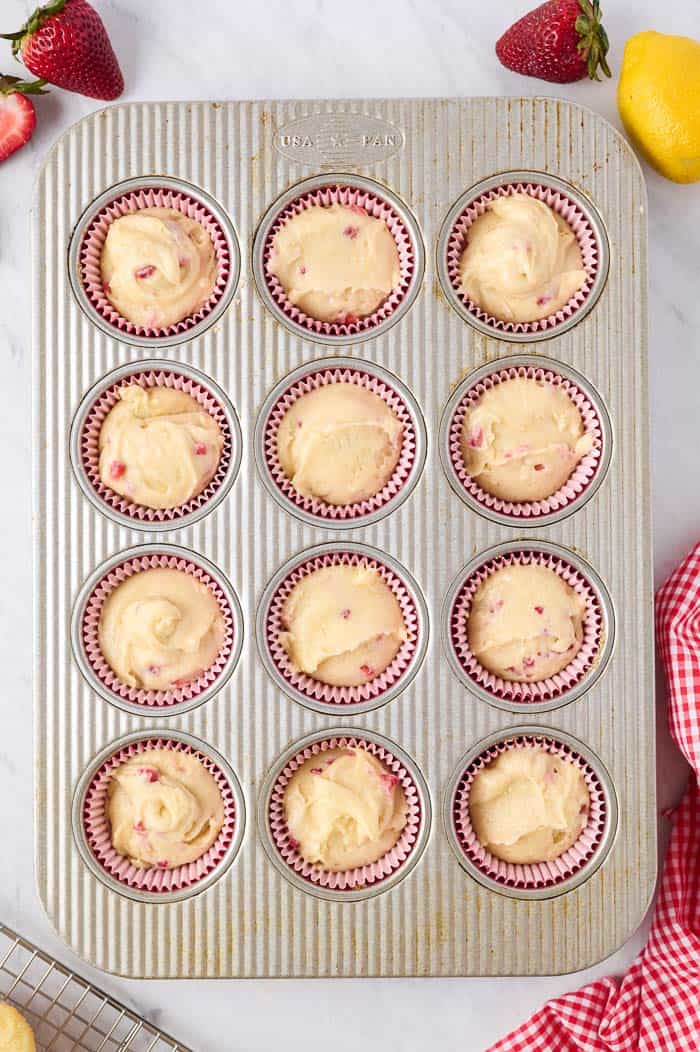 Then bake!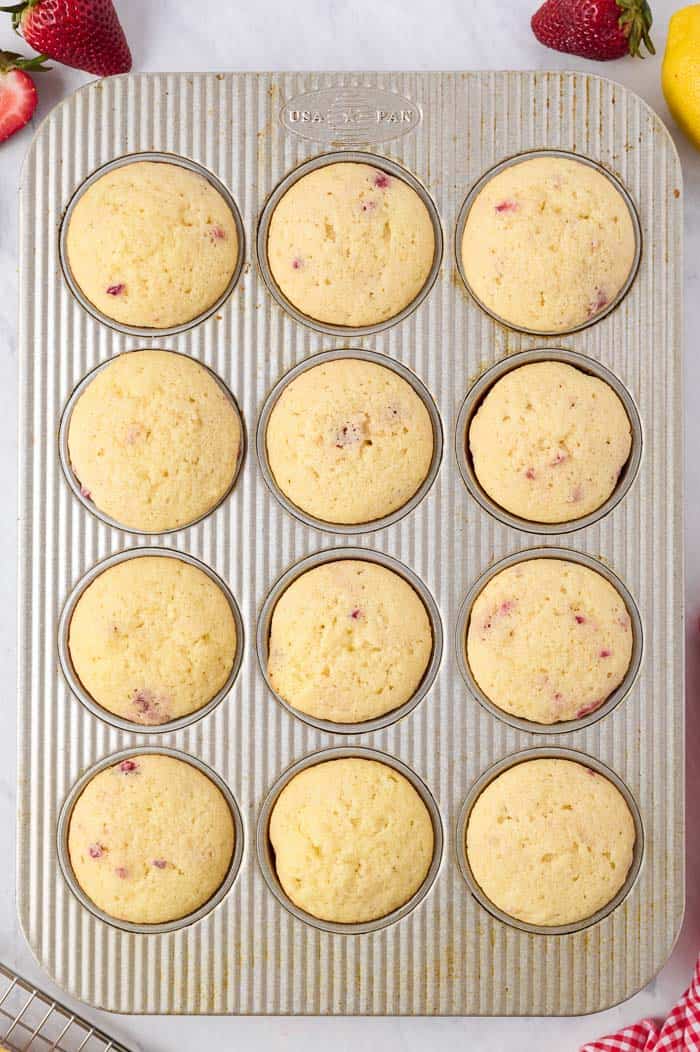 Next up is the frsoting, a swiss meringue buttercream.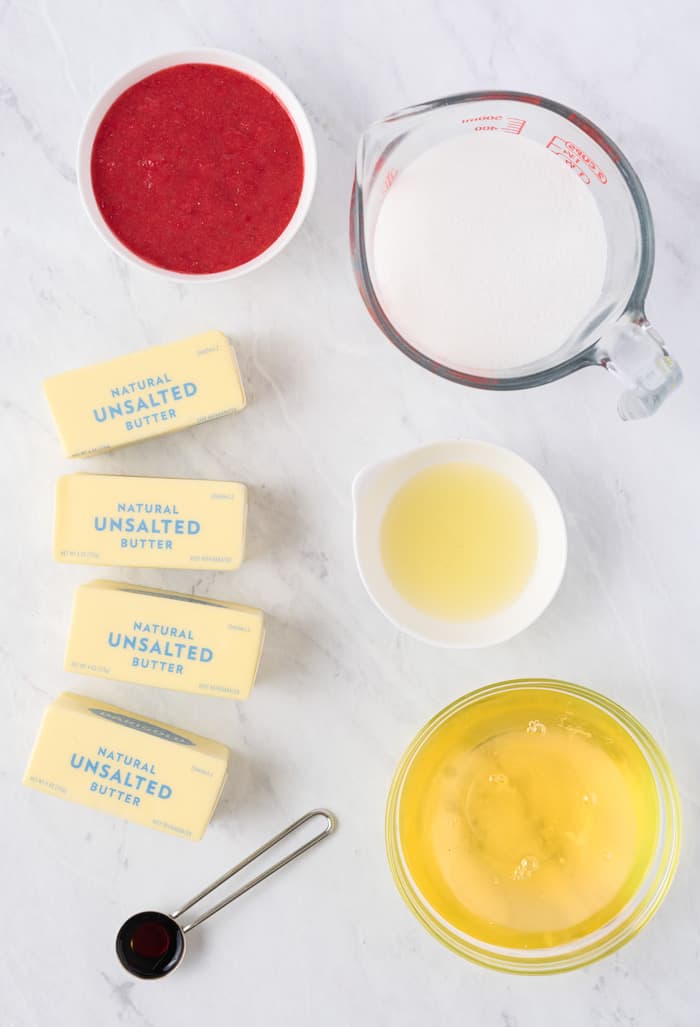 Whip up your meringue after heating up the egg whites and sugar.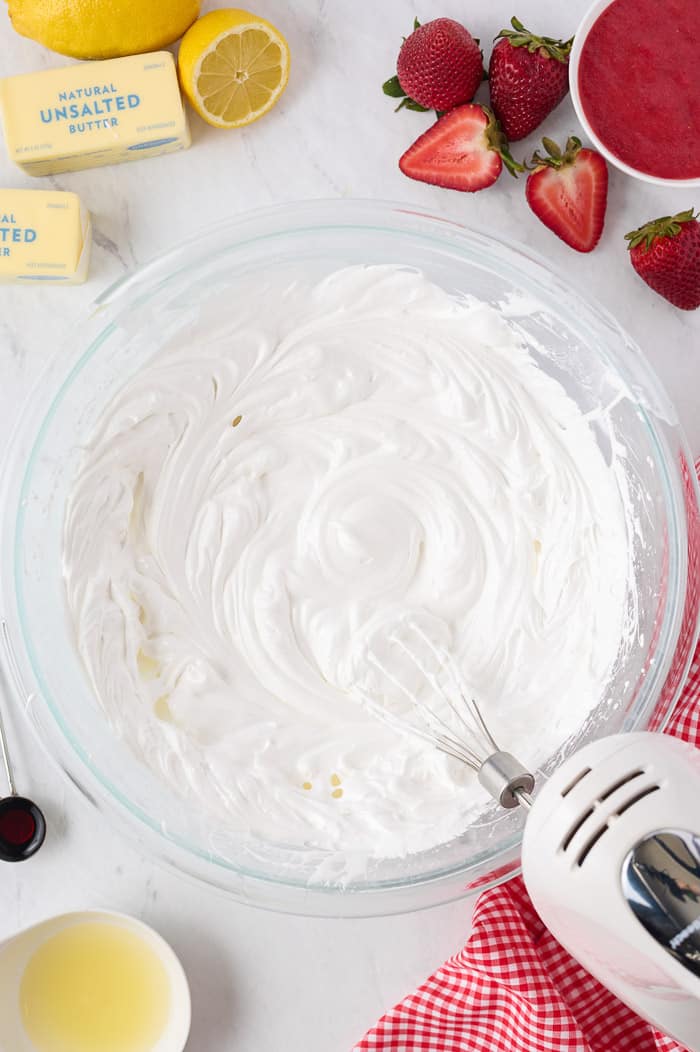 Then once you add in your butter, beat until the butter cream forms. Add in fresh strawberry puree, lemon juice and vanilla extract.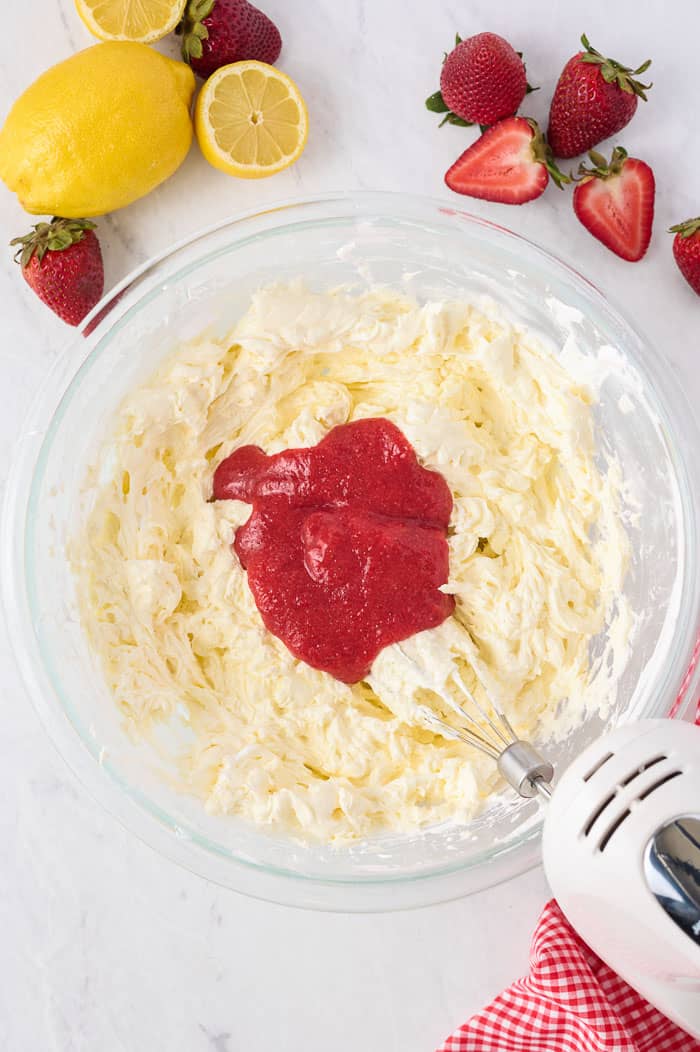 And viola, whipped buttercream that is lip puckering sweet!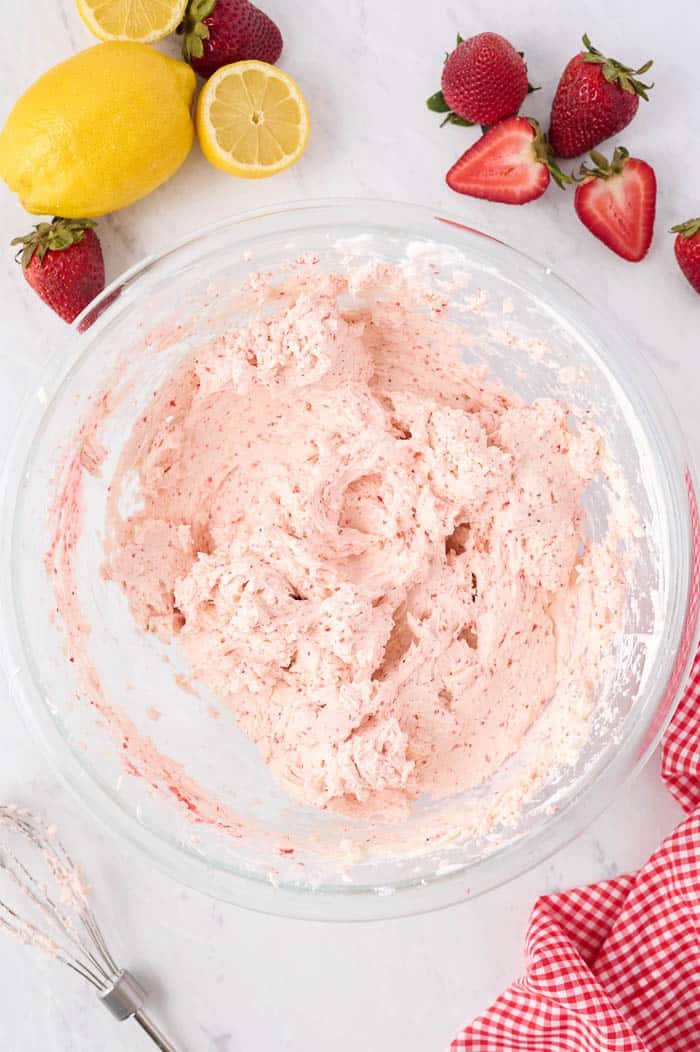 Use that to frost your cupcakes!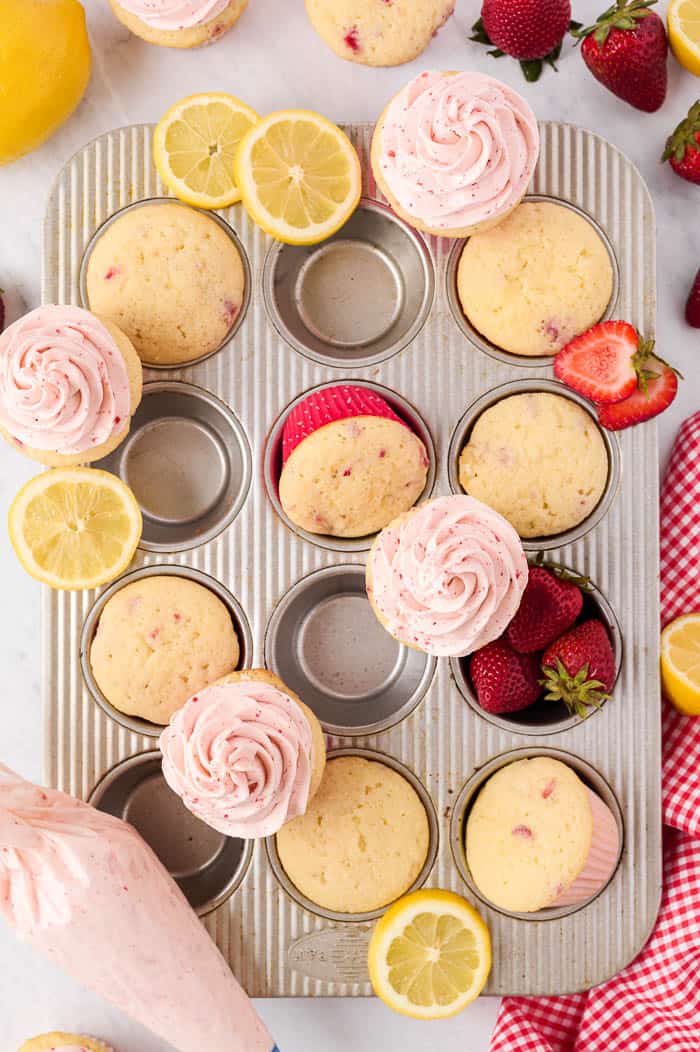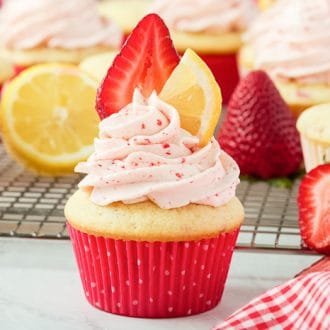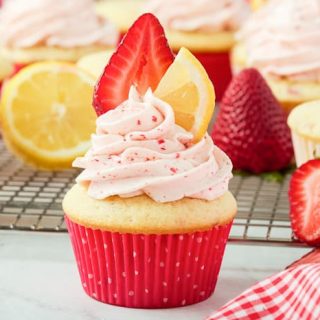 Yield: ~4 dozen cupcakes
Strawberry Lemonade Cupcakes
Sweet and tart strawberry lemonade cupcakes perfect for summer gatherings and parties.
Total Time
1 hour
5 minutes
Ingredients
For Cupcakes:
3 ¾ cups all-purpose flour
1 tablespoon plus ¾ teaspoon baking powder
¾ teaspoon salt
1 ¼ cups buttermilk, room temperature
1 teaspoon pure vanilla extract
1 teaspoon lemon extract
1 ½ cups unsalted butter (3 sticks), room temperature
2 ½ cups granulated sugar
5 large eggs, room temperature
Zest of 1 lemon
½ cup fresh strawberry, hulled and diced finely
For the Swiss Meringue Frosting
1 ½ cups granulated sugar
6 large egg whites, room temperature
2 cups (4 sticks) unsalted butter, room temperature
1 teaspoon pure vanilla extract
Juice of 1/2 a lemon
½ cup fresh strawberry puree
Instructions
Preheat oven to 350 degree F. Line muffin tins with cupcake wrappers.
Whisk together flour, baking powder and salt in a medium bowl.
Combine buttermilk, vanilla extract and lemon extract. Set aside.
In the bowl of an electric mixer, beat the butter and sugar on medium speed until pale and fluffy, about 5 minutes.
Add eggs, 1 at a time, beating well after each addition and scraping down side of bowl as necessary. Beat in lemon zest.
With mixer on low speed, add flour mixture in 3 batches, alternating with 2 batches of buttermilk mixture and beginning and ending with flour. Mix well to combine after each addition and scrape sides of bowl as needed. Fold in the strawberries by hand using a rubber spatula.
Divide batter among cupcake liners, filling ⅔ to the top.
Bake until golden brown and a cake tester comes out clean, about 18-20 minutes.
Transfer pans to wire racks and let cool in pans for 2 minutes. Remove cupcakes from pans and cool completely on wire racks.
Strawberry Lemon Swiss Meringue Buttercream
Whisk together sugar and egg whites in a heatproof mixing bowl set over (not in) a pan of simmering water.
Whisk until warm and sugar is dissolved (mixture should feel completely smooth when rubbed between your fingers), 2 to 3 minutes. Remove from heat.
With an electric mixer on medium speed, whisk egg white mixture for about 5 minutes. Then increase speed to medium-high, and whisk until stiff, glossy peaks form and meringue has cooled (test by feeling bottom of bowl), about 6 minutes. (Be sure the meringue is cooled before proceeding with adding your butter. If it is not cooled, your butter will melt.)
Reduce speed to medium. Add butter, one piece at a time, beating well after each addition. Continmue whipping on medium-high speed until the buttercream comes together, about 2-3 minutes after all the butter has been added.
Beat in vanilla, lemon juice, and the strawberry puree into the buttercream until combined.
Best if used immediately or store airtight in refrigerator for up to a week.
Use buttercream to frost cupcakes using your favorite decorative tip.
Decorate with fresh strawberries and lemon wedges.
Recommended Products
As an Amazon Associate and member of other affiliate programs, I earn from qualifying purchases.