Dark Chocolate Strawberry Cake
This dark chocolate strawberry cake is a great summer celebration cake for the chocolate and strawberry lovers alike. A decadent dark chocolate cake is filled with a light and fluffy fresh strawberry buttercream.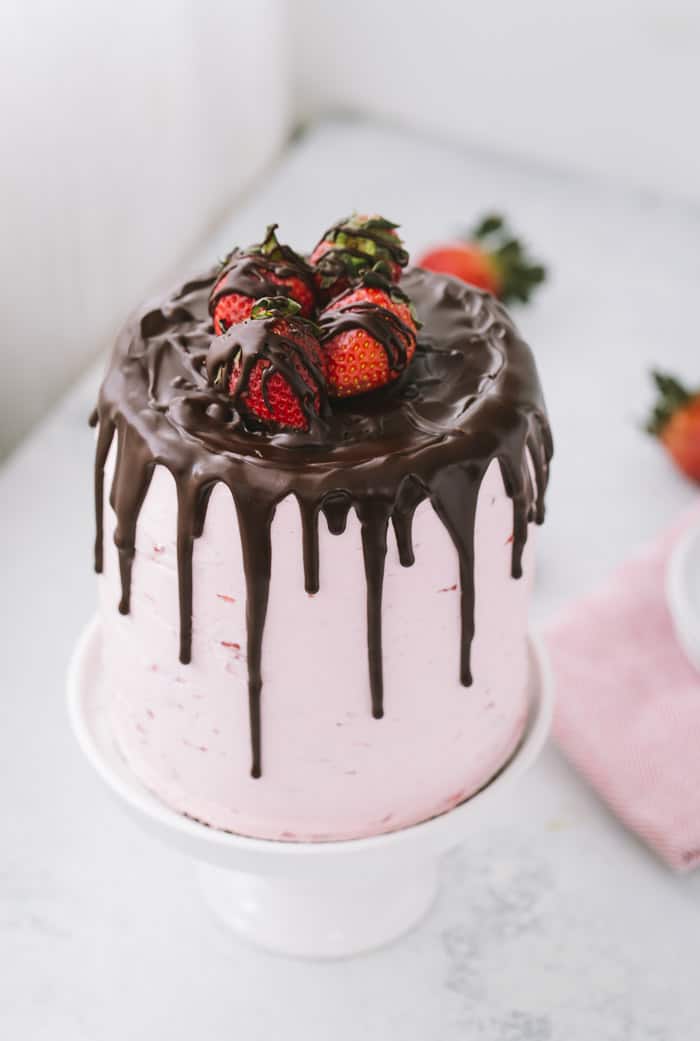 Hi friends! My definition of summer is this dark chocolate strawberry cake. I promised you I will eventually get into summer after starting the season with these 
chocolate espresso macarons
. Strawberries are my favorite berries… right in front of raspberries 🙂 So when they are in season, I always have at least a pound of fresh strawberries around to add to anything from this 
Sonoma salad
to strawberry frosting I used in this cake. It's the best summer accessory if you ask me.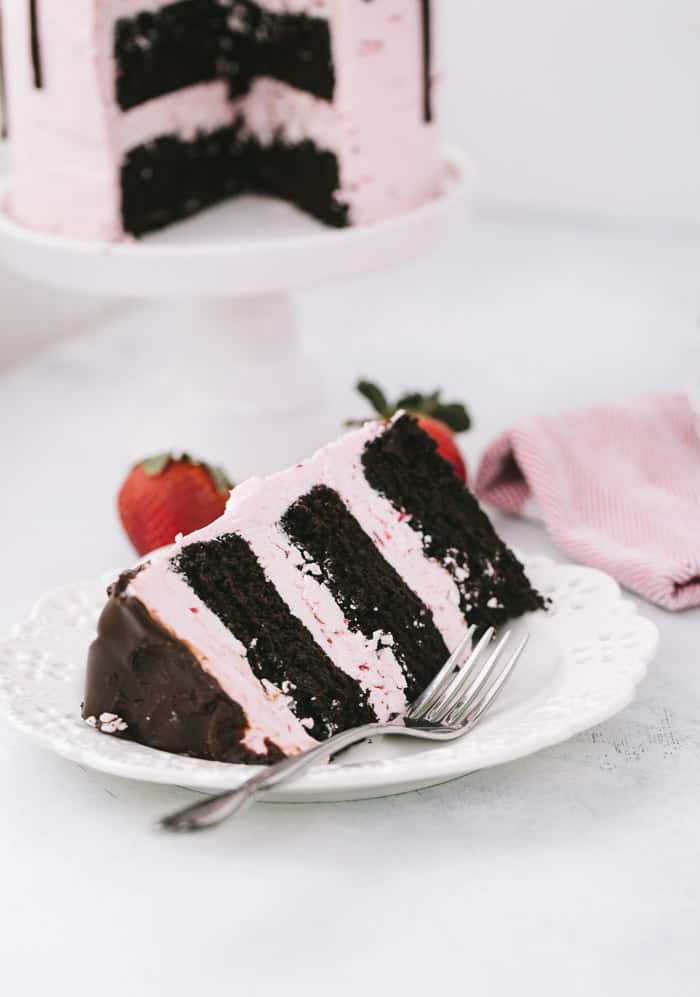 This cake starts with a very moist "one-bowl" chocolate cake that's then topped with my favorite vanilla swiss meringue buttercream with fresh strawberry puree.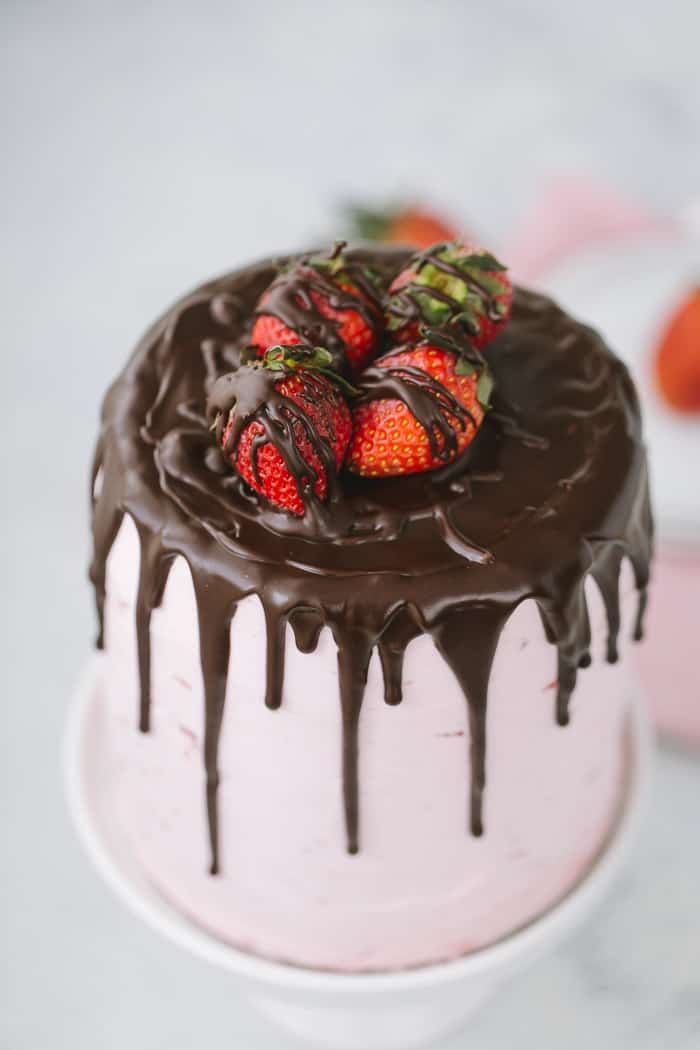 This is a great cake for chocolate lovers and strawberry lovers alike. The dark chocolate cake is (for lack of a better word) oh-so chocolate-y and the light, fluffy strawberry buttercream spruces up an already decadent chocolate cake. I made it Memorial day weekend for a special out-of-town chocolate lover who was very happy with it.
I hope you will try it. It would make a great birthday cake as well. It may not be as summer-y as these
strawberry lemonade cupcakes
, but I think having fresh strawberries in the frosting definitely puts this chocolate cake in the season.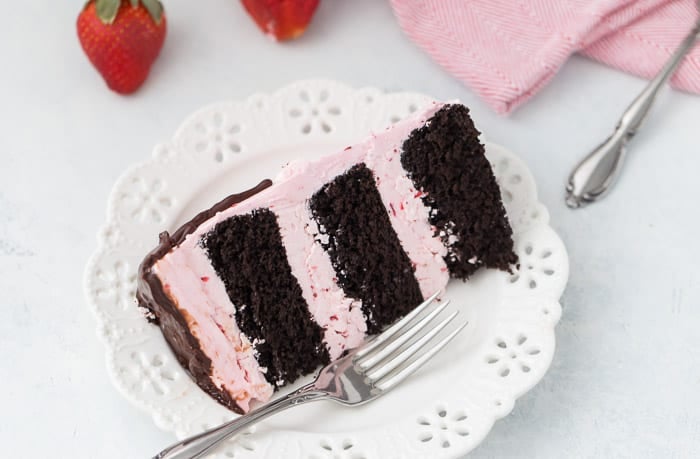 What are some of your favorite summer desserts??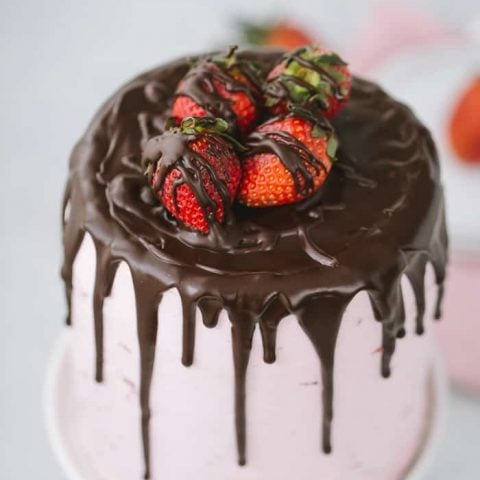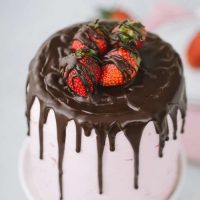 Yield: 1 6-inch layered cake
Dark Chocolate Strawberry Cake
This dark chocolate strawberry cake is a great summer celebration cake for the chocolate and strawberry lovers alike.
Prep Time
1 hour
30 minutes
Ingredients
For Chocolate Cake:
1 1/2 cups all-purpose flour
1 1/3 cups sugar
1/2 cup dark cocoa powder
1 1/4 teaspoons  baking soda
1 1/4 teaspoons baking powder
1 teaspoon salt
1/2 cup buttermilk
1/2 cup strong, hot brewed coffee
1/4 cup vegetable oil
2 large eggs, room temperature, lightly beaten
5 large egg whites
1 1/4 cups sugar
1 1/2 cups (3 sticks) butter, cut into cubes, at room temperature
2 teaspoons pure vanilla extract
1/4 cup strawberry puree
pinch of salt
For the Glaze:
4 oz  high quality bittersweet chocolate, coarsely chopped
1/3 cup unsalted butter, at room temperature and cut into cubes
Instructions
Preheat oven to 350degrees F. Grease three 6-inch round pans with baking spray and line with parchment rounds.
Sift together all the dry ingredients into the bowl of an electric mixer or a large bowl.
In a medium bowl, combine the buttermilk, coffee, oil, and eggs using a whisk.
Mix the dry ingredients on low speed for 1 minute. Stop the mixer and add the wet ingredients. Mix for 2 minutes on medium speed and scrape the sides and bottom of the bowl. Mix for an additional minute on medium speed.
The batter will be thin. Divide evenly among the prepared cake pans.
Bake for 20-25 minutes or until a toothpick inserted in the center comes out almost clean.
Let cakes cool in pans for at least 10 minutes before turning onto wire racks to cool completely. Meanwhile, you could start on the frosting.
For the Strawberry Swiss Meringue Frosting
Whisk together sugar and egg whites in a heatproof mixing bowl set over (not in) a pan of simmering water. Whisk until warm and sugar is dissolved (mixture should feel completely smooth when rubbed between your fingers), 2 to 3 minutes. Remove from heat.
With an electric mixer on medium speed, whisk egg white mixture 5 minutes (using the whisk attachment). Increase speed to medium-high, and whisk until stiff, glossy peaks form and meringue has cooled (test by feeling bottom of the bowl), about 6 minutes.
Reduce speed to medium and switch to the paddle attachment. Add butter, one piece at a time, beating well after each addition. Keep beating until the buttercream comes together (IT WILL). Beat in vanilla and strawberry puree until smooth and silky.
Use immediately or store in an airtight container in the fridge for up to a week.
For the glaze:
Combine the chocolate and butter in a medium heatproof bowl set over a pot of simmering water. Stir the mixture until melted and smooth. Let cool for about 10-15 minutes.
Assembly
Place one layer of cake on a cake stand or serving platter. Spread about ½ cup of frosting over the top using an offset spatula. Top with another layer of cake and repeat with another layer of frosting. Smooth with an offset spatula. Top with final layer of cake. Frost cake with a crumb coat of buttercream and refrigerate for at least 30 minutes. Finish frosting cake and chill for at least 10 minutes before using the glaze.