Reese's Peanut Butter Marshmallow Cookies
These Reese's Peanut Butter Marshmallow cookies are moist and chewy with chunks of peanut butter bites. If you are a peanut butter fan, then you need to make these cookies because you will love them.
I found a new way to share my baked goods (like these peanut butter marshmallow cookies) and make new friends. I joined a fun group called Bakin' Friends, created and hosted by Steph of Steph's Bite of Bite. This group brings together bakers, bloggers, foodies or just anyone who loves sweets. Each month, you get matched with a Bakin friend at the beginning of the month and you bake goodies with a secret ingredient and send out to one another by the 16th of the month. Then, on the last day of the month, you post about what you received. What a great idea right?
My Bakin Friend was Maya of Chumpkin Butter. We had a great time emailing back and forth getting to know each other and bonded over our love for spicy Thai food. This is definitely my favorite part of the group. Unfortunately, Maya has had the most incredibly busy month with finals and some silly post office mix ups which lead to delayed shipment and Maya was unable to send her goods to me before today. Poor girl has baked three times already (I am so sorry). I can't wait to receive them this weekend, and I'm sure they will be delicious 🙂
UPDATE!!
I received my package from Maya today after work! It made my day and put a smile on my face after this not-so good week. She made the most moist cookies I have EVER had in my life. They are almond butter marshmallow cookie-wiches (Grain-free). Yeah, that's right they are super healthy, crunchy and have coconut, cranberries and raisins in them. I am in love.  Thank you very much Maya. I am going to remake these so I can share with my husband…they might not have survived by the time he got home :0
_______________________________________________________________________________
As an alternative, I'm sharing with you instead what I mailed out. I was matched with Christine of Christine's Kitchen. All I will say is, that girl is my twin from another mother living in California (move closer!!). I baked her these Reese's peanut butter marshmallow cookies since the secret ingredient of the month was marshmallow.
These cookies are moist and chewy with chunks of peanut butter bites. If you are a peanut butter fan, then you need to make these cookies because you will love them. They are delicious to say the least!! And I was very happy to hear that Christine enjoyed them as well.
If you are interested in joining Bakin Friends, you can find all the details here.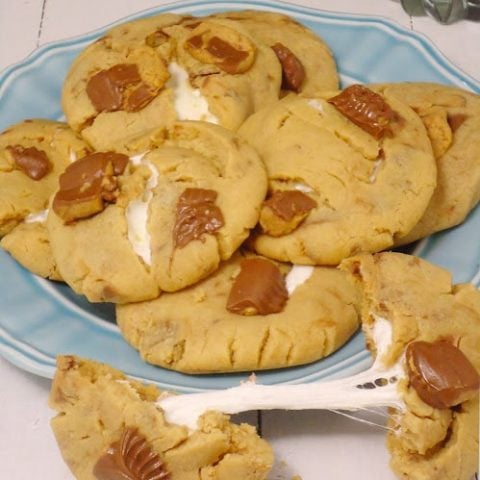 Yield: ~18 cookies
Reese's Peanut Butter Marshmallow Cookies
Ooey gooey peanut butter marshmallow cookies are easy to whip up and always a hit!
Prep Time 30 minutes
Cook Time 9 minutes
Total Time 39 minutes
Ingredients
1 ¾ cups all-purpose flour
¾ teaspoon baking soda
½ teaspoon salt
½ cup unsalted butter, softened
¾ cup peanut butter
½ cup white sugar
½ cup packed brown sugar
1 egg
1 teaspoon vanilla extract
8 ounces Reese's peanut butter cup, chopped in chunks
50-60 mini marshmallows
Instructions
Preheat oven to 350 degrees. Line two baking sheets with parchment paper.
Whisk together the flour, baking soda and salt in a medium bowl.
Using an electric mixer with the paddle attachment beat the butter, peanut butter and sugars on medium speed until light and fluffy, about 3-5 minutes. Add egg and vanilla and mix until combined.
Reduce speed to low and add in the flour ½ cup at a time. Stir until dough forms. Do not over mix. Fold in the peanut butter chunks by hand.
Form balls of dough (about 2 tablespoons) and flatten cookie dough to form a disk shape. Place 2-3 mini marshmallows in the center and fold back into a ball so that marshmallows are covered by cookie dough.
Place on cookie sheet and gently press down the cookie dough into a disk shape. Add chopped peanut butter pieces on top of cookies.
Bake the cookies for 9 minutes and remove from oven. Let cool for 5 minutes before transferring cookies to a wire rack to cool completely.
Notes
ZAINAB'S NOTES: The cookies will look undone after 9 minutes but they are done and will be firm after cooling
MAKING THIS RECIPE? Share it with us on Instagram using #aclassictwist so we can see what you are baking up in your kitchen!