Chocolate Espresso Macarons
I hope you guys had a wonderful memorial day weekend. Summer is officially here and it is time to fire up the grill, bake pies and eat frozen desserts. However, I'm starting my summer with some macarons! Chocolate espresso macarons to be exact!.
I am in love with these tiny cookies and I can tell our relationship is just the beginning to a very long one (I am planning our wedding already :P). This is my second time making macarons since this first try here. I think I love making them because you can see a progression since the last time. If you haven't tried these cookies yet, you really should because they are full of delicious crunchiness.
I was at Barnes & Nobles a few weeks ago picking up some summer reads when I found a book called "Macarons & More" on clearance for $2.99 and you know I had to pick it up!! I adapted this recipe from their double dark chocolate macarons by adding a teaspoon of espresso powder to the cookie recipe for a little kick and filled the sandwiches with chocolate buttercream.
There is a good dose of chocolate in these and after 24 hours refrigerated they are chewy, crunchy and soft on the inside. Very decadent!
The possibilities of flavors and colors are endless with macarons so expect to see some summer flavors soon!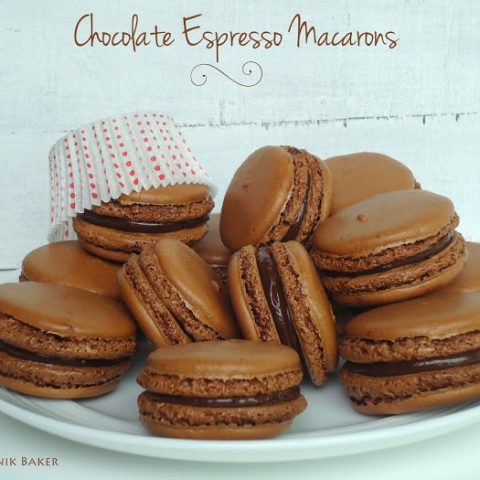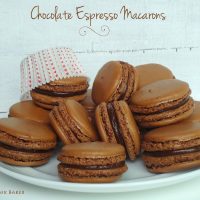 Yield: ~30 macarons
Chocolate Espresso Macarons
Total Time
1 hour
45 minutes
Ingredients
For the Macaron shells:
1 cup powdered sugar
½ cup almond flour
3 tablespoons unsweetened cocoa powder
2 teaspoons instant espresso powder
2 egg whites, room temperature
5 tablespoons granulated sugar
For Filling:
1 cup powdered sugar
¼ cup (1/2 stick) butter, softened
2 ounces bittersweet chocolate, melted and cooled
milk (as desired)
Instructions
Line two sheet pans with parchment paper. I used a 1½-inch round cookie cutter to draw circles on the parchment paper and flipped the paper (drawing side down).
Preheat oven to 350 degrees and prepare a pastry bag with a round tip. I used Wilton 2A.
Using a food processor, pulse the powdered sugar, almond flour, espresso powder and cocoa powder into fine powder. Sift several times until there is less than 2 tablespoon of almond bits left.
In the bowl of an electric mixer with the whisk attachment, combine the egg whites and sugar. Whip on medium-high speed until stiff peaks forms, about 5-7 minutes.
Add the dry ingredients to the meringue and fold with a rubber spatula. Gently fold to deflate the meringue by pressing against the side of bowl and scooping from bottom until batter is smooth and shiny. To check consistency, drop a spoonful of batter and it should have a peak that quickly relaxes back into the batter.
Transfer batter into pastry bag and pipe the batter into the pre-traced circles on the baking sheet. Tap baking sheet hard on counter to release any air bubbles trapped in the batter. Let macarons rest for 15-30 minutes until top hardens slightly.
Bake for 10-15 minutes, rotating cookie sheets halfway through baking time. Cool completely on cookie sheets before peeling from the parchment.
For the Filling:
In the bowl of an electric mixer, beat the butter on medium speed until smooth. Reduce speed to low and add the sugar.Add the melted chocolate. Mix until well combined and smooth. Add milk, 1 teaspoon at a time, to get the desired consistency.
Match same size cookies; pipe a little mound of buttercream onto flat side of one cookie and top with another.
Store refrigerated for at least 24 hours before serving.