Red, White and Blue Cake
An easy Red, White, and Blue Cake that will wow your guests! A tender vanilla cake with whipped vanilla bean frosting is covered in patriotic sprinkles and topped with french macarons for an elegant display!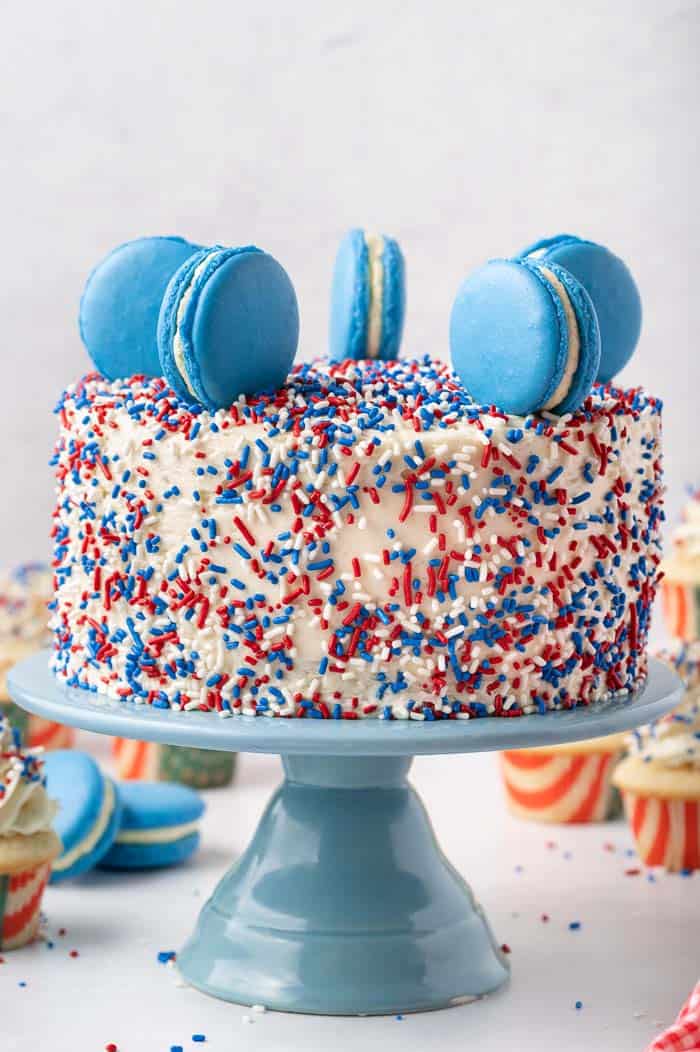 Happy Monday!! I am recovering from a very long and fun weekend. But I'll share with you details of the bridal shower later in the week. For now, here is one of my stress-baking cakes from last week. Did I tell you that I am a stress baker? Whenever I get overwhelmed with things, I pull up a recipe I have not made before or attempt an idea in my head and just go to town in the kitchen. Always helps calm my nerves.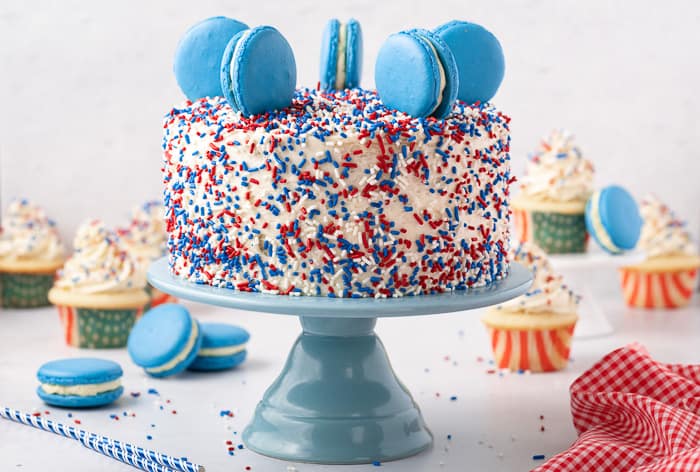 This is an easy Red, White, and Blue cake for the upcoming July 4th weekend celebrations. It's not too early to start planning. I got the idea for this cake when I saw the sprinkles at the check-out counter of my grocery store. They always place the most mundane items along with the checkout, don't they? I had to sneak it into the cart before Mr. J could see otherwise I would have received his favorite remark "you have a million other sprinkles you don't even use". Just like the speeches I get when I fall in love with yet another pair of shoes! Oh well, he saw them when we were unpacking the groceries and it was too late. Did I mention I have a shopping problem too?? Hmmm, this is becoming a confessional so let's focus on the cake.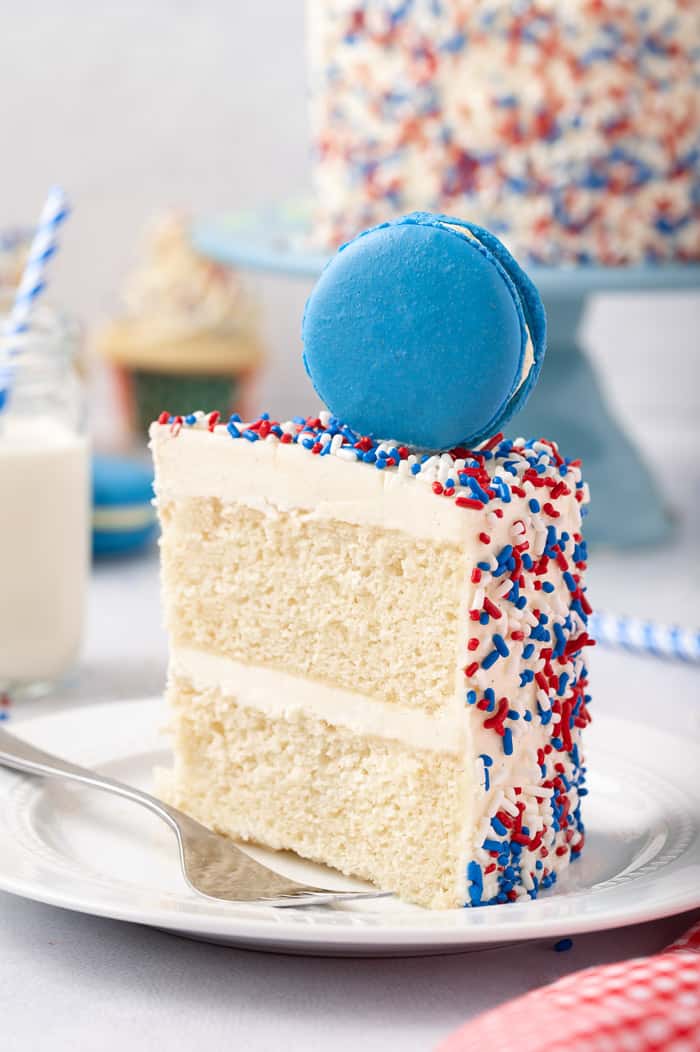 I baked the cake just so I could decorate it with the sprinkles so I went with a simple vanilla butter cake with whipped vanilla bean frosting. It's a great recipe for a moist fluffy cake and I loved how it complimented the creamy vanilla bean frosting.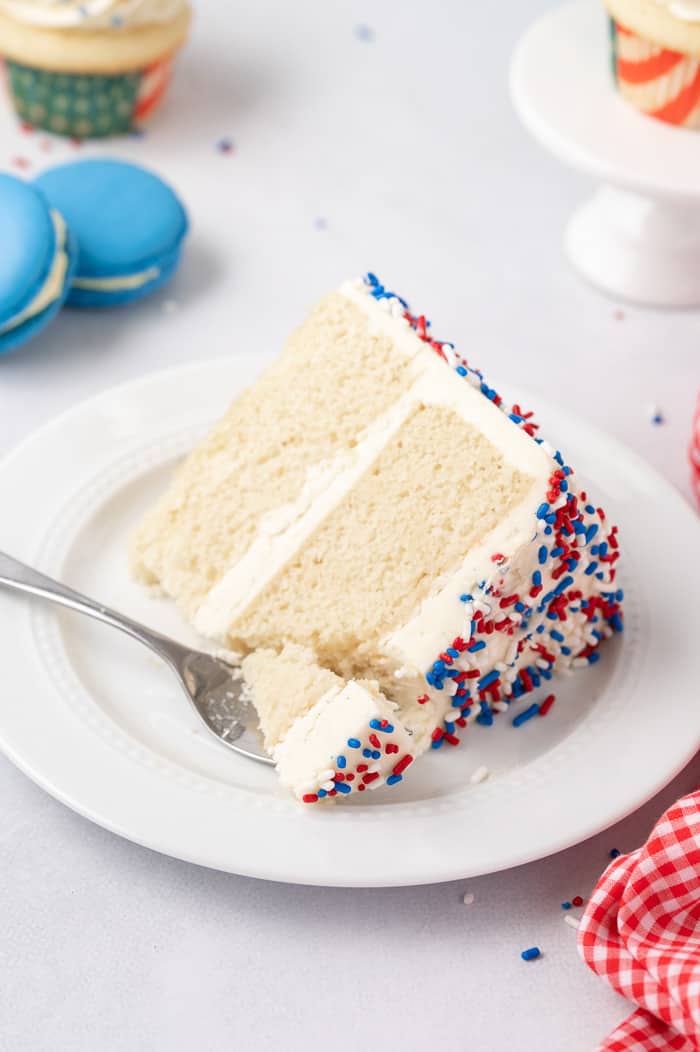 I also made a batch of blue vanilla macarons to top the cake for a little extra touch and I wasn't sure how they would look on top of a cake. But I love how they add some character to this simple cake.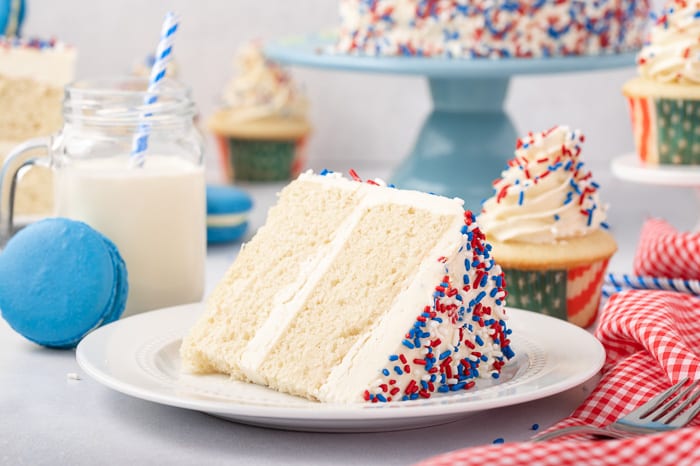 For an upcoming July 4th weekend event, I would probably bake a more summer cake flavor like this lemon cake or strawberry lemonade cake though, and keep the decorations the same. I love these sprinkles…can you see the cute little stars? My favorite.
Get the macaron recipe HERE.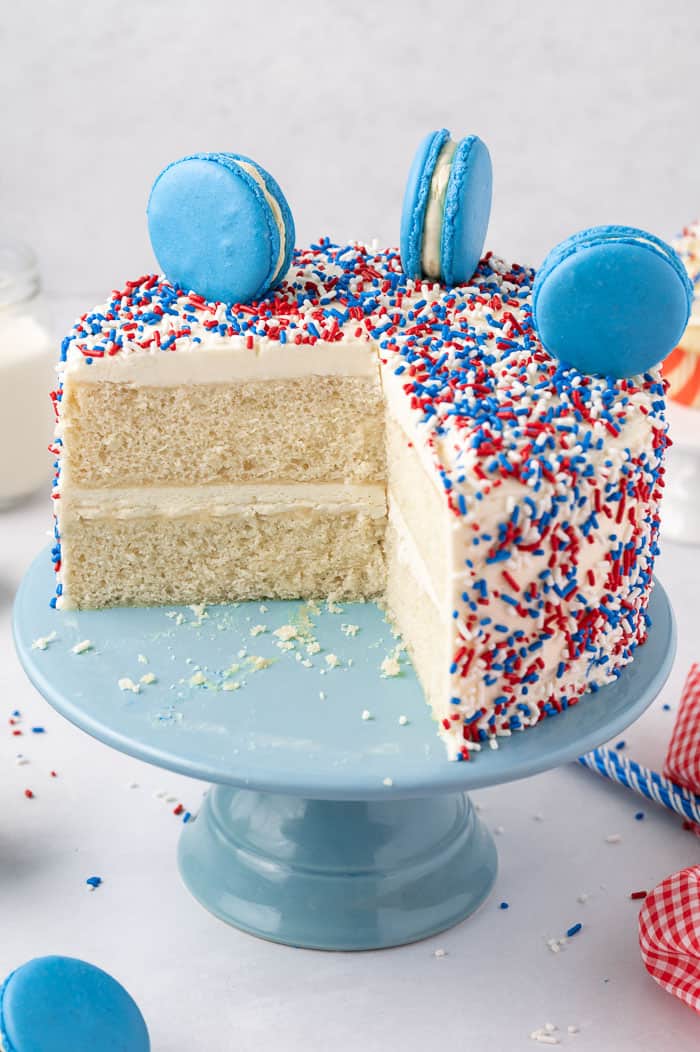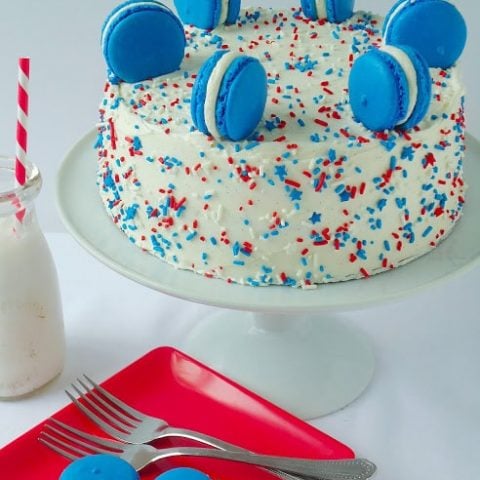 Yield: 1 8-inch layered cake
Red, White and Blue Cake
A patriotic red, white and blue cake that is made of fluffy vanilla cake and vanilla buttercream is adorned simply with sprinkles.
Prep Time
1 hour
10 minutes
Total Time
1 hour
35 minutes
Ingredients
For Vanilla Cake:
1 cup whole milk, room temperature
1 large egg, room temperature
5 large egg whites, room temperature
2 ¼ teaspoons pure vanilla extract
3 cups cake flour, twice sifted
2 cups granulated sugar
1 tablespoon + 1 teaspoon baking powder
¾ teaspoon salt
1 ½ sticks (3/4 cup) unsalted butter, room temperature and cut into cubes
For Whipped Vanilla Bean Frosting:
3 ½ sticks (1 3/4 cup) unsalted butter, softened
3 cups sifted confectioners' sugar
3 tablespoons milk
1 tablespoon vanilla bean paste or 1 vanilla bean, scraped
1 teaspoon pure vanilla extract
Pinch of salt
Instructions
For the Cake:
Preheat oven to 350 degree F. Grease and line two 8-inch round cake pans with parchment paper circles. Grease parchment and set aside.
Whisk together a third cup of the milk, egg whites, egg, lemon extract and vanilla bean paste.
Sift the cake flour in the bowl of an electric mixer fitted with the paddle attachment. Combine the rest of the dry ingredients including the sugar and stir together on low speed for 30 seconds
Add the butter one piece at a time and blend on low speed for 30 seconds. Then add the remaining milk, and mix on low speed until moistened. Increase speed to medium and mix for 1½ minutes. Be careful not to over mix. Scrape the sides of the bowl as needed.
Add the egg/milk/extract mixture in 3 separate batches mixing on medium speed after each addition until combined.
Pour batter into prepared pans and bake in the center of the oven for 20-25 minutes or until a cake tester comes out clean when inserted in center of cake.
Let cakes cool in pans for 10 minutes before removing and cooling completely on wire racks.
For the Whipped Vanilla Bean Frosting:
Whip butter for 8 minutes on medium speed using the paddle attachment of an electric mixer. The butter will become pale and creamy
Add the rest of the ingredients and mix on low speed for 1minute. Then increase speed to medium and mix for 6 minutes until the frosting is very light, creamy and fluffy.
Best used right away.
Assembly:
Frost and decorate cake as desired with red, white and blue sprinkles. Top with macarons, if desired.
Notes
Get the macarons recipe HERE