Lavender Honey Macarons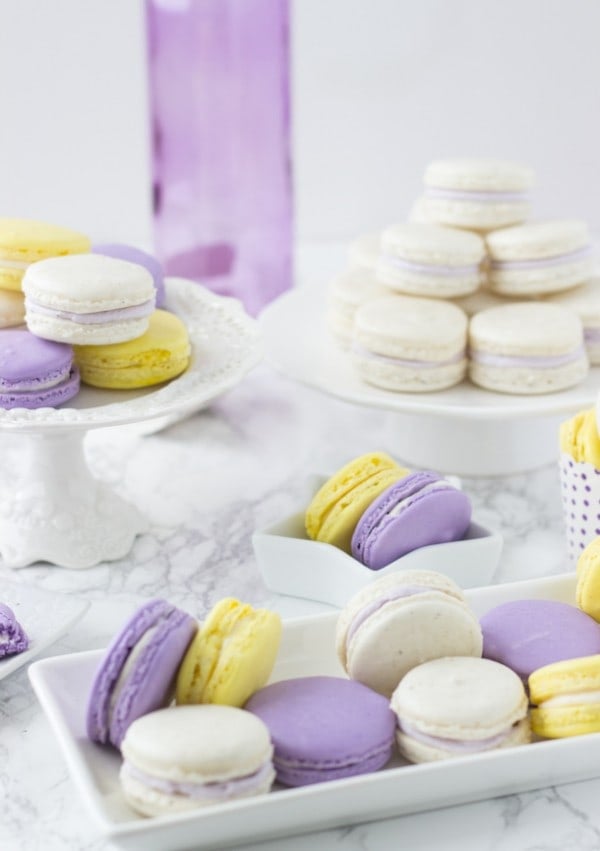 Spring!! The rainy days, the sunny 60-degree weather, and the budding leaves of the season just put a whiff of optimism in the air. Hmm, that came out way too happy, right? Eh, whatever! It's a thing!! Spring makes me happy. I am enjoying the inspiration to explore new flavor combos in the kitchen like these lavender honey macarons. I am also playing a lot with bright colors (see pastel cupcakes here and pretty baked donuts) which really lights up any day. Colors make me happy!!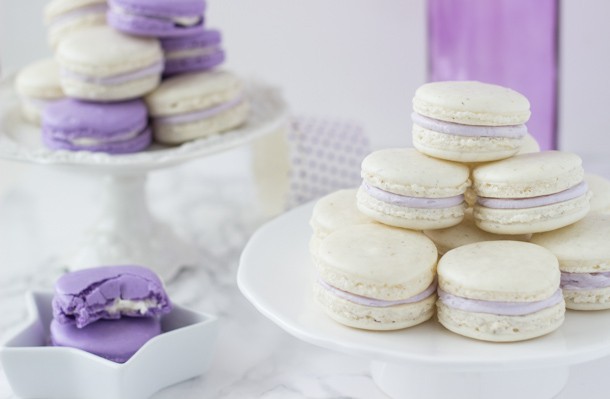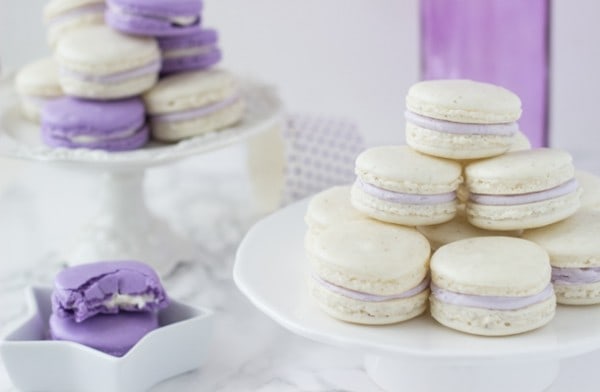 Lavender is one of my favorite floral scents to bake with (along with rose water) as it is delicate, feminine and just a beautiful accent to anything it is combined with. The sweet honey buttercream in these macarons is a perfect match with floral lavender in the macaron shells.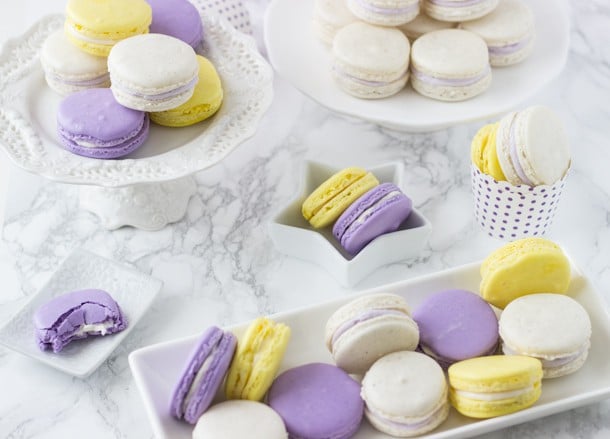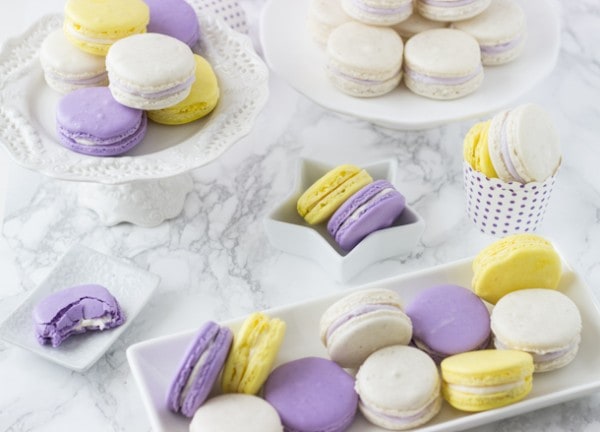 Aren't these just beautiful? I love making macarons (duh!) and the ability to play with flavors and colors makes them extra special. For my monthly contribution post over on the Kitchenthusiast, the KitchenAid recipe blog, I am sharing with you my tips and tricks for making perfect macarons and also how you can use their versatility to color coordinate your dessert tables. Have showers come up? Bridal or baby? These will light up any dessert table!
Also, for this upcoming Mother Day's celebration, try these lavender honey macarons for the wonderful mothers in your life!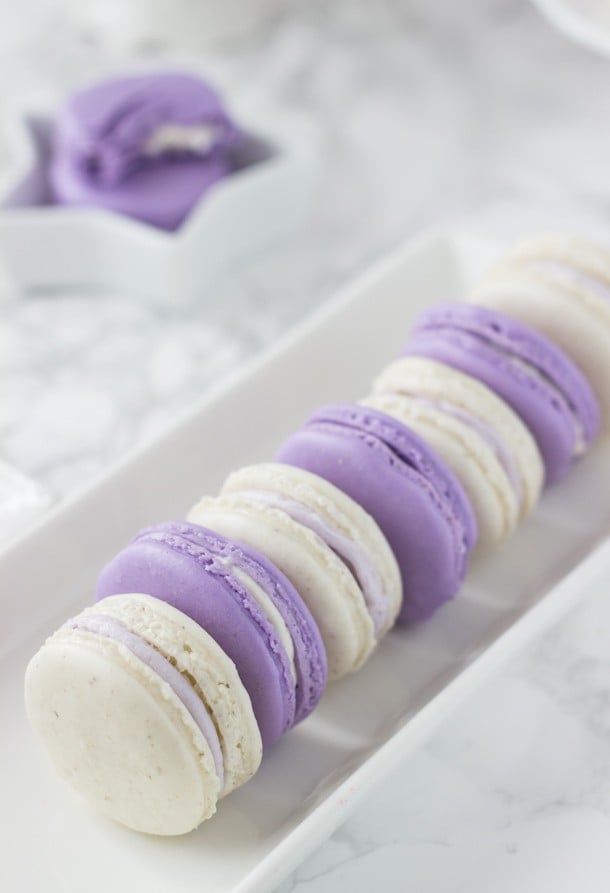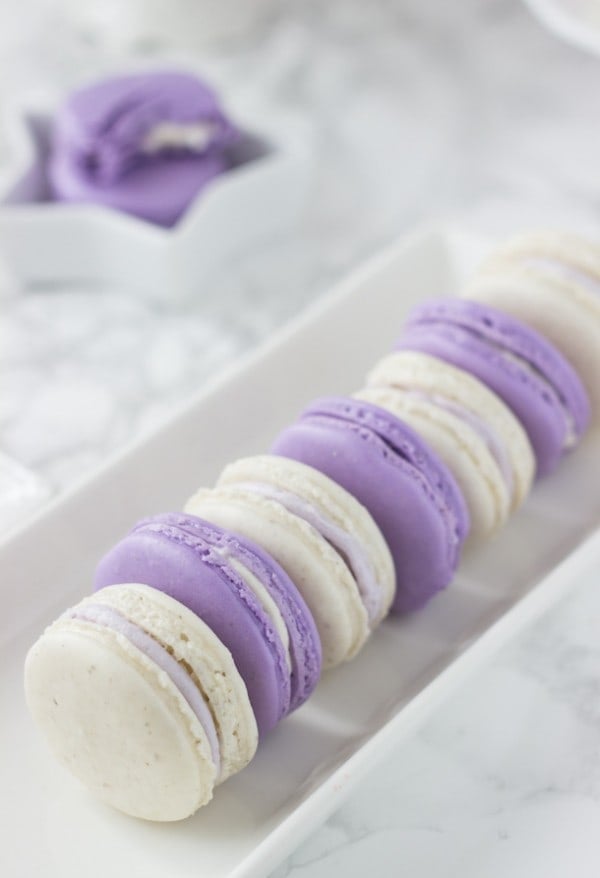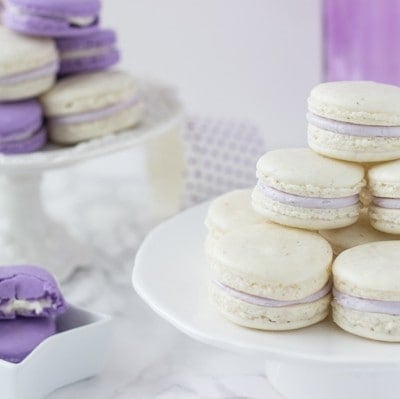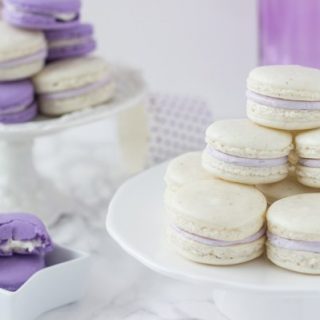 Yield: ~20 macaron sandwiches
Lavender Honey Macarons
Ingredients
For the macarons:
120 grams almond meal/flour
200 grams confectioner's sugar
1 teaspoon dried lavender
90 grams egg whites (~3 large egg whites), room temperature
1/4 teaspoon cream of tartar
Pinch of salt
50 grams granulated sugar
For the honey filling:
8 tablespoons (1 stick) unsalted butter, softened
1 1/2 cups powdered sugar
2 tablespoons honey
1-2 tablespoons heavy cream
1 teaspoon pure vanilla extract
1/4 teaspoon lavender essence (optional)
Instructions
For the macarons:
Line two Sheet Pans with parchment paper. I used a 1 1/2-inch round cookie cutter to draw circles on the parchment paper and flip over the paper (drawing side down). Prepare a pastry bag with a round tip. I used a Wilton 2A.
Using a Food Processor, pulse the powdered sugar, almond flour, and lavender into a fine powder. Sift several times until there is less than 1 tablespoon of almond bits left. Add these to the mixture.
In the bowl of your Stand Mixer with the whisk attachment, combine the egg whites, salt, and cream of tartar. Beat until egg whites are foaming. With the Stand Mixer on medium-high, sprinkle in the sugar about 1 tablespoon at a time. Continue beating until stiff peaks form, about 5-7 minutes.
Sift the dry ingredients over the meringue and fold with a rubber spatula. Gently fold to deflate the meringue by pressing against the side of the bowl and scooping from the bottom until the batter is smooth and shiny; about 20-25 folds. To check consistency, drop a spoonful of batter and it should have a peak that quickly relaxes back into the batter in about 20 seconds. Start checking the batter after 20 folds.
Transfer batter into pastry bag and pipe into the pre-traced circles on the baking sheet. Tap baking sheet hard on the counter to release any air bubbles trapped in the batter. Let shells sit on the counter for 20-30 minutes to dry. Once a shell forms on the macarons, you are ready to bake.
Preheat oven to 300 degrees F. Bake for 12-13 minutes or until shells are hard, rotating cookie sheets halfway through baking time. Cool completely on cookie sheets before peeling from the parchment.


For the honey filling:
Whip the butter until light and creamy. Add in the rest of the ingredients and mix on low until combined. Increase speed to medium and whip for additional 2-3 minutes.
Match equal size macarons up to make a sandwich. Using a pastry bag fitted with a large round or star tip, fill macarons with honey buttercream. Store macarons in refrigerator until ready to serve.
Notes
To make plain almond macarons, leave out the lavender in the shells, and substitute milk for honey in the filling.
This post is sponsored by KitchenAid. All opinions are 100% mine. Thank you for supporting the brands and companies that make it possible for me to continue to create quality content!