Key Lime Cupcakes + A Tieks Giveaway!!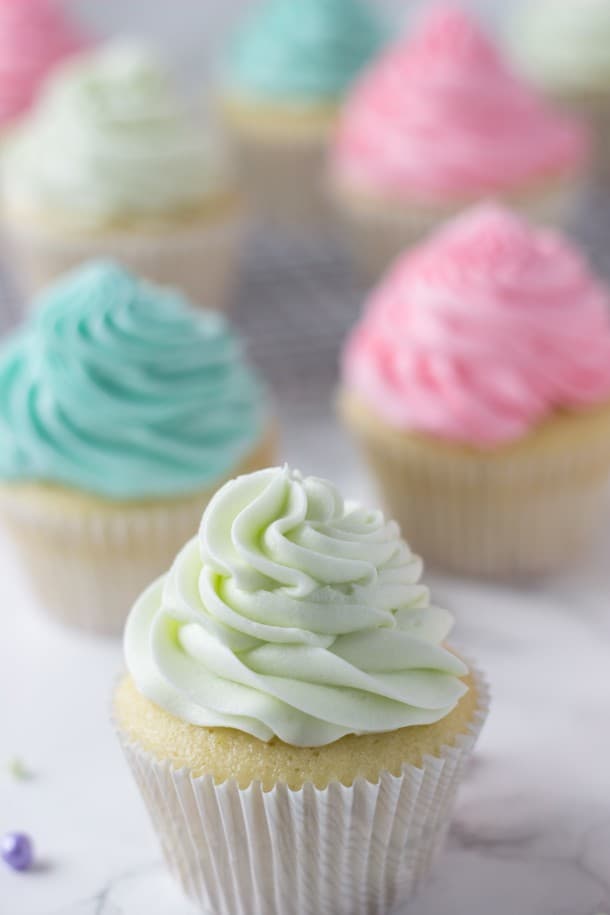 Happy Monday! I hope you had a great weekend and are ready for another week, inching closer and closer to summer. Spring is truly in the air even for those of us in the NorthEast and there is no better way to celebrate Spring than with pastel cupcakes and flats!!
That's right, I have a special post for you today!! In addition to the recipe for these lovely key lime cupcakes, I partnered with Tieks and three of my favorite blogger friends to bring you a chance to win a pair of Tieks flats!!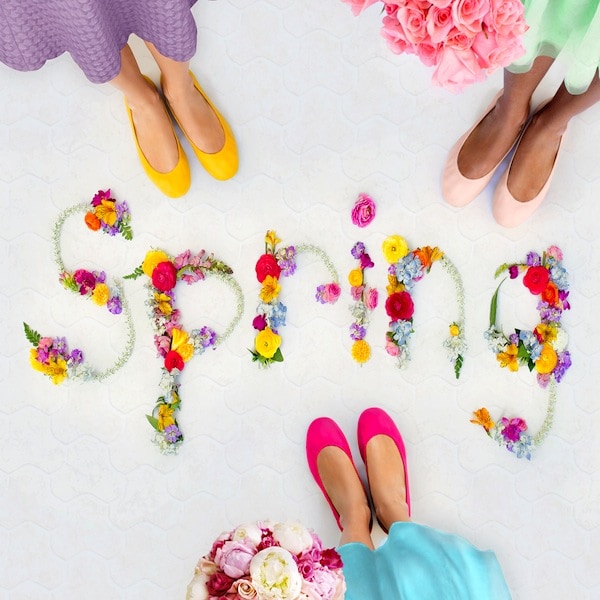 What are Tieks you ask? Well they are just about the prettiest flats around town and the most comfortable! I came across these designer flats made of the finest Italian leather thanks to the Internet and instantly fell in love with the array of bright colors. I couldn't help myself and had to get one. What can I say, I get weak in the knees for pretty shoes!
They are a bit more pricey than I would normally go for flats, but the fact that they are flexible, colorful, extremely comfortable and that I've not worn any of my other flats to work in a month make them worth every penny. And now I want one in every color!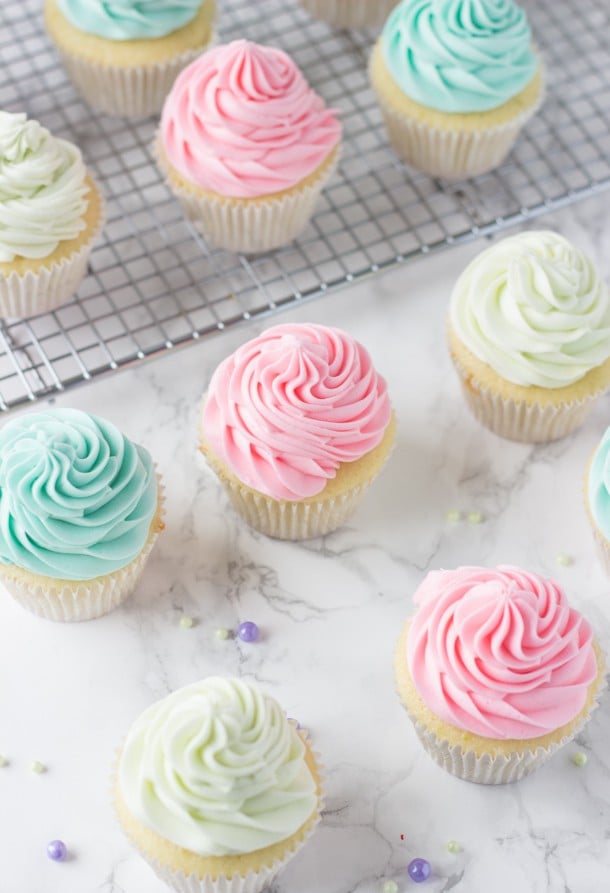 Inspired by the beautiful colors of their Spring collection, I created these key lime cupcakes. You already know that I am on a key lime kick after this coconut key lime panna cotta last week so these cupcakes were a natural leap since they just scream Spring (and Mother's Day) to me. Starting with a fluffy white cupcake recipe, I infused fresh key lime zest and juice into the cupcakes and then topped with a sweet key lime buttercream. If you love key limes, then these cupcakes will become an easy favorite.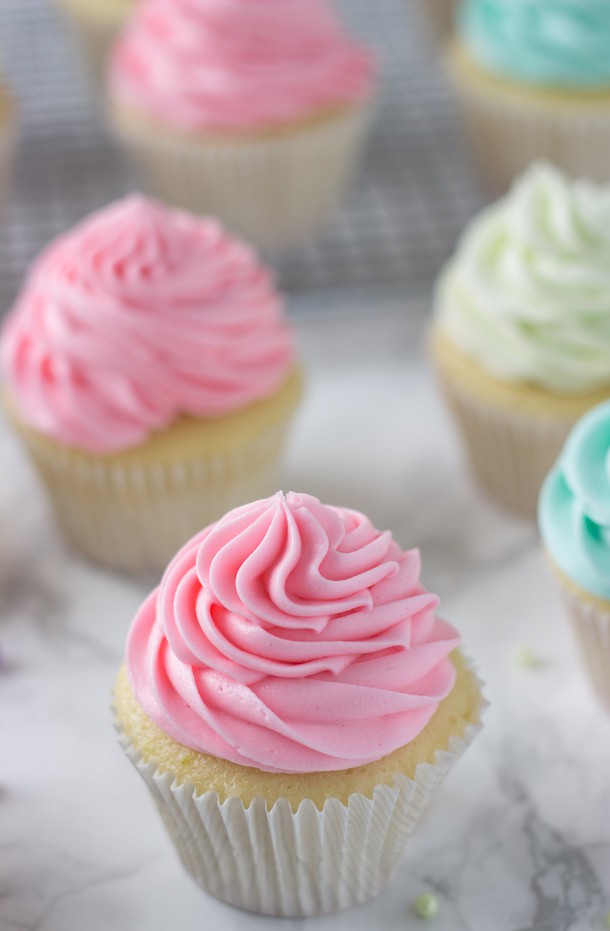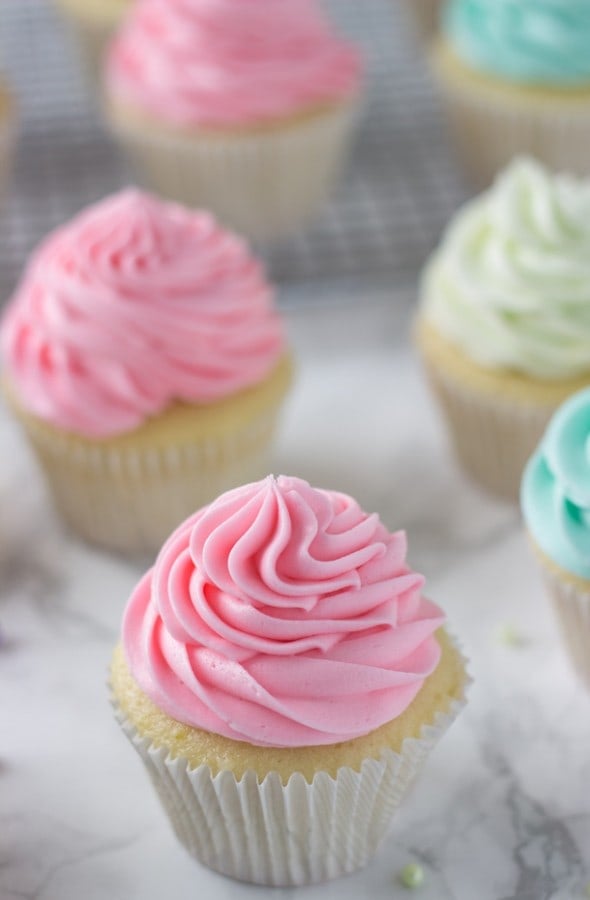 Just look at all the pretty colors?? Love love EVERYTHING pastel right now. I know…I do have a problem but I am OK with it 🙂 These cupcakes will be perfect for any celebrations you have this Spring.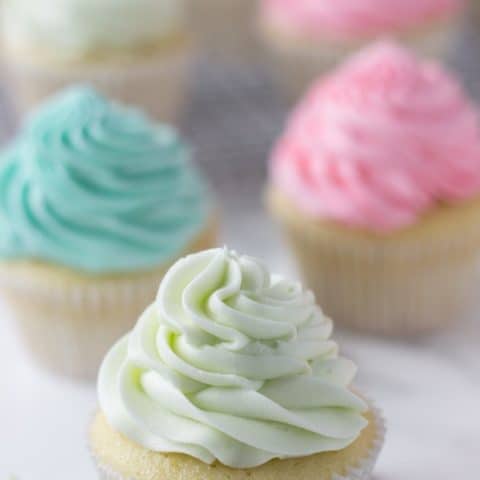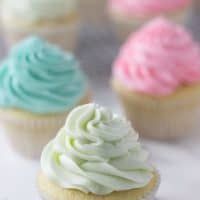 Yield: 12-15 cupcakes
Key Lime Cupcakes
Ingredients
For Key Lime Cupcakes
• 1 large egg plus 2 large egg whites
• 3 ounces cream of coconut + 2 tablespoons water OR 1/2 cup milk
• 1 teaspoon key lime zest
• ½ teaspoon pure vanilla extract
• 2 teaspoons key lime juice
• 1 cup plus 2 tablespoons cake flour
• ½ cup granulated sugar
• ½ tablespoon baking powder
• ½ teaspoon salt
• 6 tablespoons unsalted butter, softened at room temperature cut into pieces
For Key Lime Frosting
• 3 sticks unsalted butter, softened and cut into cubes
• 3 cups confectioners' sugar, sifted
• 2-3 tablespoons milk
• 1 teaspoon pure vanilla extract
• 1 teaspoon key lime zest
• 2 teaspoons key lime juice
• pinch of salt
• 2-3 drops food color gel paste of your choice
Instructions
Preheat oven to 350degrees F. Line muffin tins with cupcake liners.
In a small bowl, whisk together the egg and egg whites. Whisk in the coconut cream + water (OR milk if using), zest and juice of key limes and vanilla extract.
In the bowl of a stand mixer or large bowl, combine the cake flour, sugar, baking powder and salt. Mix on low for one minute. With mixer on low, add in butter, one piece at a time, and mixing until only pea-size pieces remain, about 1 minute. Add in half of the egg mixture, increase speed to medium-high, and beat until light and fluffy, about 1 minute. Reduce speed to low and add in the remaining egg mixture. Mix on low until combined, about 30 seconds. Stir batter once by hand with a rubber spatula (Do not over mix cake batter otherwise you will end up with dense cupcakes).
Divide batter evenly into prepared cupcake liners. Bake cupcakes until toothpick inserted in centers comes out clean, about 12-15 minutes.
Let cupcakes cool in pan for 1 minute before removing and cooling completely on a wire rack.
For frosting:
Whip butter for 8 minutes on medium speed using the paddle attachment of an electric mixer. The butter will become pale and creamy. Add the rest of the ingredients and mix on low-speed for 1minute. Then increase speed to medium-high and mix for 6 minutes until the frosting is very light, creamy and fluffy. Add in food coloring and whip for an additional minute.
Frost cupcakes using a pastry tip. I used Wilton Tip 2C for these.
Notes
If you decide to double the recipe, use 1 egg and 5 egg whites.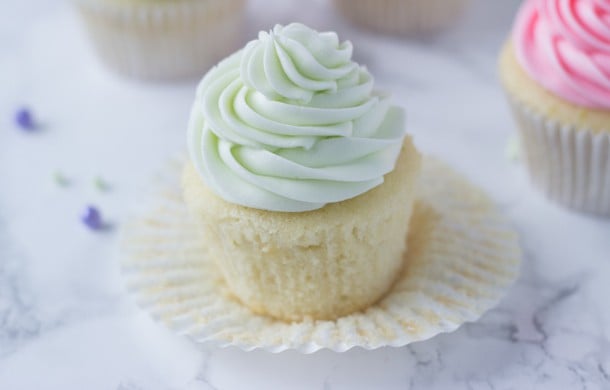 Now for the giveaway! Use the widget below to enter for a chance to win a FREE pair of Tieks in the color of your choice. One lucky winner will receive a $200 e- gift card to shop on tieks.com. Giveaway runs Monday April 6th to Thursday April 9th. Giveaway open to US residents only (sorry!). Good luck!!
This is not a sponsored post. Because I loved my Tieks, I partnered with Tieks to bring you this giveaway. Giveaway is only open to US residents. One winner will be selected at random and sent an E-gift card for $200 to shop on Tieks.com.