Coconut Key Lime Panna Cotta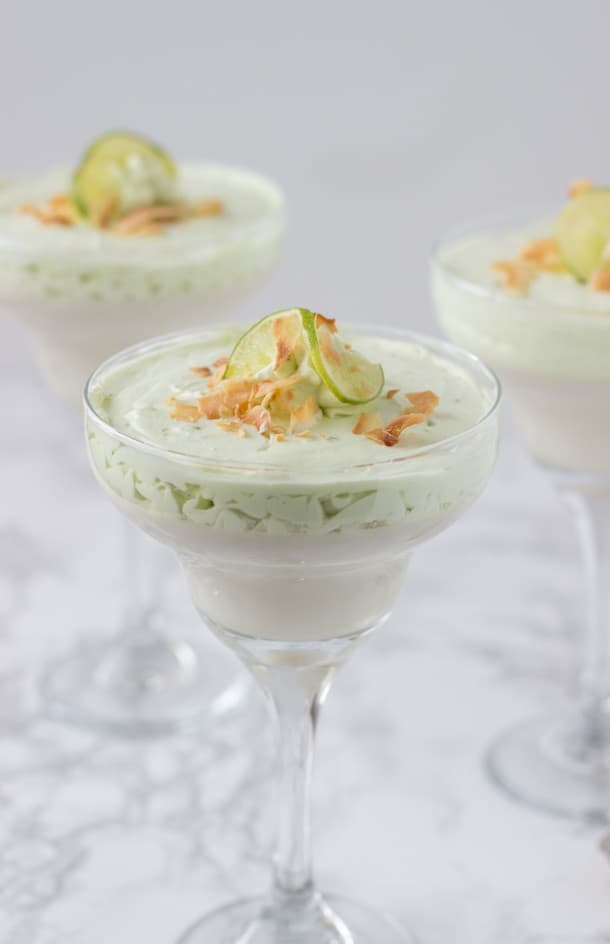 Last year, I had trouble finding key limes. They were either short in supply or my grocery store just sucked at carrying them so I had to settle for key lime juice. I was eager to get my hands on some fresh key limes this year so I can make everything key lime!! I did not go as crazy as the meyer lemons a few weeks ago but I did get two bags and the first thing I made was this coconut key lime panna cotta. Are you surprised coconut was my first flavor combo? You know me better than that 🙂 But I do have a classic key lime pie on the way for you.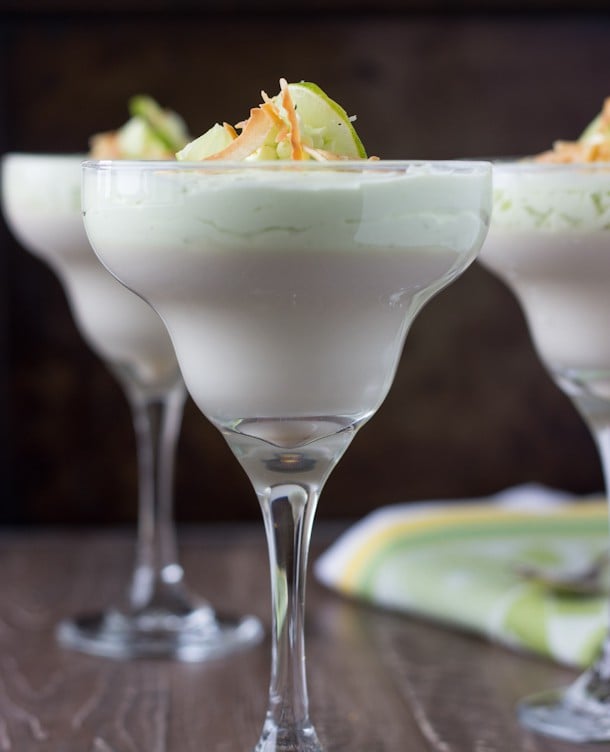 Panna cotta is one of those desserts that I think is very under-appreciated. It is such a delicious concoction that is extremely easy to whip up and should be used as an arsenal in one's goodie bag. Have guests coming over for dinner? Want to impress the in-laws without a lot of work? Or just have a sweet craving? Panna cotta is the answer!!
I think it was Lindsay who recently called it adult jell-o and I totally agree with her. It's a silky, smooth, custard with an endless possibilities of flavor combinations. This coconut key lime panna cotta is a tropical delight and just perfect for Spring. A sweet creamy coconut custard is mixed with tart citrus and topped with a key lime mousse that is light in itself to be a stand alone dessert.
So if you are looking for something special, different and just easy to make this Spring, this panna cotta is for you!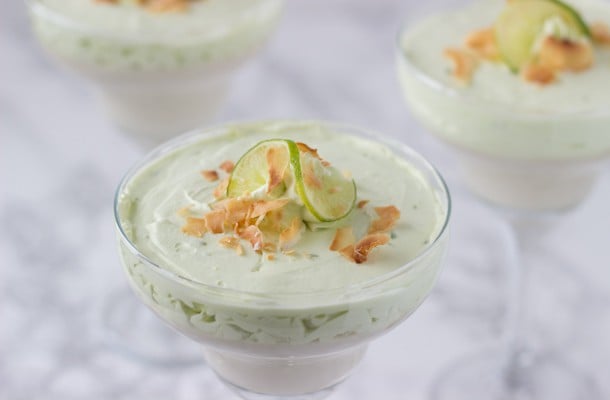 Excuse while I enjoy my fresh key lime haul!!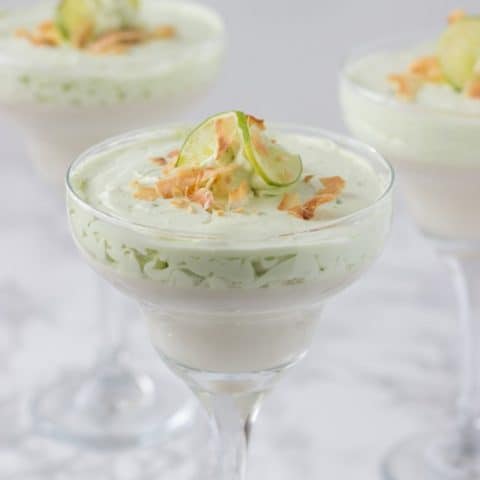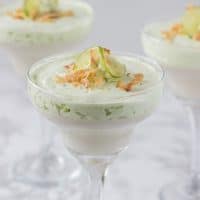 Yield: 4 servings
Coconut Key Lime Panna Cotta
Total Time
3 hours
30 minutes
Ingredients
Coconut Panna Cotta
1 teaspoon unflavored powdered gelatin
1 can coconut milk (13.5 oz)
½ teaspoon kosher salt
3 tablespoon honey
½ teaspoon vanilla extract
zest and juice of 3 key limes
Key Lime Mousse
1 tablespoon finely grated key lime zest
½ cup key lime juice
½ cup (1 stick) unsalted butter, divided
½ cup granulated sugar, divided
4 large egg yolks
1 large egg
½ cup heavy cream, chilled
Instructions
In a small bowl, combine gelatin and 2 tablespoons cold water. Let sit for 10 minutes to soften.
In a small saucepan, combine the coconut milk, salt and honey. Bring to a simmer over medium heat. Remove from heat and whisk in the soften gelatin mixture, vanilla extract, zest and juice until the gelatin is completely dissolved.
Divide the mixture among glasses (4) and chill until set, 3-4 hours or overnight.
To make mousse:
In a medium saucepan set over medium heat, combine the key lime zest, juice, ¼ cup unsalted butter and ¼ cup sugar. Stir until sugar dissolves and remove from heat.
In a small bowl, whisk eggs yolks, egg and remaining sugar until pale and thick, about 2 minutes. While whisking constantly, slowly pour the hot key lime mixture into the egg mixture. Transfer the mixture back to the saucepan and cook over medium-low heat, whisking constantly. Keep whisking until curd thickens and whisk leaves a trail, about 5 minutes. Remove from heat and whisk in the remaining butter until melted completely. Transfer curd to a bowl and cover with plastic wrap, pressing directly onto surface, Chill until completely cool, at least 2 hours.
When ready to serve panna cotta, whisk heavy cream in a small bowl until soft peaks forms. Fold whipped cream into key lime curd until completely combined. Spoon the mousse over the chilled panna cotta.
 More Panna Cotta Recipes from Across the Web:
Sparkling Meyer Lemon & Passionfruit Panna Cotta – Love and Olive Oil
Peaches and Cream Panna Cotta – Sprinkle Bakes
Coconut White Chocolate Panna Cotta – Baking A Moment