Chocolate Red Wine Cupcakes with Marionberry Frosting
These Chocolate Red Wine Cupcakes are rich, moist, and chocolaty! They are filled with marionberry compote and topped with fluffy buttercream, making a beautiful and very special dessert.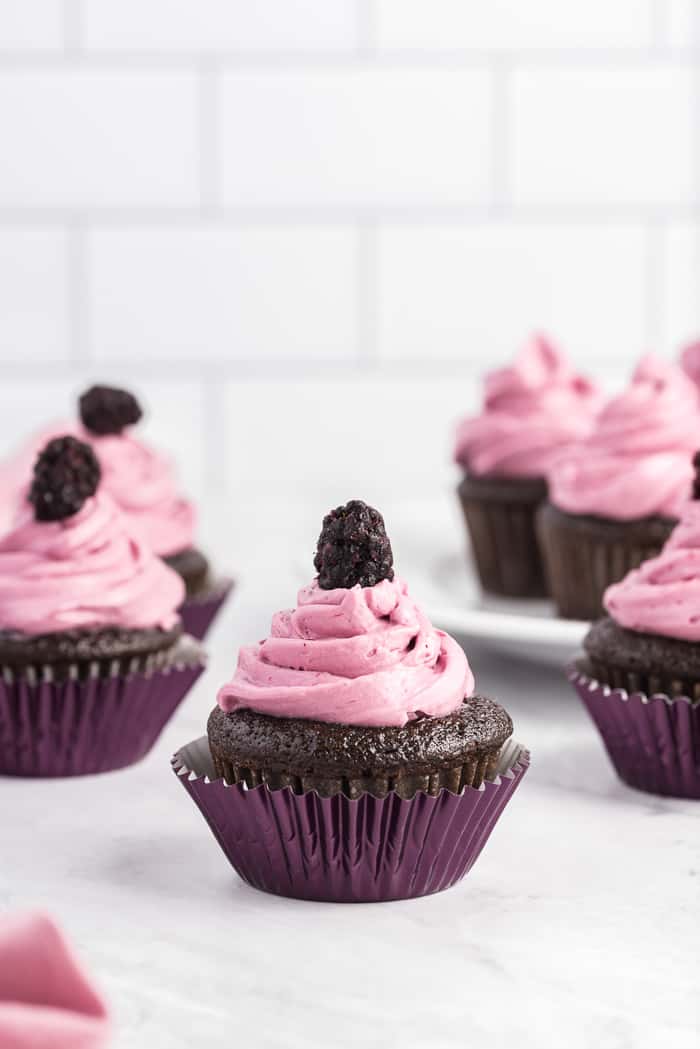 This post is sponsored by Oregon Raspberry and Blackberry Commission. All opinions are 100% mine. Thank you for supporting the brands I love, making it possible for me to create delicious content for you. Pictures updated March 2021.
I am in love with these cupcakes, guys!! Like seriously. The simple combination of red wine, chocolate, and sweet blackberries is freaking AWESOME!! OK, maybe I need to calm down a little bit, after all, they are just cupcakes. But you see, in my world, that's everything especially when different flavors come together to make a wonderful treat; it's magic!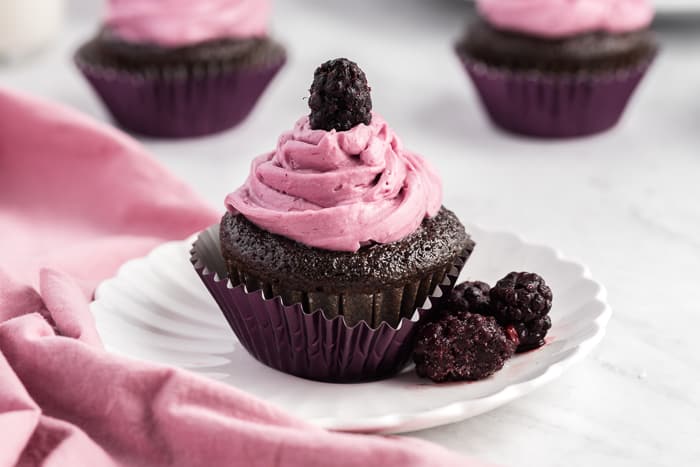 These cupcakes all came around when the Oregon Raspberry & Blackberry Commission (ORBC) asked me if I would be willing to try some of their homegrown berries. I think they already knew I loved berries as I was excited to try some of the Oregon variety berries, especially marionberry. Have you heard about marionberries or Marion blackberries? This was my first time hearing about them but being a blackberry fan, I knew I would love it.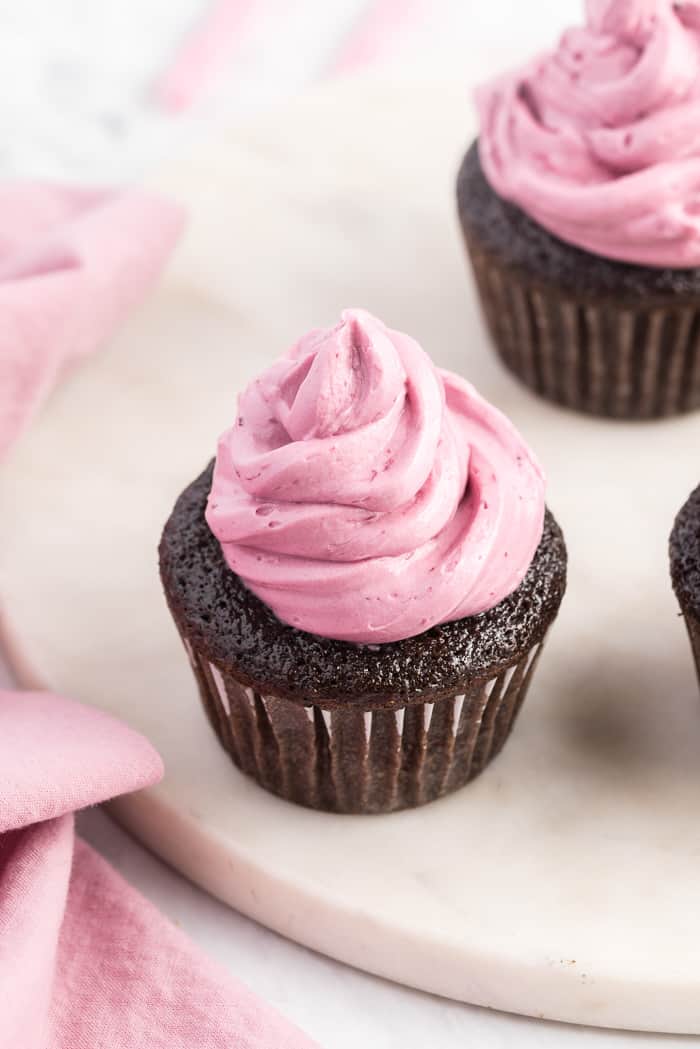 They are a native Oregonian berry that's a unique cross between Chehalem blackberry and Olallieberry blackberry and named after Marion County in Oregon. When I found out that Marionberries are known as the "Cabernet of Blackberries", I knew I had to make use of their natural rich earthy flavor by mixing them with some red wine.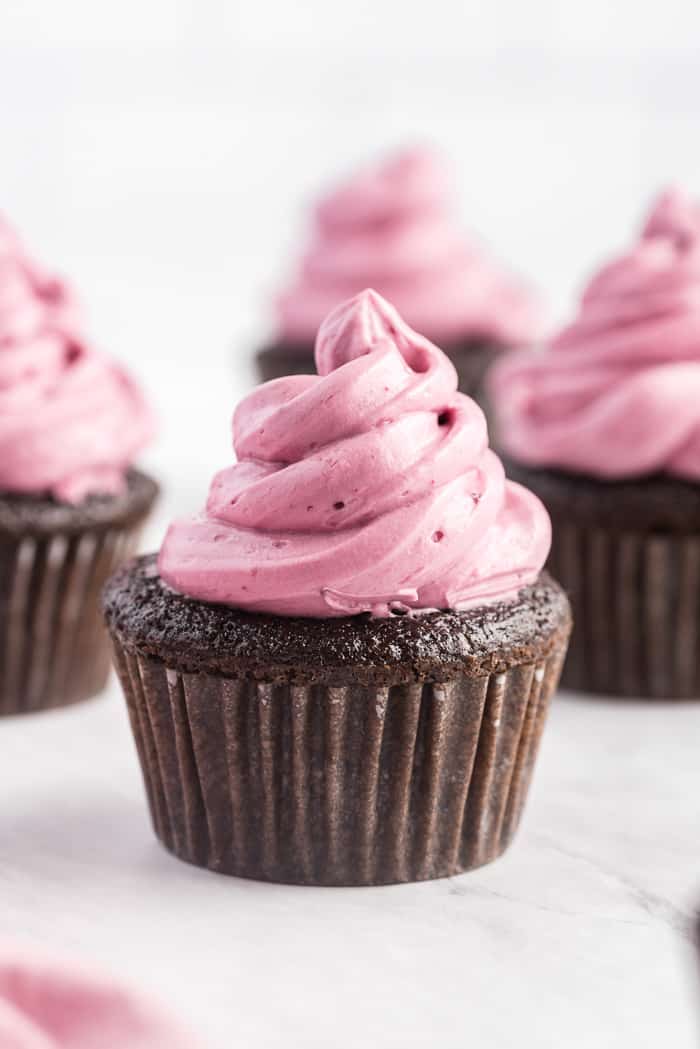 And that, my friends, was the birth of these Chocolate Red Wine Cupcakes!!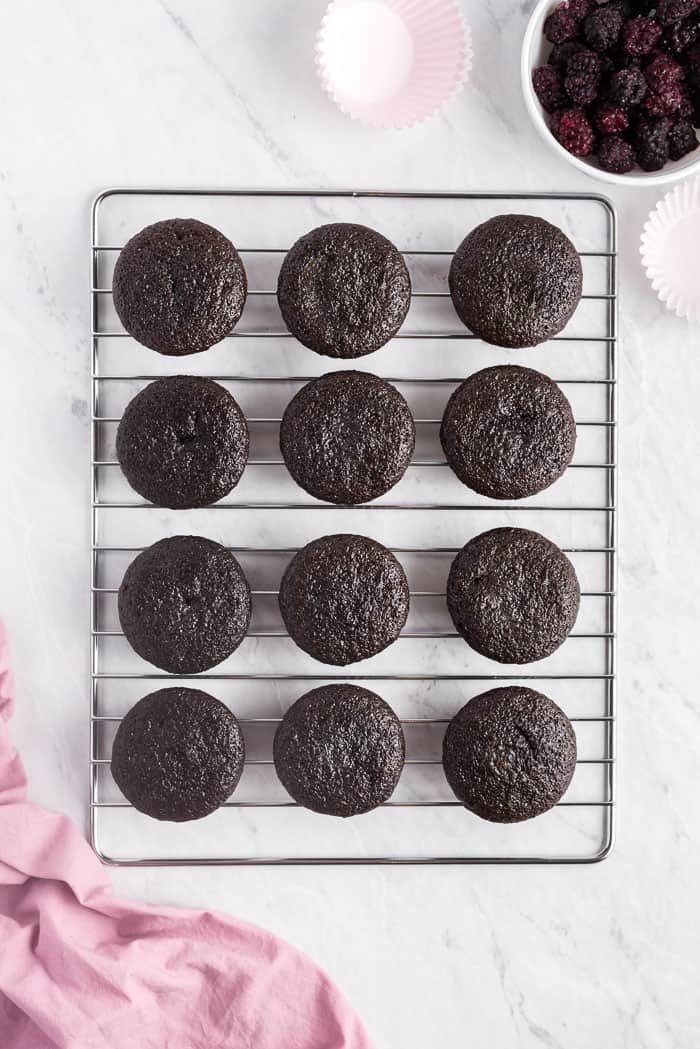 I used my favorite rich and decadent chocolate cupcake recipe and boozed it up with some red wine. I used cabernet, as that is what I had on hand, but I am sure you can use your favorite red wine in the recipe.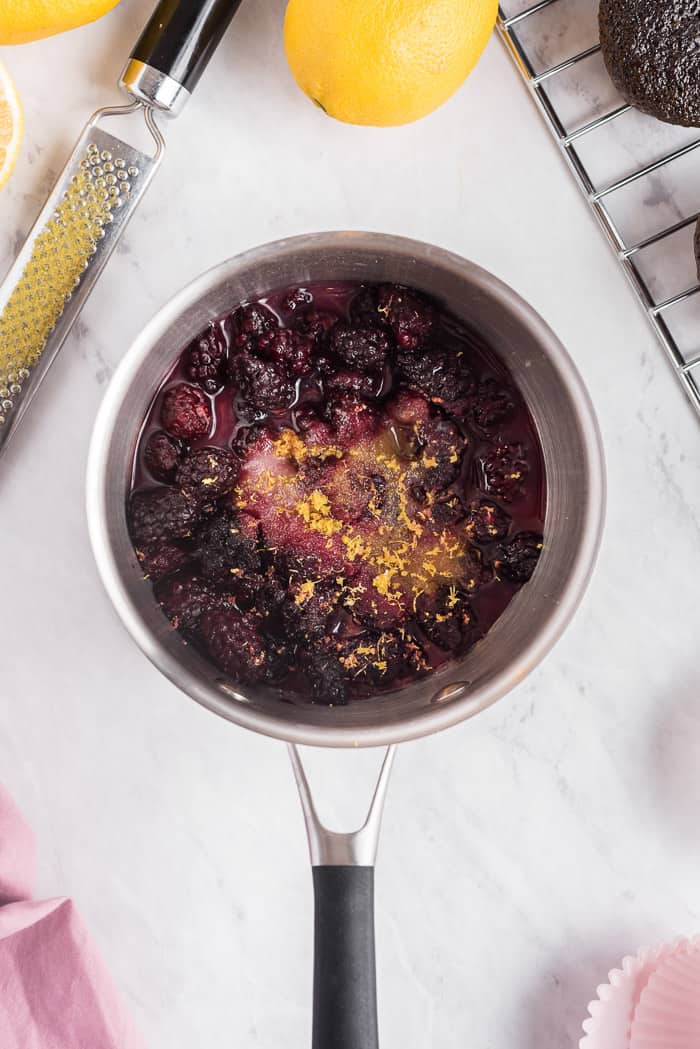 For the filling, I made a reduction of the marionberries combined with fresh lemon zest and juice and a little bit of sugar for some sweetness. This filling was used to fill the cupcake cores,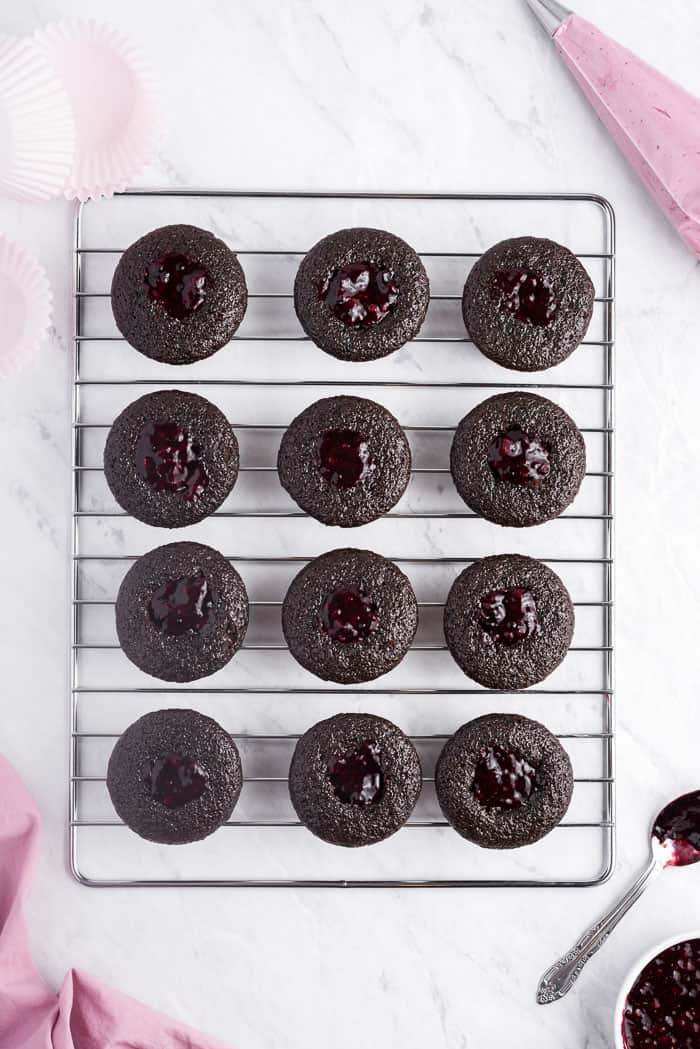 but also in the frosting. You all know I love Swiss meringue buttercream is my favorite for cakes and cupcakes, and that is what I used here. The silky texture and not-so-sweet flavor are perfect for these sweet and rich cupcakes. With a little bit of the marionberry filling, we get a beautiful naturally dyed pink frosting that will be perfect for any celebrations you have coming up.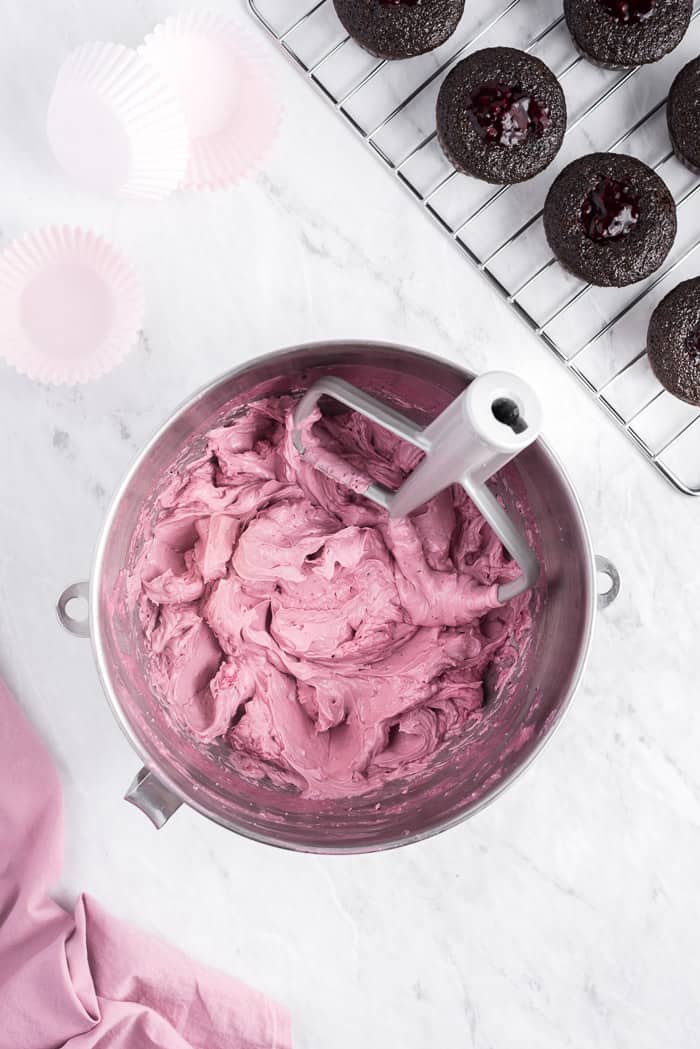 There you have it! These chocolate red wine cupcakes, my new favorite cupcake, boasting of rich flavors, are waiting to impress you. Try them soon!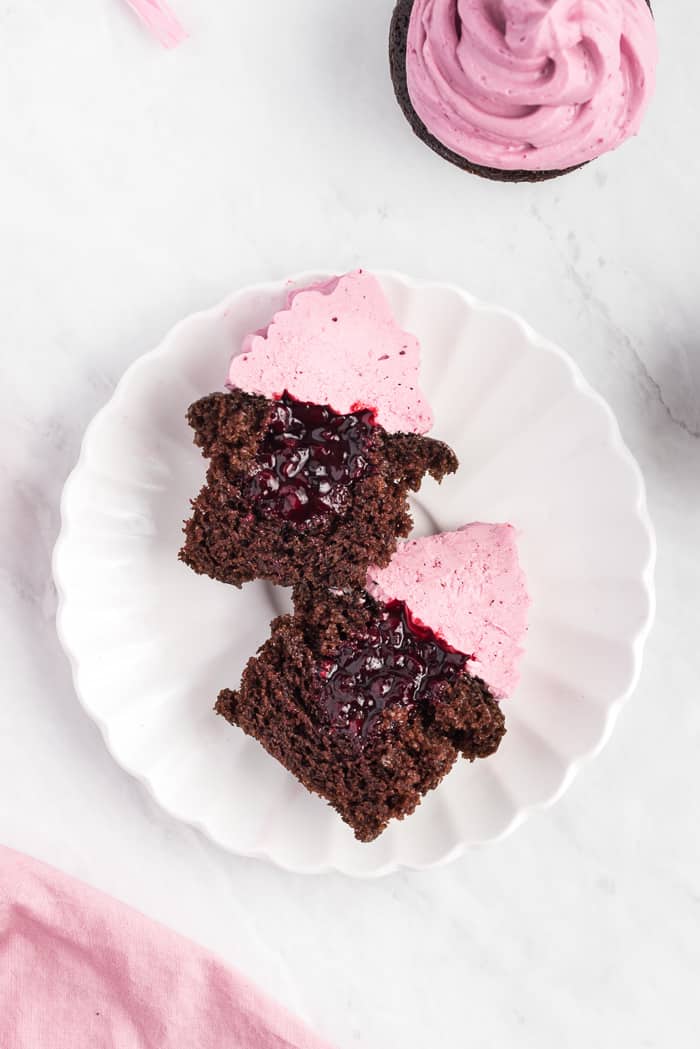 For those of us who don't live in Oregon, we can still enjoy Oregon berries in our little corners of the world. I found some freshly frozen marionberries at a few local stores; Natur-Tyme being a national carrier that you might have in your town too. For more information on the different types of Oregon berries, please visit Oregon Berries to find out more and get some recipe ideas like these Peanut Butter & Blackberry Jam Cupcakes.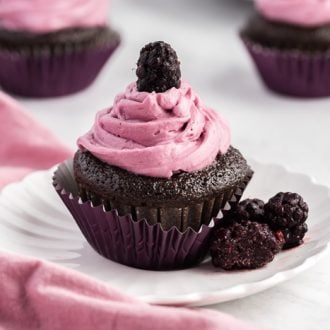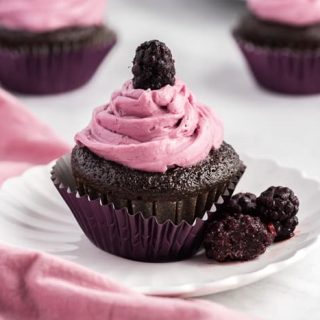 Yield: 12-15 cupcakes
Chocolate Red Wine Cupcakes
Rich and decadent chocolate red wine cupcakes are filled with a sweet Marion blackberry filling and whipped frosting in this summer recipe. Get it here!
Ingredients
For Chocolate Cupcakes:
1 cup all-purpose flour
1 cup granulated sugar
⅓ cup cocoa powder (I used Ghirardelli)
1 teaspoon baking soda
½ teaspoon baking powder
½ teaspoon salt
1 large egg, at room temperature
½ cup buttermilk, at room temperature
¼ cup hot water
¼ cup red wine (I used Cabernet but you can use your favorite dry red wine; also you can add up to 2 tablespoons more if you would like some more wine)
¼ cup vegetable oil
1½ teaspoons pure vanilla extract
For Marionberry Filling:
1 cup frozen marionberries
¼ cup granulated sugar
1 lemon, zest, and juice
1 teaspoon pure vanilla extract
For Frosting:
5 large egg whites, room temperature
1¼ cup granulated sugar
1 ½ cup (3 sticks) unsalted butter, room temperature
½ cup marionberry filling
2 teaspoons pure vanilla extract
Instructions
For the Cupcakes:
Preheat oven to 350 degrees F. Line muffin tins with cupcake liners.
Sift together all the dry ingredients in the bowl of an electric mixer.
In a medium bowl, combine all the wet ingredients using a whisk.
Mix the dry ingredients on low speed for 1 minute. Stop the mixer and add the wet ingredients. Mix for 2 minutes on medium speed and scrape the sides and bottom of the bowl. Mix for an additional minute on medium speed.
The batter will be thin. Divide evenly among the cupcake liners.
Bake for 12-15 minutes or until a toothpick inserted in the center comes out almost clean.
Cool cupcakes on wire racks completely. Meanwhile, you could start on the frosting.
While cupcake cools, make the filling.
To make the filling:
In a medium saucepan, combine the marionberries, sugar, lemon zest and juice. Simmer over medium-low heat until the marionberries are broken down and sauce thickens. Remove from heat and stir in the vanilla extract.
Divide into two and save one half as filling. The other half you can pass through a fine sieve and use in the frosting. I didn't pass mine through a sieve.
For Marionberry Swiss Meringue Buttercream:
Whisk together sugar and egg whites in a heatproof mixing bowl set over (not in) a pan of simmering water. Whisk until warm and sugar is dissolved (mixture should feel completely smooth when rubbed between your fingers), 2 to 3 minutes. Remove from heat.
With an electric mixer on medium speed, whisk egg white mixture 5 minutes (using the whisk attachment). Increase speed to medium-high, and whisk until stiff, glossy peaks form and meringue has cooled (test by feeling bottom of the bowl), about 6 minutes.
Reduce speed to medium and switch to the paddle attachment. Add butter, one piece at a time, beating well after each addition. Beat in vanilla and saved marionberry filling into the batter. Whip for an additional minute.
Use immediately or store in an airtight container in the fridge for up to a week.
Recommended Products
As an Amazon Associate and member of other affiliate programs, I earn from qualifying purchases.