Blood Orange Walnut Macarons
These blood orange walnut macarons are sweet, crunchy and bursting with the bright winter citrus flavors of blood oranges.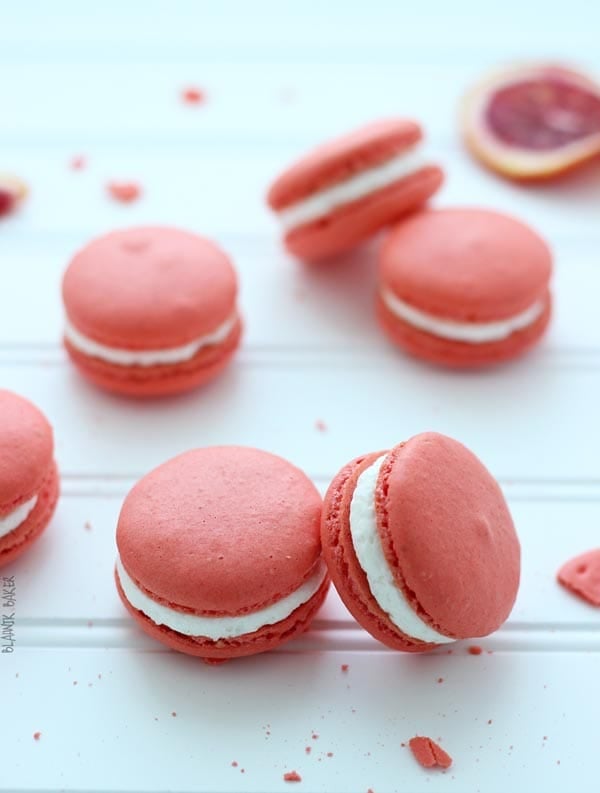 This whole losing an hour business is making me very lazy today so I am going to keep this short and sweet. Sweet being the key word for these blood orange walnut macarons. If you have been around this blog for a while you know I have a soft spot for macarons ever since I tried my hand at them almost a year ago. These French cookies are always fun to whip up and play with flavors despite their challenging temperament from time to time.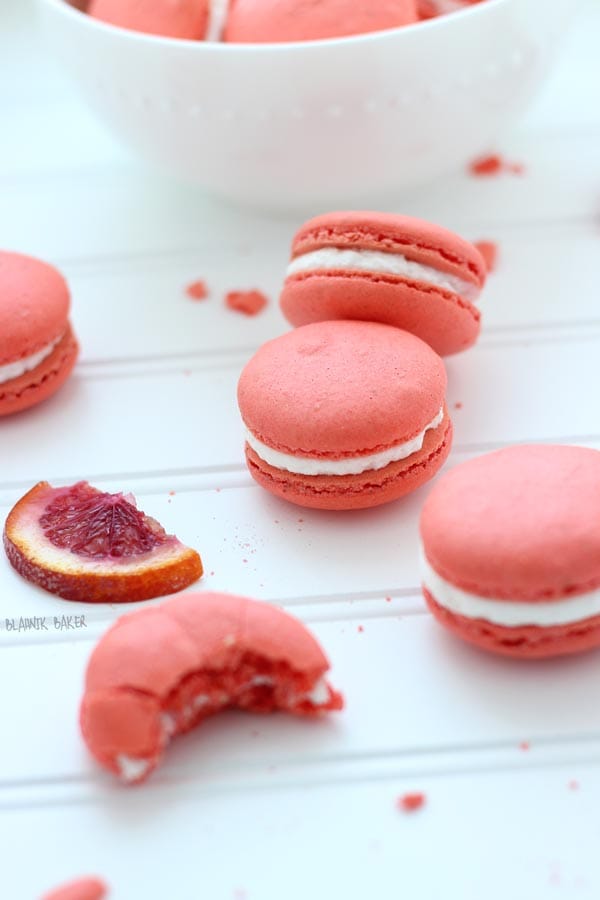 I've been meaning to adventure into more nontraditional macarons ever since my friend Allie shared her walnut macarons with spiced cream cheese and cranberry here with us over the Christmas time. I finally gave them a shot and was pleasantly surprised how toasty walnut macarons were.
These blood orange walnut macarons are a burst of citrus that are perfect as we are warming up in most parts of the country. The walnut macaron shells are pillowy crunchy with lovely notes of sweet citrus from the blood orange zest infused in the shells. The shells are filled with a simple vanilla buttercream full of blood orange zest.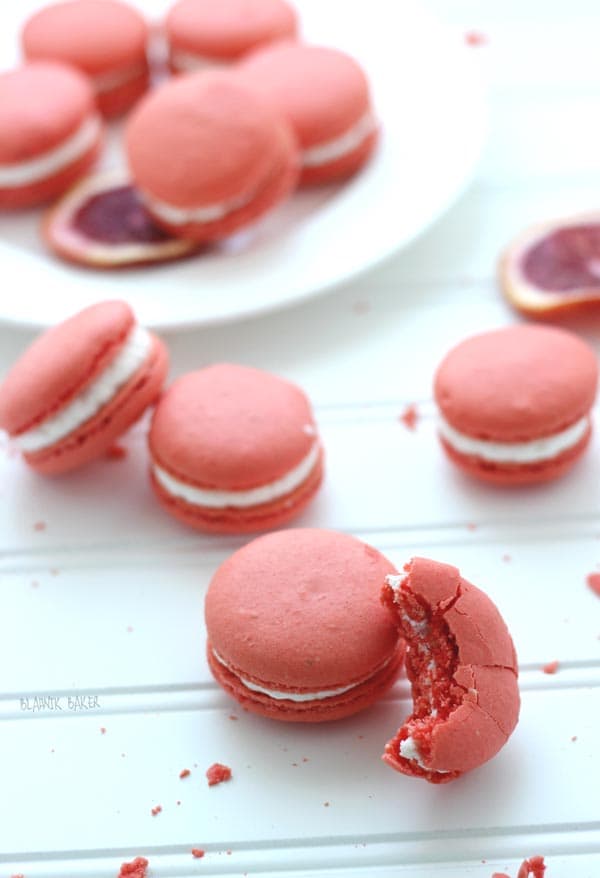 OK, so now that I have convinced you to make some walnut macarons, my job here is done. I shall return now to being lazy, catching up on some sleep and to ensure I can rejoice in the fact that spring is almost here!! Happy Monday 🙂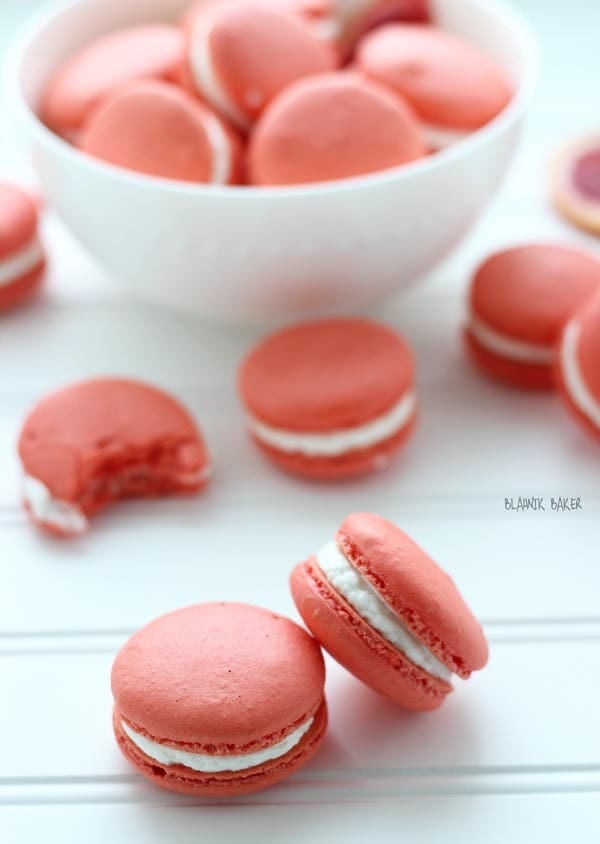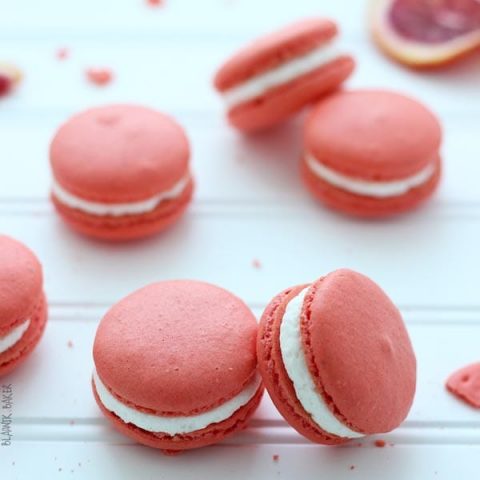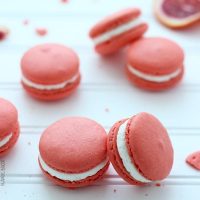 Yield: About 2 dozen macarons
Blood Orange Walnut Macarons
These blood orange walnut macarons are sweet, crunchy and bursting with the bright winter citrus flavors of blood oranges.
Ingredients
155g powdered (confectioners) sugar
50g walnut pieces
50g almond meal/flour
zest of one blood orange
3 egg whites
¼ teaspoon cream of tartar
pinch of salt
55 grams granulated sugar
Few drops of orange food coloring (optional)
8 tablespoons (1 stick) unsalted butter, softened
1½ cups powdered sugar
2 tablespoons milk
zest of one blood orange
½ teaspoon vanilla extract
2 teaspoons blood orange juice (optional)
Instructions
Line two sheet pans with parchment paper. I used a 1½-inch round cookie cutter to draw circles on the parchment paper and flip over the paper (drawing side down). Prepare a pastry bag with a round tip. I used Wilton 2A.
Using a food processor, pulse the powdered sugar, walnut pieces, almond flour and zest into fine powder. Sift several times until there is less than 2 tablespoons of almond bits left. Add these to the mixture.
In the bowl of an electric mixer with the whisk attachment, combine the egg whites, cream of tartar, sugar and salt. Whip on medium-high speed until stiff peaks form, about 5-7 minutes. Add the food coloring and whip for another minute.
Add the dry ingredients to the meringue and fold with a rubber spatula. Gently fold to deflate the meringue by pressing against the side of bowl and scooping from bottom until batter is smooth and shiny; about 20-25 folds. To check consistency, drop a spoonful of batter and it should have a peak that quickly relaxes back into the batter. Start checking the batter after 20 folds.
Transfer batter into pastry bag and pipe the batter into the pre-traced circles on the baking sheet. Tap baking sheet hard on counter to release any air bubbles trapped in the batter. Let shells sit on counter for 20-30 minutes to dry.
Preheat oven to 375 degrees F. When ready to bake, put macarons in heated oven and reduce temperature immediately to 325 degrees. Bake for 11-12 minutes. Remove from oven and transfer shells to a cooling rack. Remember to raise the temperature back up to 375 degrees F before baking the next batch.
For the Blood Orange Filling:
Whip the butter until light and creamy. Add in the rest of the ingredients and mix on low until combined. Increase speed to low and whip for additional 2-3 minutes.
Fill macarons with blood orange filling. Store in refrigerator until ready to serve. Let get to room temperature before enjoying!