Baileys Mint Oreo Ice Cream
Creamy homemade vanilla bean ice cream is spiked with baileys Irish cream and filled with crunchy mint Oreo chocolate cookies for a delightful treat.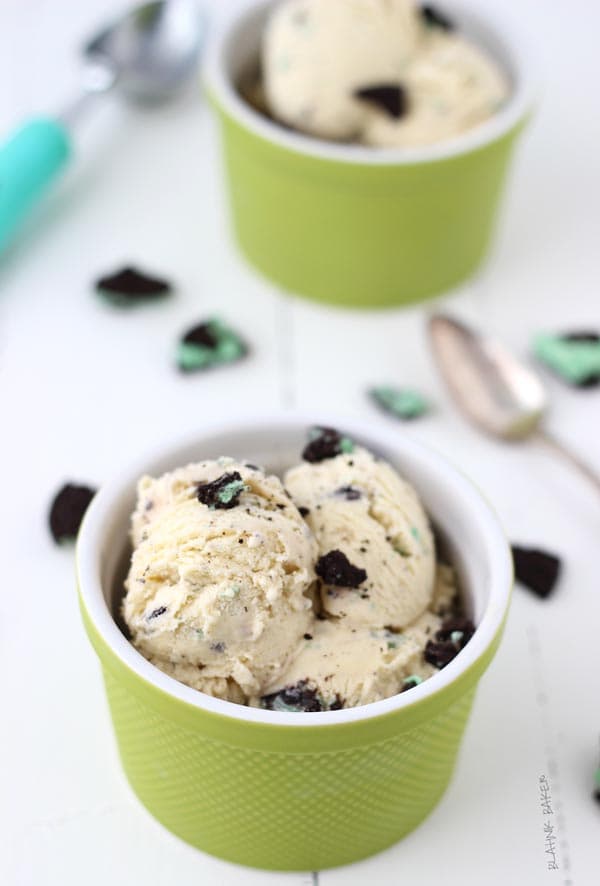 Happy Friday!! I made homemade ice cream!! First time ever and I think I am in HUGE trouble. Who starts with Baileys Mint Oreo Ice Cream? This girl. And now that I know that homemade ice cream is creamy, smooth and delicious and so much better than what you buy at the store, I am not sure I can ever go back. I am hooked and I can't help but think of all the endless combinations of flavors that can be made. Be warned people. It's going to get frozen around here!!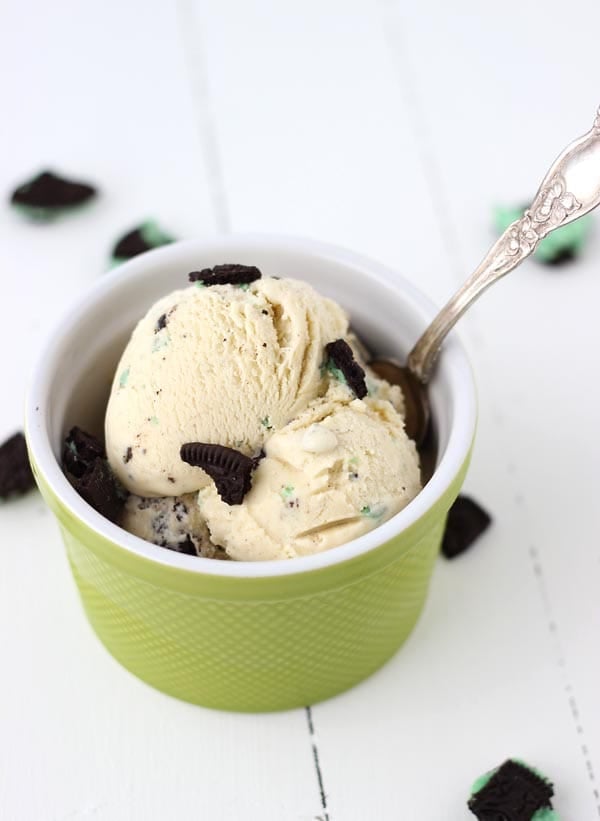 But let me back track a little and recap how we got to my very first homemade ice cream experience. I've been meaning to buy an Ice Cream maker for a while now and I even asked for your suggestions in this Beyond the Oven post a few weeks ago. Many of you recommended the Cuisinart Ice Cream maker and I was settled on getting it. But I was at dinner with some girlfriends and one of them mentioned they saw my post (who knew they actually read the blog when they know all what's going on with me and eat almost everything here 🙂 ) and have that ice cream maker sitting in their garage gathering dust. And that's how I got an ice cream maker people. The only bargain was that I send her samples every now and then. Sweet deal!
I would like to say I planned on making this St Patrick's day inspired ice cream but I did not. It just happened. After reading the manual of the ice cream maker, I decided to try it out with a basic vanilla bean ice cream. But as I was making the vanilla custard base ice cream, I saw leftovers of some mint Oreo cookies the hubs was snacking on earlier. So I crushed up a few and threw them in. I could have stopped there but of course I didn't. The last two tablespoons of  Irish cream were still sitting out from this Irish cream cheese glaze I made for the Guinness sweet rolls earlier in the week. So in went the baileys. And BAM….ice cream of addiction was made yo!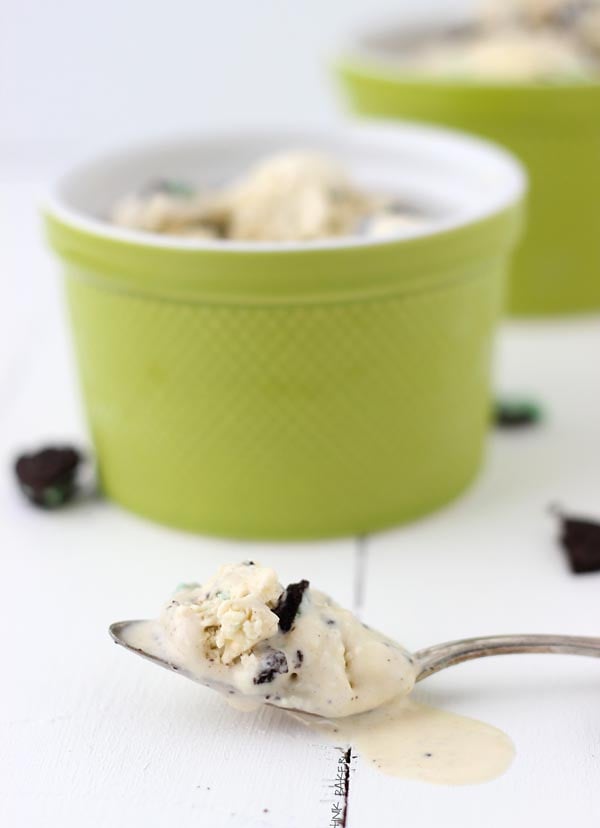 This baileys mint Oreo ice cream will be perfect for your upcoming St Patrick's day celebrations. Of course you can leave out the baileys if you would like but I will not recommend leaving out the Oreo cookies because they are an amazing addition. The mint, the crunch, the slight chocolate combined with a rich vanilla custard base ice cream is all just wonderful!! If you are a huge fan of overpowering mint, you could add in some mint extract to enhance that.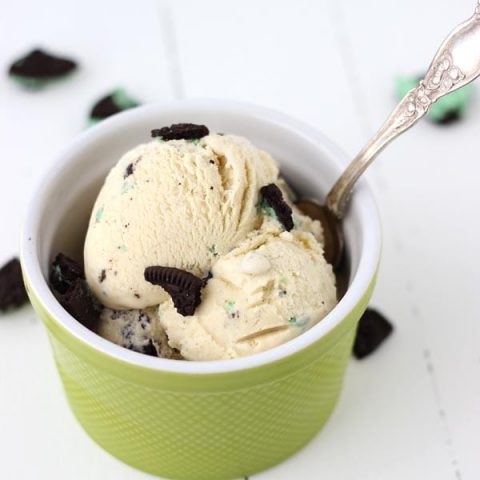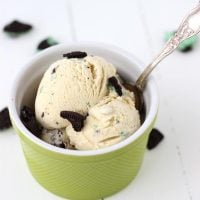 Yield: About 5 cups
Baileys Mint Oreo Ice Cream
Creamy homemade vanilla bean ice cream is spiked with baileys Irish cream and filled with crunchy mint Oreo chocolate cookies for a delightful treat.
Ingredients
1 ½ cups whole milk
1 ½ cups heavy cream
1 vanilla bean, cut in half
2 large eggs
3 large egg yolks
¾ cup granulated sugar
2 tablespoons Baileys Irish cream
5-6 Oreo mint chocolate cookies, crushed
Instructions
In a medium saucepan, combine the milk and cream. Split the vanilla bean and scrape out the seeds. Stir the seeds into the milk mixture. Over medium heat, bring the milk/cream mixture to a slow boil. Reduce heat to low and simmer for 30 minutes, stirring occasionally.
In a large bowl, combine the eggs, yolks and sugar together. Using a mixer, beat the eggs until the mixture is thick, smooth and pale yellow in color, about 2 minutes on medium speed.
Remove the vanilla bean pod from the milk mixture and pour out a cup of the hot milk/cream mixture. Reduce the mixer speed to low and slowly add the hot milk to the egg mixture. Be sure not to scramble your eggs, so add the milk in a slow steady stream while mixing the eggs on low speed. Mix until combined. Then pour the egg mixture back into the saucepan with the remaining milk/cream mixture and stir to combine. Cook, stirring constantly, over medium low heat until the mixture is thick enough to cover the back of a spoon. Transfer to a bowl, cover and chill completely.
When chilled, turn on your ice cream maker. Pour the chilled custard into the bowl and churn according to your manufacturer's instruction. About 5 minutes before completion add in the crushed Oreos and keep mixing. Add in the Baileys in the final two minutes.
Transfer ice cream to a freezer safe bowl and freeze for about 3 hours or overnight.
I hope you don't think I have a problem because I started the week extremely happy with these Guinness Pistachios Sweet Rolls and now we are ending the week with this creamy baileys mint Oreo ice cream. It has been a good week indeed!!
Hope you all have a wonderful weekend.