No Bake Caramel Pie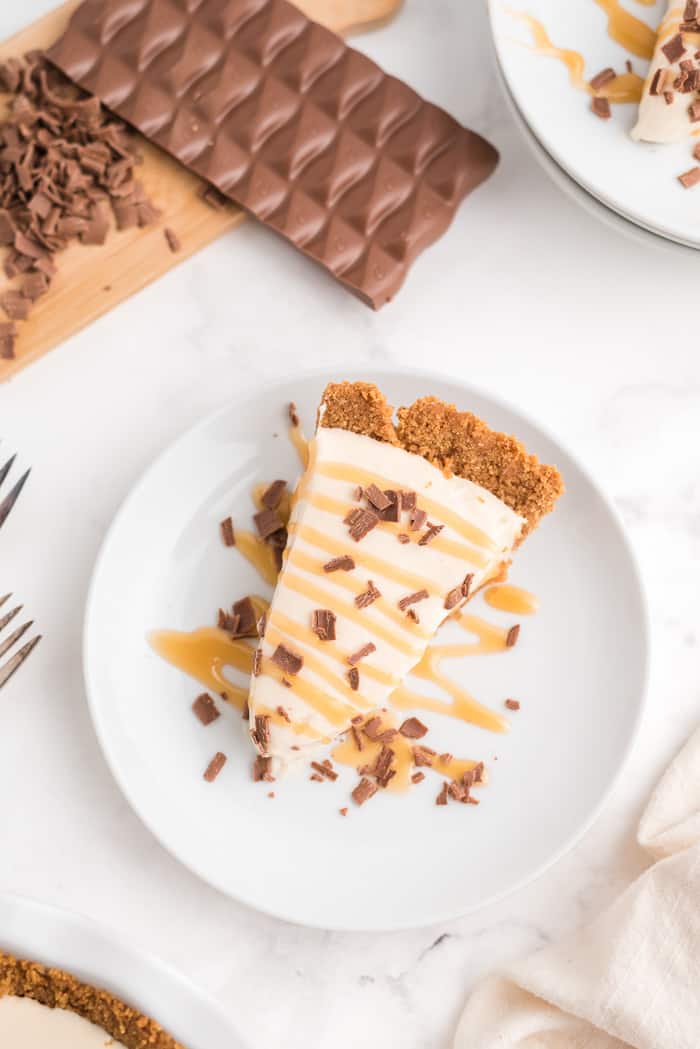 Hey there friends. Today, we will be talking about a flavor that gets overshadowed by chocolate and vanilla way more than it should. It's a flavor that reminds me of fall, of those delicious desserts you find at local carnivals, and that blankets apples during Halloween. Yep, you guessed it; Caramel is the highlight of this pie. This No-Bake Caramel Pie is going to be a favorite of yours in no time.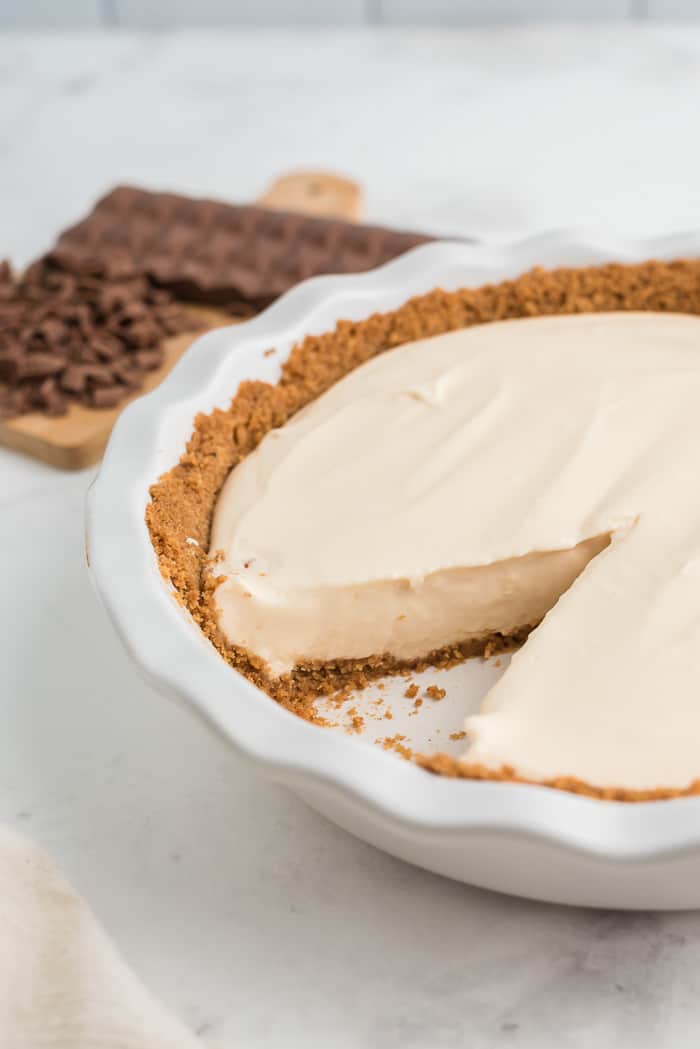 Since we are in the heat of summer and global warming is clearly showing off, no-bake treats are where it's at for a while. Any recipe that does not include the oven for an extended time is a winner in my book. Who wants to be miserable standing over a hot stove all day while it's 105 degrees outside? Not this girl, that's for sure. If you are new around here, I am a fan of no-bake pie recipes. Here are a few to enjoy this season Classic No-Bake Cheesecake, No-Bake Peanut Butter Chocolate Pie, and Peanut Butter S'mores Pie (No-Bake).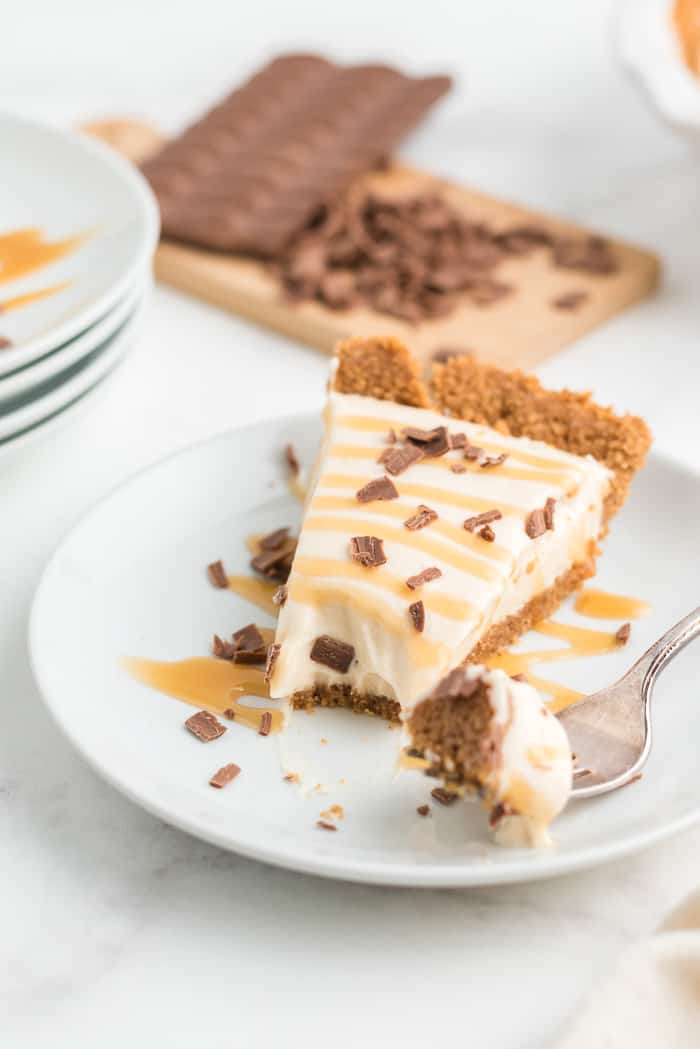 But first, let's dig into this No-Bake Caramel Pie. Crunchy graham cracker crust supports all the richness of the creamy sweet and salty whipped cream cheese filling and is perfectly topped with chocolate shavings and more caramel drizzle. It is as heavenly as it sounds.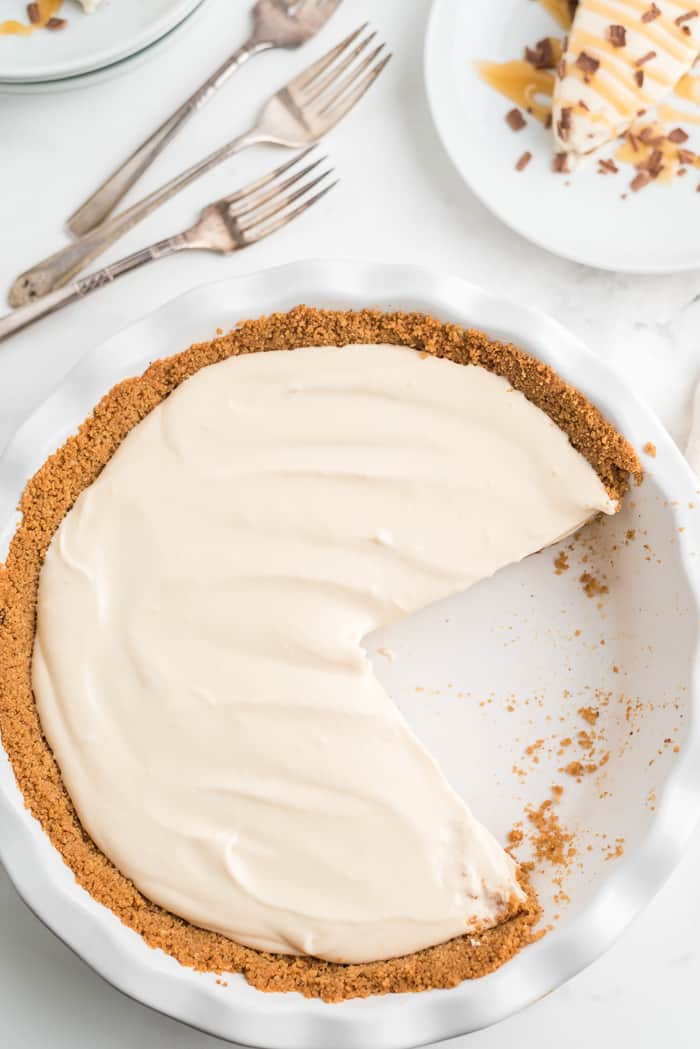 I have a few step-by-step photos of how to make this recipe so let's walk through it. If you are not interested in the step-by-step. please scroll to the end for the recipe 🙂
All successful recipes start by you gathering your ingredients. Have them all ready to go before you start.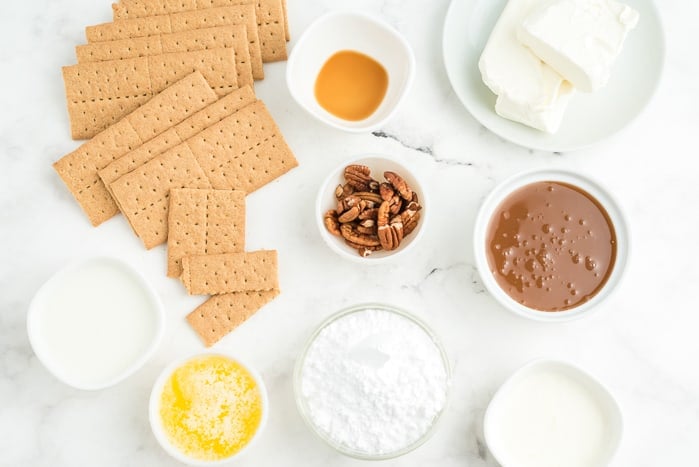 The crust is made of graham crackers and pecans. Process in a food processor until finely ground and then mix with melted butter.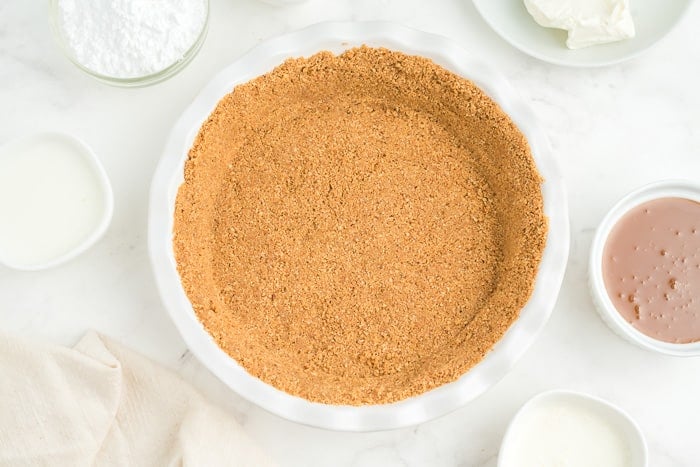 Transfer your mixture into the pie pan and firmly press into the bottom and sides until you have an even layer. Make sure every side is covered. You can use your fingers or a spoon for this step. You can either bake the crust in the oven for 10-12 minutes or freeze while you prepare the filling.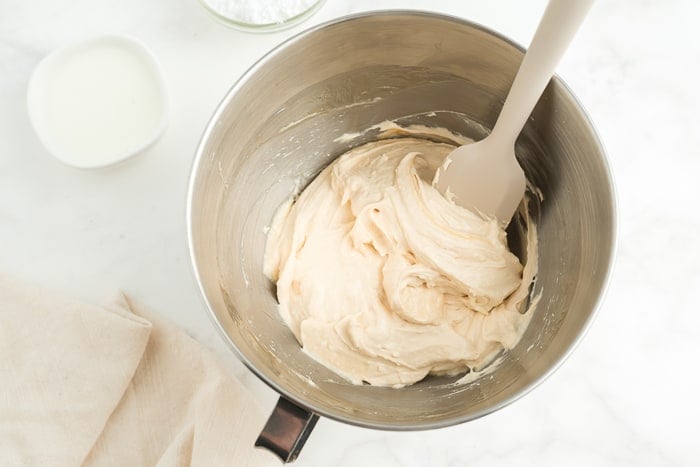 Next up is the filling. The base is made of cream cheese, powdered sugar, caramel sauce, and vanilla extract. This base is then infused with some homemade whipped cream which adds in some fluff and makes the filling more creamier.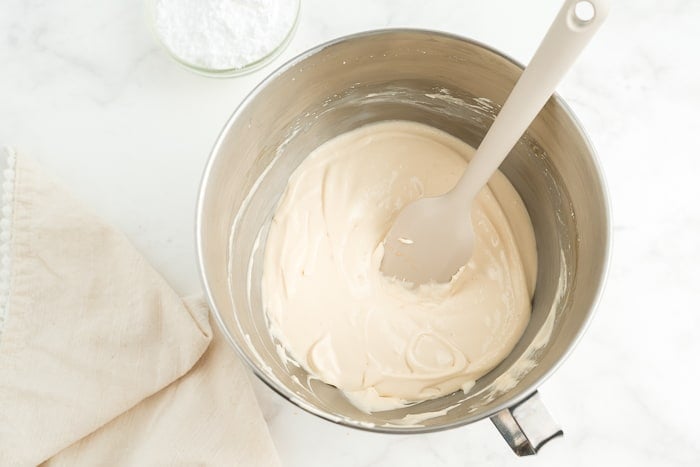 Spoon your filling into your baked pie crust and spread into an even layer. Cover with plastic wrap and set it in the fridge for at least 3 hours, but it can be left overnight.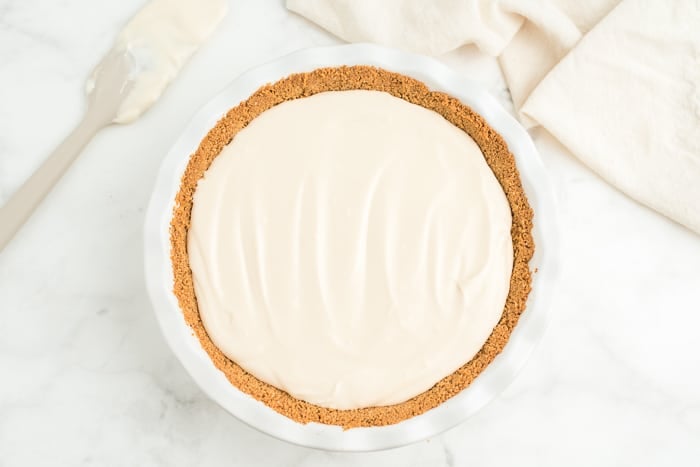 Remove the plastic wrap, drizzle as much caramel sauce on there as you want. Top with chocolate shavings, and this dessert is ready to be served.
Keep this dessert chilled until ready to eat. Always store leftovers (if there are any) in the fridge as well.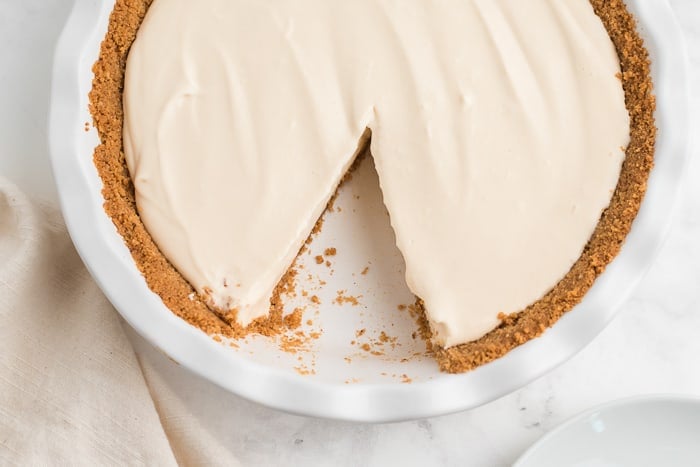 Given that this is a caramel pie, it will also come in handy during the fall holiday season. Thanksgiving is a little bit away, but it is never too early to think about what you will be serving. This No-Bake Caramel Pie would be a beautiful addition to your family gathering and you won't even have to use up oven baking time :).
Caramel doesn't get enough credit, but I hope I did it justice in this recipe and that you too will enjoy it right in your very own home.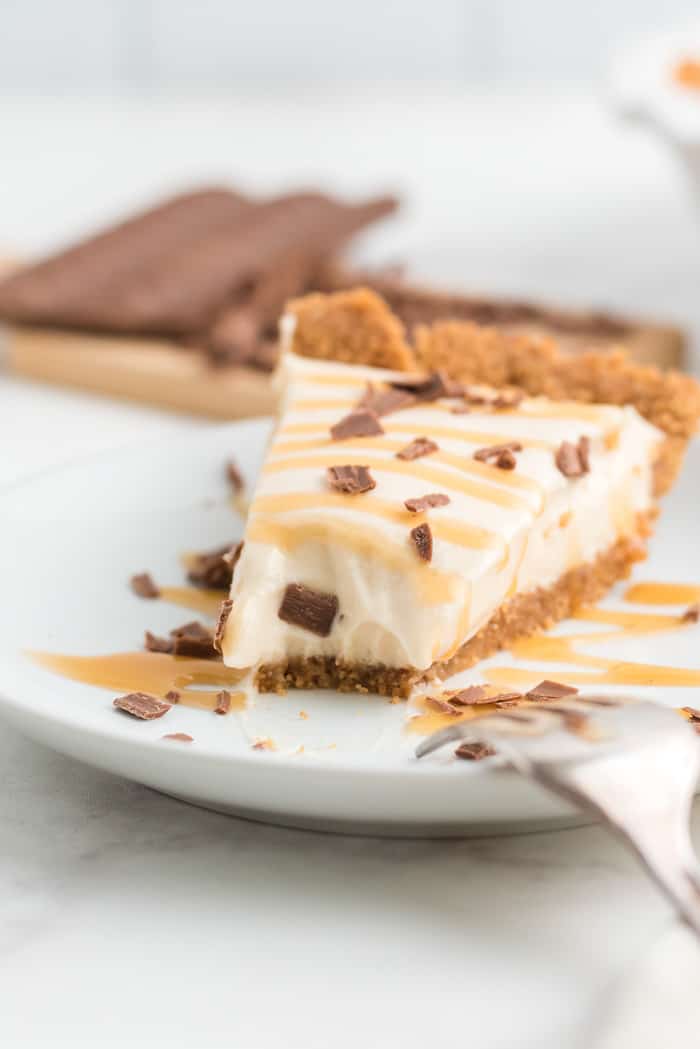 More No Bake Desserts to try
Plan on trying it? Make sure to tag #aclassictwist on your social media and share in the comments how it went. I love hearing all of your beautiful stories bringing these recipes to life.
Have a wonderful day :-).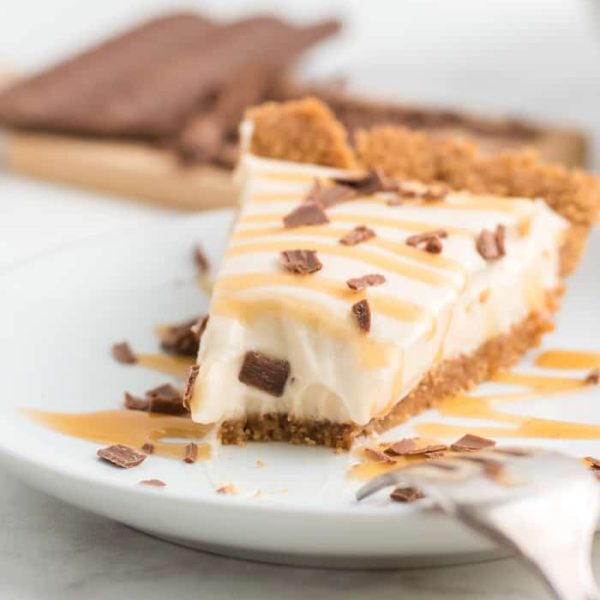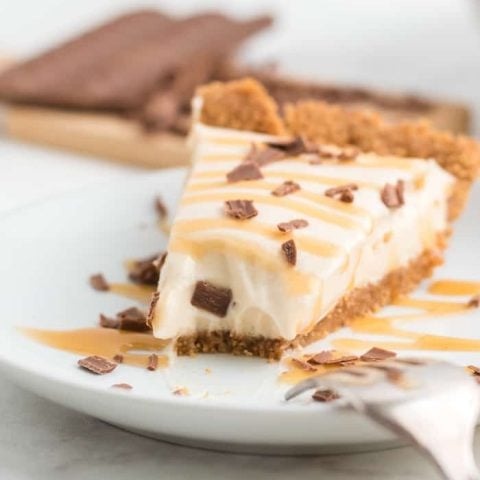 Yield: 1 9-inch pie
No Bake Caramel Pie
A No-Bake Caramel Pie with a crunchy pecan graham cracker crust and a creamy caramel filling.
Cook Time
3 hours
25 minutes
Total Time
3 hours
55 minutes
Ingredients
For Peanut Graham Cracker Crust
1 cup graham cracker crumbs (or 9 whole graham crackers)
¼ cup pecans (or cocktail peanuts if you like)
4 tablespoons unsalted butter, melted
For Filling
1/2 cup heavy cream, cold
12 ounces cream cheese (1 1/2 packages), at room temperature
⅓ cup whole milk
1 teaspoon pure vanilla extract
¾ cup powdered sugar
Topping
caramel drizzle, chocolate shavings
Instructions
To make the crust:
Preheat oven to 350 degrees F. Grease a 9-ince pie dish and set aside.
Combine the graham cracker crumbs and pecans (or peanuts) in the bowl of a food processor and pulse until finely ground. Drizzle the melted butter over the mixture and pulse until combined and mixtures looks like wet sand.
Press into the bottom and sides of the prepared pie dish. Bake the crust until set, about 10-12 minutes. Transfer to a rack and let cool completely.
To make filling:
Meanwhile, in the bowl of an electric mixer, beat the heavy cream on medium-high speed until soft peaks form. Transfer to a small bowl and refrigerate until ready to use.
In a clean bowl, beat the cream cheese until smooth, about 2-3 minute son medium speed. Beat in the caramel sauce, milk and vanilla extract until combined and smooth.
Reduce speed to low and add in the powdered sugar. Mix until combined. Using a rubber spatula, gently fold in half of the whipped cream until just incorporated and then fold in the rest. Spoon the filling into the crust and smooth the top.
Cover with plastic wrap and chill until set, about 3 hours or overnight.
To serve, top with chocolate shavings and caramel drizzles.
Notes
Cook time includes chilling time.
Recommended Products
As an Amazon Associate and member of other affiliate programs, I earn from qualifying purchases.