No Bake Peppermint Mocha Pie
This homemade No-Bake Peppermint Mocha Pie is creamy, decadent, and a great way to celebrate the flavors of the season!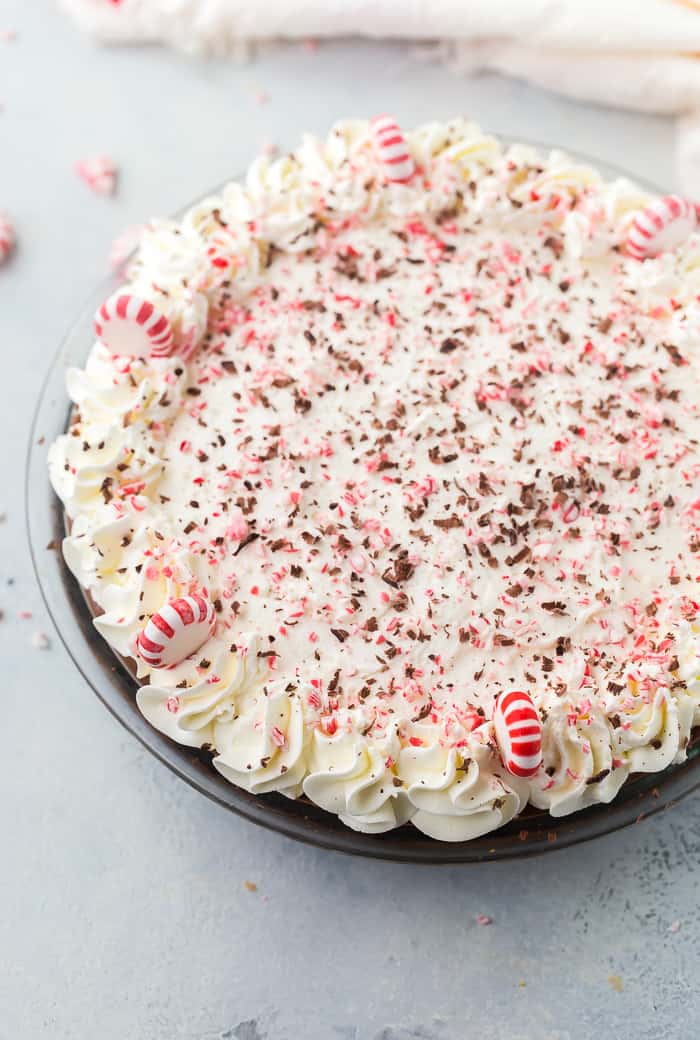 'Tis the season for all things peppermint, and I am loving it! One of my favorite drinks during the season is a Peppermint Mocha Cocktail, and I like to mix those flavors into as many delectable desserts as I can.
If you love the flavor of peppermint mocha try my peppermint mocha cupcakes.
This Peppermint Mocha Pie is my latest and greatest! I love that it's no-bake because that means I have more room in the oven for things like Christmas cookies, cheesecakes, or even dinner.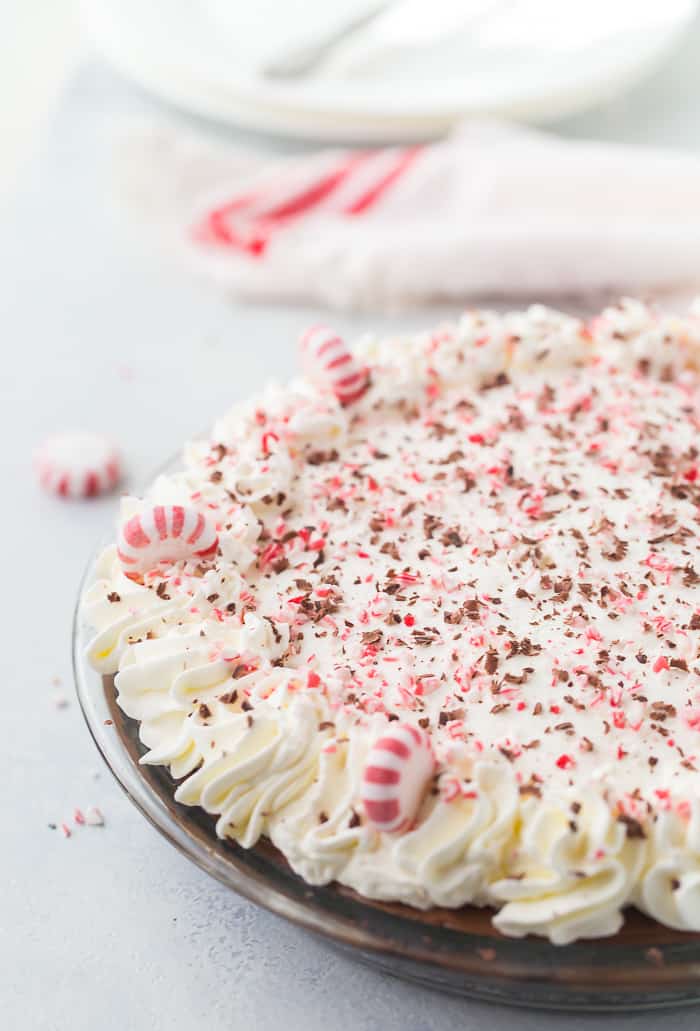 How to Make No Bake Peppermint Mocha Pie
For this no-bake pie, I like to use an Oreo crust. It really pairs well with the peppermint and mocha flavor and so easy to make. To make the crust, all you do is pulse Oreo cookies until finely ground and mix with melted butter. That's it! One of my favorite crusts to bring in that decadent chocolate flavor. It is also one that makes any no-bake pie a winner. You can either freeze it or do a quick 10 minutes bake in the oven.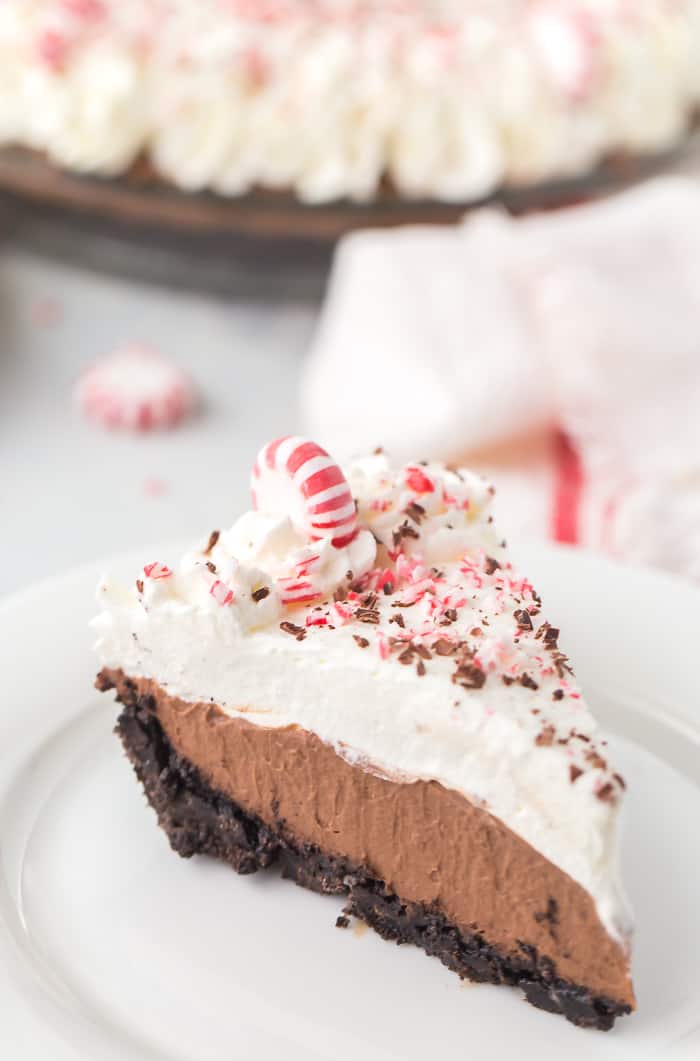 Now on to the filling! Oh, it is a good one and so rich and creamy. It's good quality chocolate melted into a pudding. Think creamy decadent chocolate pudding infused with coffee and peppermint extract. A delight and one that is surprisingly satisfying. Peppermint mocha fans?? This is for you!
This pudding sits in our incredible Oreo pie crust and then topped with homemade whipped cream. Serve this pie with crushed canes and shave chocolate.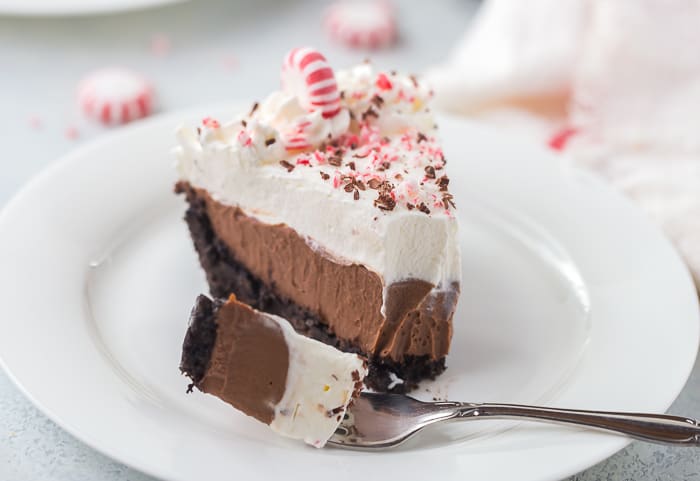 If you liked this No Bake Peppermint Mocha Pie, check out these recipes: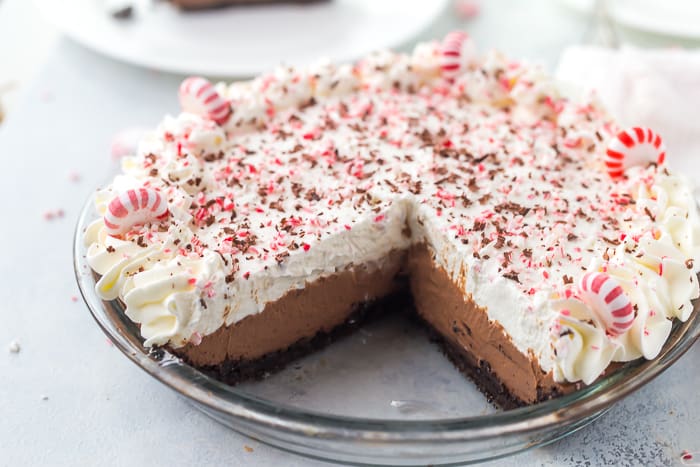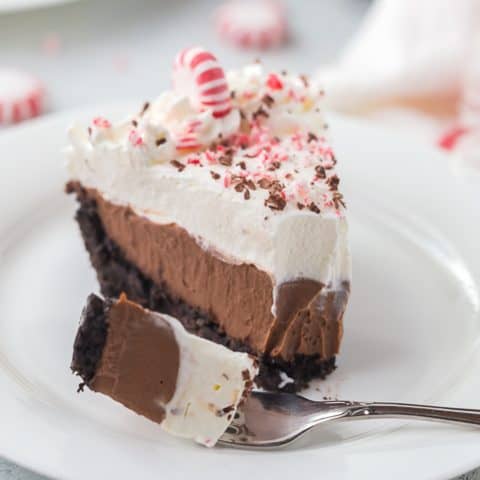 Yield: 1 9-inch pie
No Bake Peppermint Mocha Pie
A decadent no-bake peppermint mocha pie with an oreo crust.
Total Time
1 hour
5 minutes
Ingredients
For Oreo Crust:
30 Oreo Cookies
6 tablespoons unsalted butter, melted
For Filling:
1 1/2 cups milk (I used 2%)
½ cup freshly brewed hot coffee
¼ cup cornstarch
¼ teaspoon kosher salt
2 tablespoons espresso powder
1 cup heavy whipping cream
3 large egg yolks
1 teaspoon peppermint extract
6 ounces dark chocolate, chopped finely
Homemade whipped cream (for topping)
Crushed candy canes (for topping)
Instructions
For Oreo Crust:
In the bowl of a food processor, pulse the Oreo cookies until finely ground.
With the food processor on low, stream in the melted butter, and pulse until combined.
Transfer the oreo mix into a 9-inch baking dish. Press down, using a flat cup, to the bottom of the dish and up the sides if desired.
Freeze crust until ready to use. Alternatively, you could bake it for 10 minutes at 350 degrees and let it cool completly.
For Pudding Filling:
In a large saucepan set over medium heat, combine the milk and hot coffee. Bring to a low simmer and reduce heat. Don't let it boil over.
Meanwhile, in a separate medium bowl, whisk together cornstarch, salt, espresso powder, and heavy cream until well combined. Add in the egg yolks and whisk until combined.
Slowly add in a cup of the hot milk mixture into the eggs, whisking constantly. Pour the contents of the bowl into the saucepan and whisk continuously until pudding starts to boil and thicken.
Whisk (do not stop) until smooth, about 5 minutes. Remove from heat and whisk in the peppermint extract and chopped chocolate. Whisk until smooth. Let pudding cool for 10-15 minutes, whisking occasionally.
Pour pudding into the oreo pie crust. Cover with plastic wrap, touching the surface of the pie, and refrigerate for at least 4 hours or overnight (preferred).
When ready to serve, top pie with whipped cream, crushed peppermint candies, and shaved chocolate.
Recommended Products
As an Amazon Associate and member of other affiliate programs, I earn from qualifying purchases.