Orange Pound Cake with Orange Juice Glaze
This Orange Pound Cake recipe is sponsored by Florida Orange Juice. All opinions are 100% mine.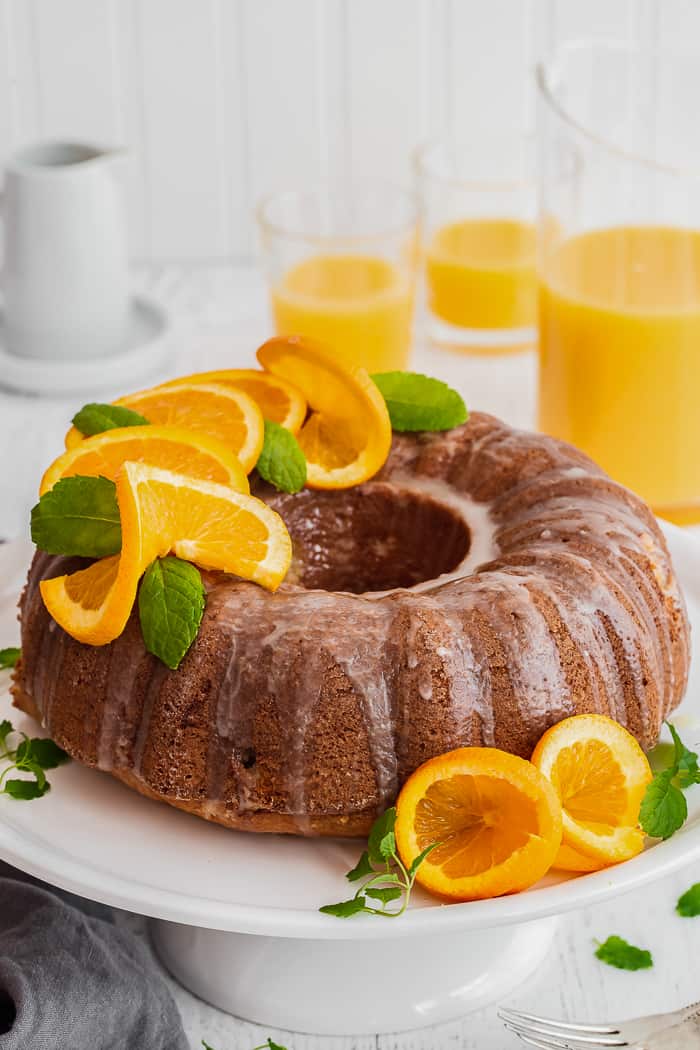 Hello friends! I have a great Orange Pound Cake recipe for you today. One that I know will become a family favorite the minute you try it. But first, let's check-in.
How are you doing?? I hope you are having a great start to your week. It is getting close to the end of the year and I hope you have some time reserved to kick back, relax and rejuvenate.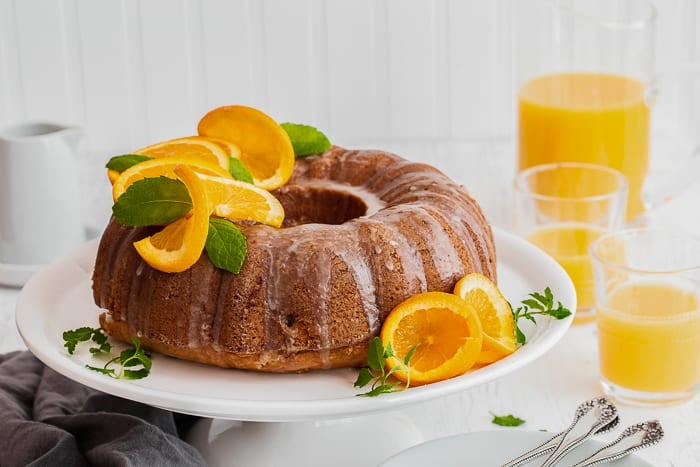 For me, I am focusing my energy on doing whatever I can to stay healthy and support my immune system especially as we go through the flu and winter season. This is one of the reasons why I make sure I am drinking Florida Orange Juice, the original wellness drink.
Florida OJ provides me with important nutrients throughout the year to continually support my immune system. We all know that a 4- or 8-ounce glass of 100% orange juice is an excellent source of Vitamin C, an antioxidant that supports the immune system. In addition to serving it to my kids regularly, I also use it to bake!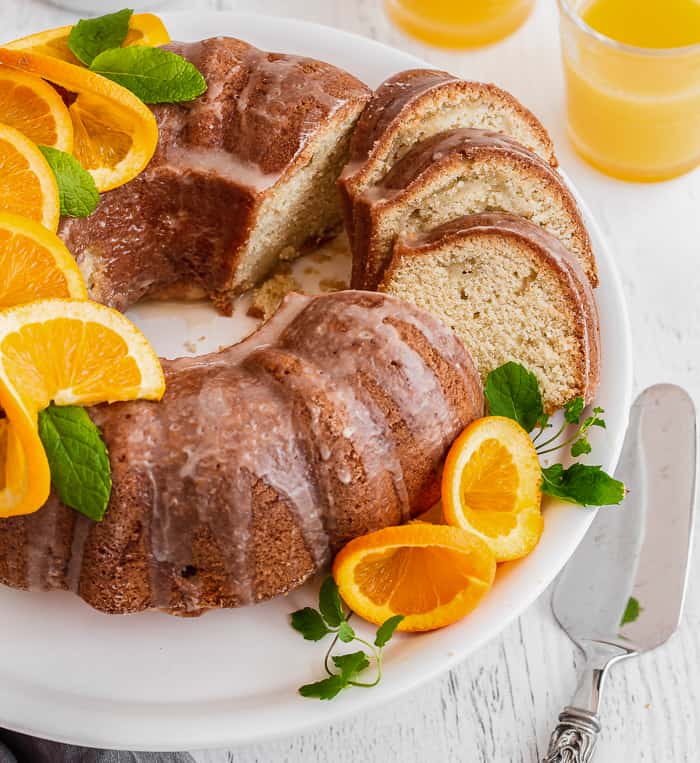 This orange pound cake is a citrus lover's dream!! You all know I love baking with citrus this time of the year. Remember this grapefruit tart? Or this wonderful winter citrus cake. This year, I am bringing you this orange pound cake that is delightful with a soft crumb cake. The cake and the glaze are of course infused with Florida Orange Juice to really highlight this citrus flavor and get in essential nutrients from 100% orange juice.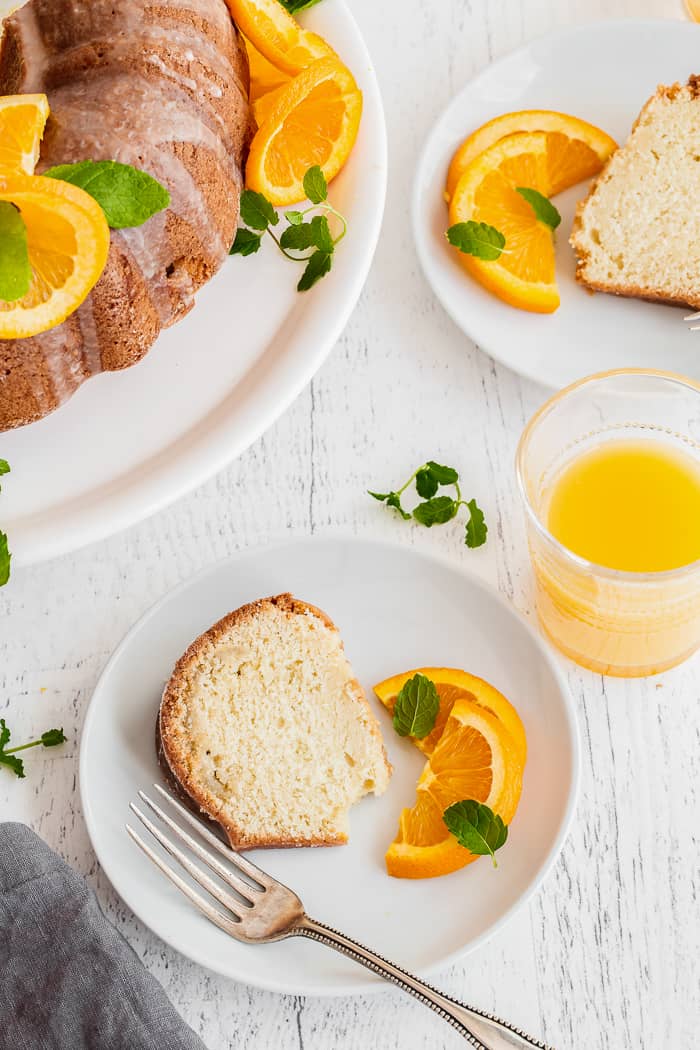 How to Make this Orange Pound Cake
A good pound cake starts with a batter that is well aerated, creamed, and flavorful. This particular one starts with rubbing the orange zest into granulated sugar. This brings out the oils of the orange peel into every grain of sugar. We then use this orange sugar together with the butter to create a light and airy base. As always, whip that butter and sugar well. Creaming butter and sugar helps to give this pound cake structure by beating air into the butter, while the sugar helps to hold the air.
The rest of the steps are simple. We beat in the eggs and then incorporate our dry ingredients alternating with the wet ingredients. We just need to make sure we don't over mix and get rid of all that air we whipped into the butter. This cake bakes easily and turns out so great, especially with the addition of the Florida Orange Juice glaze. The structure, the orange flavor, the crumb, and the moist cake, is all amazing. It is truly a special cake.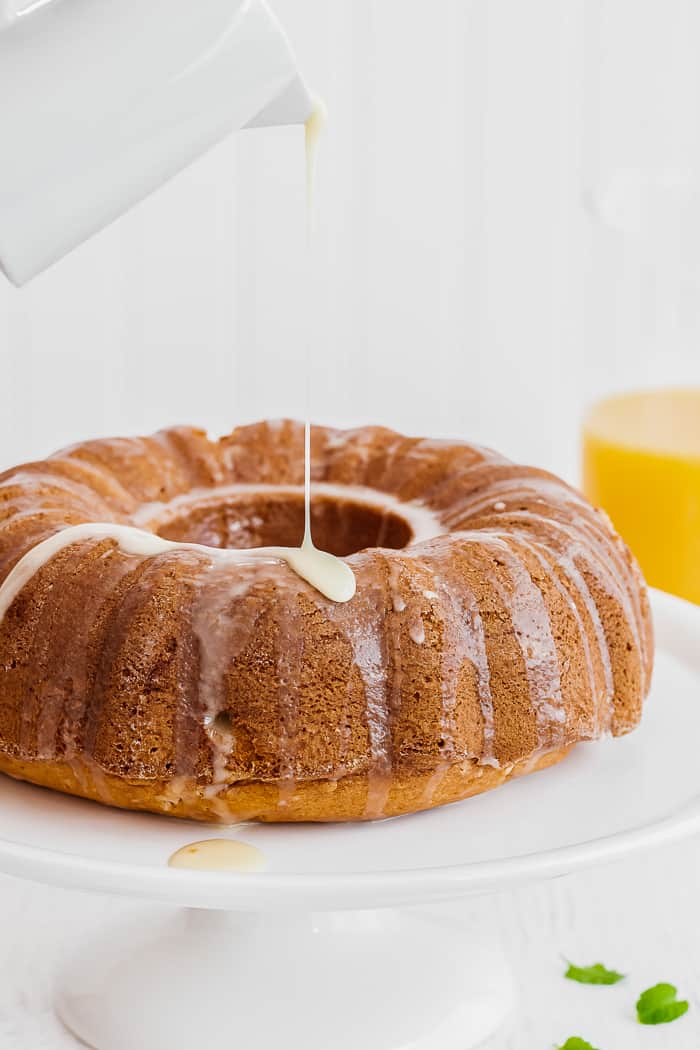 To finish off the orange pound cake, add a healthy drizzle of the Florida Orange Juice glaze to the cake for a delicious citrus flavor. I am always looking for ways to sneak in more nutrients for my little guys. So any chance I get I sneak in 100% OJ which is a good source of potassium, folate, and thiamin to help support overall immune system function.
Isn't it so simple?? One of the reasons why I love pound cakes, besides how easy they are to make and the moist, soft cake you get, is because they are elegant. They are an easy centerpiece for any holiday table. A simple cake pan makes all the decorating decisions for you!
I like to serve this cake with a 4-6 oz serving of 100% orange juice for my kids. This helps them meet recommended fruit intake and provides a substantial amount of other vital nutrients, especially vitamin C.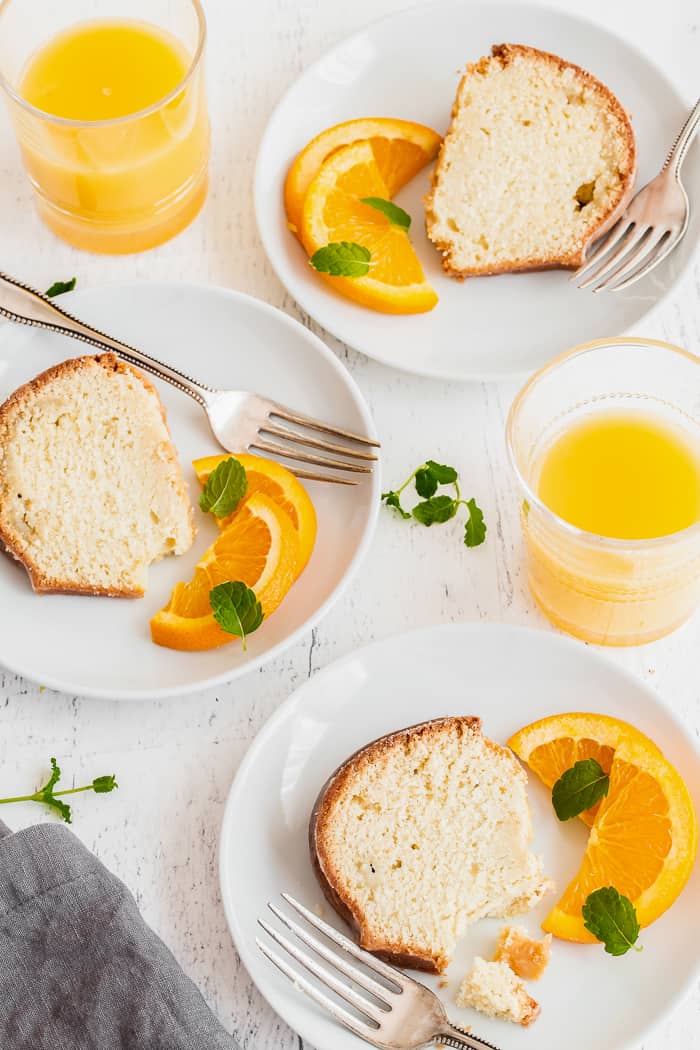 What are some of your winter wellness routines?
For me, drinking Florida OJ is up there with daily yoga for my mind and body. 100% orange juice can help you stay hydrated because it delivers electrolytes like potassium, calcium (in fortified juice), and magnesium. This helps support both your fluid balance and wellness routine. We all need to focus on ways to keep our spirits and body well during this long winter ahead.
I hope you will try this pound cake and love it. Be sure to incorporate 100% orange juice, whether in a glass or a recipe, into your routine this season to provide those key nutrients that help support your immune system this winter season and throughout the whole year.
For more recipe ideas with 100% orange juice, check out the Florida Orange Juice website, Instagram, Facebook, and Pinterest.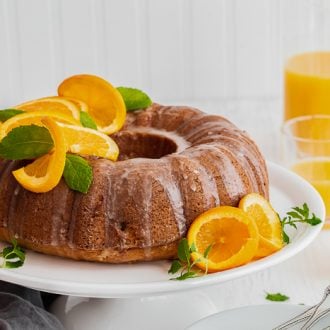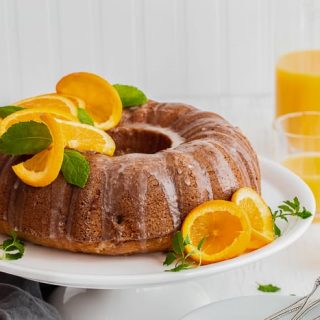 Yield: 1 large bundt cake
Orange Pound Cake Recipe
A refreshing bright Orange Pound Cake with sweet orange icing.
Total Time
1 hour
25 minutes
Ingredients
For the Cake:
2 ¼ cups all-purpose flour
¾ teaspoon baking powder
½ teaspoon baking soda
¼ teaspoon salt
½ cup whole milk, at room temperature
¼ cup of 100% orange juice
1 teaspoon pure vanilla extract
1 ½ cups granulated sugar
zest of one orange
1 ¼ cup (2 ½ sticks) unsalted butter, softened at room temperature
3 large eggs, at room temperature
FOR GLAZE:
¼ cup of 100% orange juice
¾ - 1 cup powdered sugar
Orange zest, for topping (optional)
Instructions
Preheat oven to 350 degrees F. Grease and flour a 10-cup bundt pan.
In a medium bowl, whisk together flour, baking powder, baking soda, and salt.
In a small bowl, whisk together the milk, orange juice, and vanilla extract.
In the bowl of a stand mixer or large bowl, combine the sugar and orange zest. Using your fingers, rub the zest into the sugar until fragrant.
Using an electric mixer, cream butter, and sugar mixture together until pale and fluffy, about 5 minutes on medium-high speed.
Add eggs one at a time, beating until just combined after each addition.
Reduce mixer speed to low and alternately add flour mixture and milk mixture, beating just until moistened after each addition. Finish incorporating the batter by hand.
Pour batter into the prepared pan. Bake cake until lightly golden or a toothpick inserted into the center comes out clean, about 40- 45 minutes.
Let cake cool in pan on a wire rack for about 10 minutes. Turn over the cake onto a wire rack and let the cake cool completely.
When ready to serve, make the glaze. Whisk together all the ingredients in a small bowl until smooth. If needed, add more powdered sugar to get it into your desired drizzling consistency.
Drizzle over cake and let the icing sit for 10-15 minutes to set.
Recommended Products
As an Amazon Associate and member of other affiliate programs, I earn from qualifying purchases.