Dark and Stormy Ginger Cookies
These dark and stormy ginger cookies are a holiday treat! They are sweetened with molasses, infused with rum, rolled in zesty lime sugar, and topped with a rum glaze.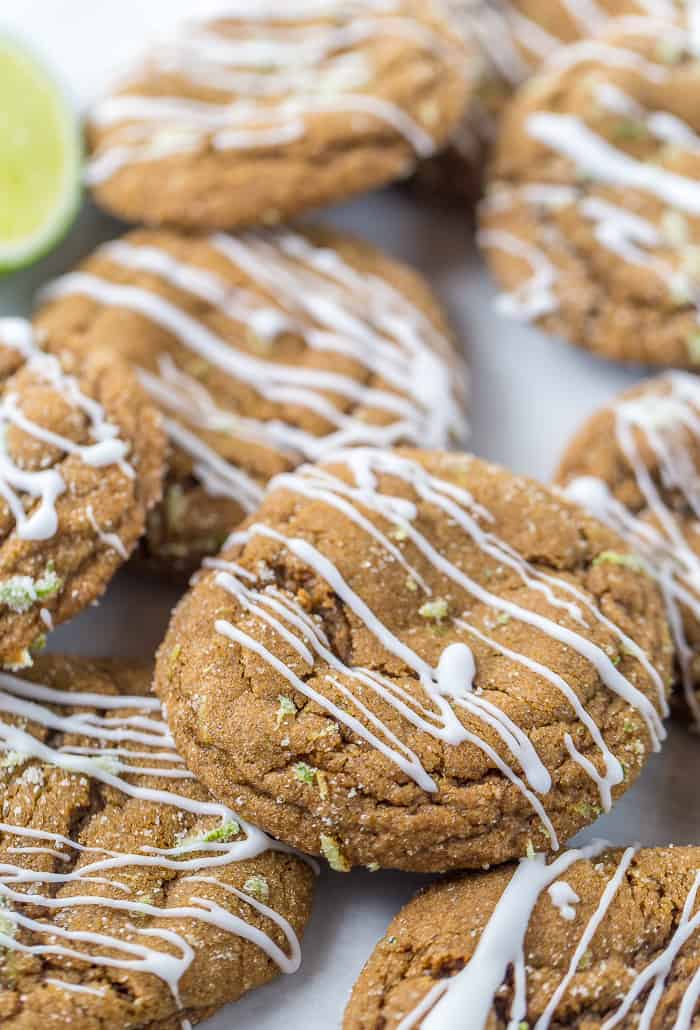 Hi friends! I have a new holiday cookie recipe to add to your list if you still have room. This one is a special adult one that's a great twist on your usual gingersnaps or snickerdoodles. These dark and stormy ginger cookies are chewy ginger molasses cookies infused with rum, rolled in lime sugar, and finished with a rum glaze. Amazing right?? Yeah, I told you!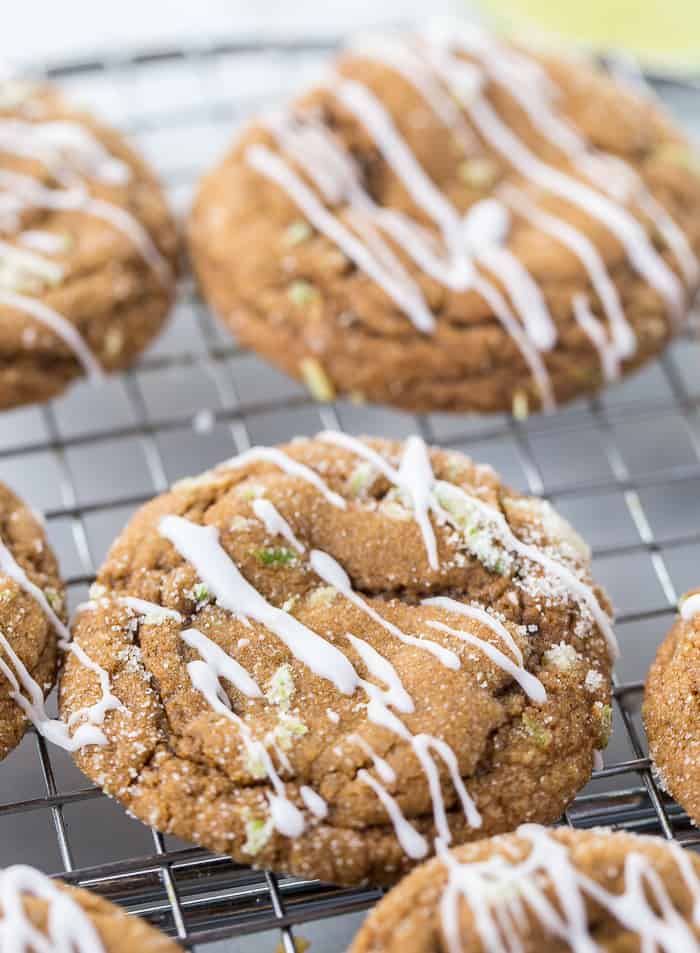 These ginger cookies are one of the many incredible sweets from Holy Sweet!:60 Indulgent Recipes for Bigger, Better Desserts by my friend Peabody Johanson of Sweet ReciPEAs blog. Peabody is one of the first bloggers I followed when I started my baking journey many moons ago. I learned so much from her and always love her delicious recipes. Most of all, I was drawn to her style of blogging; she's authentic, baked what she wanted, and just believed in sharing great recipes without the need to 'play the game' or follow trends. I admire her dearly and very excited about her debut cookbook. If you are a baking fan (duh!!), this is one book I'd highly recommend.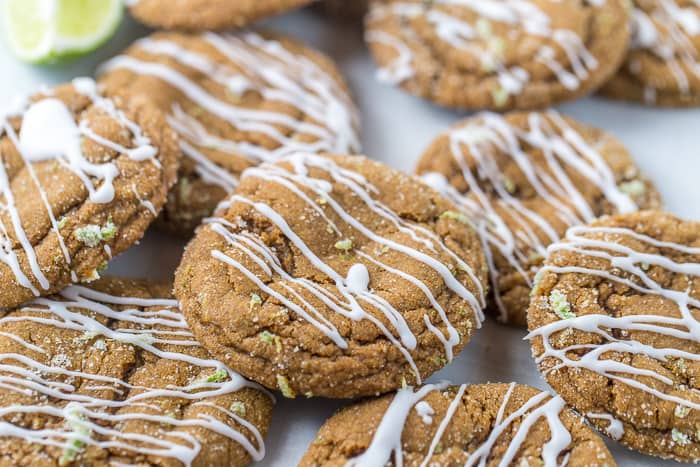 Her recipes are ingenious, creative and so so amazing. Like these dark and stormy ginger cookies found in her "It's Five O'Clock Somewhere" chapter. The cookie batter is filled with ginger, sweetened with molasses, and infused with rum. Reminds me of a gingerbread cookie but adult style. It takes a new level when you roll the already amazing cookies in zesty lime sugar. The flavors are incredible and I promise these cookies are worth being on your cookie platter.
I hope you all have a safe and healthy holiday season!! Happy baking.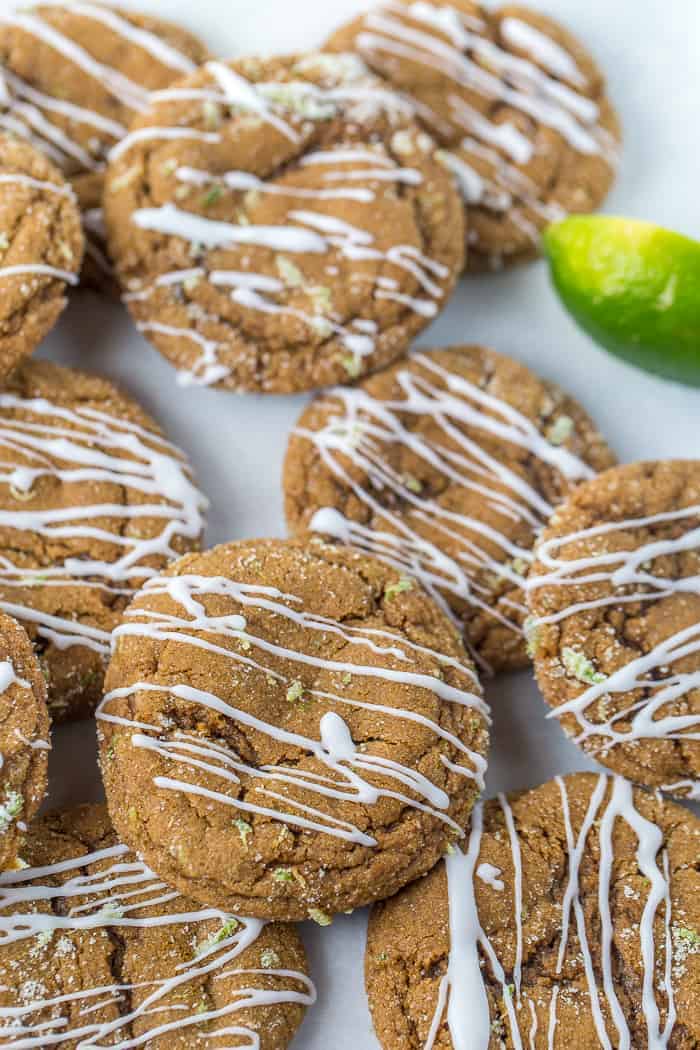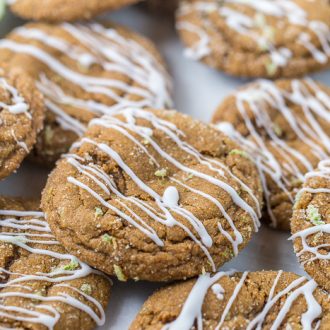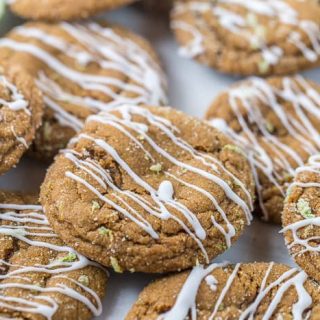 Yield: 24 cookies
Dark and Stormy Ginger Cookies
These dark and stormy ginger cookies are sweetened with molasses, infused with rum, rolled in zesty lime sugar, and topped with a rum glaze.
Total Time
4 hours
40 minutes
Ingredients
For the Cookies:
2 ½ cups plus 1 tablespoon all-purpose flour
1 tablespoon ground ginger
1 teaspoon baking soda
¼ teaspoon salt
¾ cup unsalted butter, at room temperature
¾ cup firmly packed brown sugar
½ cup molasses
1 large egg
½ teaspoon pure vanilla extract
3 tablespoon dark rum
For Lime Sugar
Zest of 1 lime
¼ cup granulated sugar
For the Glaze:
1-2 tablespoons dark rum
½ cup powdered sugar
Instructions
In a medium bowl, whisk together the flour, ginger, baking soda, and salt.
In the bowl of a stand mixer or large bowl, beat the butter and sugar together until they are light and fluffy, about 3 minutes. Add in the molasses, egg, vanilla extract, and rum. Mix well until combined. Gradually add in the dry ingredients and beat on low speed until the dough comes together.
Form the dough into a flat disk and wrap in plastic wrap. Refrigerate for at least 4 hours or overnight.
Make the lime sugar when ready to bake the cookies. To make the lime sugar, combine the lime zest and granulated sugar in a small shallow bowl. Using your fingers, rub the zest into the sugar with your hands.
Preheat the oven to 350 degrees F. Line a baking sheet with parchment paper.
Shape the dough into 1-inch balls. Roll each ball in the lime sugar. Place each cookie ball 2 inches apart on the prepared cookie sheet.
Bake for 8 to 10 minutes or until the edges of the cookies start to brown. Transfer the cookies to a wire rack and let cool.
To make the glaze, combine the rum with powdered sugar. Drizzle the glaze over the cookies.
Notes
Recommended Products
As an Amazon Associate and member of other affiliate programs, I earn from qualifying purchases.