Peppermint Mocha Lava Cake
A super decadent chocolate mocha cake on the outside is combined with an ooey-gooey peppermint dark chocolate interior to make this peppermint mocha lava cake a dream come true!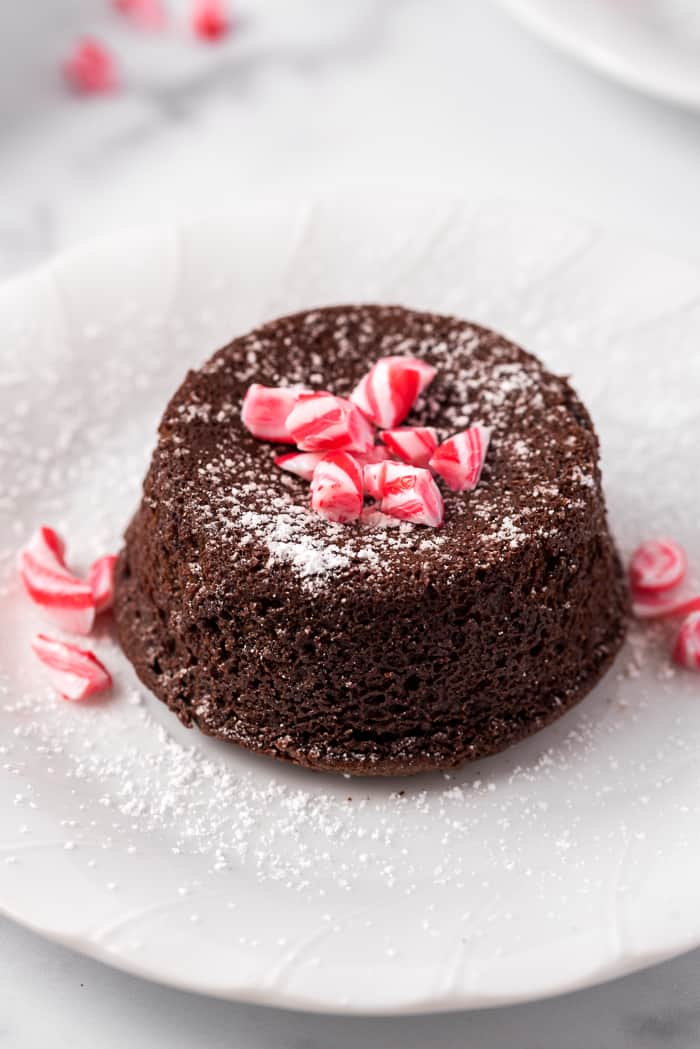 Hi friends! Today's recipe is a lovely peppermint mocha lava cake that is a new favorite!
Shall we talk about end-of-year fatigue, please? Anyone else experiencing this? I've been battling what I call laziness and/or lack of motivation the past two weeks after Thanksgiving. Luckily for me, both school and the blog are slowing down and I can afford to crawl onto the couch and watch movies all evening with hot cocoa. That's ALL I have been doing, for real! Must be the season of relaxing!! Am I alone here??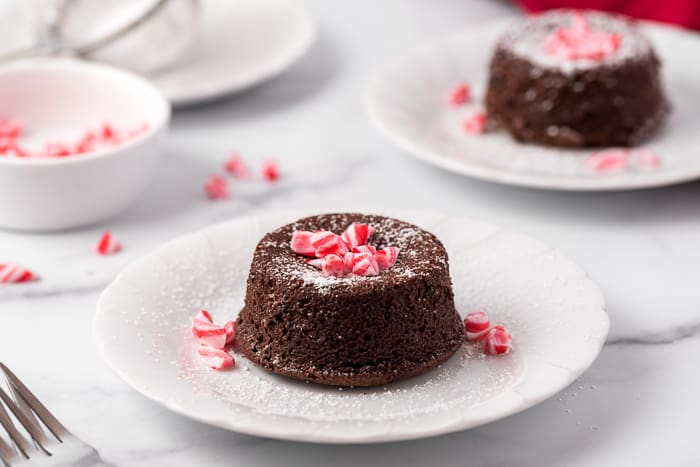 Anyway, enough about my lazy times, let's talk about this rich and beautiful peppermint mocha lava cake in front of us! I've made lava cakes exactly twice before in my existence and I figured it was time to give them another try. Of course, my first thought of what would go with a decadent chocolate cake was coffee and peppermint! Behold, a great idea was born. Not original but still great!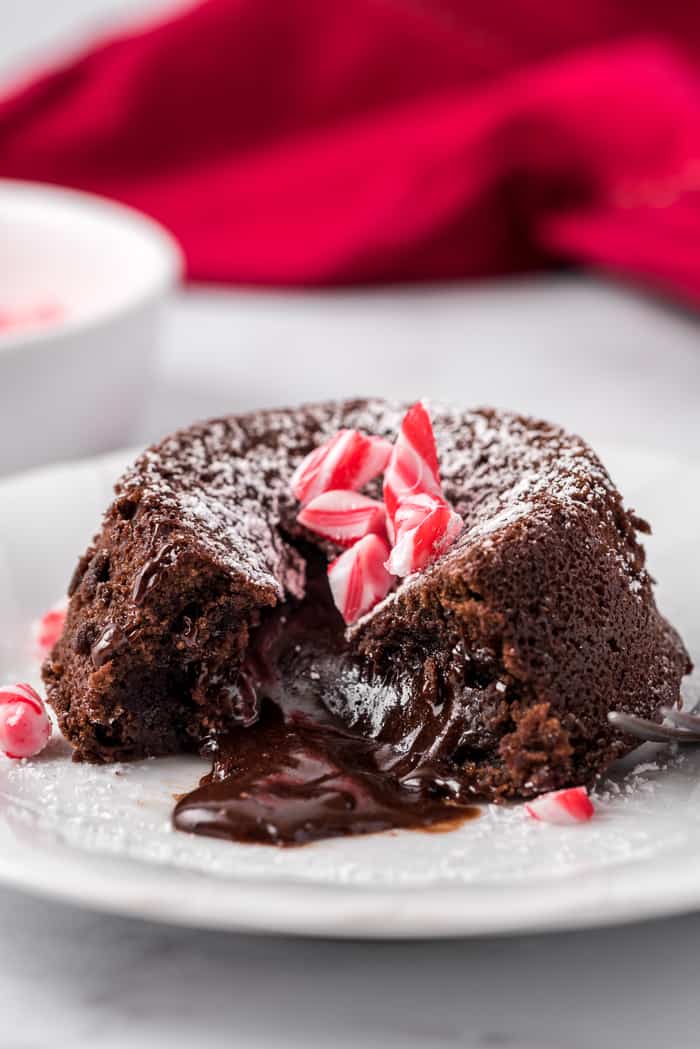 This peppermint mocha lava cake is simply perfect for the season. With a decadent chocolate mocha cake on the outside, it is oozing with ooey-gooey peppermint chocolate molten from the center.
Making a lava cake is very easy once you get over the mental barrier. To start, gather all your ingredients. I like making sure they are measured so I am not scrambling in between steps.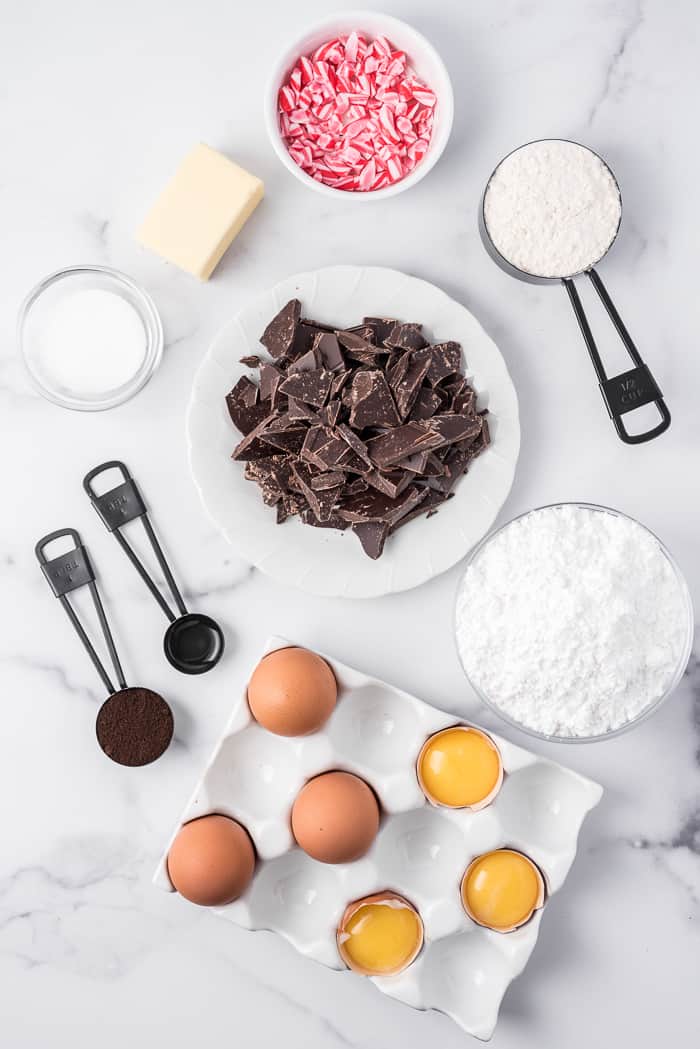 Then prepare your baking dishes with butter and cocoa powder to ensure the lava cakes don't stick. I like using baking spray instead of butter as the combination of butter and baking spray is more effective.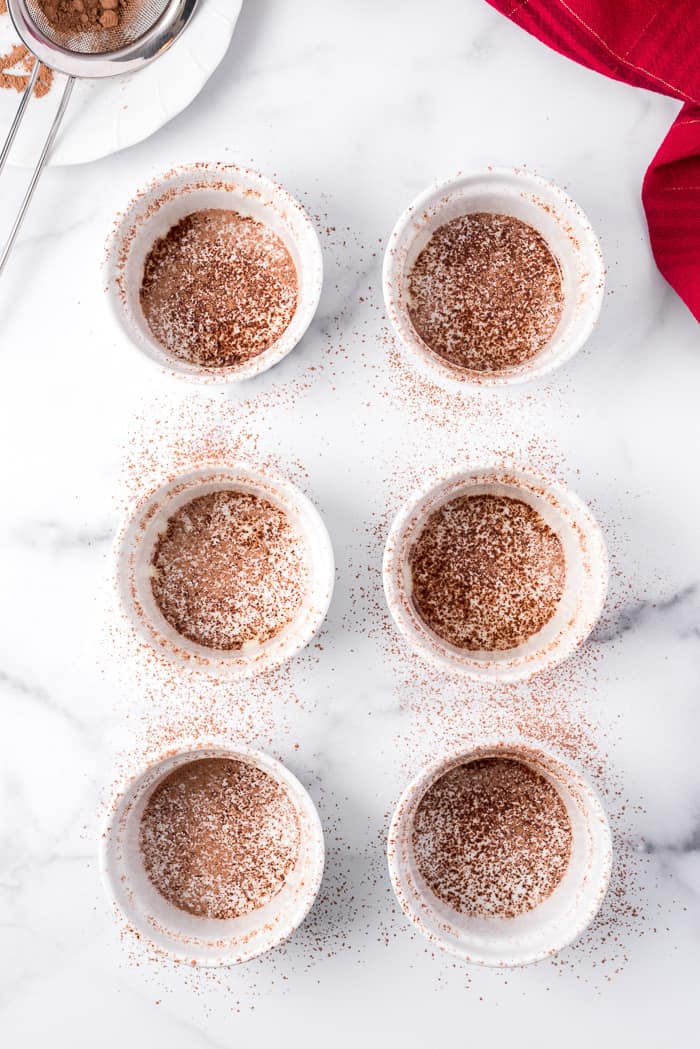 First we need to melt the chocolate and butter in a sauce pan set over low heat.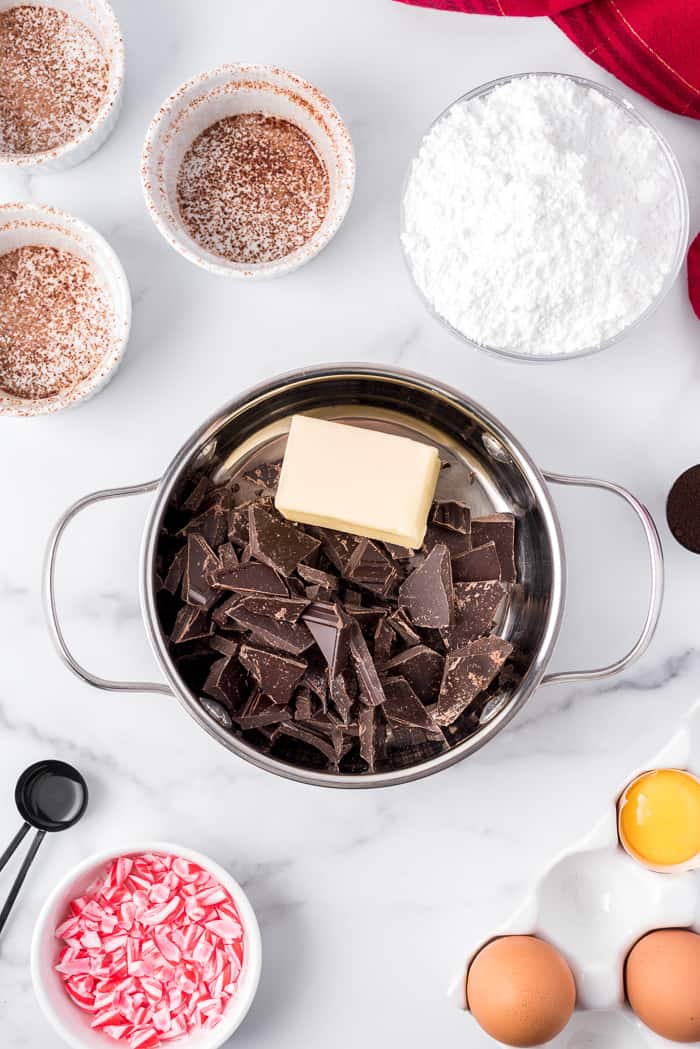 Allow the chocolate to melt slowly and make sure you mix it until smooth.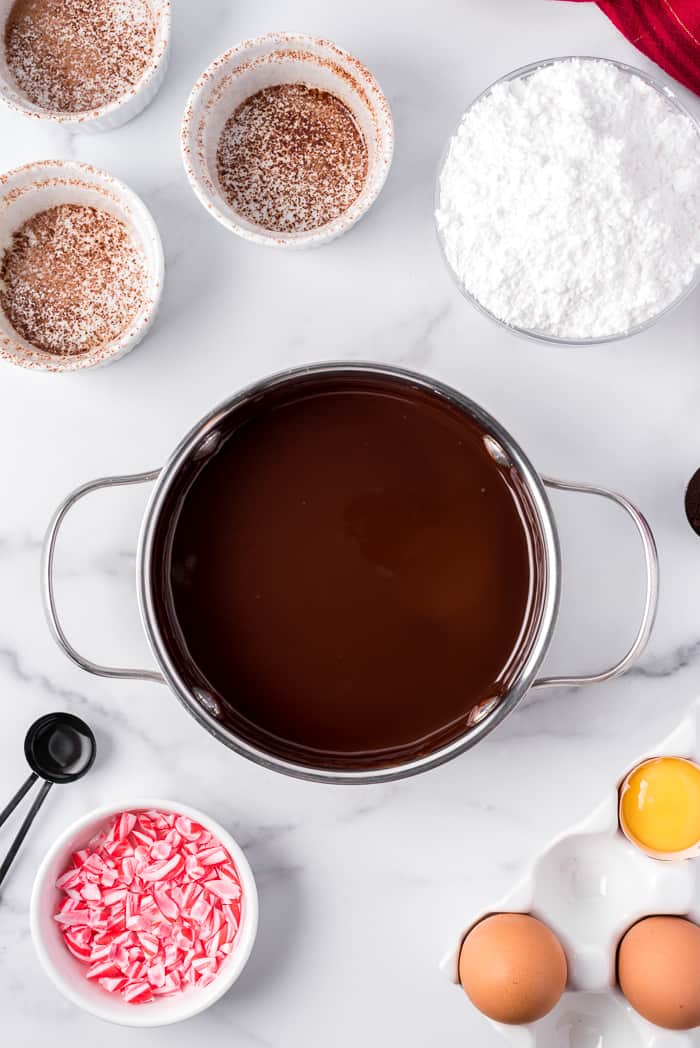 Next, we will whisk together all our eggs with the powdered sugar and flavors (espresso and peppermint extract).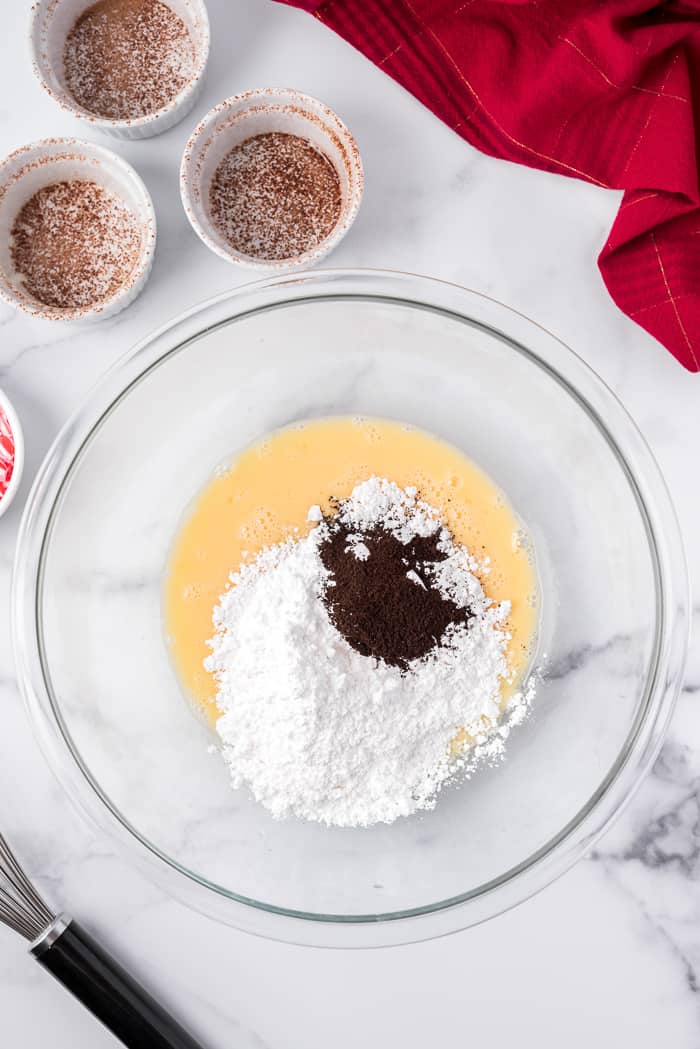 Add in the chocolate mixture to this egg mixture.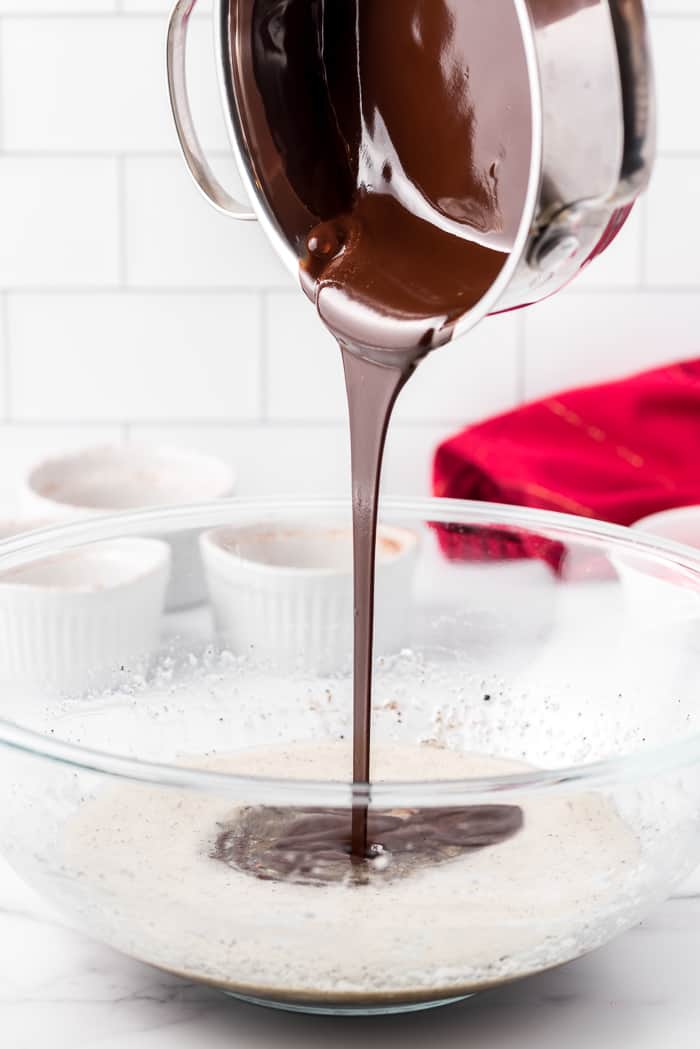 And GENTLY whisk until just combined. And I really mean gentle as you do not want to overwork the delicate batter.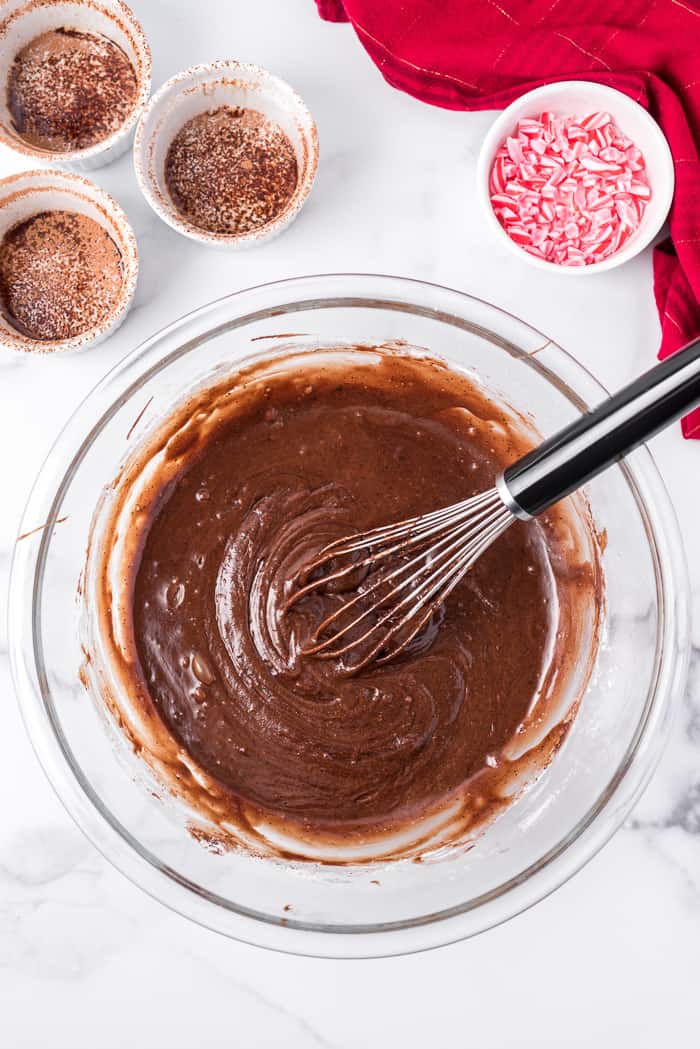 Next, we will spoon this batter into our prepared pan. Fill each baking round to about 2/3 full to give room for the cake to rise.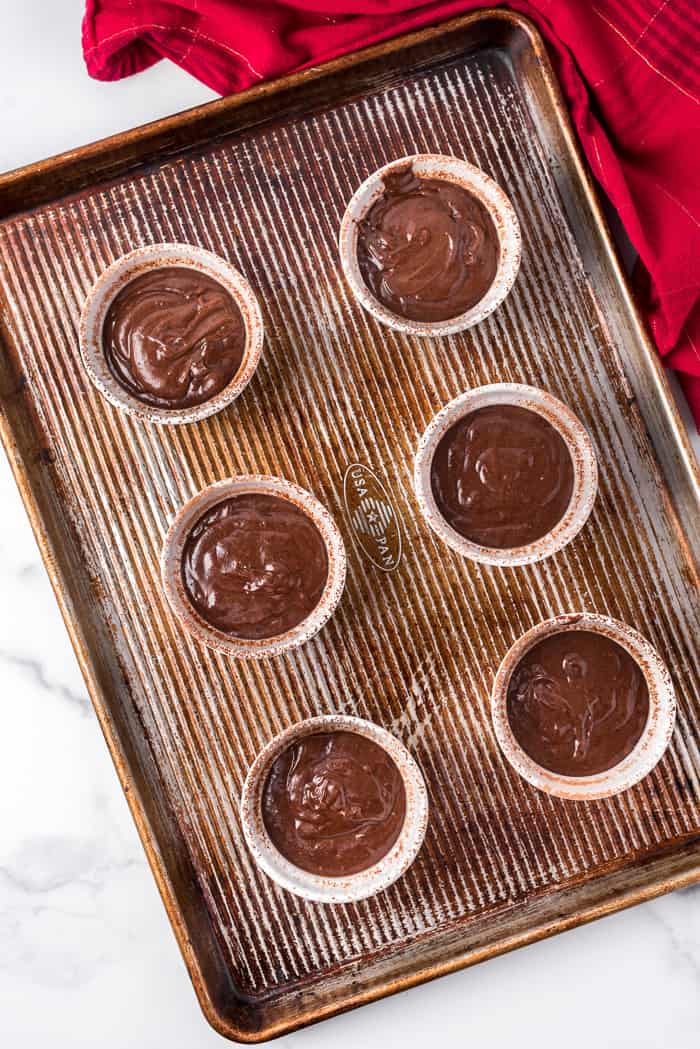 Bake the cakes until the outside is done and then turn over onto a serving plate.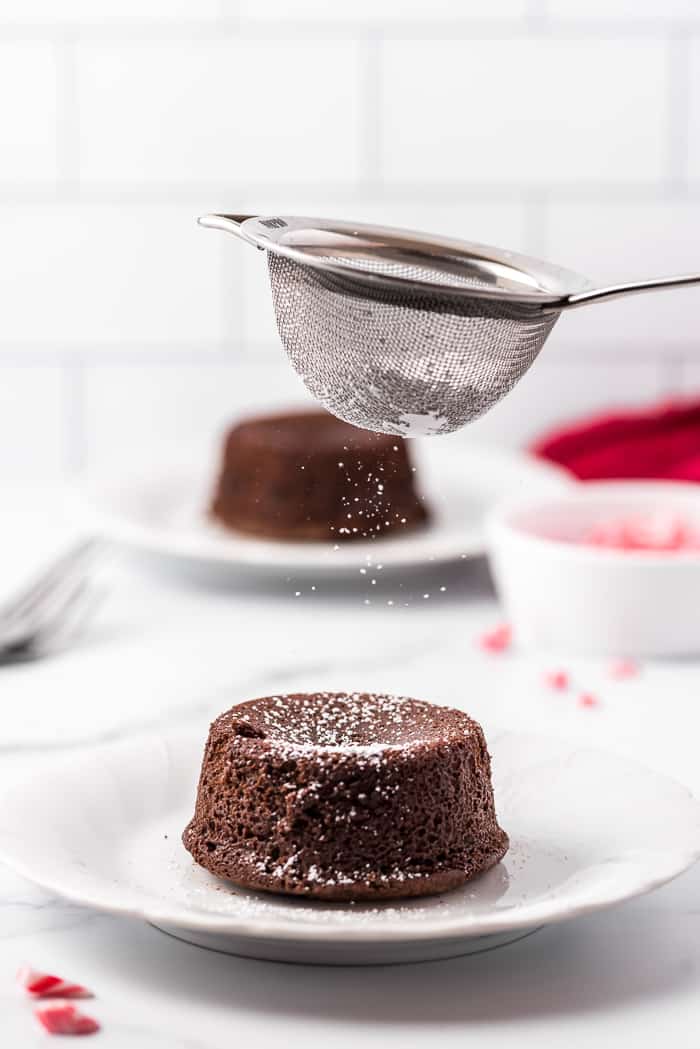 Because Lava cakes are such decadent desserts, simple dusting of powdered sugar is enough.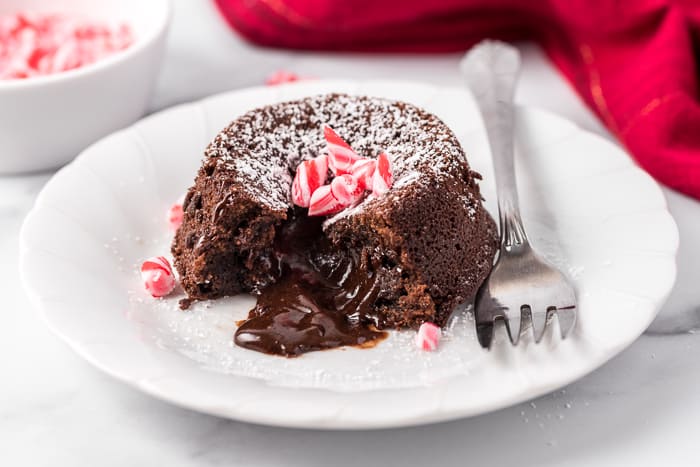 Look at that ooey-gooey center!! This peppermint mocha lava cake is just plain good and will be adored by anyone who loves a decadent treat. Please your chocoholic friends and those peppermint lovers!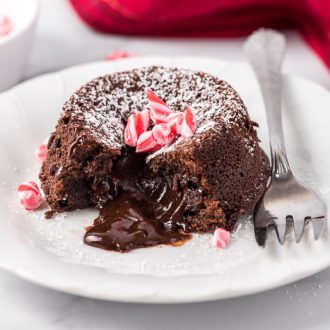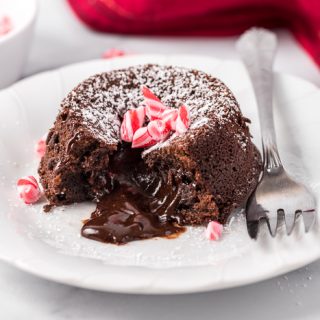 Yield: 6 mini cakes
Peppermint Mocha Lava Cake
A super decadent chocolate mocha cake on the outside is combined with an ooey-gooey peppermint dark chocolate interior to make this peppermint mocha lava cake a dream come true!
Prep Time 20 minutes
Cook Time 14 minutes
Total Time 34 minutes
Ingredients
6 ounces chocolate, chopped
6 tablespoons unsalted butter, cut into 2-inch cubes
3 large whole eggs
3 large egg yolks
1 ½ cup powdered sugar
1 tablespoon instant espresso powder
1 teaspoon peppermint extract
pinch of salt
½ cup all-purpose flour
Crushed candy cane, to top
Instructions
Heat oven to 400 degrees F. Grease six ramekin cups (6 ounce) by spraying with baking spray and dust with unsweetened cocoa powder.
In a small saucepan, combine the chocolate and butter. Melt over low heat, stirring continually. Let cool slightly.
In a large bowl, whisk together the eggs and egg yolks until well blended. Whisk in the powdered sugar, espresso powder, peppermint extract and salt until combined. Add in the melted chocolate and flour and whisk until just combined (do not overmix).
Divide the batter evenly among the cups, and then place them on a cookie sheet.
Bake 12 to 14 minutes or until the sides are set, but the centers are still soft and puffed. A toothpick inserted in the edge should come out clean.
Remove from oven and let stand for 3-5 minutes. Carefully loosen the cakes from the sides of the cups with a knife and invert onto serving plates.
Sprinkle cakes with powdered sugar and top with crushed candy canes. Serve warm.
Recommended Products
As an Amazon Associate and member of other affiliate programs, I earn from qualifying purchases.
More Peppermint and Chocolate from across the Web:
Chocolate Peppermint Cheesecake– Grandbaby Cakes
Flourless Peppermint Chocolate Brownies – Jessica in the Kitchen
Thick and Fudgy Dark Chocolate Peppermint Mocha Brownies – Girl Versus Dough