Molten Chocolate Mocha Cakes
Decadent and moist cake on the outside combined with an ooey-gooey dark chocolate mocha interior makes these molten chocolate mocha cakes perfect for any special occasion.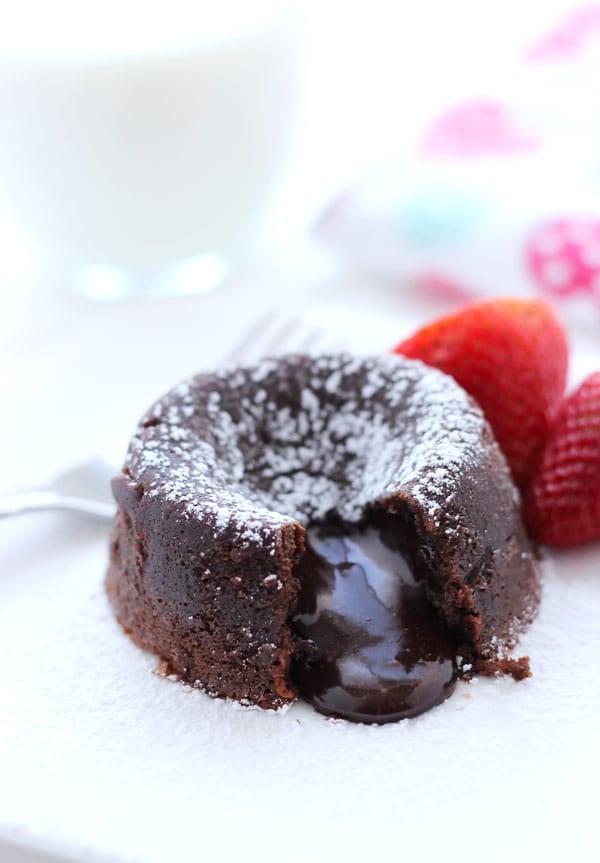 Special occasions always call for chocolate. Why is that? Really?? By the way, these are the kind of questions I ask myself when I'm bored and driving home. Weird I know.
Almost everyone in my family is a chocolate lover. The answer to the usual question, what would you like for your birthday, is always something chocolate-y. For this reason, I always keep a few bags of Ghirardelli baking chips in my pantry for special occasion birthdays and celebrations. Great quality chocolate, very easy to melt (no butter needed for a smooth finish) and I just love the bittersweet chocolate with coffee. I don't joke about my secret stash. Once a certain someone ran out of his generic hot cocoa powder and broke into my special dark Ghirardelli stash and it was not pretty.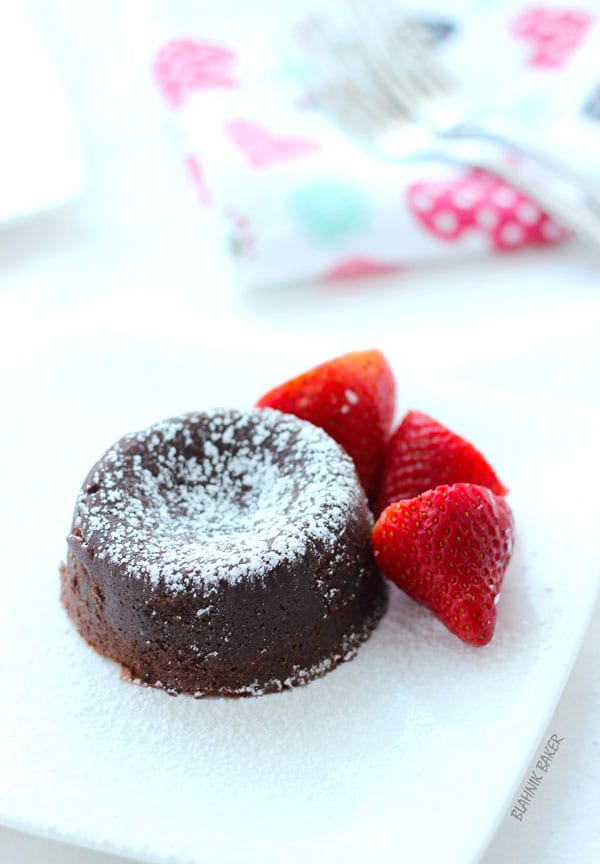 Valentine's Day is definitely a special occasion and it's all about chocolate.  After these mini red velvet bundt cakes, I was inspired to make some more miniature desserts because I loved how we each enjoyed our own little cake (plus you all loved them too!). I busted out a bag of Ghirardelli 60% Cacao chocolate baking chips to make these molten chocolate mocha cakes that have been on my baking bucket list for a while.
At first glance, many people think that making a lava (or molten) cake is difficult. After all, fancy restaurants make them look so beautiful and daunting. Well I'm here to tell you that these molten chocolate mocha cakes are very easy to make and totally irresistible. You can have these on the table in under an hour 🙂  But…it is very important that you have a tall cold glass of milk on hand.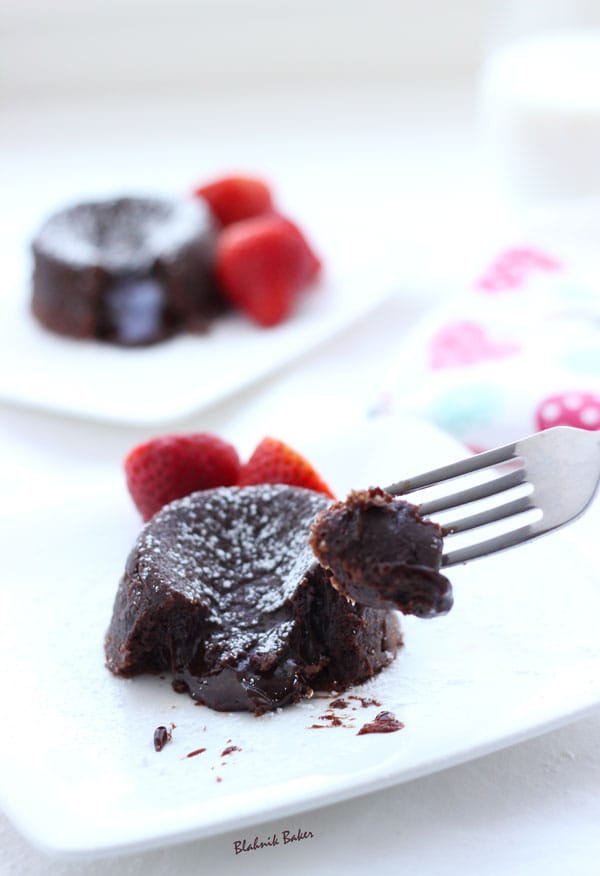 These molten chocolate mocha cakes are "one of the best things you've baked" declared the taste-tester around here. I have to agree with him because I ate two in a day. One for breakfast since I took the pictures at 8am and couldn't help myself and of course for a late night sweet craving. The cakes are perfectly moist and soft around the edges and the centers as you can see are just ooey-gooey decadent great!! I served mine with fresh strawberries but you can use your favorite berries.
You have to try them and I assure you, your valentines will love you more.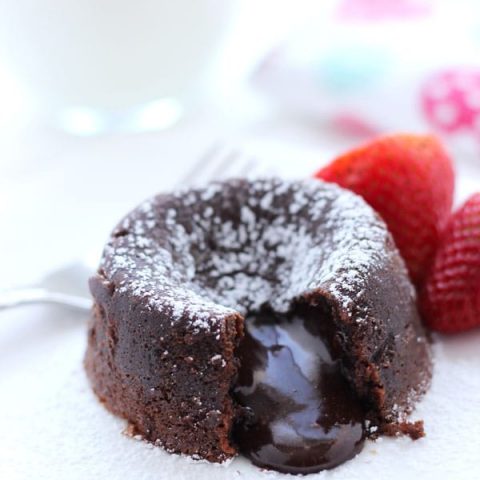 Yield: 6 servings
molten chocolate mocha cakes
Decadent and moist cake on the outside combined with an ooey-gooey dark chocolate mocha interior makes these molten chocolate mocha cakes perfect for any special occasion.
Prep Time 30 minutes
Cook Time 12 minutes
Ingredients
6 ounces Ghirardelli 60% Cacao bittersweet chocolate baking chips, chopped
6 tablespoons unsalted butter
3 large eggs, room temperature
3 egg yolks, room temperature
1½ cups powdered sugar
1 tablespoon espresso powder
Pinch of salt
½ cup all-purpose flour
Additional powdered sugar
Instructions
Heat oven to 400 degrees F. Grease six ramekin cups (6 ounce) by spraying with baking spray and dust with unsweetened cocoa powder. In a small saucepan, melt the butter and chocolate over low heat, stirring continually. Let cool slightly.
In a large bowl, whisk together the egg yolks and whole eggs until well blended. Whisk in the powdered sugar and espresso powder until combined. Add in the melted chocolate and flour and whisk until just combined (do not overmix). Divide the batter evenly among the cups, and then place them on a cookie sheet.
Bake 12 to 14 minutes or until the sides are set, but the centers are still soft and puffed. A toothpick inserted on the edge should come out clean. Remove and let stand for a 3 minutes. Carefully loosen the cakes from the sides of the cups with a knife and invert onto serving plates. Sprinkle cakes with powdered sugar. Serve warm.
I was selected for this opportunity as a member of Clever Girls Collective and the content and opinions expressed here are all my own.
MAKING THIS RECIPE? Share it with us on Instagram using #aclassictwist so we can see what you are baking up in your kitchen!