Raspberry Nutella Crescents and a Valentine's Day Making Party
This post is sponsored by Pillsbury.  All opinions are 100% my own.

A buttery and flaky crescent filled with warm nutella and juicy raspberries. These Raspberry Nutella Crescents are perfect for breakfast, brunch or a snack!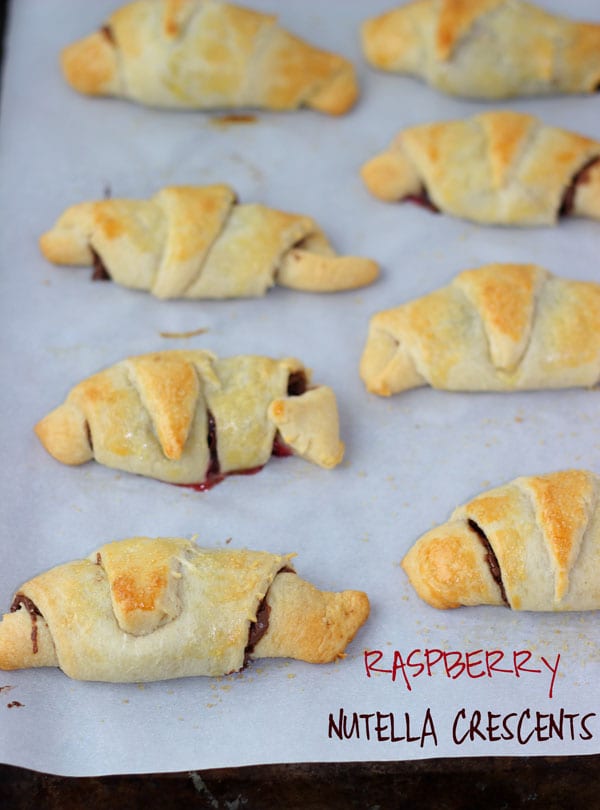 The hubby was out of town this past weekend for work and I used the opportunity to a) throw a party and b) have some girl time with our 12-year old niece, Miss M. I had her over for the weekend for some alone time with Aunt Z!! We had a great time together despite all the One Direction and Katy Perry songs that are now stuck in my head (Story of my Life arghhhh!!!). Of course some baking had to be on the agenda (hello raspberry nutella crescents) as well as shopping, that's why I'm the cool Aunt Z? (Sorry but not sorry for all the sugar overload!)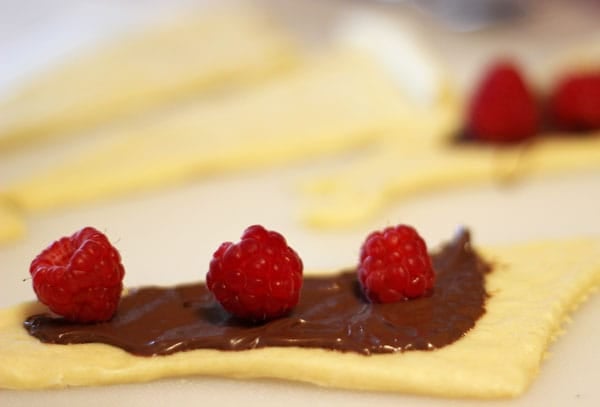 On Saturday, I had a few friends over for a Valentine's Day making and baking party. As I mentioned earlier this week (you have to check out these pink velvet cupcakes if you haven't already!!), my philosophy on Valentine's Day is that it's just another day to celebrate the loved ones in your life. And of course add in some pink and red and all things cute. Thanks to Pillsbury, I organized a baking party for a few of my close girlfriends and Miss M helped me host.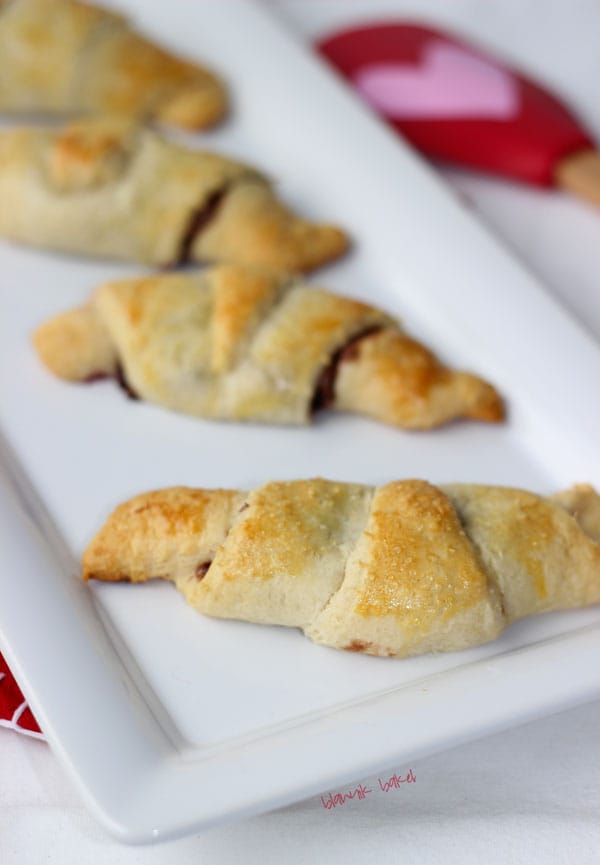 Since we were going to be baking, I only had a few appetizers ready when people arrived. I whipped up a batch of these buffalo chicken dip bites for the party and they were the first to go. Those things are addicting. I also made these Raspberry Nutella Crescents for folks. They came about mainly because of these nutella stuffed chocolate chip cookies, as I had a half jar of nutella staring at me all week and I had to use it in something before it ended up on my hips. So I slathered lots of nutella on a crescent triangle and topped with Miss M's favorite berries ("Raspberries and hazelnut go great together Aunt Z, let's try it"). And the girl is right.
These raspberry nutella crescents are simply delicious. Wrapped in the flaky buttery crescents we all love and they are oozing with hazelnut goodness (from now on this should be the official name for nutella!).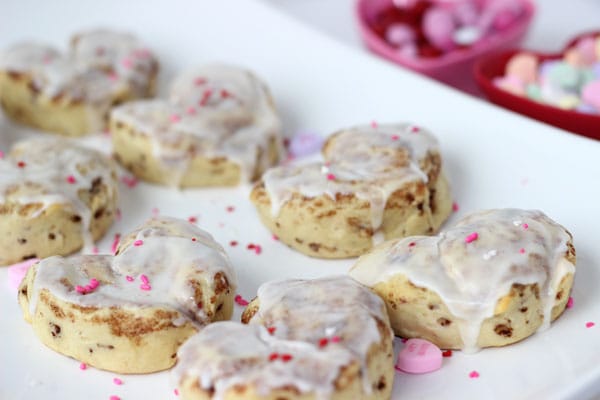 Once we all gathered and caught up, we got to baking!! First we made these Sweetheart Cinnamon Rolls. Aren't they so cute? They will be perfect for your Valentine's day breakfast or brunch!! You can find the recipe over here on Pillsbury. The instructions are so easy but between six intelligent grown women and 1 child we were unable to unroll the rolls as directed so we improvised and made our own heart shapes. They turned out great I think and of course tasted amazing!!! Good thing I had two batches in the works 🙂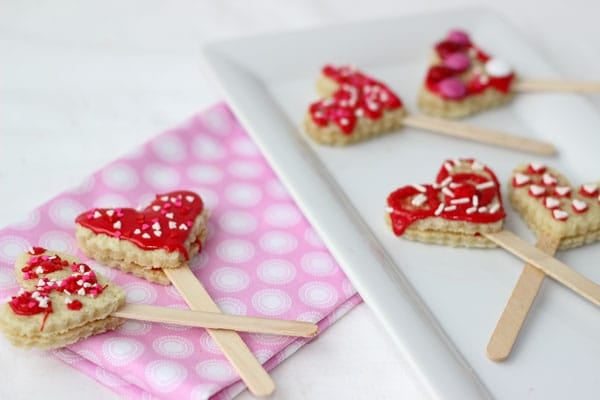 The most fun part of the party was making these easy Valentine Cookie Pops. What a great interactive activity for kids and adults. We made the first batch of cookies as directed by the recipe but decided to cut them out as hearts. Miss M had the decoration table stacked (it was important that this was her project) and styled with lots of pink and red coordinates including M&Ms, sprinkles and heart-shaped conversation hearts.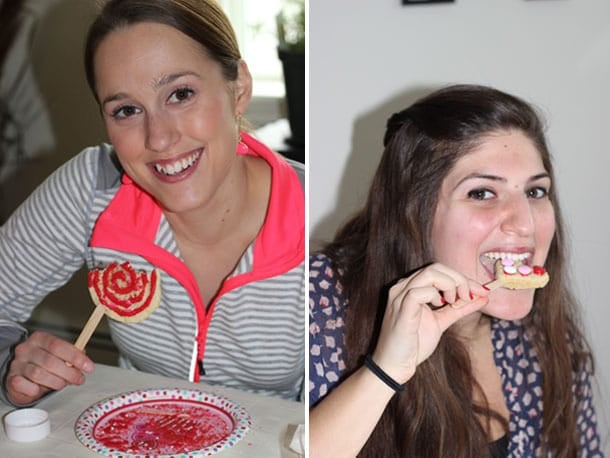 Thank you Pillsbury for making this afternoon fun! If you are hosting a Valentine's Day party for you kids or girlfriends, be sure to try these easy recipes shared today 🙂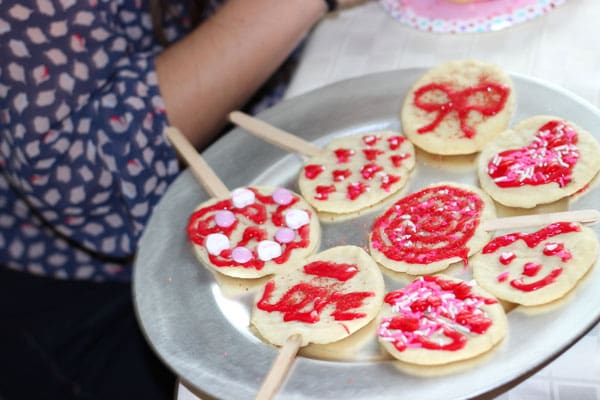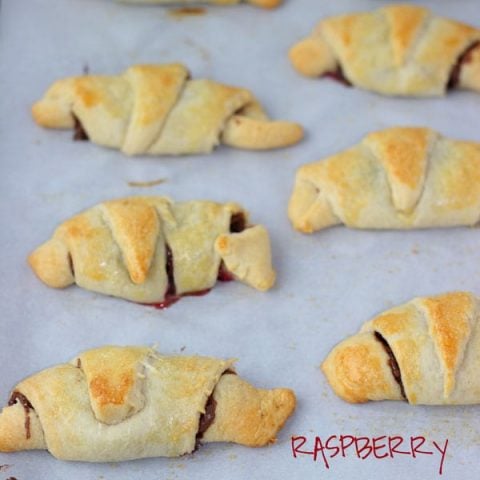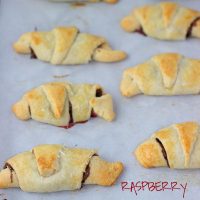 Yield: ~16 crescents
Raspberry Nutella Crescents
A buttery and flaky crescent filled with warm nutella and juicy raspberries. These Raspberry Nutella Crescents are perfect for breakfast, brunch or a snack!
Ingredients
2 cans (8 oz each) Pillsbury refrigerated crescent dinner rolls
1 jar Nutella (you won't use all of it)
1 cup Raspberry, chopped
1 egg, beaten for egg wash
Turbinado sugar, for sprinkling
Instructions
Preheat oven to 350 degrees F. Line a baking sheet with parchment or silicone mat.
Roll out the dough onto a work surface. Separate into individual triangles. Spread a very HEALTHY amount of nutella on each crescent. Top nutella with a few chopped raspberries (Don't over stuff with raspberries or they will not fold). Roll crescent, starting at the wide end. Transfer to baking sheet.
Brush the top of each crescent with egg wash and sprinkle turbinado sugar. Bake for 10-12 minutes or until golden brown.
Remove from oven and transfer to a serving plate. Serve immediately.
Disclosure: I am affiliated with Pillsbury. Pillsbury provided me with the funds to host this Making Party.  All opinions are 100% my own.