No-Bake Peanut Butter Chocolate Pie
An easy No-Bake Peanut Butter Chocolate Pie with a crunchy peanut graham cracker crust and a creamy yet slightly tangy peanut butter filling!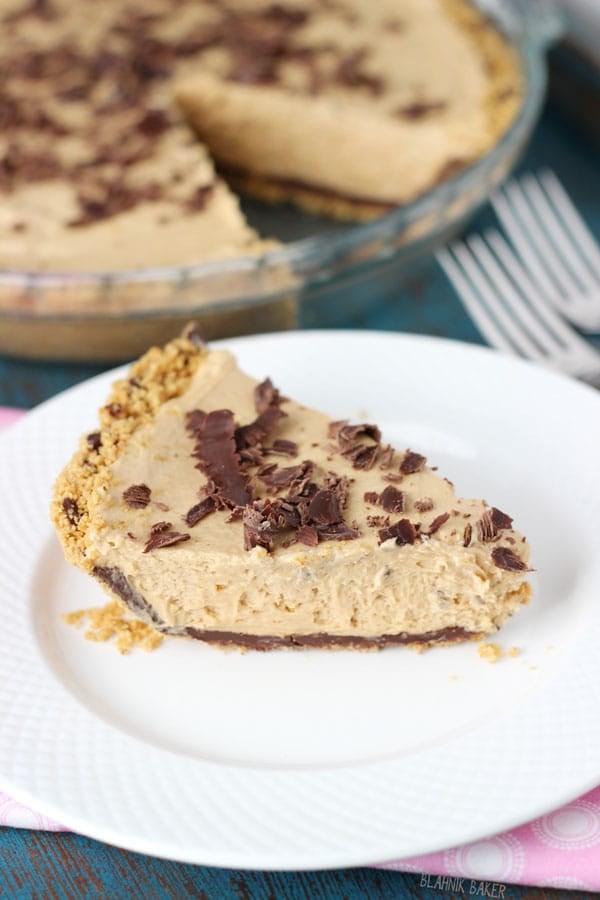 Love.
What is love?
Love is a barter system. One pink velvet cupcake in return for peanut butter cupcakes. I do the laundry and you do dishes for two days and you stay away from those Reese's hearts. One white chocolate mousse dessert for a no-bake peanut butter chocolate pie. Yes, my friends, this is how love works in my household. For every indulgent recipe you see on this blog, there is a peanut butter counterpart that was made for its existence.
My dearest husband is a peanut butter lover and whenever he is asked, even in deep sleep (yes I've tried!!), what I should make next for the blog, his automatic response is always "peanut butter something". I don't even know why I bother anymore. Wait I know. It's because whenever I listen to him, you all love the recipes. Like his birthday peanut butter lover's dream cake. It's always on my top 3 most visited recipes on the blog.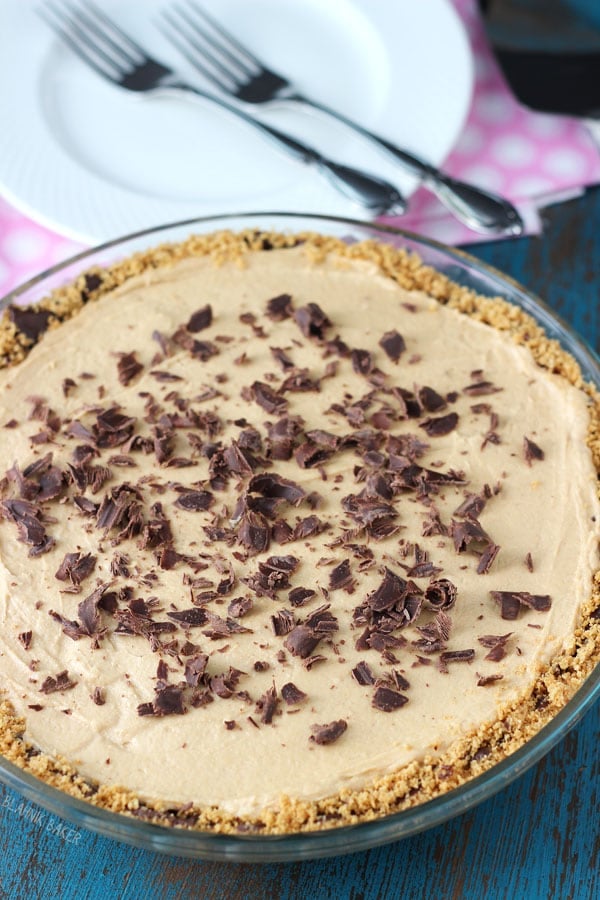 Since Valentine's Day is coming, I decided to make him another peanut butter lover's recipe he might be happy about. This no-bake peanut butter chocolate pie was my lazy "Oh Valentine's Day is in a week" recipe. I made a test run this weekend for some friends we had over for dinner and I was completely blown away by the reception. I wasn't expecting it to be that amazing on the first run. I figured I'll have to tweak a thing or two by the next run but once we served the pie, half of it was gone in 5 minutes. I was shocked. Gone! See for yourself here.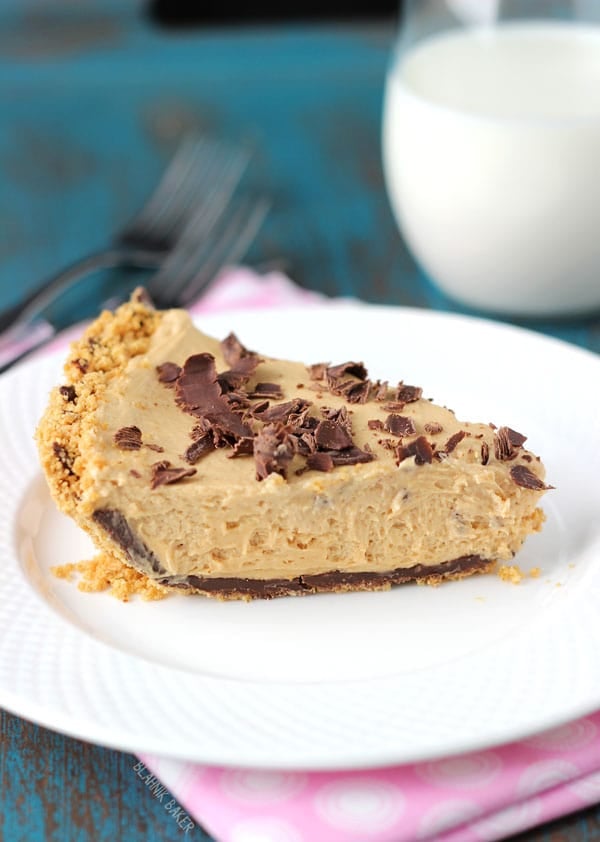 What makes this no-bake peanut butter chocolate pie so AMAZING? It's the total package starting with a peanut crunchy graham cracker crust (yup, peanuts in the crust!); which is the only baked part but that's only 10 minutes, and moving on to a layer of special dark chocolate over the crust and a creamy peanut butter cream cheese filling. Complete of course with chocolate shavings for the looks! I was going to decorate with some Reese's hearts which sadly didn't last a week in my house but the chocolate shavings worked too! #ineedalockformybakingcupboard
This pie is a must-have and I cannot say it enough. So for all you peanut butter lovers and those of you who love peanut butter lovers, this is the pie for you!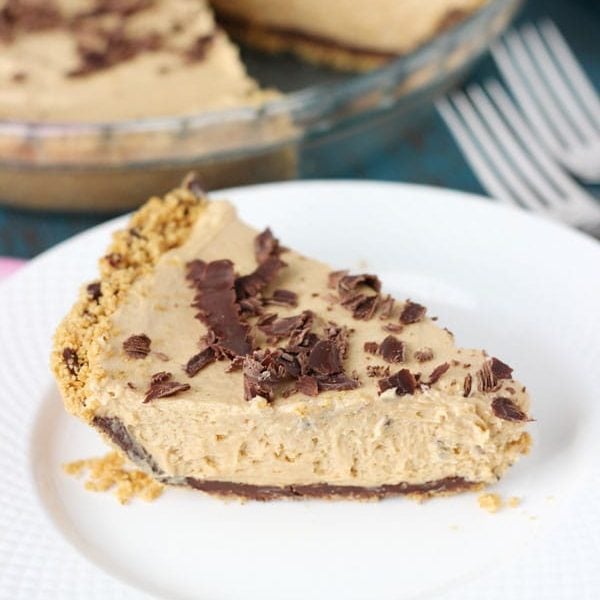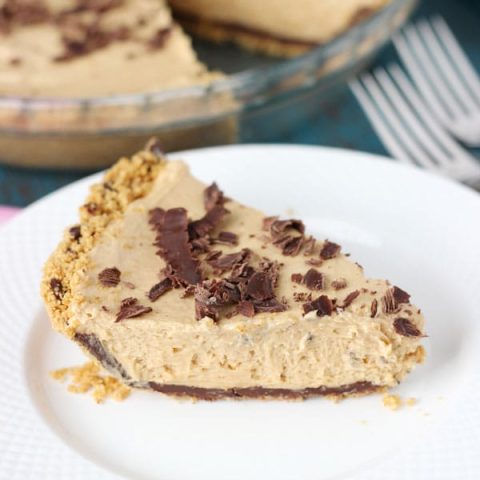 Yield: 1 9-inch pie
No-Bake Peanut Butter Chocolate Pie
An easy No-Bake Peanut Butter Chocolate Pie with a crunchy peanut graham cracker crust and a creamy yet slightly tangy peanut butter filling!
Additional Time
11 hours
20 minutes
Ingredients
9 whole graham crackers
¼ cup cocktail peanuts
4 tablespoons unsalted butter, melted
6 ounces dark chocolate (I used Ghirardelli 60% Cacoa)
For Filling:
¼ cup heavy cream, cold
1 cup creamy peanut butter (not natural)
8 ounces cream cheese, at room temperature
⅓ cup whole milk
1 teaspoon pure vanilla extract
¾ cup powdered sugar
Chocolate shavings and/or curls, for topping
Instructions
To make the crust:
Preheat oven to 350 degrees F. Grease a 9-inch pie dish and set aside. Combine the graham crackers and peanuts in the bowl of a food processor and pulse until finely ground. Drizzle the melted butter over the mixture and pulse until combined and the mixtures look like wet sand.
Press into the bottom and sides of the prepared pie dish. Bake the crust until set, about 10-12 minutes. Transfer to a rack and let cool completely.
Melt the chocolate in a heatproof bowl set over a simmering saucepan of water. Stir until smooth. Pour the chocolate over the crust and evenly spread using an offset spatula, going up the sides of the crust. Chill until chocolate sets, about 10 minutes.
To make the filling:
Meanwhile, in the bowl of an electric mixer, beat the heavy cream on medium-high speed until soft peaks form. Transfer to a small bowl and refrigerate until ready to use.
In a clean bowl, beat the peanut butter, cream cheese, milk, and vanilla extract until smooth, about 2-3 minutes on medium speed. Reduce speed to low and add in the powdered sugar. Mix until combined.
Using a rubber spatula, gently fold in half of the whipped cream until just incorporated, and then fold in the rest. Spoon the filling into the crust and smooth the top.
Cover with plastic wrap and chill until set, about 3 hours or overnight.
To serve, top with chocolate shavings or curls.
Notes
Total time includes chill time
Recommended Products
As an Amazon Associate and member of other affiliate programs, I earn from qualifying purchases.