Peanut Butter Banana Blondies with Bacon, aka Elvis Bars
Dense, moist, and fudgy Peanut Butter Banana Blondies are drizzled with a Maple Glaze and Sprinkled with Bacon!  If you like the Sweet and Salty combo, you'll love these Bars!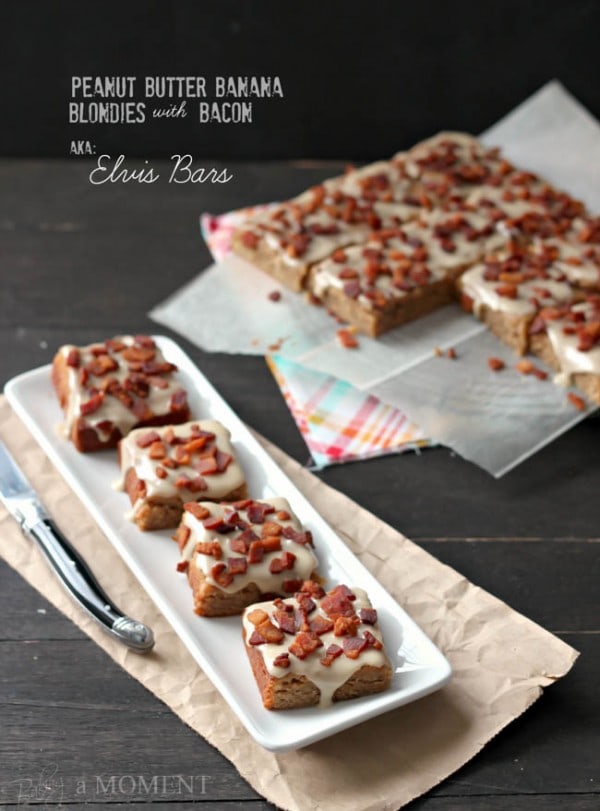 I've been unable to kick this cold in the butt and have been laying low this week. My dear friend Allie from Baking a Moment was so willing to come over and help on a last minute notice. If you are not already familiar with her blog, she writes an amazing dessert blog and I just love her unique eye for great flavor combinations! She is just as sweet and adorable in real life as she sounds on her blog. I was fortunate to meet her a few weeks ago on a clandestine trip to DC. She welcomed me and Mr. J graciously into her home where we hung out with her cute boys and husband. She is just the best and is here today to share with you her love for peanut butter as well (we all know how you love your peanut butter!).

Here's Allie!

*******************************************************************************
Did you guys see Zainab's last post?  What am I saying, of course you did!  Blahnik Baker has the best readers ever and I know you guys would never miss a post.
Could you even get over that peanut butter pie???  Oh my good lord…!
Well I got a little bit nervous when I first saw it, knowing that I'd be guest posting today, and already having my recipe baked up for you guys.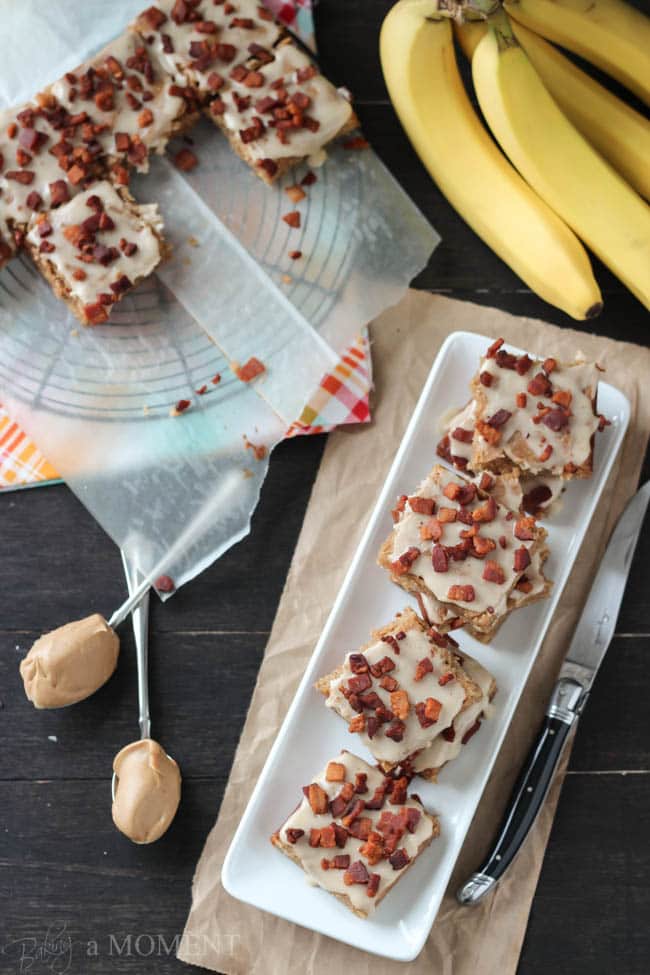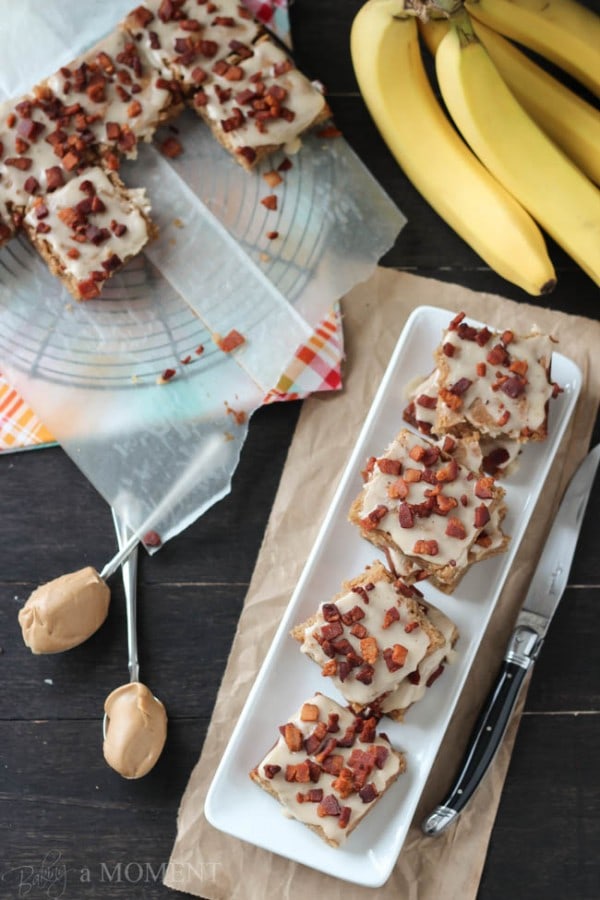 Right?  So, that's two peanut butter recipes in one week.
But according to Zainab, you guys love peanut butter and can't get enough!  Which is great because I'm totally on a pb kick right now.  Look for another peanut butter recipe on Baking a Moment next week 😉
For now, I just have to share this crazy (but delicious) concoction I somehow dreamed up!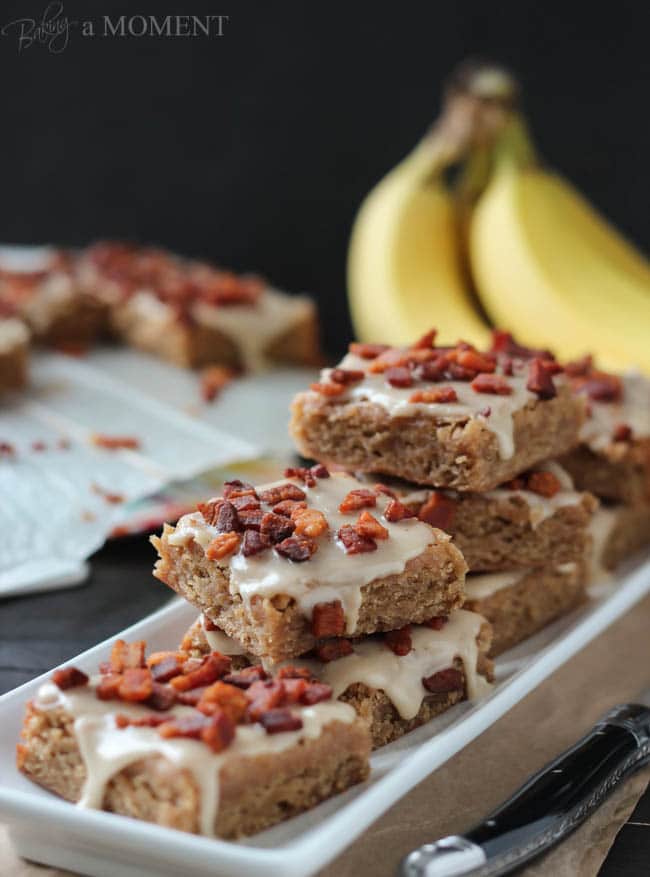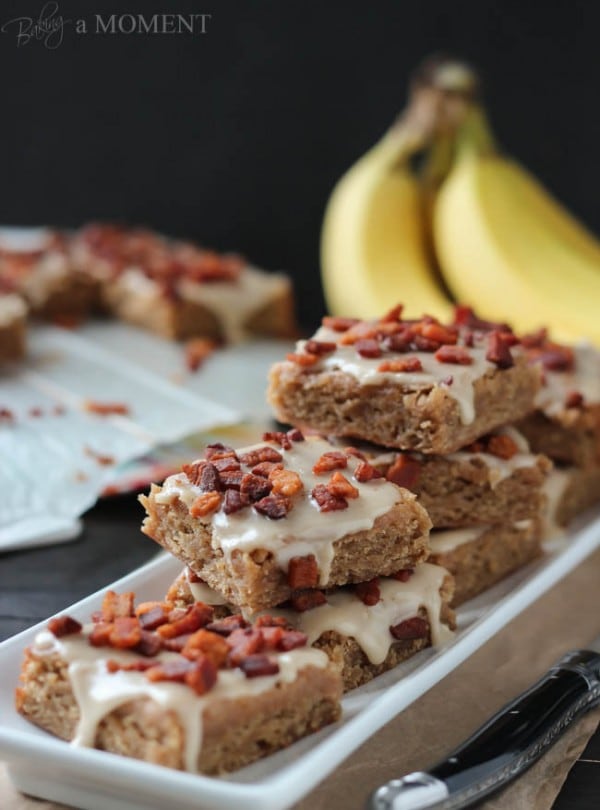 Don't ask me where this came from.  Long story short, I kinda had peanut butter on the brain, and then I saw some guys making a chocolate and bacon dessert on Cooking Channel, and well… the rest is history.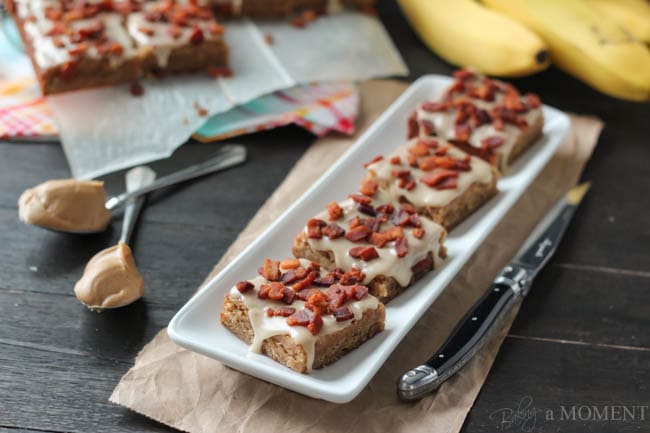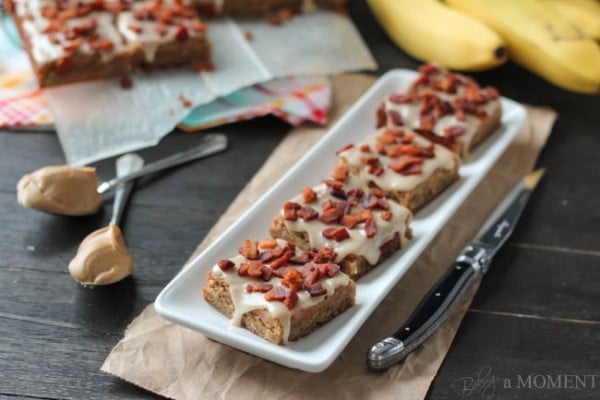 I'm sure you guys have heard the legend about Elvis Presley and his favorite comfort food.  If not, spoiler alert: it was fried peanut butter, banana, and bacon sandwiches.  I can remember thinking, "How gross!" the first time I heard that, but you know?  That guy knew what was up!
These blondies have an uber moist texture.  They are almost fudgy.  Like peanut butter fudge, oh yes!  With a hint of sweet banana, so good!
They are on the sweeter side, which leads me to say that the bacon is not optional.  Just kidding of course, you can leave it off if you're so inclined, but just know that the blondies will be sweeter than the kinds of desserts I usually prefer.  But I'm a little weird.  Obvs.  I mean, I am showing you a bacon dessert, after all.
But seriously, when you taste it with the bacon it's not even the slightest bit weird.  It all makes sense.  The salty plays off the sweet like whoa.  And it provides just the right kind of crunch to accentuate the dense, gooey blondie.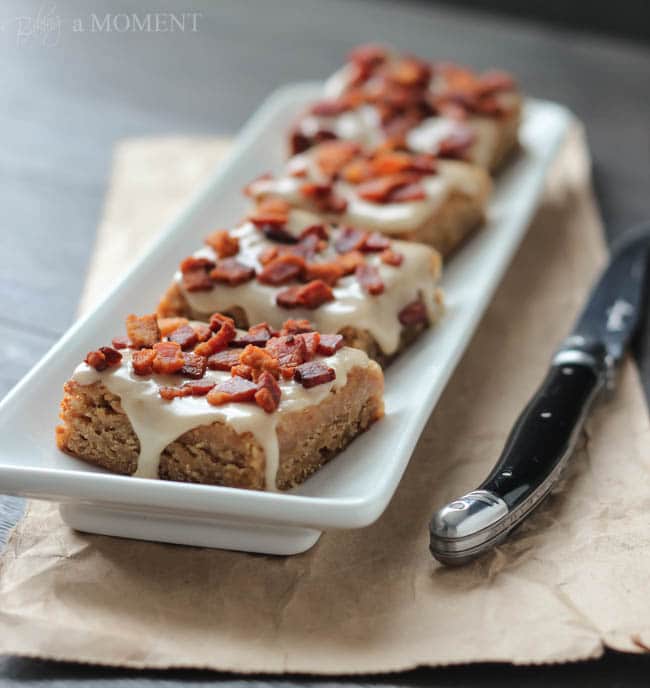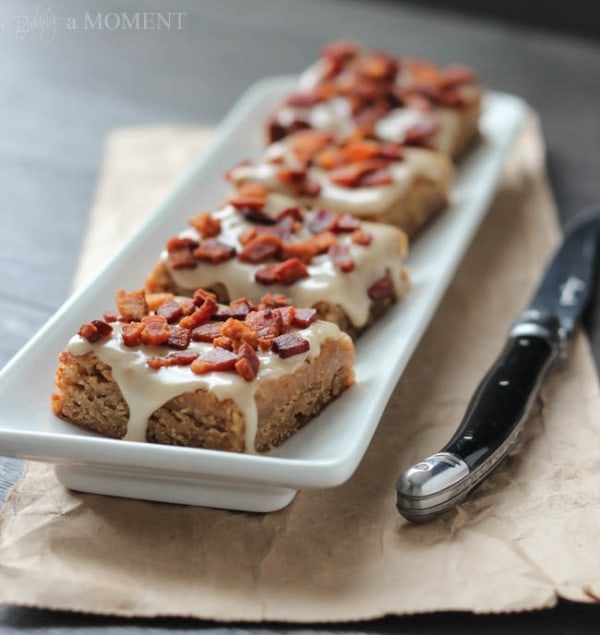 When I went looking for blondie recipes to tinker with, I saw that a lot of people were having trouble finding a blondie that's not dry or crumbly.  This one is nowhere close to dry or crumbly.  So, so, fudgy and moist!  Soft in the middle, and chewy around the edges.  Blondie perfection!  Make sure you pour yourself a big glass of milk to go along with these babies!  They are a hunka hunka burnin' love.  Sorry.  Couldn't resist.
Get well soon, Zainab!  And thanks for the opportunity to post on Blahnik Baker!  I hope all you guys enjoy the Elvis Bars!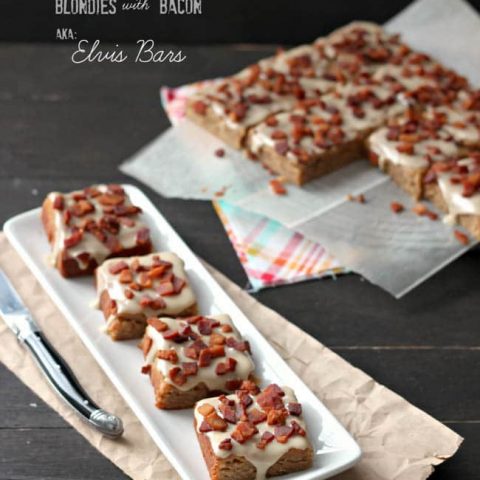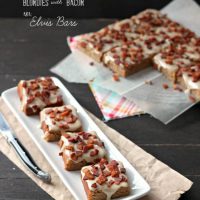 Peanut Butter Banana Blondies
Dense, moist, and fudgy Peanut Butter Banana Blondies are drizzled with a Maple Glaze and Sprinkled with Bacon! If you like the Sweet and Salty combo, you'll love these Bars!
Ingredients
For the Topping:
6 slices thick cut bacon, cut into small pieces
½ cup powdered sugar
3 tablespoons pure maple syrup
For the Bars:
¾ cup creamy peanut butter
1½ bananas, mashed
3 tablespoons vegetable oil
¼ cup milk (I used 1%)
2 teaspoons vanilla extract
1 cup all purpose flour
½ teaspoon baking powder
½ teaspoon kosher salt
Instructions
Make the Topping:

Saute the bacon over low heat until crisp and brown. Remove from the pan with a slotted spoon and drain on paper towels. Set aside.
Combine the powdered sugar and maple syrup in a small bowl, stirring until smooth. Set aside.

Make the Bars:

Preheat the oven to 350 degrees F. Line a square baking dish (mine was 9x9 inches) with a sheet of parchment
Stir the peanut butter and bananas together in a large bowl.
Add the oil, milk, and vanilla, and stir until well combined.
Stir in the remaining ingredients, and pour the mixture into the prepared pan. Bake for 25 minutes, or until soft in the middle but beginning to brown around the edges.
Cool completely. Top with the maple glaze and bacon. Cut into bars and serve.
Thank you very much Allie for these delicious blondies. Mr. J already said we should head back down to Philly for a quick day trip and clean out your kitchen. I guess I just have to make them for him ASAP. For more fabulous recipes, follow Allie below to stay in touch!