Watermelon Wine Slushie
This watermelon wine slushie is incredibly refreshing! Made in the blender in just a couple of minutes is the perfect drink to serve at BBQs and Summer get-togethers.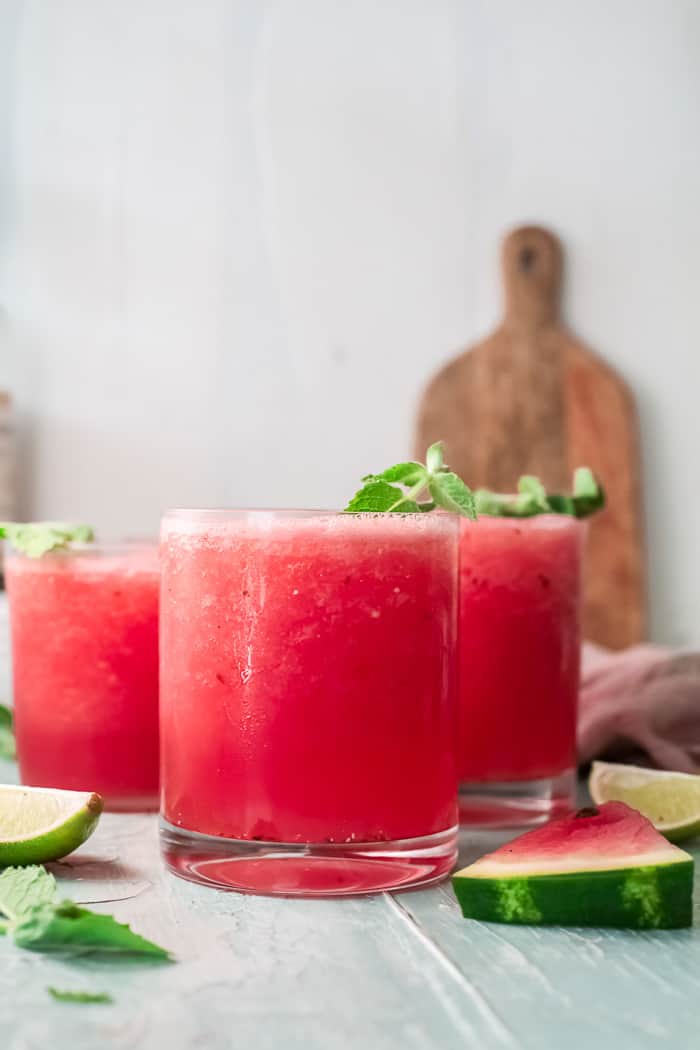 Hello beautiful people! I am so excited that warmer weather is here (hopefully, it stays for us Marylander's). Sunshine and warm weather mean more time outside with the kiddos. While you are soaking in all the sun's rays, you need a refreshing drink to cool you down. That's why my Watermelon Wine Slushie is perfect all summer long!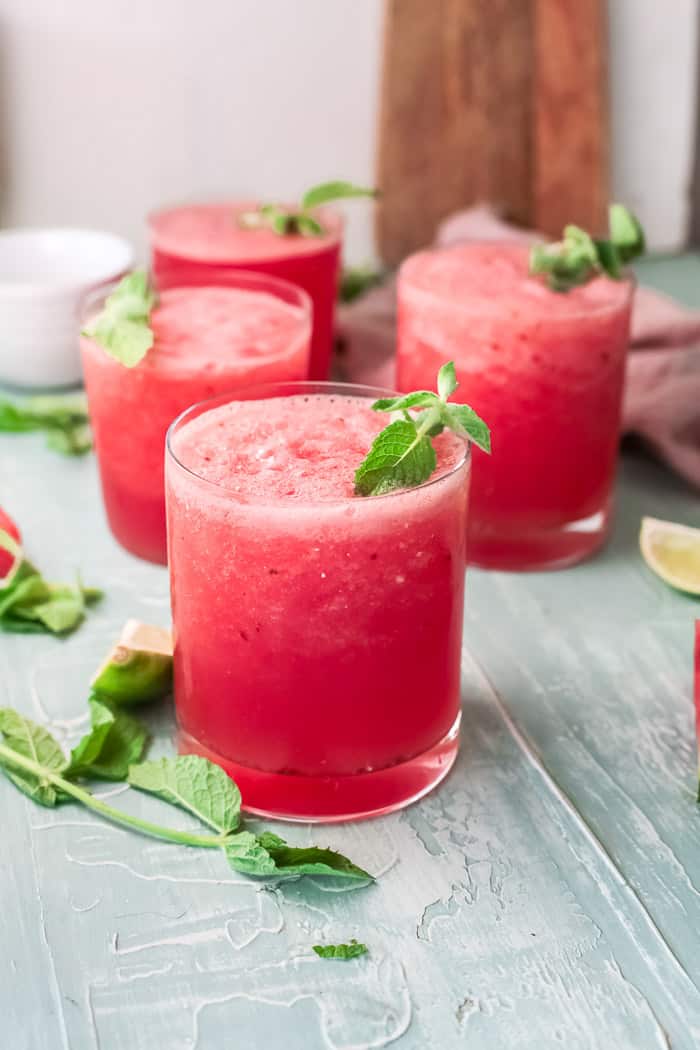 Why make a large container of iced tea when you can enjoy wine in slushie form? Is your mouth watering yet? Because mine is while I write this on my porch.
This past year has been challenging, and winter inside with the kids got stressful for many of us. I know it was hard for me! We invested in outdoor activities for the kids as we are still staying away from gatherings as much as possible. The backyard is the summer oasis and while I supervise I need something yummy to keep me company and hydrated.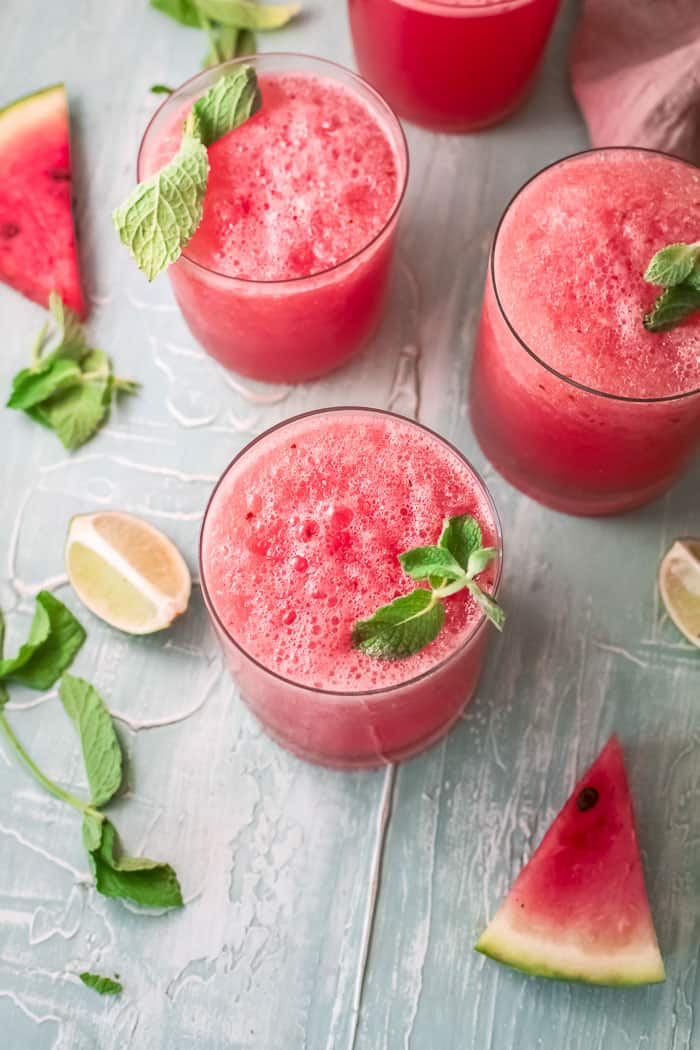 That's where slushies come in! I love wine slushies. There's nothing like going to the NY State Fair and enjoying a nice cold wine slushie. Of course, now that I don't like in NY anymore and pretty much dislike crowd gatherings (thanks Covid), I get to make my own slushies at home. They are so easy! It's pretty much a two-ingredient kind of recipe.
This watermelon version uses one of my favorite summer fruits. We always have a fresh watermelon in the fridge over the summers so it easy to grab a few to blend with my favorite wine or rose.
Grab your blender or mixer, and let's get to making some Watermelon Wine Slushies!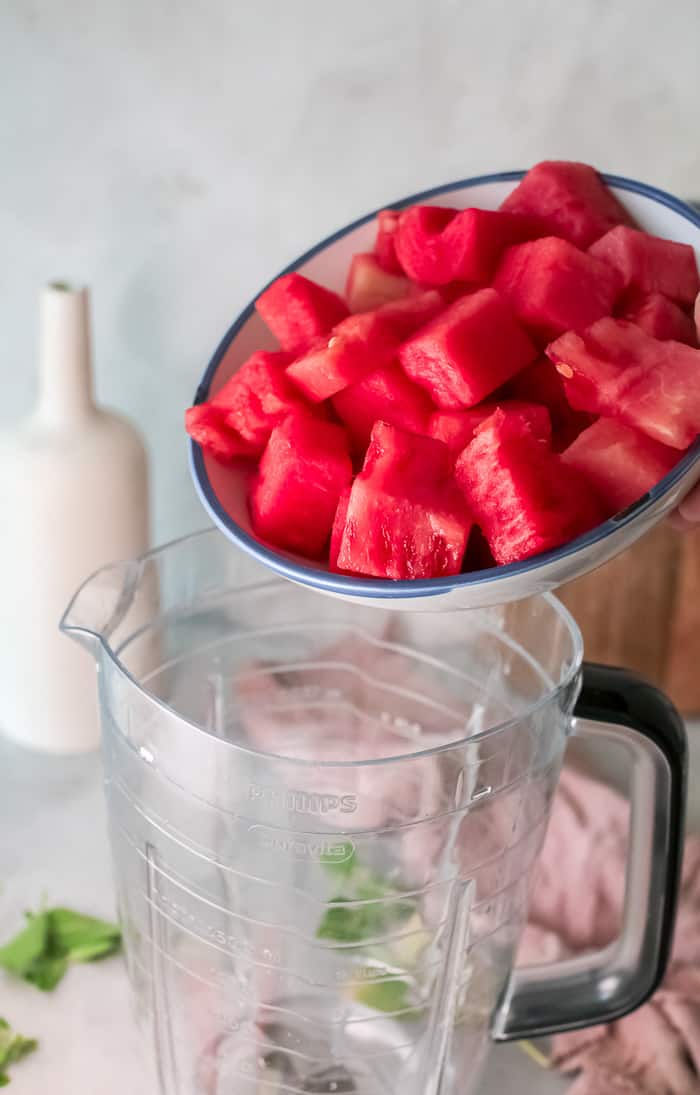 My go-to wine is pinot grigio because it perfectly balances the sweetness of the watermelon. If you prefer a sweeter wine, you can always use a sangria or just add a touch of honey to your blender. Don't forget to add in some fresh mint and lime wedges for garnishes.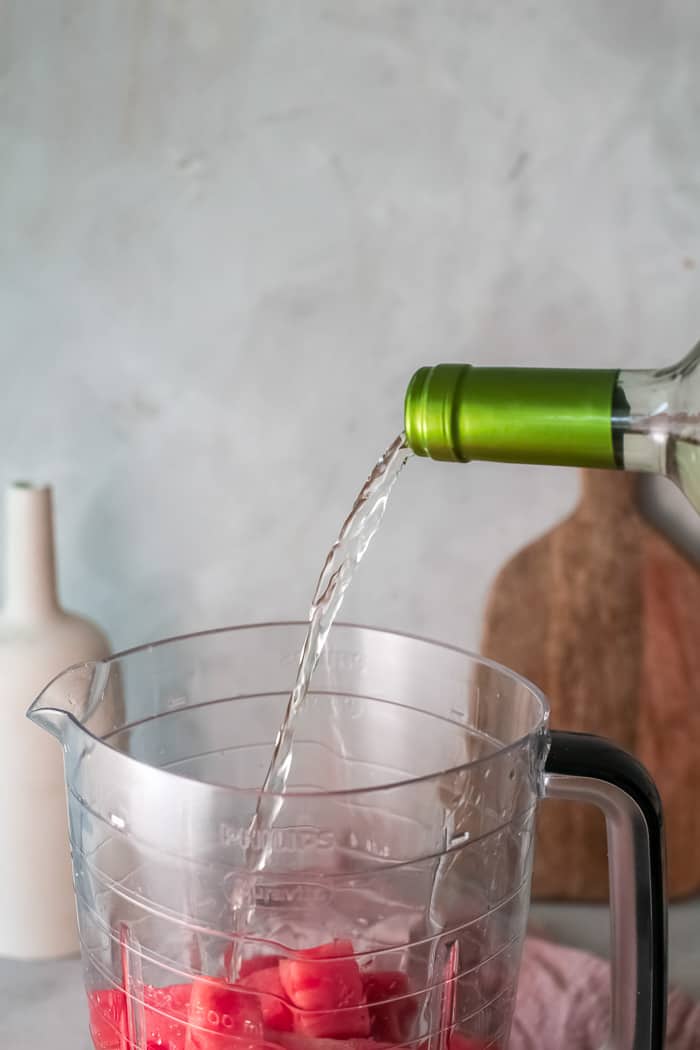 Depending on the wine you choose, the slushie is crisp and refreshing! Just what you need on a hot summer day. Some days as the kids play in the sprinkler or blow-up pool, I daydream of days on the beach as I sip on this cocktail and snack on a charcuterie cheese spread!! it would also be great to have a picnic date with a friend.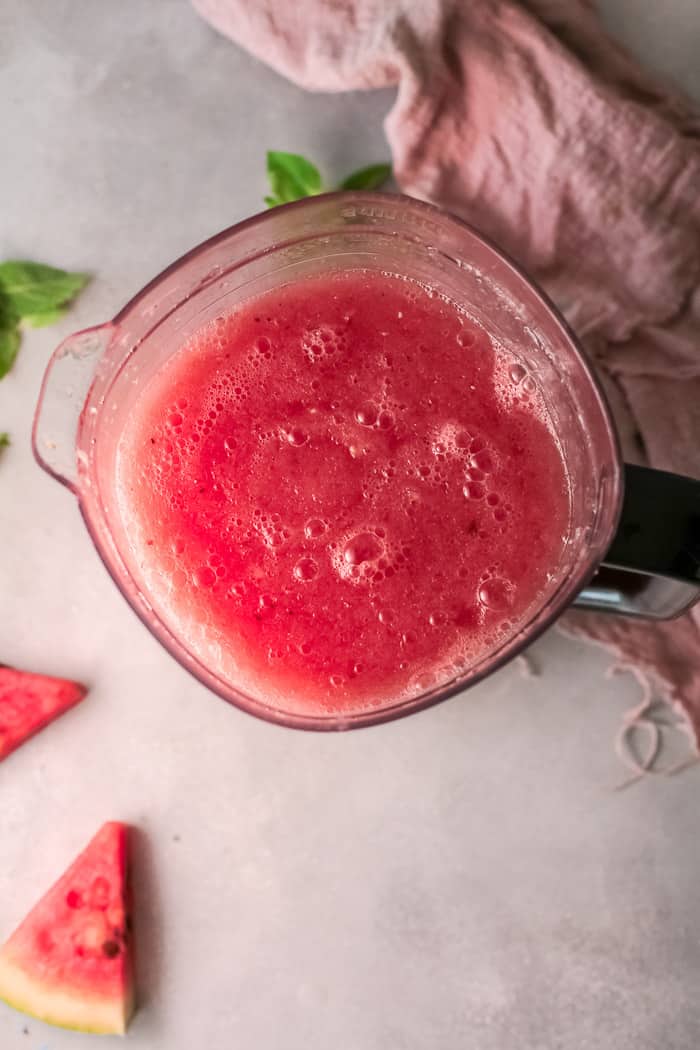 You most certainly want to keep this in the fridge, so it does not melt. If it does, simply add more ice, blend away, and your Watermelon Wine Slushie is as good as new.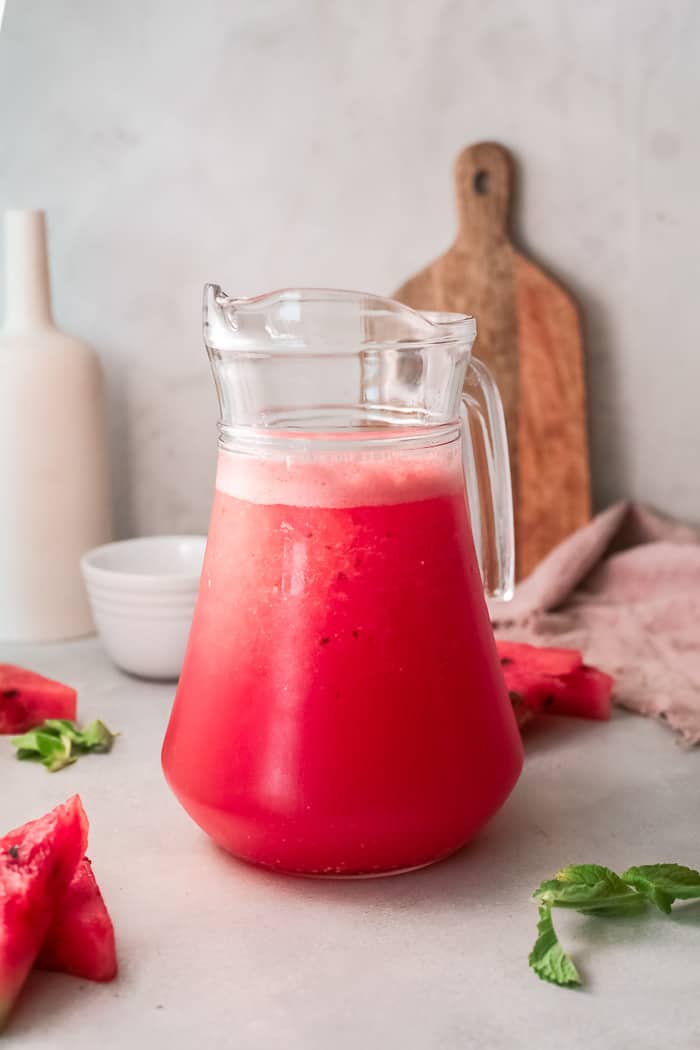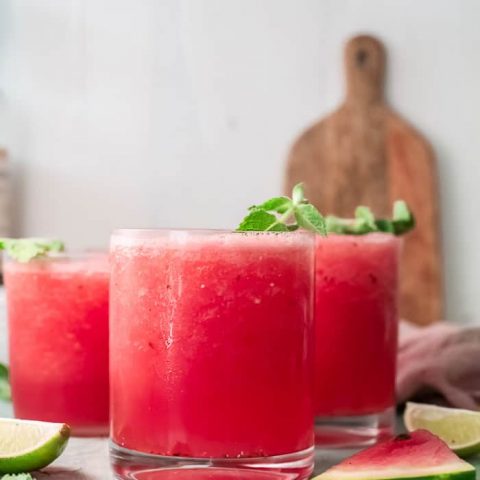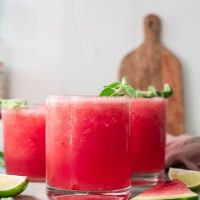 Yield: 4 servings
Watermelon Wine Slushie
Ingredients
7 cups diced watermelon
1 bottle white wine (750 ml), like a Pinot Grigio
2 cups ice cubes
Garnishes:
Mint sprigs
Basil
Lime wedges
Instructions
Add all the ingredients to a high powered blender and pulse until everything is smooth.
Pour into glasses or a pitcher and serve immediately.
Notes
I love Pinot Grigio with this recipe because it's a more acidic white wine that balances the sweetness of the watermelon.
If your watermelon is not super sweet, or if you like sweeter drinks you can also add 3 Tbsp honey or agave syrup.
You can also use frozen watermelon and skip the ice. However, I like the texture and flavor better with the fresh watermelon + ice combo.